Best New Tracks: Kehlani, Nav, Little Simz, The Weeknd & More
HYPEBEAST's Top 10 projects of the week.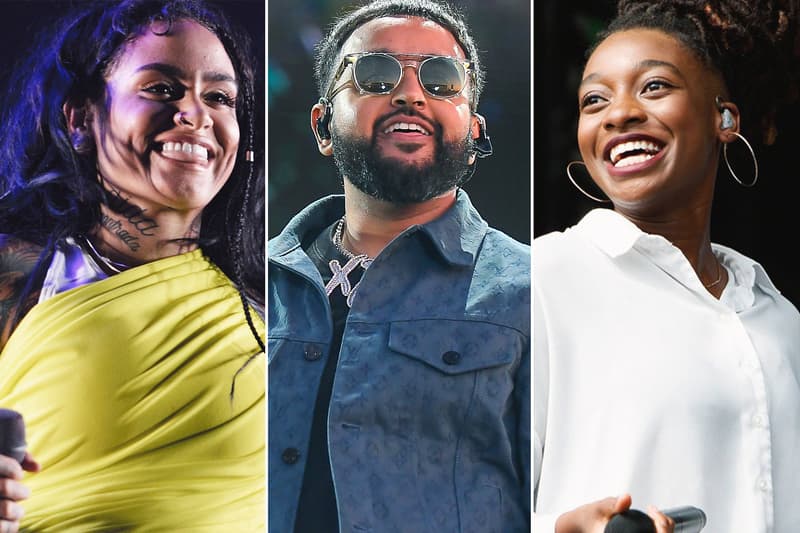 As the week in music comes to a close, HYPEBEAST has rounded up the 10 best projects for the latest installment of Best New Tracks. After teasing a full-length album for quite some time through self-directed, 'Quarantine Style' music videos, Kehlani has returned with her new pop-infused post-break-up LP titled It Was Good Until It Wasn't. In the album cover, she peers over her Los Angeles backyard's walls waiting to be free from the current quarantines. Even through the current madness, she managed to deliver a project you need to listen to. The Weeknd surprised with another visual journey into the depths of his After Hours universe, tapping Chromatics to both edit and feature on the synth-infused remix. Little Simz followed up 2019's critically-acclaimed GREY Area with a short but undeniably sweet five-track EP showing off some of her best work to date and promising more to come. Other features include an incredible verse from Denzel Curry on JPEGMAFIA's "BALD!" Remix, Atlanta rapper Kenny Mason's polished two-part music video, NAV's feature fueled full-length and more. Tap in with HYPEBEAST's latest Best New Tracks below.
---
Kehlani – It Was Good Until It Wasn't
Like many of us out there, Kehlani has had a tumultuous past few months. Public break-ups, the media constantly being in her business and an overwhelming amount of negativity in her social media comments sections may separate her personal story from the rest of, but it all comes together on her latest album It Was Good Until It Wasn't. The feature-filled effort boasts some major names too, but Kehlani never gets lost in the mix. She taps Tory Lanez, Lucky Daye, James Blake, Masego and Jhené Aiko , all furthering her sound in the R&B realm. This is her first album since 2017's SweetSexySavage and it follows last year's mixtape While We Wait. "Toxic" is an undeniable standout with a music video to match while "Everybody Business" sees the star coping with a life spent living in the tabloids. She even managed to make her "F&MU" video feel like a production in the confines of quarantine. On her latest project, Kehlani not only accepts that life is constantly in flux, but learns to thrive in it.
Listen: Spotify | Apple Music
---
NAV – Good Intentions
On NAV's latest album, Good Intentions, there's a feature on nearly two-thirds of the 18 tracks. That means that you're more than likely to walk away from the project with your favorite verse having been delivered by someone other than the Toronto artist (and it will probably be Future's guest verse on "My Business"). But that's okay. NAV does an expert job of bringing his friends together, creating an ambience and dropping some hilarious bars along the way. He's at his best when he flexes punchlines then quickly moves onto the next bar. Aside from tapping Gunna and Travis Scott for "Turks," NAV also linked up with friend Lil Uzi Vert, dropped one of the first posthumous verses from Pop Smoke and linked with Young Thug, Don Toliver and Lil Durk for choice features. But seriously, go listen to "My Business."
Listen: Spotify | Apple Music
---
The Weeknd – "Blinding Lights" (Remix) feat. Chromatics
The Weeknd's After Hours universe continues to expand through new remixes and unexpected visuals. His latest adventure taps Chromatics to both feature on the "Blinding Lights" Remix and edit the video. There's an undeniable electronic addition to the track with hypnotic retro synths and Ruth Radelet's airy and mesmerizing lyrics assisting The Weeknd on the chorus. The contrast of The Weeknd's first person perspective of getting stomped out by multiple offenders in a nightclub and his euphoric dancing shortly after is as jarring as ever.
Listen: Spotify | Apple Music
---
Little Simz – Drop 6
Welcome back, Little Simz. After her GREY Area project was shortlisted for a 2019 Mercury Prize, the UK-based emcee has delivered Drop 6, five new songs that showcase her ever-growing lyrical ability and thoughtful introspection. On Drop 6, the wordsmith — dubbed "Bars Simzon" — tapped a range of contributions from the likes of TDE's in-house producer Kal Banx, OTG, Kadz, and St Francis Hotel. She switches flows and cadences, toys with melodies throughout and even delivers rapid-fire flows on the album opener. On "where's my lighter" she raps, "You know I'ma be right here when you need that truth." We're always here for it.
Listen: Spotify | Apple Music
---
RMR – "DEALER" (Remix) feat. Future and Lil Baby
It looks like people are going to be asking, "who is RMR?" for quite some time. The mysterious ski-masked singer-songwriter doesn't seem to have any interest in revealing his true identity, instead focusing his time on recruiting some of the biggest names in music for his first remix. RMR (pronounced Rumor) turned heads when he dropped his Rascal Flatts cover "Rascal". He then released "DEALER" proving that his singing chops and artistic direction weren't a fluke or gimmick. On the recently released "DEALER" Remix he somehow got Atlanta rap royalty Future and Lil Baby to spit guest verses in a cohesive, codeine driven sonic offering. RMR seems to be right at home hanging out with those names. Only time will tell if he stays there.
Listen: Spotify | Apple Music
---
JPEGMAFIA – "BALD!" (Remix) feat. Denzel Curry
Denzel Curry may have just delivered the best verse of 2020 on JPEGMAFIA's "BALD!" Remix. Denzel has showcased his technical ability since he first burst onto the scene at the beginning of last decade, but here his often breathless, furious delivery hits different. The beat breaks down to just a hand-clap at the start of his guest spot, building back up as he drops gems like, "I'm trapped in my head, between the thoughts of health and my wealth/ Right next to bein' selfish and just bein' myself." There's a confirmed side-project called Club Black Dust, a group comprised of Denzel, JPEGMAFIA, Zillakami and slowthai and they're calling themselves a "Man Band," so look for more of this energy in the future. As for Peggy, he keeps delivering episodes of his How To Build A Relationship docuseries and giving his fans a steady flow of new music whenever he wants. This one is definitely worthy of a few listens.
Listen: Spotify | Apple Music
---
Ka – Descendants of Cain
Brownsville, Brooklyn rapper Ka dropped his latest album, Descendants Of Cain late last week via his official website, continuing his ever-solid portfolio of independent releases. He's been a staple of New York City's underground hip-hop scene for the better part of a half-decade now. Ka daylights as a Brooklyn-based FDNY fire captain and usually passes out physical copies of his projects in-person in his neighborhood. Since he can't do that with this project given the current coronavirus quarantines, he's delivered the album on streaming services earlier than expected. After previewing "Solitude of Enoch", Ka debuted the entire LP which takes inspiration from biblical Old Testament stories like Cain and Abel. It's minimal and deeply moving with thought provoking lyrics and matching black and white animations for music videos. Watch above and stream Descendants Of Cain below.
Listen: Spotify | Ka's official website
---
Kenny Mason – "Chevron / PTSD"
Rising Atlanta rapper Kenny Mason's Angelic Hoodrat is filled with a need for experimentation, lyricism that's both poised and witty, and an adept ear for the right instrumental at the right time. He returned late this week with a double video for "Chevron / PTSD" that balances light and dark, yin and yang. He raps at the speed of light during sunset, then when the video flashes to black and white, his flow changes to a marauding crescendo centered around fear. The rhymes are there. The artistic direction is there. Angelic Hoodrat is a smart, genre-exploring 14-track project that you shouldn't sleep on.
Listen: Spotify | Apple Music
---
Lala the DJ – The 4th Dimension [B]
It's a strange if not scary time to be a working DJ with the current wave of mass concert cancellations spanning into the foreseeable future and even next year. It's also interesting to see how artists are making use of their quarantines with staples like Boiler Room pivoting to 'Streaming from Isolation' series in an effort to continue to highlight rising musicians. Lala the DJ has followed suit, created a new mix titled The 4th Dimension [B] full of upbeat staples from Drake, a Kribbs Remix of Jack Harlow's hit, Saint JHN, Pop Smoke, and edits of Doja Cat, Don Toliver and Summer Walker. It's an effortless listen, so put on some headphones and get lost in the 34-minute project now.
Listen: SoundCloud | Mixcloud
---
Liv.e -
Dallas-born and Los Angeles-based artist Liv.e is hard to define — in the best way possible. The 22-year-old producer and singer-songwriter returns with two new singles with "Bout These Pipedreams" and "Lessons From My Mistakes… but I Lost Your Number" from her upcoming Couldn't Wait To Tell You full-length due out later this year. Liv.e comes with some serious credentials, too. Tyler, The Creator and Janelle Monae are big fans. She was also featured on Earl Sweatshirt's Feet of Clay EP. On "Bout These Pipedreams," Liv.e loops her voice into a refrain, contemplating fantasy and reality and then back again. There's some serious Erykah Badu influences ringing through the filtered vocals. "Lessons From My Mistake… but I Lost Your Number" finds her floating through half-spoken word half-rapped verses with a lo-fi beat comprised of jazz-infused piano keys. Listen below.
Listen: Spotify | Apple Music