Best New Tracks: Future, Yung Lean, slowthai, Moses Sumney & More
With full-lengths from Charli XCX, Nick Hakim and Larry June.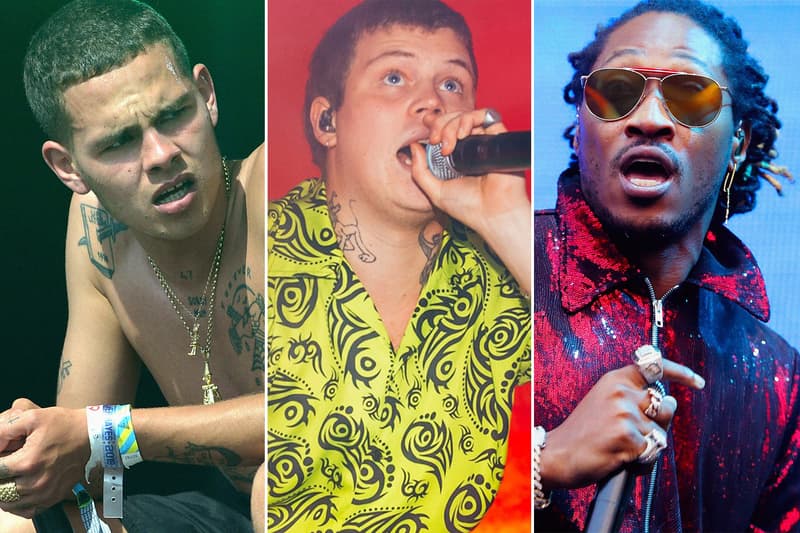 As the week in music comes to a close, HYPEBEAST has rounded up the 10 best projects for the latest installment of Best New Tracks. The music world in mid-May 2020 continues to surprise. Artists and fans the world over are still adjusting to the coronavirus quarantines, social distancing and isolation and with the unprecedented times comes more experimental rollouts and unexpected releases. Future dropped his eighth studio project High Off Life, buying 149 website domain names to self-leak his debut single "All Bad" featuring Lil Uzi Vert just six hours before the LP's official release. The 21-track LP taps some of the biggest names in popular music today. slowthai kept busy this week too. The Northampton rapper dropped three new songs culminating in his new "BB (BODYBAG)" music video. It's violent, jarring and everything you've come to anticipate with the chaotic and charismatic artist. Yung Lean's Starz found the Swedish rapper connecting with longtime collaborator whitearmor for his most refined release to date. Other standout offerings include Nick Hakim's sophomore album, the second part of Moses Sumney's critically-acclaimed grae and more. Tap in with HYPEBEAST's latest Best New Tracks below.
---
Future – High Off Life
Future turned heads when he announced that he'd be dropping an album this week. What resulted was the expansive and star-studded High Off Life with a guest-list featuring Travis Scott, Drake, Young Thug, Lil Uzi Vert, Meek Mill, DaBaby, Lil Baby, NBA YoungBoy, Lil Durk and Doe Boy. The entire project was executive produced by longtime collaborator DJ Esco. Future even purchased 149 website domain names to "leak" his new "All Bad" single with Lil Uzi Vert. All of the signature Future tropes are here: toxic masculinity, self-medicating, relationship paranoia fueled by too many late nights in the studio and other-worldly boasts that only an artist of Future's stature could actually back up.
Listen: Spotify | Apple Music
---
Yung Lean – Starz
Jonatan Leandoer Håstad, known throughout the world as Yung Lean, continues to be as enigmatic a figure as he was when he first burst onto the scene with 2013's "Ginseng Strip 2002". At this point in his career he's a genre-less outlier who continues to experiment on his own terms and continues to grow as an artist because of it. Now the 23-year-old returns with Starz, 16 new tracks produced entirely by longtime collaborator whitearmor. He taps Ariel Pink for the title song. The bouncy and upbeat "Pikachu" manages to turn an initial boast into a reminder of his loneliness. He returns to his somber disposition on "Boylife in EU". Some seven years after arriving stateside, Yung Lean is still as unapologetically weird and unexplainable than ever — and that's a great thing.
Listen: Spotify | Apple Music
---
Charli XCX – how i'm feeling now
Charli XCX has delivered her fourth studio album how i'm feeling now, recorded entirely during the coronavirus quarantine and it's as inventive and honest as any of Charli's past work even with the limitations of her home studio and the times that we live in. "The nature of this album is going to be very indicative of the times just because I'm only going to be able to use the tools I have at my fingertips to create all music, artwork, videos, everything," she stated going into the creation of the project back on April 6. PC Music and A.G. Cook handled the bulk of the production duties on this record, churning out fast yet memorable singles like "forever", "claws", and "i finally understand". The 11-tracks were created in just 38 days with Charli more willing than ever to push boundaries.
Listen: Spotify | Apple Music
---
RIMON – I Shine, U Shine
Eritrean-born and Amsterdam-based singer-songwriter RIMON returns with her latest six-track effort, I Shine, U Shine out today via ALLE$ Recordings/Empire. The EP showcases a dynamic range of sounds, from the emotional electric guitar solos on "The Morning" to the soulful saxophone backing on the Denzel Curry-assisted "Got My Back." Following her debut 2018 EP BBYGIRL FOCU$, RIMON continued to drop strong singles like "Hypnotizing" all hinting at something larger in the future. "I hope [my audience] can relate — feel less lonely, you know? Knowing we all go through sh*t in life. I hope it gives them power too. The power to overcome things, to grow and to learn," the singer told HYPEBAE in an interview last year.
Listen: Spotify | Apple Music
---
Deante' Hitchcock – BETTER
Atlanta, Georgia continues to churn out some of the most talented artists in music today. Don't let Deante' Hitchcock slide by your streaming recommendations unnoticed. On his 10-track BETTER, he connects with J.I.D., Young Nudy, 6LACK and Miguel for a cohesive listen spearheaded by longtime collaborator and producer Brandon Phillips-Taylor. Deante' made quite the impression on Revenge of the Dreamers III for "PTSD" and his momentum continues here. His "How TF" visual finds him trapped in a psych-ward, his mind playing trips on him. "This song is necessary for a lot of people. These are all the things we're saying about love in our heads instead of saying them out loud," he told Billboard of the effort.
Listen: Spotify | Apple Music
---
slowthai – "BB (BODYBAG)"
What a week for slowthai. The Northampton rapper announced a vague new partnership/affiliation with A$AP Rocky's AWGE imprint with an exciting three new tracks, wrapping up with this morning's "BB (BODYBAG)" produced by Dominic Maker of electronic duo Mount Kimbie and directed by THE REST. The single follows his "MAGIC" collaboration with Kenny Beats and "ENEMY." slowthai's signature chaotic charisma is on full display as he marauds from scene to scene inflicting violence on himself and others. He continues to experiment with different flows post Nothing Great About Britain — his discontent makes for jarring visuals and even better songs.
Listen: Spotify | Apple Music
---
Nick Hakim – WILL THIS MAKE ME GOOD
Nick Hakim is back with his sophomore project WILL THIS MAKE ME GOOD, his first full-length body of work since 2017's critically-acclaimed Green Twins. Hakim delves into hazy self-reflection, monitoring deep personal losses, his own depression and a serious case of writer's block. His moving eight-minute odyssey "QADIR" reminds you to check up on your loved ones. Mac DeMarco assists on "CRUMPY," a song fueled by past violence and one too many drinks. "BOUNCING" is a somber search for peace. "I'm still trying to figure this record out. People have told me that it's confusing or that it's messy — that's fine. There's so much pressure on artists to commit to being one thing, or to restrict an album to exploring just one subject or sound. But my life isn't like that, and so my music can't be like that either," Hakim said of his new work.
Listen: Spotify | Apple Music
---
Standing On The Corner – "Angel"
Standing On The Corner returned earlier this week for the first time since the collective's 2017 mixtape Red Burns, and they did it in style. The experimental New York City jazz ensemble tapped legendary artist, filmmaker, composer and Quasimoto/ Madlib collaborator Melvin Van Peebles for a new music video titled "Angel (Life and Death of the Earth in the Key of F)". The 87-year-old Van Peebles stars as an astronaut lost in space, gradually accepting the looming darkness and the unknown universe that's presented to him. Group architect Gio Escobar offers a punch-drunk lovelorn vocal performance further warped by pitch-changes and misdirections. It's a must watch.
Listen: Spotify | Apple Music
---
Larry June – Cruise USA
Larry June's latest mixtape, Cruise USA, will brighten your day. Produced entirely by Cardo, the eight-track offering finds the San Francisco rapper bringing his signature West Coast charisma and humor to each song, aided by vintage synths, G-funk inspired loops and the occasional reminder to take care of yourself. "Green Juice in Dallas" sets the tone for the entire 24-minute runtime with June spontaneously breaking out into Michael Jackson-parodying falsetto riffs just because. If you have the ability to get out of the house and take a drive with the windows rolled down, this is what you should be playing right now. It's a fun ride.
Listen: Spotify | Apple Music
---
Moses Sumney – græ: Part 2
Back in February, Moses Sumney delivered græ: Part 1 via Jagjaguwar Records. The Ghanaian-American singer-songwriter and multi-instrumentalist presented the project as a "patchwork of grayness," dealing with the life's ambiguities from personal identity, origins and gender binaries. With this week's græ: Part 2, Sumney dives even deeper, experimenting with genres and showcasing his emotional vulnerability on cuts like "Bless Me (Before You Go)" and "Cut Me."
Listen: Spotify | Apple Music