Best New Tracks: Drake & Playboi Carti, Beyoncé & Megan Thee Stallion, Hannibal Buress & More
13 new tracks from the OVO founder, verses from Queen Bey and a Judge Judy tribute.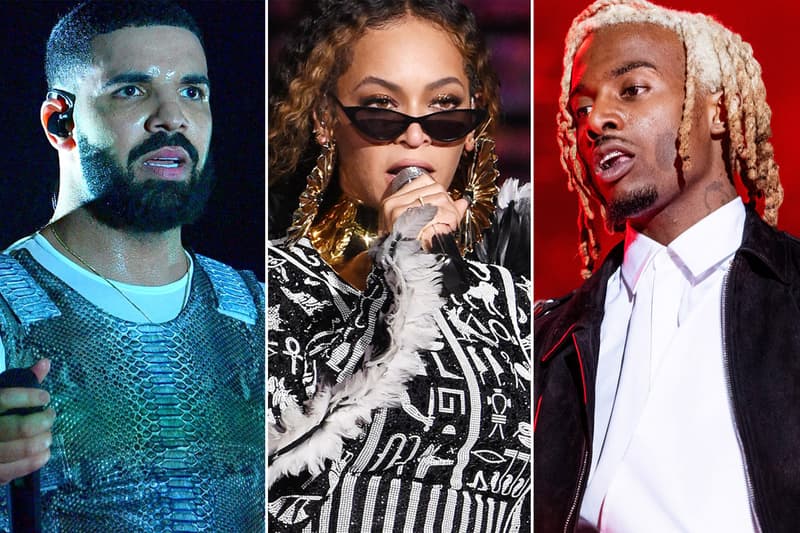 This week has been a whirlwind of new drops. For one, Drake dropped a surprise project last night. Beyoncé then flexed her Houston connection with Megan Thee Stallion and rapped two of the most memorable verses of the year. The end of April and beginning of May brought too many great singles, head-turning visuals and unexpected releases to count. Hannibal Buress even got involved dropping an auto-tuned ballad about Judge Judy. In a world of overwhelming anxieties and stay-at-home orders, musicians are making sure to put in more work than ever to be a bright spot and some refuge from the bad news. Tap in with HYPEBEAST's latest Best New Tracks below.
---
Drake – Dark Lane Demo Tapes
Drake dropped off his surprise 13-track mixtape Dark Lane Demo Tapes about two hours after officially announcing it. The project was curated by Oliver El-Khatib and OVO Noel and is comprised of loosies, SoundCloud demos, and singles that were lost in the mix over the past few years. Among them is "Pain 1993" featuring Playboi Carti, a song originally believed to be releasing on Carti's long-awaited and highly-anticipated Whole Lotta Red.
Dark Lane Demo Tapes is similar to last year's Care Package or even 2017's More Life in structure (or lack thereof) but a good half of this project hadn't been previewed before. All the signature Drake moments are here: Future and Young Thug features, murky midnight cruising melodies, reminders that he's still very much a student and fan of hip-hop with some truly great verses. He even adds Chris Brown on there for the Twitter trends. Drake also teased that his sixth studio album is on the way for summer. This will be in heavy rotation until then.
Listen: Spotify | Apple Music
---
Megan Thee Stallion – "Savage (Remix)" feat. Beyoncé
How do you get back at your label for suspicious practices after filing a lawsuit? You drop a critically-acclaimed project and get Beyoncé to drop two verses and sing on a remix of your hit song, of course. Megan Thee Stallion tapped Queen Bey for her "Savage (Remix)", the perks of her new Roc Nation affiliation. Beyoncé steals the show, rapping about credit card scammers and OnlyFans. The song is enough to make your week.
Listen: Spotify | Apple Music
---
SiR – "John Redcorn"
King of the Hill is one of those shows operating under the "if you know, you know" mantra. Hank, Bobby, Ladybird and company had a 13-season run and left an indelible impact on the animated space and parenting techniques the world over. SiR and some of his Top Dawg Entertainment friends are obvious fans, as he dedicated his "John Redcorn" track to the show's character and followed up the release a year later with a new animation. There's something hilarious seeing the Black Hippy crew standing outside in place of Hank Hill and friends casually smoking and drinking. Resident conspiracy theorist and illuminati researcher Ab-Soul takes the role of Dale Gribble. It's perfect.
Listen: Spotify | Apple Music
---
Hannibal Buress – "Judge Judy"
Hannibal Buress's "Judge Judy" was the most surprising release of the week, and that's in a week where Drake delivered an entire project unannounced. The comedian has dropped off loosies in the past, but none with the whole-hearted effort as his tribute to the famous daytime television judge. He taps Chrome Sparks and Ron Lamont for the heavily auto-tuned offering and takes vocal snippets of a stern and remorseless Judy handing down sentences. "Judge Judy, remember me?/ I was on an episode in 2003/ Yeah, I was the defendant and you doubted me/ Cuz they said I didn't pay rent for a thousand weeks (twenty years)/ I am a squatter B, I can't live in squalor, see." It's a must listen, and hopefully Hannibal gets pressured enough to release a music video.
Listen: Spotify
---
Alina Baraz – It Was Divine
Alina Baraz earned widespread acclaim for her 2015 EP Urban Flora and followed that up with 2018's The Color of You. After that half-decade run, she was finally ready to deliver her debut studio album It Was Divine via Mom+Pop. Frequent collaborator and friend Khalid is featured on the project, along with 6LACK, Nas and Smino. "This album gravitates around love and self," Baraz said. "Losing it then finding it. A stream of thought, a shift in my perspective. It's learning how to take care of myself."
Listen: Spotify | Apple Music
---
Mozzy – Beyond Bulletproof
Sacramento rapper Mozzy can't miss. His latest studio album Beyond Bulleetproof is a testament to that. The West Coast emcee kicked off the year with music videos for "Overcame", "Tunnel Vision", "I Ain't Perfect" and "Pricetag" featuring Polo G, all culminating in the 13-track 40 minute offering. He even manages to sample Mario's "Let Me Love You" for "Big Homie From the Hood." "To love 'bulletproofily' is unconditionally—no matter your conditions, no matter the circumstances, no matter what you're going through, no matter what society looks at you as," Mozzy told Apple Music.
Listen: Spotify | Apple Music
---
Yung Lean – "Pikachu"
Yung Lean is back. The Swedish rapper has announced his seventh full-length project Starz is set to release May 15 and has offered a coinciding zine full of original photography to get you into the headspace of the upcoming album. After dropping "Boylife in EU" and "Violence", Lean returns with the minimal but effective "Pikachu". It's lighter than the emotional and somber past two singles, but still manages to dabble in his signature melancholy even when he's boastful. "She sing my songs, but she only know the chorus," Lean raps on the outro. His In My Head feature-length documentary, originally set to debut at Tribeca Film Festival, is still floating around out there in the ether. Fingers crossed that Lean drops that this year, too.
Listen: Spotify | Apple Music
---
BADBADNOTGOOD – "Goodbye Blue"
Toronto-based BADBADNOTGOOD continues to prove that they're so much more than your prototypical jazz ensemble. It's been four years now since they last dropped their critically-acclaimed IV full-length. They've still been incredibly busy though, spending the past four years producing for Kendrick Lamar, Daniel Caesar, Kali Uchis, Freddie Gibbs and Snoh Aalegra. Now they've returned with the two-part "Goodbye Blue," an eight-minute odyssey featuring Jonah Yano's smooth and pensive vocals. "The end of 2018 was the beginning of the first long break from touring that we've had basically since we started as a band," member Chester Hansen said. "It was a time of reflection and the opportunity for us to explore all sorts of things." The track follows their soulful jazz cover (also with Yano on vocal duties) "Key to Love" from last December. Stay tuned for more from BADBADNOTGOOD in the near future.
Listen: Spotify | Apple Music
---
Kali Uchis – "i want war (BUT I NEED PEACE)"
Kali Uchis dropped off her surprise To Feel Alive EP late last week and announced that a new full-length project should be on the way in the near future. The four new tracks do more than enough to hold you over until then, as Kali's signature smooth and soulful vocals are as clear and realized as ever. This week she dropped off her "i want war (BUT I NEED PEACE)" lyric video, a mixed media collage of her singing in black and white next to a lonely phone booth. The aesthetic is reminiscent of retro Twilight Zone intros. Emotionally resonant lyrics showcase Kali's songwriting abilities in full force: "Hope you pin me to the wall like a painting," she sings while remembering her ex-love's ability to keep her around: "Used up your chances, held my heart for ransom."
Listen: Spotify | Apple Music
---
Kehlani – "F&MU (Quarantine Style)"
Kehlani has been at the forefront of making the creative most from this period of isolation and social distancing by directing and starring in simple yet effective music videos. After the dimly lit and hazy MacBook camera-shot "Toxic", she followed that up with another single and video, "Everybody Business". Now Kehlani returns with "F&MU (Quarantine Style)" music video featuring some bonus choreography and a look into her romantic life while stuck at home. It Was Good Until It Wasn't, her first full-length studio project since her 2017 debut SweetSexySavage releases May 8.
Listen: Spotify | Apple Music