LOEWE Is the World's Hottest Brand, and Its Tank Top and Tote Bag Are Q2 2023's Hottest Items
Jonathan Anderson knocks Raf and Miuccia's Prada off the top spot, while Balenciaga climbs alongside Bottega Veneta, Versace and more.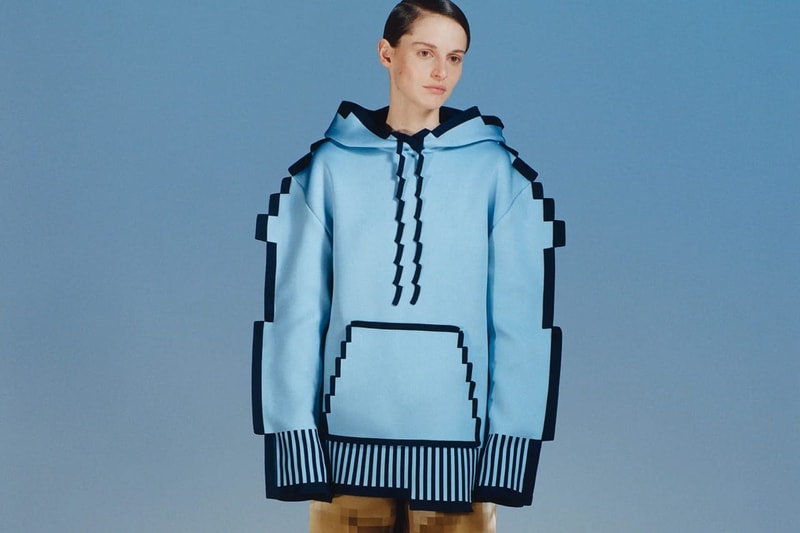 The fashion landscape is dramatically changing, and for the first time, Jonathan Anderson's LOEWE is Lyst Index's World's Hottest Brand.
Each quarter, Lyst Index announces a new list of Houses, designers, products, and trends that have topped the fashion leaderboards — for Q2 2023, Anderson's hard work has paid off at LOEWE, with searches growing 19% this quarter. It's in no doubt thanks to a string of stellar runway shows — being some of the best must-sees of the season — and the products that have come from them, such as the Kylie Jenner co-signed Anagram tank top (which is this quarter's Hottest Product), and the raffia tote bag (coming fourth for Q2 2023). Couple this with viral items like the balloon heels, K-pop superstar brand ambassadors, and the House's "Pixel" capsule collection, and it's no wonder LOEWE has risen to the top of the list.
In doing so, it knocks Raf Simons and Miuccia Prada's Italian House, Prada, off first place. It had sat at the top for two consecutive seasons, itself pushing other fashion titans away from pole position.
For Q2 2023, third to 10th is as the following: Versace (climbing five, thanks to that Dua Lipa collab and FW23 LA show), Miu Miu, Bottega Veneta (climbing one place, thanks to plenty of activations and viral products), Valentino, Saint Laurent (climbing three spots into seventh, thanks to the Berlin show), Moncler, Gucci, and finally Dior in 10th place, climbing up one spot from Q1 2023.
As you might have noticed by now, there's no mention of Louis Vuitton in the top 10. Instead, it places 11th, climbing two spots from last quarter with help from Pharrell's star-studded and truly sensational spectacle that doubled as the Creative Director's debut menswear collection, shown at the most recent installment of Paris Fashion Week. This is surprising, considering the fanfare around the show and the appointment of Pharrell, coupled with his own virality of carrying the €1,000,000 EUR LV Speedy bag, having Jay-Z perform at the show, making Rihanna the face of his campaign, and the show itself being streamed more than 1 billion times.
Still, it beat the likes of Dolce & Gabbana which fell five spots into 12th. Glenn Martens' Diesel placed 13th, one better than Q1, Burberry came in 14th, also one better than last season, and Jacquemus climbed four spots into 15th. Balenciaga looks to be making a small recovery as it comes in at 16th, jumping up from 18th in Q1, while Kim Kardashian's $4 billion dollar company SKIMS stays put at 17th. Nike, FENDI, and JW Anderson (the eponymous brand) make up 18th, 19th, and 20th, respectively.
As for this season's Hottest Products, we've already established LOEWE's dominance with its tank top. But elsewhere, we find shifts in the footwear scene with low-profile sneakers coming into their own. Following on from a '00s footwear revival, Onitsuka Tiger's Mexico 66 silhouette comes in second place, "generating over 113M views on TikTok as Y2K-inspired trends continue to spark excitement among Gen Z shoppers." Per Lyst Index, it continues to note that the pair has been spotted on Bella Hadid and Kaia Gerber, catapulting its popularity.
Other Hottest Products include Versace's Maxi Medusa Biggie sunglasses in third, the aforementioned LOEWE raffia tote bag in fourth, Aimé Leon Dore's New Balance 1906R in fifth, Agolde jorts in sixth, Alaia's mesh flats in seventh, The Row's City flip flops in eighth, Longchamp's Le Pliage bag in ninth, and thanks to Succession, Loro Piana's cap comes in 10th.
As Lyst Index puts it, the "breakout brands rising fast on a powerful and rapid upwards trajectory" are: Goyard, Posse, and Loro Piana. Stay tuned to find out next season's big hitters, and for now, head over to the Lyst Index website to find the full Q2 2023 report.
In case you missed it, here's why Jorts season is just getting started.