Is the Sneaker Industry Ready for an Early-00s Revival?
Brace yourself for the return of the 'low-profile' sneaker.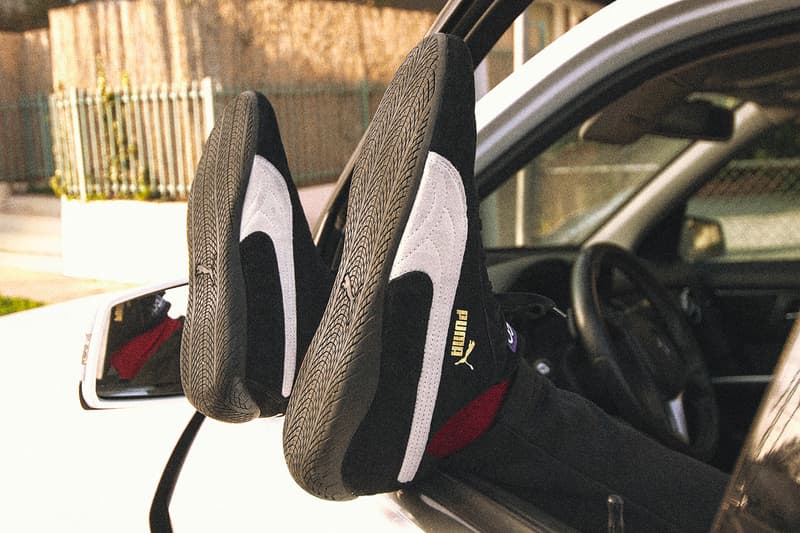 It's 2004, and Michael Schumacher of Ferrari has just won the Formula 1 World Championship. You're celebrating in a local bar with like-minded sports fans, wearing a Slazenger polo shirt. The scent of Joop Jump wafts through the air. And below, a very specific type of sneaker is on your feet.
They're somewhere between a football boot and a plimsoll, with a slim sole and a narrow shape. Their best-known iterations are the Slazenger Warrior, Lonsdale Camden, or the PUMA Speedcat — the Scuderia Ferrari or Sparco ones if you're into bold colors, or a classic black, white, and gold pair if you've transitioned from the adidas Originals-wearing casuals movement and want something low-key. Fittingly, then, they are generally known as the "low-profile" sneaker. 
"For me, the Warrior had it all: I could score a few goals down on the five-a-side pitches and then wear them with my bootcut jeans," says Matthew Kimpton, Head Designer at Sports Direct, speaking on behalf of Slazenger. "What more could I ask for?" 
To Kimpton, the Warrior style had captured the spirit of an era in sports and culture. "By incorporating elements that resonate with football culture like the stitching detailing on the toe that is a traditional construction detail for a football boot and the 'flat front no lace' design, these details made the Warrior perform on the mats and on the streets," he says.
Sadly, it wasn't destined to last. In 2005 came a new wave of sneakers: the Nike SB Dunk became ever-more popular, adidas Originals celebrated the 35th anniversary of its Superstar, and the world of luxury sneakers started to boom. Soon, the Prada Punta Ala obliterated its humbler relations.
Indeed, high-fashion football sneakers such as the Punta Ala and Prada's America's Cup (which released in 1997, many years before luxury sneakers were a "thing") stuck around, while pairs from PUMA, Lonsdale and Slazenger, ceased to exist. 
By the 2010s, we'd moved into the world of the "tech" sneaker, and for many, the trend for football-inspired shoes died there. But there have been signs of a revival for some time. As early as 2016, when a new era of Slavic and Eastern-European brands began to emerge, designers like Gosha Rubchinksy and Vetements' Demna Gvasalia dominated the scene with their subversive takes on early 2000s culture. We saw the low-profile sneaker come back into the mix, carrying on a wave of nostalgia for the turn of the millenium. 
More recently, Balenciaga has introduced soccer-inspired pairs such as the Zen, while Prada brought the vibe back with its adidas collaborations and its in-house-designed Rev sneaker. But it never came back in a more authentic way than from the brands that started it. 
While they had lost popularity in the U.K. and U.S., the PUMA Speedcat and similar sports-derived pairs were thriving elsewhere — the style had found a new home in Latin America and Eastern-Europe. More specifically, they found favor in the underground club scenes of Berlin and Warsaw, as well as in subcultures that the shoe spoke to (including motorsport fans, which it represented from day one). In the early 2000s, "There was a whole concession of low profile sneakers, and if you look at the consumer throughout those years it was the same consumer who continued to wear the style," says Anja Egger, PUMA's Head of Business Unit Marketing Motorsport.
"It died down from 2005 to now, but people grew up with the shoe and never really adopted a different style so this is how it was kept alive. It's the real motorsport fans in those times that continued to wear the Speedcat and other low profile shoes — die-hard fans stuck with it, and we can see a change happening again now. This moment [in time] is very much repeating what happened in the 2000s," added Egger.
So will the OGs of this short-lived moment in footwear reclaim their legacy? "If the consumer is looking for an authentic, they'll come to PUMA," says Egger. "Low profile, for us, was never really gone."
Equally, Slazenger has captured the attention of a subcultural generation once more, whether that's through TikTok celebrating its "Y2K" skort or because of high fashion referencing its past. "The fact that several fashion houses are now celebrating one of our most successful sneakers in Slazenger's history is a true testament to the DNA of what Slazenger stands for," says Kimpton. "It gives me great confidence in the processes and developments we're working towards."
Slazenger isn't a brand synonymous with hype, or even fashion. It never tried to be, either: Kimpton emphasizes that comfort and freedom are some of fashion's most important pillars today, and this is what it does best. But perhaps that's the secret of its appeal, as we slowly head towards a post-pandemic world. "It's fascinating to see how far we can push the brand," Kimpton says. Don't rule out the possibility of a revival.