Jorts Season Is Just Getting Started
Here's why the shorts' equivalent of socks and sandals is making waves beyond Gen-Z influencers.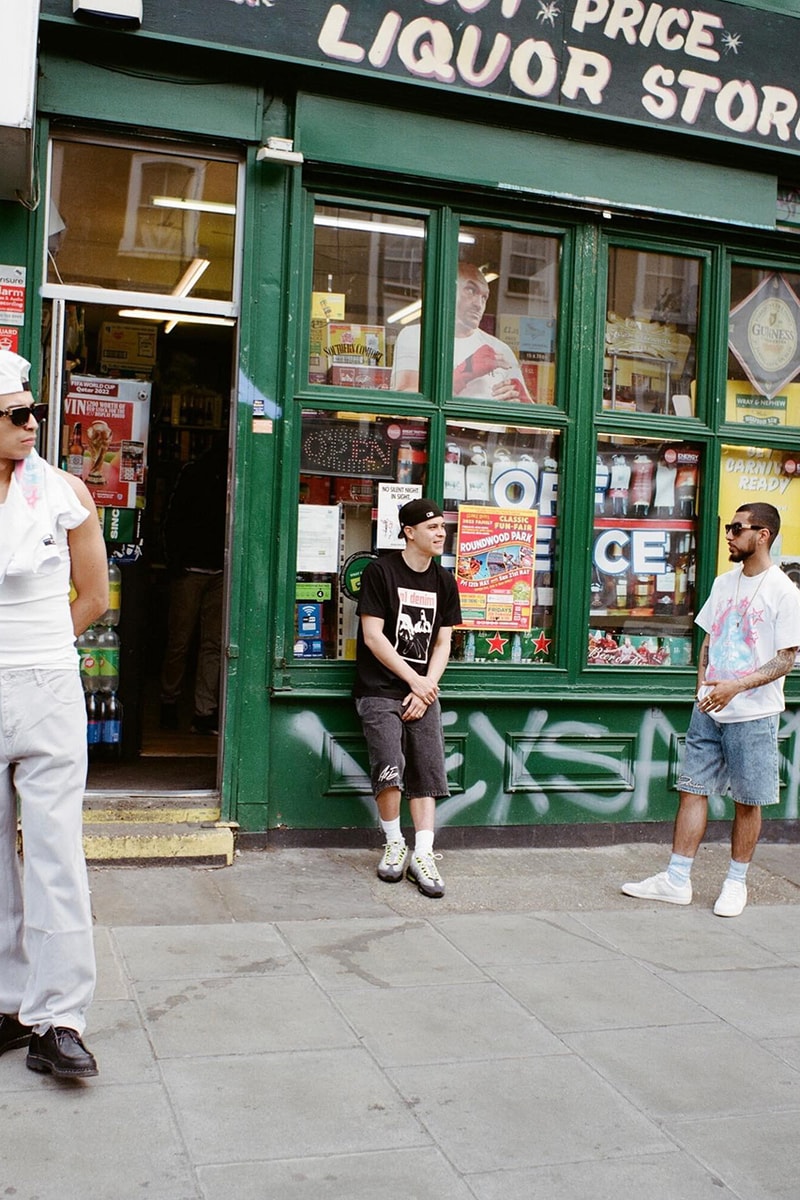 Jorts Season Is Just Getting Started
Here's why the shorts' equivalent of socks and sandals is making waves beyond Gen-Z influencers.
Much like a negroni sbagliato, the minute the sun comes out in the UK, so does a pair of jorts. 
As divisive as it is, the jean short – cut off on or just below the knee, paired with some Birkenstock mules or adidas Sambas – has become an intrinsic part of the British beer garden near a London park uniform. It's the kind of irreverent act that has caused niche, UK Instagram accounts, like Socks House Meeting or Real Housewives of Clapton, to find their comedic tone of voice, delivering sarcastic "Accidental Partridge" jabs at the kind of people that unironically wear such items. But the joke isn't on the "litty lengy" jorts-wearing main character; quite the opposite in fact, as the '90s and Y2K staple is back, whether we want it or not. 
The craze has been around since the re-birth of the Y2K aesthetic – and particularly popped off like a bottle of Lambrini last summer. In this time, charity shop and vintage finds from Notting Hill to Nuneaton have manifested into a very precise approach to dressing, elevating the look once sported by Justin Timberlake, Eminem, Spice Girls, Missy Elliott and countless other icons by welcoming IYKYK brands, emerging designers, and high-luxury labels into the mix.
The jorts craze is evidenced by the likes of A1 Denim – the London-based streetwear brand that's championing baggier-the-better denim. It dropped two pairs of jorts last week, both informed by the kinds of pairs you'd catch an off-duty John Cena wearing, acid wash and all. 
Similarly, British designer label Stefan Cooke also just dropped its pair, which although do feature corded detailing and a more luxurious twist, still maintain the wide-fit washed indigo design details synonymous with classic cowboy jorts. And to cover the entire fashion spectrum, you can even buy stellar pairs from Prada, Acne Studios, and Gucci; or simply look at the runway shows of Ann Demeulemeester, FENDI, and Louis Vuitton for inspiration. 
To put this into a tangible perspective, the term "jorts" has climbed tenfold on Google Search over the last five years, and has experienced a dramatic rise over the last 12 months. Perhaps jorts are less a trend, and more a movement of our ever-evolving dressing habits. 
"Where do the shorts hit, where does the top start, where do the socks stop, and how high are the shoes?"
On one hand, you have Quiet Luxury. On the other is Y2K domination. Both have evolved from a TikTok trend into fully-fledged ways of life, with devoted followers of each distinctive style. While Quiet Luxury is all about the subtle flex, Y2K isn't a flex at all – and this is why jorts have become so popular over the last 12 months. From purposefully chaotic (yet expertly-curated) Instagram dumps to the inability to hide from the raw and realness of BeReal and TikTok, there are a number of ways many of us are trying to take life less seriously during a time that feels particularly serious. We're not saying jorts are the answer to solving all of life's problems, but their carefree, casual nature offers a lesson in languidity well worth taking heed of. 
Jorts, after all, are steeped in intentional irony. There's a fine line between fancy dress and dressing fancy. The humble jean short enables us to have fun with silhouettes, poke fun at corny past trends, and experiment with every other element that makes an outfit worth wearing: where do the shorts hit, where does the top start, where do the socks stop, and how high are the shoes? These are not existential questions, but they're definitely to be at the forefront of your mind if you're to wear jorts and not look or feel as if you're not in on the fun. 
From a UK perspective, A1 Denim has served up the easiest way to get away with wearing jorts this season. Big and baggy jorts, a tight white tank top, and Corteiz x Nike Air Max 95s on foot, and you're onto a foolproof winner. If you're looking to push the boat out, venture into a pair of cowboy boots for a truly authentic throwback – the pointier the better. And for something between, take notes from Kiko Kostadinov's awkward garden-dad shoes, Aimé Leon Dore's Fisherman Sandals, or go all out with a pair of Palace UGGs. 
Either way, jorts have become the go-to summer short in the UK – and across the pond – because of the style's versatility, cultural influence, and fashionable virality. A bit like how we all once snubbed clogs, socks and sandals, or men wearing pearls, jorts are about to transition into a wardrobe staple, eschewing uncomfortable connotations for unrivalled levels of comfort and cool. Don't sell yourself short: sort the jorts.