Editor's Picks: Our Favorite Sneakers of 2022
The kicks that the HYPEBEAST staff enjoyed rocking this year.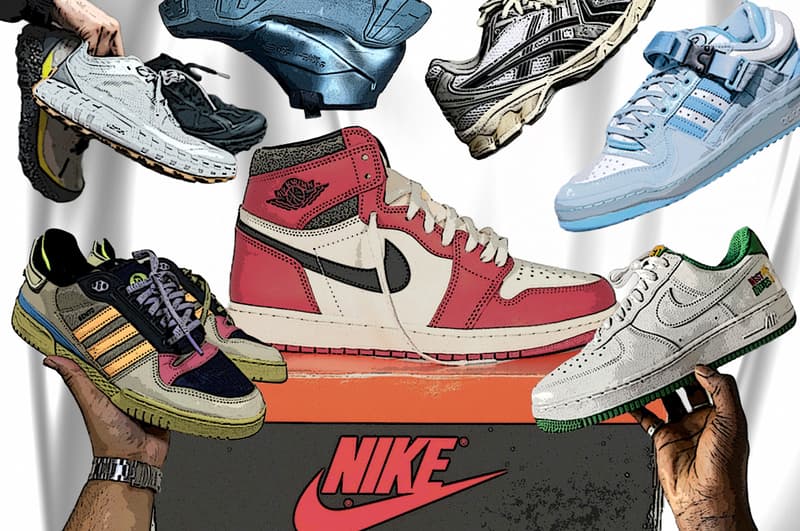 2022 was a roller coaster ride for sneaker culture. The cross-pollination of luxury fashion labels and sportswear brands reached a new apex, adidas pulled the plug on its historical partnership with Ye, MSCHF crafted shoes that mimicked iconic silhouettes and Nike sold one of its hottest collaborations through Kohl's. Radical shifts went down for big-name brands, allowing smaller ones to garner more time in the limelight and new ones to infiltrate the space. But all highlights and antics aside, the primary joy about sneakers this year remained the same: the feeling of wearing them.
To put a bow on 2022, Hypebeast staff members compiled a list of their favorite kicks that they laced up throughout these last 12 months. It features a blend of coveted collaborations from the likes of Nike, Jordan Brand, ASICS and adidas to slept-on GRs from the likes of rising imprints like Salomon and newer industry members like norda. The aesthetics of these offerings caught our eyes, but their stories and wearability captured our hearts. Scroll further down to view the list.
JJJJound x ASICS GEL-KAYANO 14 "Silver/Black"
If there was any shoe that became my go-to in the latter half of 2022, it was the JJJJound x ASICS GEL-KAYANO 14 in "Silver/Black." I even managed to snag these up for retail, which was a relief considering that they go for well over double the original MSRP on the resell market.
Secondly, this has been a sneaker that I've kept in rotation for any occasion. I tend to gravitate towards neutral-toned garments and one of the joys that I've received from this sneaker is its versatility and comfort. I've paired these with everything in my wardrobe: street-style ensembles, cozy sweatsuits when hopping on airplanes and even my lazy outfits when I'm out on a quick grocery or coffee run. In the event that I do decide to spruce up my wardrobe with louder, more colorful clothes, I love that they can also neutralize those types of get-ups. In addition, they're also running shoes, so by nature their GEL-loaded midsole cushioning allows me to lace them up all day without feeling any pain or discomfort. This is key, especially for the number of steps I rack up in New York City on a daily basis. – Elliot Santiago
norda 001
"The sneaker game is so stale these days," I grumbled at the top of 2022, scratching a beard that's one or two stressors away from sprouting grey hairs. I'm not trying to replicate the "old man yells at cloud" scene from The Simpsons, but I did — and largely still do — feel that way. Too many drops. Too many collabs. Too much corny marketing. Not enough breathing room. Little true innovation, and even less storytelling.
Thankfully, I found norda. The brand's high-priced, high-tech 001 sneaker caught my eye, first online and then on shelves: when I picked up a pair at the Concepts by Union Square, I felt a spark of joy, the kind that had been absent from my sneaker-collecting experience for quite a while. I didn't buy a pair right then and there, but my interest was instantly piqued. I'm a big "why" guy when it comes to sneakers, and there were a lot of "whys" to be explored behind norda: from how the founders conceptualized the brand to the ultra high-tech materials used on the 001, its design inspiration and how it had garnered an avid, growing fanbase both on and off the trails. Later in the year I snagged a pair and got to answering those "whys" myself. As you can probably guess, I loved what I found.
"We're sorry," Nick Martire, the brand's co-founder said when I interviewed him and 001 designer Louis-Martin Tremblay in October. "Once you put [our shoes] on you'll need multiple pairs because you'll never want to take them off."
Three pairs later, I can confirm his statement was 100% true. – Ross Dwyer
Slam Jam x Vibram Post Sneakers
If 2021 was the introduction to a post-sneaker world, then 2022 was the year that threw the footwear rulebook out of the window – and I for one became a loyal subscriber to the trend. That's why, for my sneaker of the year, I'm opting for something incredibly rogue – the Slam Jam x Vibram Post Sneakers.
Not quite a boot, nor a sneaker, Slam Jam's (Un)Corporate Uniforms division stole my feet this year with its Vibram link-up. Slight confession – I'd never owned a pair of Vibram-equipped shoes before this, and what Slam Jam did with a chunky, rugged Litebase and Megagrip rubber compound sole unit and lashings of plush foamy rubber for the midsole, combined with an upper that screams of prototype development styling, won for me.
The shoe is made by thermoforming on a 3D last using Vibram's StratX rubber sheet material, which results in a uni-piece and uniform aesthetic. The sock interior rounds this shoe out, and combined it is the easiest pair of shoes to wear in my ever-growing rotation. When in doubt, these go on for their ability to work with almost any outfit (notably my trusty pair of Bottega Veneta tech cargo pants and an oversized Raf Simons sweater, a JORDANLUCA nylon boiler suit, or a vintage baggy black suit paired with a technical Prada zip-up shirt).
Singlehandedly, this shoe evolved my style journey this year. While I've always been a fan of technical garms, it never felt right for me – the Slam Jam x Vibram Post Sneakers changed that. – Eric Brain
Reebok Premier Road Modern "Dark Green"
In a world of countless collaborations and limited releases, a rare breath of fresh air hit me with the reveal of the Premier Road Modern in "Dark Green" as I knew I wouldn't have to dedicate hours to entering raffles or queuing for a pair. I patiently awaited the opportunity to find it in-store and when I finally spotted it in a seasonal sale, the contemporary design that pulled me in at first sight struck me once again as I finally held it in my hands. Upon trying them on, everything clicked. Comfort, style and availability all collided to make this a release I continue to recommend and rave about. – Logan Fairbrother
Bad Bunny x adidas Forum Buckle Low "Blue Tint"
My sneaker of the year is the Bad Bunny x adidas Forum Buckle Low in "Blue Tint," because of the personal story that's attached to it for me. I was lucky enough to see Bad Bunny three times this year and each time was full of unforgettable memories: making new friends, learning more about reggaeton culture and bringing pleasure to my ears.
From Puerto Rico to NYC to Mexico City, I really got the chance to dive deep into Benito's Borinquen heritage and grew to appreciate the amount of talent that is birthed from the small island. Being Latino myself, I really love seeing the Hispanic community in the spotlight, and I believe the "Blue Tint" iteration speaks to Bad Bunny's ethos the most because of its bold color presence — similar to Benito's style and his latest album Un Verano Sin Ti … AKA my album of the year.
PS: I swear the image is real and not Photoshopped – Nicholas Llanton
Air Jordan 1 Retro High OG "Lost & Found"
Nothing can beat a classic, and when it comes to sneakers nothing's more classic than Jordan Brand's infamous Air Jordan 1 "Chicago." When I began collecting sneakers back in 2015, I dreamt of having the colorway in hand and on-feet — it was the grail of all grails for me as the pair that catapulted the Jordan line into monumental success. Getting my hands on a 1985 pair has been a dream of mine for years, and although not an exact re-release of the original, the launch of the Air Jordan 1 High OG "Lost & Found" felt like a pivotal step in my journey. Thankfully, I managed to get two pairs this year, one to rock and one to stock for the years to come. Opening the mismatched box made me feel like I was back in the early days of collecting, giddy with excitement to brush my fingers over every detail.
Even though it held high stock numbers, it is a pair I cherish and share a sense of excitement every time it hits my feet. Next is getting my hands on a true OG "Chicago," and since this pair features aged details reminiscent of an original, it acts as a time machine to 1985. – Andrea Sacal
Concepts x Nike Air Max 1 "Message to the Universe"
We've seen some incredible colorways of the Air Max 1 as it celebrates its 35th anniversary this year — from the Patta releases to the "Ugly Duckling" and "Ironstone." It's hard to pick just one, but for me the Concepts collection stood out the most because of how original it is, especially when the market is flooded with bland, tired dad shoes. The entire concept for "Message to the Universe" was executed perfectly from thought to production, the loud, wild fabrics and patterns remind me of the golden era of sneaker collabs in the early 2000s, and, furthermore, it reminded us that we're a (sneaker) community at the end of the day. – Dave White
Bad Bunny x adidas Powerphase "Benito"
Choosing just one sneaker is one of the hardest decisions I've made all year, but I'm going with the Bad Bunny x adidas Powerphase "Benito." As a Puerto Rican native, it's only right that I go with my boy Benito and out of all the sneakers he's dropped this year this pair stands out the most. From the wild-yet-subtle colors to the way they combined 10 different sneakers on the final design is just mind-blowing. Benito has done a lot for Latin culture musically and politically since he's been making music, so it gives me a great sense of pride and joy to wear his sneakers. – Bryan Velez
HUF x Nike SB Dunk Low "San Francisco"
I had the privilege of meeting Keith Hufnagel a few years back when HUF opened in SoHo on Crosby St. While we were only able to chat for a little, it was inspiring to hear what ideas and concepts he had for the store, how he wanted it to feel, even what music would be playing in the store on the regular. Nike paying tribute to Keith with a "retro" HUF Dunk Low was a no-brainer, but the tie-dye hidden panel gave it a bit of dynamic creativity. While I had the X-Aacto knife out, I went the extra mile and puffed the tongue circa early 2000s NikeTalk and added puffy laces to give it a true SB feel. RIP Keith. – Eddie Eng
Nike Air Force 1 Low "West Indies"
I've come full circle with this shoe. All of my buddies and I owned the original pair of the "West Indies" in the early 2000s. In September of this year, I traveled to New York City for Fashion Week, and as soon as I walked into HBX I noticed the "West Indies" retro on the shoe wall. I suddenly had a sense of nostalgia as I vividly remembered donning the Antoine Walker Celtics jersey with a pair of Girbaud trousers and adding the West Indies to complete the ensemble — the perfect fit for whatever event was taking place! The decision to purchase these and add them to my collection was obvious from that point on. – Bentley Nwalupue
Supreme x Nike SB Dunk High "By Any Means"
I love how the Supreme x Nike SB Dunk High "By Any Means" feels very quintessential NYC. That "NY" logo within the "By aNY Means" embroidered slogan fully describes the classic New York mentality. Nike often uses Supreme to reintroduce a wacky/non-traditional silhouette to ride the wave of hype, so I could appreciate that this collab was just about doing a classic silhouette in a fresh way – Anthony Esponda
Martine Rose x Nike Shox MR4 "Black"
The Martine Rose x Nike Shox MR4 is the ultimate "when you have a game at 6 and a dinner at 7" shoe. These were the first mules in my rotation, and they became a staple in my wardrobe for the later part of 2022. Honestly, I wore them so much that there wasn't even a rotation anymore. Got them for a decent price too! Martine Rose definitely upped the ante with this very polarizing pair, and I speak from experience based on the compliment-to-roast ratio when I had these on.
It's said that most of the time that great art is art that's supposed to provoke and challenge us. I'd like to apply the same train of thought to this silhouette. Overall, I'd say it's Sneaker of the Year material. – AJ Sacil
Salomon XT-6 "Lunar Rock"
Call me a convert, but I am fully obsessed with these shoes. I've always been a fan of white sneakers, but this is my first go-around with a hiking style so it's both new and familiar for me. The XT-6 is the total package: it matches with everything and are quite possibly the most comfortable shoes I've had on my feet. Added bonus: If you live in a city like Hong Kong where it constantly rains, they have a great grip! – Grace Wu
Air Jordan 1 Retro High OG "Lost & Found"
Air Jordan 1s have always held a special place in my heart. Before the silhouette became hot again, I remember swapping between Nike SB Dunk Highs and Jordan 1s when skateboarding with my friends. Since then, my love for sneakers and fashion grew, and any variation of an Air Jordan 1 "Chicago" became a grail for me. The history and cultural impact of the colorway is always present in the sneaker world evokes nostalgia. What stood out to me about this "Lost & Found" pair was the the attention to detail. This includes the aging, weathered shoe box, old school receipt and the wrapping paper. It all told a story and it's definitely a shoe that I will be putting some miles on. – Noel Austin
G DLP x ASICS GEL-LYTE III "Tropicália"
'Tropicália' is one of the most relevant cultural movements of the century, combining Brazilian traditional elements with an innovative way of thinking to inspire the whole world. G DLP and ASICS joined forces to celebrate 'Tropicália` colors, patterns and history through product and editorial storytelling. Super important for the Brazilian community, the shoe was available in more than 40 retailers around the world covering every continent with our local flavor. EPIC! – Marcus Vinicius
and wander x Salomon Odyssey
As a longtime admirer of Salomon, the Odyssey has recently become a new favorite that currently lives at the top of my rotation. More specifically, the and wander x Salomon Odyssey is my sneaker of the year. I'm in love with the silhouette as it carries the perfect balance of support and comfort, featuring EnergyCell midsole technology and a slightly roomier feel (shout out to the Contactgrip too). I've enjoyed the and wander iteration as the colorway and materials bring out the best in silhouette's functional design. – Will Henry
Maison Margiela x Reebok Classic Leather Tabi
This shoe has been on my wish list for years now and what stopped me from buying them previously was that I could never find my size. They were also incredibly expensive. However, I finally found them in my size over the summer at a more "reasonable" price, so I just bit the bullet and I absolutely love them! They were in my sneaker rotation for the better part of the summer and solidified my love for all Tabi shoes. It was just super nice to finally get my hands on a pair of sneakers I had been wanting for awhile now. – Beatriz da Costa
A Ma Maniére x Air Jordan 4
For me, the shoe of the year is the A Ma Maniére x Air Jordan 4. Dating back to the first A Ma Maniére sneaker of the collection that released in 2021, A Ma Maniére successfully utilized each release to amplify movements, and in essence, unify communities. The premium materials paired with the campaign's compelling messaging is all I could ever ask for as a fan. – Tyler Mason