norda Is on a Mission To Make the World's Best Trail Running Shoes
The brand's high-priced, high-quality 001 sneakers have taken the running (and lifestyle) world by storm. Here's how.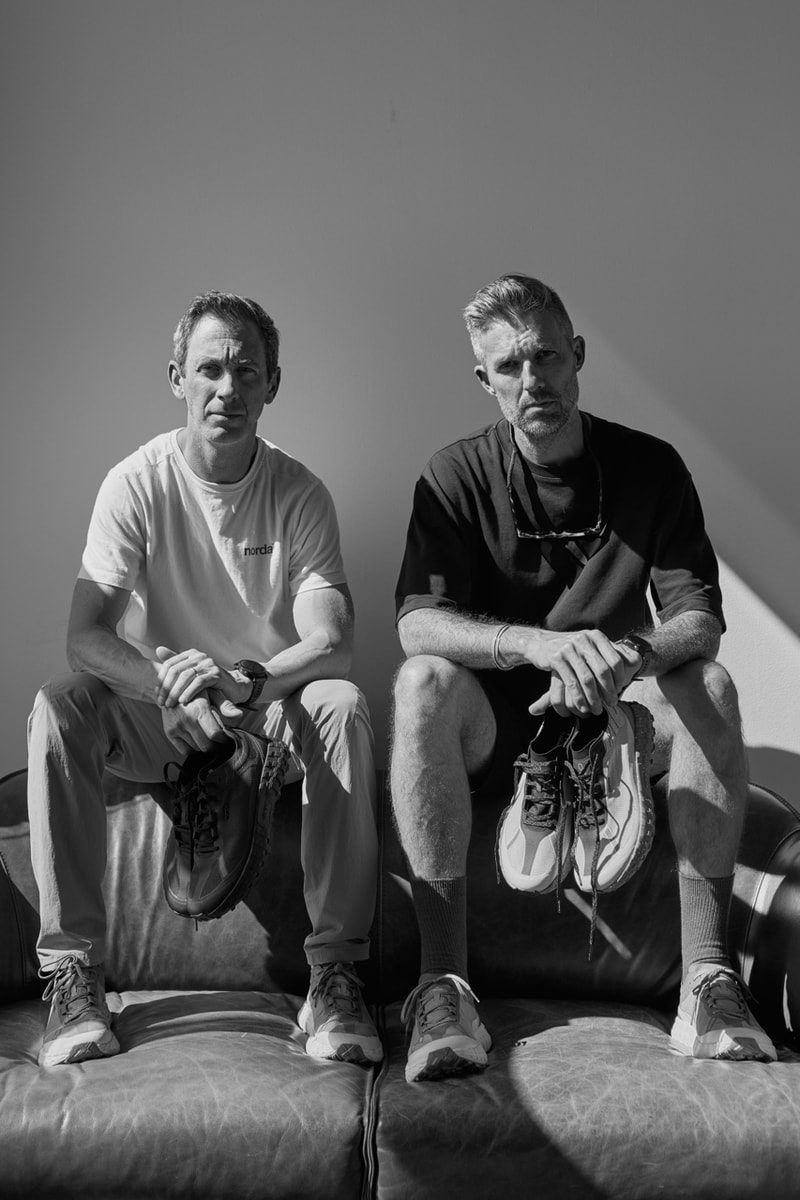 norda Is on a Mission To Make the World's Best Trail Running Shoes
The brand's high-priced, high-quality 001 sneakers have taken the running (and lifestyle) world by storm. Here's how.
When Nick and Willamina Martire teamed up with designer Louis-Martin Tremblay and brand development head Gerard Cleal to start norda, the quartet had a simple-if-lofty goal: to create the world's finest trail running sneakers. Both Martires are extreme-endurance athletes — a discipline that requires a high threshold for pain and a little bit of a crazy streak, just like starting your own company does — so pushing themselves to the limit came easily. Together with Tremblay, the husband and wife duo created the 001, a shoe that has become beloved by grizzled trail runners and street style urchins alike for its combo of looks and performance.
The materials on the 001 read like a "greatest hits" list. The upper and laces are made of Dyneema, an indestructible woven fabric that's twice as strong as Kevlar and one-fifth of the weight. The midsole is made from Vibram SLE foam for cushioning that's generously soft and strikingly responsive. Outsoles utilize Vibram's Litebease and Megagrip technologies to cut weight and add traction. If you're not a material nut, maybe you'll understand the 001's tech specs in automotive terms: Martire and Tremblay frequently compared it to both a Land Rover and a Porsche.
Trail runners love the 001 for its durability and performance features, while casual wearers fawn over its comfort, looks and technical enhancements. Admit it: it's pretty cool to say that your shoes are made from the same material as bulletproof vests and boat sails. Despite a handsome price point that's near $300 USD — Dyneema and Vibram don't come cheap — the 001 has quickly garnered a cult following and is a signifier of taste and class to a certain sect of athlete and sneakerhead, much in the same way (albeit more niche) than other performance shoes-turned-lifestyle favorites like the Salomon XT-6 or the ASICS GEL-Kayano 14.
Besides the materials, what sets the 001 apart from its contemporaries is the fact that it's an entirely new silhouette that was adopted by performance and lifestyle markets alike upon its release — an uncommon phenomenon in today's sneaker world, where new performance models don't often find immediate success in the lifestyle sphere.
Given that norda occupies a very specific spot in sneaker culture, we spoke at length with Nick Martire and Louis-Martin Tremblay about their sneaker origins, how their experiences informed norda's creation, the power of the 001's tech, the importance of sustainability and why, sometimes, performance shoes speak to a group of people that's much larger than the audience they were originally intended for.
Starting Line to Summit
The amount of attention that norda has received belies the fact that the brand is just over two years old, having been officially founded in March 2020. However, Nick Martire and Louis-Martin Tremblay's ties to the sneaker industry go way back — all the way back to their childhoods, in the case of Martire. Martire's father and many of his friends were traveling shoe salesmen, so as a young boy he was often blessed with fresh-off-the-factory-belt samples brought back from business trips to China, from Airwalks to Reebok Pumps.
For his part, Tremblay was an avid skateboarder and basketball player who went on to found his own design studio — Atelier LMTL — and work with popular stores like Off the Hook as well as consult for brands like Aimé Leon Dore, where he worked closely with founder Teddy Santis.
Martire and Tremblay zigged and zagged through the footwear industry in the aughts and 2010s, but eventually crossed paths at Aldo, where the former was working as a vice president and the latter as a design consultant. Each recognized the other as a kindred spirit, but the decision to start a brand was more of a slow burn than an instant spark of inspiration.
"My wife and I had been running together for 20 years, and she'd always mention how dissatisfied she was with her shoes," said Martire. "We knew that better compounds than the ones being used in most modern athletic footwear existed and we knew how to make better shoes, but the timing never felt quite right."
Then, at the tail end of the 2010s, the stars finally aligned. Martire and Tremblay were in Italy on business but used the last day of their trip for a personal excursion to Vibram's headquarters in Albizzate. Besides visiting Vibram, the two also paid a visit to a graphene —a high-end latticed carbon technology that provides support, water repellancy and breathability when used on footwear — company, and the creative wheels that would birth a new shoe technology and a new brand ("norda" is Latin for "north") started spinning.
"When we were walking back to the train to go back to Milan and then to go home, I asked Louis what he thought about making our own shoes," said Martire. "He was like 'I love it, and I love the potential of graphene but I won't do it if it's a bullsh*t gimmick'." (A chuckle from Tremblay confirmed the story).
"I didn't feel like things were being made to last, and I set a personal goal to only work on projects that I could see through from A to Z even if that meant less clients and less money."
"I was growing somewhat disenchanted with the [footwear] industry," said Tremblay, expounding on his initial trepidation. "Brands were like 'let's put a ton of sh*t out there. Are we making our money? Thank you, goodbye, move on.' I didn't feel like things were being made to last, and I set a personal goal to only work on projects that I could see through from A to Z even if that meant less clients and less money."
Martire noted that off-road running shoes had long been an afterthought for most major brands: their biggest budgets and best tech always went into their road and track running footwear, and often trail shoes were little more than carbon copies of those models with beefed-up construction. "There was no off-road running shoe that was like a Land Rover: rugged, yet undeniably premium."
Martire and Tremblay spent the next six months creating the graphene membrane that would form the base of the 001. "There are hundreds of running brands and thousands of running shoes, and I didn't want [norda] to just fall into being one of them," said Tremblay. "Either we were going to do it right or we weren't going to do it at all."
Material Matters
norda was ready to run full steam ahead, but the COVID-19 pandemic slowed things down to a snail's pace. However, just like the old adage goes: slow and steady wins the race. That was certainly the case for norda, at least when it came to securing the support of Dyneema, their signature material partner.
Initially, the Dyneema team's reaction to the affable Canadians and their upstart footwear brand — that, at the time had yet to actually produce a shoe — was lukewarm. Other brands had tried and failed to create seamless shoes with the ultra-durable material and failed spectacularly. Executives at Dyneema, a company that's part of multi-billion dollar conglomerate Avient, had a pointed question: why would this small company be any different? Martire, the ultra-marathoner, knew the answer.
"Because we're stubborn," he said. "The ultra-endurance races I run are centered around pushing the limits, and to me that translated to 'okay, what's the lightest, strongest and most sustainable fiber on earth? It's Dyneema. Why can't we put it in a shoe? Oh, nobody's figured it out before? Well, we will.'" The founders' stubbornness, their extensive sneaker industry backgrounds and the slower pace of life that was prevalent in the early days of the pandemic compelled Dyneema to give them a shot.
The challenge that Martire and Tremblay faced in making a shoe out of Dyneema is that, as strong as the material is, it usually lays flat because it's typically used in coats, backpacks and tents – items that don't have the same sturdy 3-D structure that sneakers do. "We had to do six or seven rounds of sampling for the first 001 to get the seamless construction just right," said Martiere. "Thankfully, we had an amazing team of committed engineers and manufacturing partners around the world who were as obsessive as we were. There was one point where even [Louis-Martin and I] were like 'screw it, just stitch the shoe' and our team simply wouldn't let us because they knew they could get it right."
Eventually, Martire and Tremblay found the perfect material mix, a moment that, after all their trials and tribulations, must have been a similar emotion to what McDonald's founder Ray Kroc felt when he first got the Big Mac sauce just right. The finished product was a single-piece, laser-cut upper made of woven, bio-based Dyneema and recycled Cordura nylon, a creation that Martire refers to as a "high-tech origami experiment."
This two-material mixture was combined with the Italian graphine for an unexampled fabric blend that's terrifically strong and unbelievably lightweight. Exactly how the assemblage was put together is a closely guarded trade secret (do you think Kroc would have shared the Big Mac sauce recipe with anyone who asked?), with Tremblay offering a knowing grin and saying that it was the result of a "new approach." Now, norda produces the 001 both with and without graphene — the non-graphene version features a full Dyneema upper and is still water-resistant. Finishing flourishes up top are provided by other premium add-ons like custom TPU insoles, recycled polyester laces and a feather-light, unnoticeable midfoot "locking" mechanism inspired by cross-country ski boots.
"You get what you pay for … there's a reason our shoes still hit a sweet spot after [600+ miles]."
Though norda set out to break barriers with their shoe's upper, the midsole didn't aim to reinvent the wheel — just make its ride as smooth, cushioned and responsive as possible. The 001's midsole uses a custom Vibram SLE foam that's 30% lighter than most standard EVA foams and designed specifically for trail running. Martire and Tremblay are effusive in their praise for the material, alternatingly calling it the "finest foam in the world" and comparing it to a Lamborghini. "Anyone could use [SLE foam] but nobody does because it's too expensive," said Martire. "You get what you pay for though — there's a reason our shoes still hit a sweet spot after [600+ miles]."
The outsoles are Vibram as well, with optional Carbide steel spikes for hardcore trail runners and a MegaGrip traction pattern that Tremblay notes serves a dual purpose as part of a "happy accident." It's equipped with topographical lines that help increase its grip, but also indirectly nods to the Canadian Shield, a famed trail running area in Ontario. "My soul is in the sole," Tremblay said with pride.
After roughly a year and a half of R&D, the 001 was released to the public on August 19, 2021. Its top-tier materials and thoughtful construction won norda a small-yet-devout fanbase, ranging from some of the world's finest ultra-endurance and off-road running athletes to tech-savvy hikers who just wanted something functional, comfortable and cool to climb in. However, norda's expansion began picking up even more momentum when the 001 found a foothold in the lifestyle market.
Churning Cliffs to Pounding Pavement
Gorpcore — a colloquialism for "good old raisins and peanuts," a favored hiking snack — is a style convention that's been around for decades but was officially bequeathed with its now-ubiquitous nickname back in 2017. In layman's terms, gorpcore items are functional-yet-fashionable, practical yet advanced, logo-equipped but not branding-dominated and stylish by merit of their quality and looks alike, designed for the great outdoors but at home in the city as well.
Calling norda a full-on gorpcore brand would be a shallow oversight, but the attention to detail, high-quality materials and visible tech on the 001 quickly helped it find its footing in the extended gorpcore sphere, a duality that Tremblay said was baked into the shoe's design from its very first sketch.
"We wanted the 001 to perform like a running shoe but look like a lifestyle shoe," he mentioned while also noting that the heel tab draws from the shape of the Porsche 911 and that the overall minimalist aesthetic was inspired by the design principles of influential industrial designer Dieter Rams. "The materials are amazing from a performance standpoint, but they also serve as validation for the overall look and the price point."
The designer also compared the advanced materials and tech on the 001 to the prints on Louis Vuitton's legendary monogrammed handbags, noting that, to consumers, the logos validate the price paid for the bag by associating it with the quality and history of the house — much in the same way norda's materials validate the price points of its shoes. "If you're looking at a shelf of 100 trail running shoes, those Vibram and Dyneema logos will set [the 001] apart: they're cultural signifiers of quality, but also validate the years of research and all the expertise that went into making the shoe."
Collaborations and SMUs are a part of the 001's ethos as well, as in its relatively short time on the market it's been reworked by Satisfy (twice), Ciele Athletics and Ray Zahab, while also appearing in limited colorways like "Lilac" and "Icicle" that feature hand-painted midsoles. Between the collaborative designs and special make-ups, the brand was able to quickly bridge the gap between the mountains and the streets.
"Performance is the new lifestyle. Nowadays, you're not only wearing this gear for your sport, it's become your personal brand identity."
"Performance is the new lifestyle," said Martire. "Nowadays you're not only wearing this gear for your sport, it's become your personal brand identity. People want to represent themselves, but they also want to feel like they can be part of a really specific lifestyle."
"Consumers want a piece of new athletic technology," added Tremblay, mentioning the immediate lifestyle cachet enjoyed by classic performance shoes like the Air Jordan 1 and Air Max 1 in the '80s as examples. "Maybe you'd never run or play basketball, but that doesn't mean you can't want to be part of that evolution."
Peak performance? Check. Lifestyle love? Check. So what does the future hold for norda?
Future Forward
The 001 managed to cut through the endless barrage of sneaker chaff — flash-in-the-pan collabs, breathless marketing, a torrential downpour of releases, skyrocketing aftermarket prices — for a subtle, successful debut that established it as a cult favorite. One of its collabs was nicknamed "Peace and Silence," after all.
However, the follow-up is even more challenging than the introduction: all of a sudden, there's the weight of expectations from consumers who didn't have them before, and norda has set the bar undeniably high for themselves with the 001. If the 001 is their Illmatic, whatever comes next has gotta be hot too. Thankfully, they're more than ready for the sophomore album: Martire revealed that the brand's second model, the 002, has been in development for a full year and will launch in early 2023.
Offering a brief glimpse at the 002 over a video conference, Martire said that the silhouette is the "evolution of norda's mission to push the limits of high performance and sustainability," actualized through the progression of the company's familiar bio-based Dyneema upper plus an exclusive midsole that norda designed in tandem with Vibram.
Besides new designs, sustainability is a driving force behind norda's future. Where most brands view sustainability as circular, meaning their shoes wear down relatively quickly and then can be recycled, norda's outlook on recycling is is one with a longer view. Both Tremblay and Martire believe that a longer product life cycle is actually more beneficial, with the latter mentioning that they want their shoes to be the "electric car" of trail running due to their lower-than-usual impact on the environment.
"Making a shoe that's durable and sustainable is a lot better than a shoe that's sustainable but will get destroyed in three months."
"If you run as much as we do, you're burning through multiple pairs of shoes a year. It doesn't matter if they're 'sustainable' because you're continuously buying new products and starting that cycle over and over again." said Tremblay. "Making a shoe that's durable and sustainable is a lot better than a shoe that's sustainable but will get destroyed in three months."
For Martire, sustainability starts at the ground level. "We want to reduce carbon emissions at the root level of the shoe manufacturing process," he said, noting that shipping a shoe back to a factory where it can be broken down causes emissions — and then breaking the shoe down uses energy. "Let's just make a shoe that lasts three or four times longer, and then its wear will actually be worth the energy it took to break it down."
Part of norda's brand ethos is that the world doesn't need another trail running shoe, it needs a better one. Both now and in the future, norda's mission is to provide just that, respect and cherish the Earth, and bring the fashion crowd along for the ride if they're so inclined. "Louis and I have to apologize to you," Martire said to me with characteristic Canadian politeness. "The 001 is a great running shoe and an awesome casual choice but I have to say that we're sorry — once you put them on you'll need multiple pairs because you'll never want to take them off."
---
Select colorways of norda's 001 are available via HBX now. More new releases will touch down in the coming months