What We'd Like to See From Footwear in 2021
Predicting the future has never been tougher — but here's what the HYPEBEAST staff is hoping for.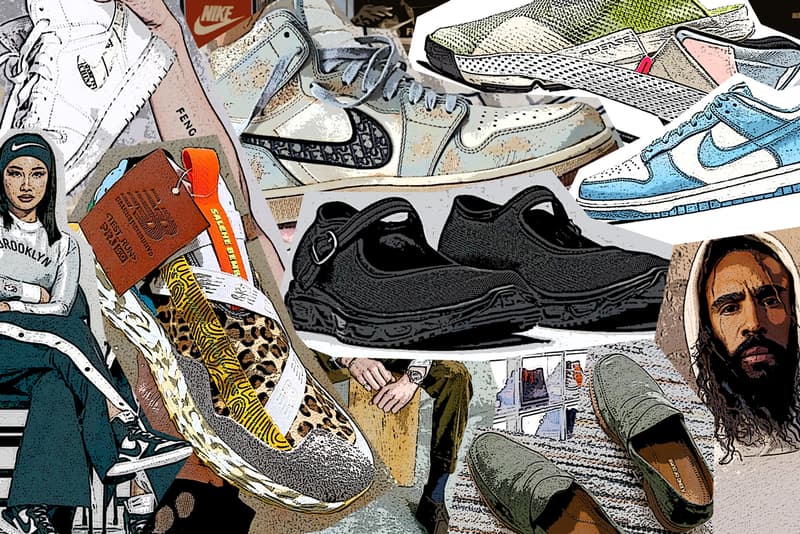 Making sound predictions is a tough task no matter what industry you're in, but for footwear it's more difficult than most — and in 2021, it's more challenging than ever before. As 2021 follows up a year where literally nothing went according to plan, it's no real surprise that the first few weeks of the new calendar have been turbulent of their own accord.
Mirroring the friction of the world at large, the sneaker world is in a state of flux. Trends that were red-hot in 2020 — think mules, Nike's Dunk and the like — face an uncertain future. The NBA All-Star game, long the first major event on any normal year's footwear calendar has been postponed and may not even occur at all. Release dates are pushed, staggered and postponed so frequently it makes your head spin.
Yes, it's a near-impossible year to take a long perspective and make salient guesses on what's going to go down. Therefore, HYPEBEAST has decided to look into the future via a different method: namely, stating what we'd like to see happen in 2021. More than a half dozen members of the team have shared their opinions below, ranging from hopes for the continued rise of New Balance and the fall of the near-omnipresent Dunk to footwear fans forgoing sneakers entirely in favor of more formal footwear. Take a look at our picks below.
The Continued Progression of New Balance
I don't like to dwell on the past, especially when there's so much new stuff coming out every week in the world of footwear, but man: from January 2020 to December 2020 I was absolutely blown away by New Balance, and I'd love to see them keep the ball rolling this year. It's impressive to have a year like NB did in 2020, but it would be even more stunning if they could keep up the pace this year. I don't recall another brand producing such a consistently high level of product since, say, adidas in 2015-2016 or Nike in the months surrounding Virgil Abloh's inaugural "The Ten."
New Balance seems to be on a tremendous hot streak with collaborations that encompass all aspects of sneaker culture — partners like Salehe Bembury, Aimé Leon Dore, WTAPS and Joe Freshgoods are delicious fodder for core sneakerheads, while Jaden Smith brings a pop culture aspect to the table. I don't see any reason why those partners can't keep things rolling this year as their profiles rise, and I'm excited to see who else is brought into the fold. It's rare that another brand manages to challenge the collaborative titan that is Nike, Inc. and even more rare that another brand beats them to the punch when selecting partners. I think a strong case can be made that NB has done both of those things recently, and I hope they can continue to do it this year.
From an in-line standpoint, I've also been really impressed with their new lifestyle silhouettes so far in 2021: the 57/40, the 237 etc. It's rare that you can get today's fickle consumer to buy into a new style when there are already so many good heritage models available, but you've gotta give NB the benefit of the doubt with all the momentum they have. - Ross Dwyer
Big Brands Breaking Boundaries
Big brands have the means and resources to break boundaries, yet too often we're subjected to colorway after colorway of the same styles. Though there's still some innovation coming from the big boys, it can, at times, feel as though it's the emerging sneaker brands that are really pushing the industry in a more progressive, sustainable, or even divisive direction.
But one standout is the Nike ISPA Road Warrior. While Nike is partial to a split-toe moment (the 1996 Air Rift, for example), its tabi-toed pairs have seldom sold out. Things changed when the ISPA Road Warrior came along — a $500 USD price point, limited quantities, ground-breaking tech, and a head turning design sure sounds like the recipe for the perfect hype sneaker. But it wasn't just about hype: it was about fashion and, ultimately, pushing boundaries.
2020 was a year in which anything can happen, and Nike capitalized on this notion. Why should 2021 be any different? Big brands have a die-hard fan base that, with the right kind of encouragement (à la ISPA or the Go Flyease), can be forced to change their mind about what's worth investing in, what is truly exciting, and what will shape the future.
Equally, big brands must take a leaf out of emerging labels' books. Sustainability, waste-less production runs, honesty and transparency are just four pillars many new names are standing by to help define themselves in this saturated market, so it's about time the big guys pulled out the big guns and stepped up to support their smaller counterparts, for the sake of design, culture, and society. - Eric Brain
No More Sneakers
Sneakers have had a good run, but maybe it's time for a change. Over the last year, comfort has been king, as we found ourselves largely confined to our places of residence. On one level, this pointed to a post-sneaker future, as Crocs and Birkenstock became the working from home footwear of choice, but equally it indicates where footwear could be going as vaccines arrive, lockdowns are lifted and life returns to normalcy.
Speaking last month, Drake's Creative Director Michael Hill explained how suiting and tailoring will rebound from sweatpant domination. "In the short term, people will love to dress up, get out, and have fun," Hill explained, and the same could be true of our footwear choices. Sneakers — with their comfort and reliability — will be out, and smarter footwear will help us usher in a new era of peacocking. The sneaker is dead. Long live the shoe. - Jack Stanley
A Better, More Inclusive Selection for Women
Women's sneaker sections tend to be sparse and bleak — honestly. They're not without their stand-outs, to be sure, but the vast majority are the footwear equivalents of Bic Pens For Her™. And, as others have pointed out, the solution seems relatively simple: just have more inclusive sizing across all releases.
Sure, Nike, New Balance, et al. have dabbled in branching out. However, the limitations of the current model and relative lack of options are thrown into stark relief when you look at the tide of expanded sizing in clothing collections (and entirely genderless brands) across streetwear and other branches of fashion.
It's high time to deliver men's and women's releases in a broader size range. It would also preclude the unfortunate event that you can't get a rare gem of a women's-only shoe in a larger size. - Clara Malley
The Death of "Box Fresh"
What do I want to see most this year? I wanna see my sneakers covered in scuffs, mud, cigarette butts, and spilt drinks. I want to wear them out to a bar, or a concert, or (gasp) the beach. And I want to enjoy the marks, the grey shoelaces, the worn-down soles, because they'll remind me of everywhere I went, and everything I did, and — hopefully — everyone I saw.
If lockdown taught me anything, it's that a shelf of pristine sneakers, baby-wiped after every outing, is a hollow joy: as soon as I can get back into the outside world, I'm taking my very best pairs with me. Hopefully we'll all stop fetishizing sneakers as immaculate collector's items, and get back to the best part about having a great pair: showing them off to your friends. - Rob Nowill
More Mary Janes
In this golden era of men's sandals, summer footwear rotations have room for everything from technical Suicokes to timeless Birkenstocks and even the once-reviled flip-flop. Perhaps, finally, the time has come for men to embrace Mary Jane. Not that Mary Jane — we're talking about the shoes that swap laces for forefoot straps.
Call 'em what you like, but similar silhouettes have already graced the feet of Harry Styles and Tyler, the Creator; as indoor/outdoor dressing blurs further, why not toe the line of sandal and shoe further? COMME des GARÇONS continues serving up progressive Mary Janes (its HOMME PLUS menswear imprint also occasionally issues iterations), Maison Margiela's tabi shoes never play it safe, Hender Scheme always cooks up a bestrapped shoe each season and always-adventurous Suicoke has introduced some sandals with Mary Jane-ish forefoot straps, ideal for dipping one's toe into the genderfluid shape. Hopefully more footwear makers follow suit. - Jake Silbert
Heightened Competition
I'm yearning for the sneaker space to get slightly more competitive. As opposed to seeing another Off-White™ collaboration or bring-back of a Dunk, I'd like to see even more silhouettes that don't sport a Swoosh and/or Jumpman swing the pendulum this year. That being said, I think adidas' signing of Jerry Lorenzo along with New Balance and Reebok's consistency in aligning with impactful partners is a good place to start.
Additionally, I'd like to see big-named brands get more creative with their release methods. Instagram raffles are fair but boring. Bots are undefeated. And the Nike SNKRS app is essentially a look book these days considering that it's nearly impossible to catch a W. Bodega's friends-and-family baseball card tactic was fun to watch, and I would love to see Sportswear imprints find more playful ways to launch hot-ticket items. - Elliot Santiago
Loafers Becoming the Ultimate All-Rounder
If there's one thing that being confined to the four walls of my home as a result of a deadly coronavirus pandemic has taught me, then it's that you can actually have enough sneakers. Batches of box-fresh sneakers, crisp and spotless with nowhere to go, sat peeking through their respective cardboard holes, patiently waiting their turn to visit the grocery store for yet another essential shop. Throughout the summer, it was mules and slippers that took their place down the frozen isle, while throughout winter things have taken a turn, and this time it's formal: for this season we've welcomed in the loafer.
Combined with wide pants and cable socks in the winter, shorts and a T-shirt in the summer, and a big bag of Doritos and a 2-liter bottle of Pepsi throughout lockdown, the humble loafer has become the ultimate all-rounder, and I hope that expands in 2021. While the likes of G.H. Bass and Dr. Martens continue to craft exquisite and classic takes on the silhouette, A Kind of Guise's Italian suede Crepe Loafer is my go-to for this season. - Tayler Willson
The Nike Dunk Cooling Off
Quite simply, 2020 was the year of the Nike Dunk. Now, in 2021, Dunk prices are at an all-time high. What was once a shoe that sold for $90 USD is now fetching upwards of $200 USD, even for obscure styles. I've been a fan of Dunks for quite a while, and I can't help but hope that the Dunk will see its "demise" in 2021: not because I want it to fail, but because I want prices to drop.
Just like any other trend, the Dunk craze is cyclical, and at some point Dunks will no longer be the "it" sneaker to rock. The silhouette has entered the phase where even non-sneakerheads are wearing them and to me, the market is on the verge of oversaturation. A new colorway of the shoe is being released almost twice a month, and it seems like Nike's goal is to make the Dunk accessible to everyone at some point. We saw it earlier with the introduction of the Dunk Low 365 By You, which gave the ability to customize the Dunk Low in a variety of color combinations. I'm hoping the general will to resell Dunks causes values to plummet.
At some point, people are gonna need something new to rave about, whether it's another archival shoe from Nike or possibly something from adidas, especially with the recent acquisition of Jerry Lorenzo. I don't know if the Dunk hype will die down by the end of the year, but I hope it does — I miss those days where "beat" Dunks were going for less than $50 USD. - Nick Llanton