I Guess We'll Be Wearing Crocs Forever
For Crocs Day, we ask the brand what makes the shoe so polarizing.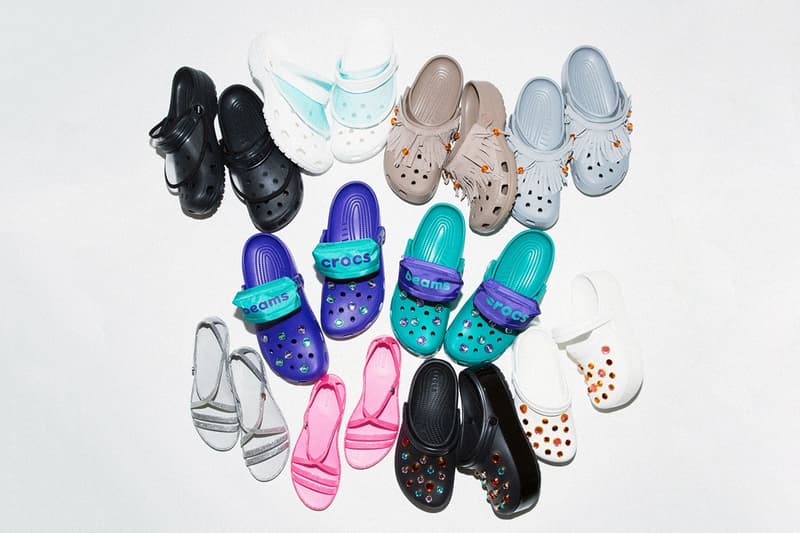 In 2016, Scottish designer Christopher Kane, known for his subversive take on fashion, spotted the humble Croc's potential and offered a luxury take on the clog for his Spring/Summer 2017 runway show. The shoe had until then existed either as a comfy shoe for nurses, chefs or anyone who had to be on their feet all day, or been a source of ridicule for their hideous visage. But Kane was clearly on to something. The Croc reached new heights when Demna Gvasalia decided to place the clog atop a bubblegum pink platform for Balenciaga — and sell them to us for $850 USD apiece. By now, fashion's adoption of Crocs no longer even seems ironic.
Like a foam that keeps growing, Crocs' ties with fashion have only become stronger, as it regularly collaborates with the likes of BEAMS and PLEASURES and most recently released a collaboration with Nicole McLaughlin. And now that we live in the strange times known as 2020 where we only want to wear slippers, the rubber shoe has officially crossed over into formalwear, as Succession star Nicholas Braun wore a pair for the virtual Emmys this year.
Their influence is such that Crocs decided to anoint October 23 as Croc Day. As we consider how the rubber clogs have infiltrated all parts of our lives, we spoke to Crocs Head of Global Marketing Heidi Cooley about the shoe's enduring influence.
HYPEBEAST: Crocs has now collaborated with everyone from Post Malone to Balenciaga. What do you think makes the shoe so ripe for collaboration?
Heidi Cooley: Our collaboration strategy is simple yet effective. We focus on partnering with collaborators who have a genuine relationship with Crocs or like minded brands that share our values and can bring our Classic Clog to life in new and interesting ways. As we've seen this year and in years' past, that respect, mutual admiration and strong sense of authenticity is something consumers expect from Crocs, and, as a result, contributes to the global sell-outs that our collaborations continue to experience.
Beyond that, we've seen growing acceptance of our bold silhouette, which makes it an ideal and recognizable platform for our partners to infuse their own style and personality. That's why you see us collaborate across a wide spectrum of personalities – from luxury fashion and country musicians to streetwear mavericks, cultural icons and others.
When did the Crocs team see that the shoe had this potential to have a crossover appeal to a luxury fashion market? Was there any resistance in the company to targeting a more fashion-forward audience?
Early in the brand's turnaround we created two very unexpected partnerships with luxury fashion brands: Christopher Kane in 2016 followed by Balenciaga in 2017. These gave us the opportunity to start a new dialogue around Crocs, allowing consumers to view our brand in a new light. Since then we have very intentionally sought to create a pipeline of brand partnerships in a variety of spaces. This gives us the ability to find fresh ways to take our footwear and mold it into something completely unique and tailored to new and diverse audiences.
We were well aware that these strategic projects would turn some heads – and they did – but we believe capitalizing on that tension (something our brand is familiar with) would offer new opportunities to create moments of surprise and delight for niche and mass-market consumers alike.
The Balenciaga platform Crocs were perhaps some of the most daring takes on the shoe. How did the Crocs team react to Demna Gvasalia's interpretation of the shoe?
When Balenciaga approached us, we were intrigued by the opportunity to push the boundaries of our design and molding capabilities to see what we could create together. Working with Balenciaga was so much fun for our team, and once again demonstrated the relevance of our iconic clog in today's fashion and design world, while allowing us to tap into the excitement and energy that comes from unexpected partnerships.
The Jibbitz seem to be a big factor in some of these designer collaborations, would Crocs consider releasing those individually or partnering with brands on new styles?
Self-expression is key for our brand and our Jibbitz charms provide an opportunity for consumers to personalize our footwear and create something that is unique, and allows them to be comfortable in their own shoes.
Jibbitz charms are also an important component of our overall collaboration strategy. Take our recent collaboration with Bad Bunny. The glow-in-the-dark Jibbitz charms on his Classic Clog were completely unique to him and representative of a nostalgic moment in his life. Understanding the consumer desire to have access to custom charms like these independently from the shoe, we have already begun creating opportunities for individual purchase on select partnerships.
We started testing this in 2018 when we released a custom 3-pack of Jibbitz charms that fans were able to purchase alongside or independent of our drop with Post Malone that year. Just this year, we also released a limited-edition collaboration three-pack of Jibbitz charms earlier this summer with Chinatown Market with 100-percent of profits going to Feeding America.
Has the company seen an uptick in sales since the quarantine measures have been in place? Do you expect the shoe will pop up in more places (like formalwear) even as we spend more time outside the home?
We've seen the athleisure and comfort trend building for several years, and it's a trend we've been able to take advantage of. We've also been able to provide a very practical solution for frontline workers – with a comfortable, easy-to-clean, easy-to-wear product. So yes, Crocs have certainly become more relevant than ever during these difficult times. We can't really predict where the shoe will pop up in the future, but if one thing is for sure – we believe comfort will remain at the forefront of consumer's minds when choosing to purchase a pair of shoes.
What is it about the shoe that you think elicits such strong reactions in people? How does Crocs feel about its somewhat polarizing place in fashion?
Bring it on! "Ugly" is relative. We think about it in terms of personal style and democratization of fashion, and no one makes more democratic shoes than Crocs. Whether you love us or hate us – that's ok, because that means you're paying attention to us.