The Best Crocs Collaborations, in Honor of National Croc Day
A look back at variations on the divisive shoe from Balenciaga, Post Malone and more.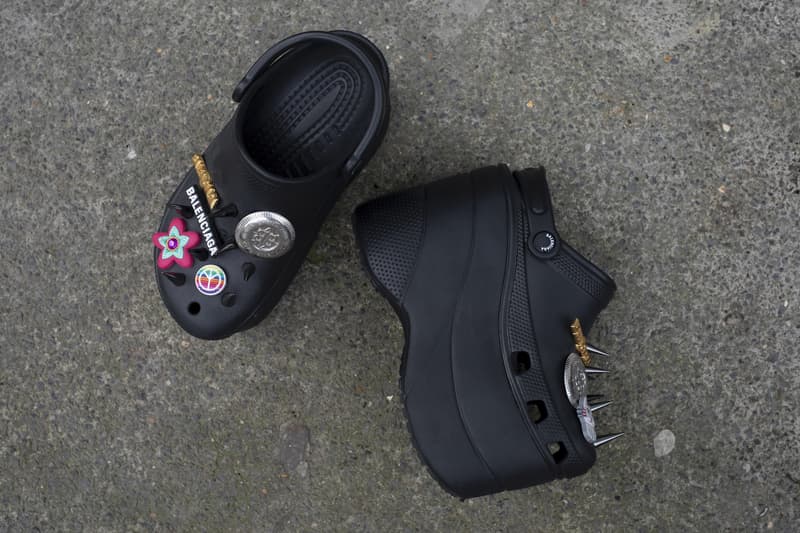 The humble foam clogs known as Crocs have seen a meteoric rise in both the streetwear and high-fashion worlds in the past few years. The transformation of the derided shoe into a fashion item has taken place thanks largely in part to its numerous collaborations with the likes of everyone from Balenciaga and Christopher Kane to Alife and Post Malone.
The divisive clog, which many people either love or hate, was even named by TIME Magazine as one of the worst inventions. And yet this year, Crocs was named the seventh favorite footwear brand amongst U.S. teens in a recent survey, inching past other heavy-weights New Balance (No. 8), Under Armour (No. 9) and Steve Madden (No. 10).
To show appreciation for the foam slip-on, the brand has deemed October 23 National Croc Day, going so far as to even call the month "Croctober." To celebrate #CrocDay, HYPEBEAST has curated a list of the best of the brand's collaborations to sport today — or any day your feet need a bit of extra comfort.
Balenciaga Platform Crocs
Release Date: February 2018
Release Price: $850 USD
In October of 2017, Balenciaga caused a stir in the fashion world when creative director Demna Gvasalia sent a pair of five-inch platform Crocs down the runway in Paris. The classic clog maintains its signature upper with the additions of fridge magnet-inspired Jibbitz™ charms. Coming in colorway options of pink, tan and black, the models instantly sold out upon release. Of the collaboration Gvasalia stated, "It's light, and in the future you will be able to 3D print them at home because they are all one piece — we are using a one-piece foam mold, and working with these kinds of materials is very Balenciaga!"
Christopher Kane
Release Date: February 2017
Release Price: €325 EUR (approximately $348 USD)
The fashion world was left in a bit of shock when Scottish fashion designer Christopher Kane debuted a luxuriously bejeweled Crocs clog during his London Fashion Week Spring/Summer 2017 runway show. The slip-on is designed with a marble effect and is decorated with shimmering, volcanic rock-like stones. On the collaboration Kane told WWD, "Crocs are great, I love them. I don't think anyone's got the right to say right or wrong, unless they're God, otherwise just shut up." Not that that has ever stopped people from commenting on the shoes before.
Christopher Kane Furry Crocs
Release Date: November 2017
Release Price: $545 USD
Christopher Kane followed up on his controversial Crocs collaboration with another pair released later in 2017. Unlike the marble effects seen on the first team up, Kane and Crocs opted for a more winter-ready offering. The classic Crocs silhouette saw a mink fur-lining update in "Mahogany Brown," which aided in the clog's comfort levels, something Crocs has become synonymous for.
Alife Art, Sport, and Classic Clog
Release Date: June 2018
Release Price: $600 USD
Known for its various team-ups, spanning the likes of Umbro and BAPE, Alife nonetheless surprised the streetwear world when it collaborated with Crocs. The capsule was comprised of three models: the Art, Sport and Classic Clog. The Art sported a selection of 3D-printed Jibbitz™ referencing the New York City skyline; the Sport featured built-in tube socks; and finally the Classic iteration sported Alife's logo on the forefoot. Alife's founder and creative director Rob Cristofaro defended the shoes thusly, "The clog is a fashion misfit, which is why I think our collaboration points out that doing something you love is more important than following the latest trends."
Post Malone Dimitri & Classic Clog
Release Date: November and December 2018
Release Price: $60 USD
Another unexpected collaboration saw multi-platinum-recording artist Post Malone teaming up with the footwear manufacturer, not once, but twice last year. The Dimitri Clog sported a baby devil face motif throughout and a Posty Co™ motif on the lateral heels, while the Classic Clog was dressed in yellow and plastered with barbed wire graphics. The latter even hit resell markets soon after being released to the public, where it fetched up to $900 USD. "If you like something, go get it. I wear Crocs everywhere from the bar to the stage and I felt it was the perfect collaboration to get together with Crocs and give the fans what they've been asking for," Malone said of the decision to collaborate.
PLEASURES Skeletal Crocs
Release Date: January 2019
Release Price: $60 USD
This special-edition showcases PLEASURES' affinity for punk and metal motifs, as a skeleton foot graphic is shown printed on top of Crocs' signature Clog. Finishing up the co-branded design is PLEASURES iconography applied on top of the embossed Crocs branding found on the front of the sandal strap. PLEASURES explained, "Streetwear is about comfort and ease of wear — Crocs mastered that! Everyone likes options. If you only wear one type of footwear, you are lame and one-dimensional. We want to broaden our users' horizons to a new level of comfort and style."
Chinatown Market Turf-Lined Clogs
Release Date: January 2019
Release Price: $60 USD
Following closely behind PLEASURES' skeletal offering, fellow LA-based label Chinatown Market dropped its own spin on the Crocs Clog. The footwear option boasts a soft green turf appliqué to allow wearers to feel as if they are walking on freshly cut grass. The rest of the clog is done up in black and features Chinatown Market's signature Smiley Face yellow on the strap and hinge.
PizzaSlime Crocs Moc Crossbody Bag
Release Date: February 2019
Release Price: $300 USD
PizzaSlime first collaborated with Crocs earlier this year on a range of crossbody bags made from the latter's Moc silhouette. Coming in both a black and yellow colorway, the bags feature a zipper closer, adjustable belt-strap and seven of Crocs' custom Jibbitz™ pieces that playfully center around PizzaSlime. The unique hand-made bag saw a limited run of only 25 pieces per colorway, with 50 in total.
BEAMS Spring/Summer 2019 Collection
Release Date: April 2019
Release Price: $53 USD
This fun team-up with Japanese brand BEAMS included three variations on the love it or hate it footwear option. For the first makeover, the two labels added fanny packs to the front of the clog (Classic Pocket Clog). The second iteration sported sun-visors (Classic Sun Visor Clog) and lastly, the third beaded fringes (Classic Fringe Clog). Each of the aforementioned were made available in two different colorway options. A range of women's only silhouettes were also featured in the collection, the Clockband™ Platform Embossed Clogs and the Isabella Glitter Sandals.
Barneys Punk Studded Rubber Clogs
Release Date: June 2019
Release Price: $90 USD
Another high-end variation makes the list, this time from Barneys New York. The famed luxury department store served up two punk-inspired variations of Crocs' classic silhouette. The first pair featured numerous metal embellishments, such as large metal spikes and safety pins, on the front, while a heel chain is strapped onto the back. The second pair is dressed in light blue denim and is covered in metal studs and spikes.
PLEASURES "All-Black" Clog
Release Date: August 2019
Release Price: $60 USD
Following its macabre take, LA-based label PLEASURES once again teamed up with Crocs for a special edition foam-clog dipped in black and marked with the repeated phrase "SOMEWHERE BETWEEN UTOPIA AND DYSTOPIA." The special Jibbitz™ were taken from PLEASURES' graphic archive, giving this collaborative pair an added special touch.
PizzaSlime Glow-in-the-Dark Clog
Release Date: Available today via crocs.com
Release Price: $60 USD
Naturally, Crocs released a special collaboration just for Crocs Day, this time with PizzaSlime. The limited-edition model comes with a selection of glow-in-the-dark letters that spell out "#CROC DAY IS LIT," along with a curated assortment of custom Jibbitz™ charms. Additionally each pair comes as a mystery order that will include a UV light for an extra surprise.