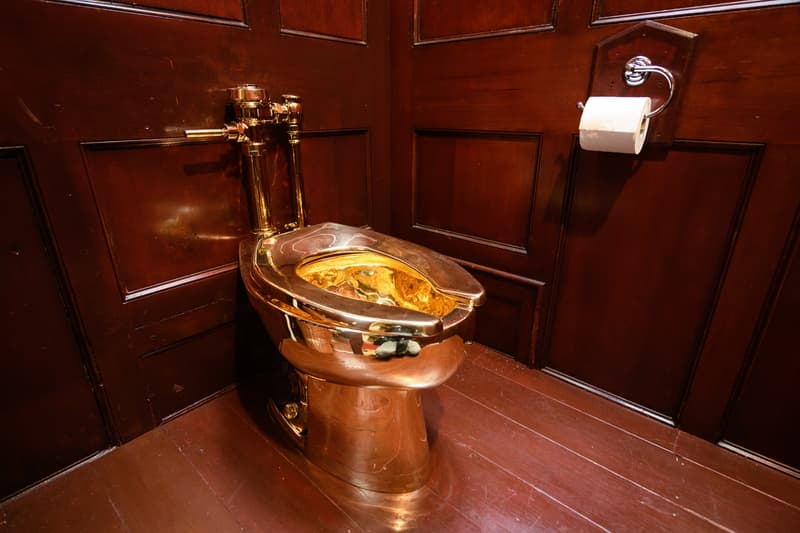 Arrests Made Following Robbery of Maurizio Cattelan's $5 Million USD Gold Toilet (UPDATE)
A $130,000 USD reward will be given to those with information to help recover the artwork.
---
UPDATE: This past September, seminal artist Maurizio Cattelan's 18-karat solid gold toilet was stolen at The Blenheim Palace in the United Kingdom. Two arrests have initially been made by local authorities in connection to the theft of the $5 million USD functioning artwork: a 66-year-old man and 36-year-old man from the town of Cheltenham were released on bail according to BBC. Now, the police have made three more arrests with the freshly-detained suspects encompassing a 35-year-old man, a 34-year-old man, and a 36-year-old woman from Oxford. The trio were held up on suspicion of conspiring to commit the robbery, as per Artforum.
Despite the arrests, the artwork is currently nowhere to be found. Thames authorities have posted a $130,000 USD reward to those who have information that can lead to the sculpture's recovery. The toilet was supposed to remain on view at the historic institution until October 27 as part of its "Victory Is Not an Option" exhibition.
Stay tuned for updates.
Original story published on September 16: Maurizio Cattelan's solid 18 karat gold toilet worth around $5 million USD was stolen at the Blenheim Palace in the United Kingdom. The heist took place this past Saturday morning with reports claiming that a small group of thieves were responsible for removing the fully operating artwork entitled 'America.'
Detective Inspector Jess Milne of the Thames Valley Police department expressed in a statement that a "group of offenders" were involved and used "at least two vehicles" to escape. A 66-year-old man is currently in custody, but the authorities have not yet been able to locate the gold toilet.
Cattelan's 'America' first made its debut at the Solomon R. Guggenheim Museum in New York City back in 2016. The work is part of a solo exhibition called "Victory is Not an Option" of archival and new works by Cattelan. The exhibition is on view until October 27, visit Blenheim Art Foundation's website to learn more.
Stay tuned for updates on the heist, and let us know your thoughts below. Elsewhere in art, Banksy's 'Devolved Parliament' could become his most expensive artwork.
Blenheim Palace
Woodstock OX20 1PP
United Kingdom