Banksy's 'Devolved Parliament' Sells for Record-Breaking Price of $12.2 Million USD (UPDATE)
Sold in just 13 minutes after a bidding war.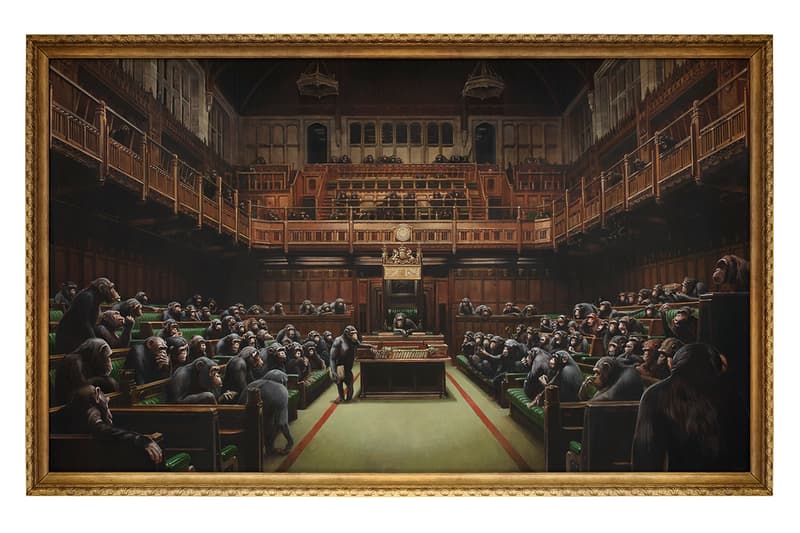 UPDATE (October 3, 2019): This Thursday, Banksy's 'Devolved Parliament' painting hammered down a record-breaking sale price of £9,879,500 GBP (approx. $12.2 million USD) at Sotheby's London auction. The 2009 painting originally had a pre-sale estimate of £1.5 million and £2 million GBP (approximately $1.9 million to $2.5 million USD).
Altogether, the sale of 'Devolved Parliament' marks the highest auction record for a Banksy work with the elusive artist's 'Keep It Spotless' piece coming in second when it sold for $1.8 million USD in Sotheby's New York back in 2008, as reported by the BBC.
ORIGINAL STORY (September 16, 2019):Banksy's 2019 work Devolved Parliament is set to go up for auction at London's Sotheby's later this month. The political satire shows the UK's House of Commons with every member of parliament replaced by chimpanzees, and was first seen at Banksy's hometown exhibition in Bristol back in 2009. Since then, Devolved Parliament was also put back on display to coincide with "Brexit Day" on March 31 this year, the day that the UK was set to leave the European Union.
The 13-foot painting is estimated to sell for somewhere between £1.5 million and £2 million GBP (approximately $1.9 million to $2.5 million USD). This would eclipse the previous record for a Banksy work, which was set when Keep it Spotless – a Damien Hirst spot painting overlaid with a stencil of a maid cleaning — sold for $1.87 million USD (£1.52 million GBP) in 2008.
Devolved Parliament will be on display at Sotheby's in London from September 28, before the auction on October 3. For more information, head over to the Sotheby's site.
In related news, Banksy recently responded to the removal of his 2017 Brexit mural.
Sotheby's London
34-35 New Bond Street
London
W1A 2AA
UK