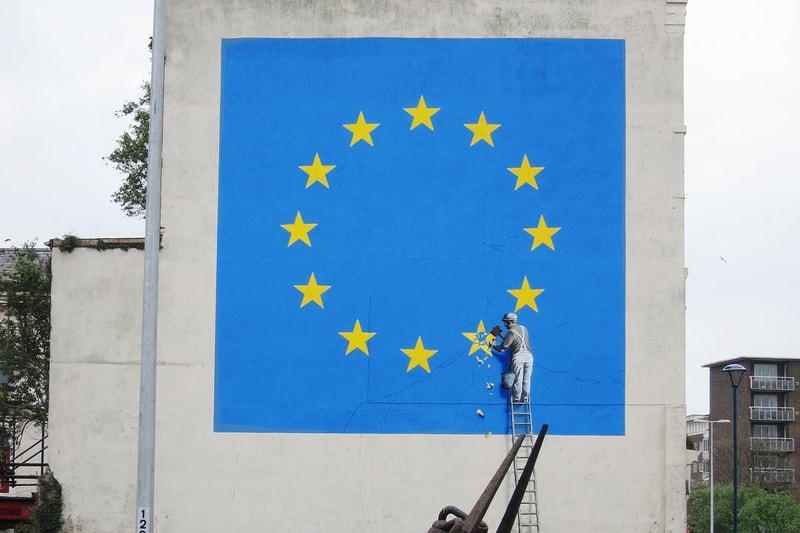 Banksy Responds to Mysterious Removal of 2017 Brexit Mural
"I guess a big white flag says it just as well."
---
Earlier this Thursday, Banksy took to Instagram to respond to the mysterious removal of his Brexit mural in Dover, England. The artist captioned: "Oh. I had planned that on the day of Brexit I was going to change the piece in Dover to this.. But seems they've painted over it. Nevermind. I guess a big white flag says it just as well."
Banksy painted the outdoor work on May 7, 2017 that portrayed a man on ladder chipping away at one of the stars on the EU flag. The star that was taken down represented Britain after it was voted that the country was going to exit the EU in 2016. Located on the side of the Castle Amusements building, the mural was found completely whitewashed on August 25th.
The removal of the painting had upset many including a member of the parliament, Charlie Elphicke, who directed his frustration to Historic England — England's public body responsible for preserving the country's landmarks. "Very disappointed by the disappearance of the Dover Banksy. A culturally iconic statement on our times. We asked Historic England to use their powers to protect this work but they refused. This is the result. They should hang their heads in shame," said Elphicke on Twitter. Historic England replied stating that they were not able to protect the Banksy mural because it wasn't old enough to list.
In other art stories, KAWS recently announced his "BLACKOUT" exhibition coming to London in October.