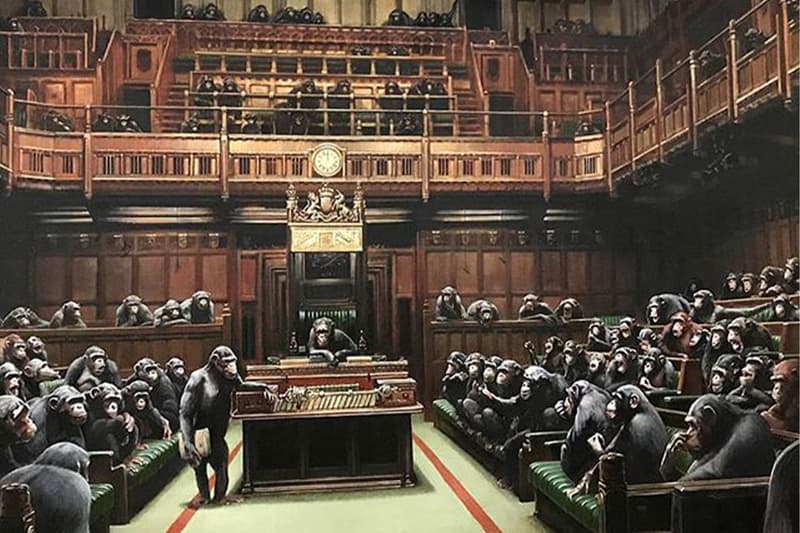 Banksy's 'Devolved Parliament' Painting Back on Display for Brexit Day
"Laugh now, but one day no-one will be in charge."
---
Banksy recently announced that the Bristol Museum & Art Gallery is once again exhibiting his famed Devolved Parliament canvas. The 13-foot painting, which depicts politicians replaced with chimpanzees in the House of Commons, was initially displayed inside the institution in 2009 as part of its "Banksy vs Bristol Museum" exhibition.
The elusive British artist took to Instagram to unveil the artwork's reappearance while having captioned: "Laugh now, but one day no-one will be in charge," an ode to his 2001 Laugh Now stencil.
While Banksy's spokeswoman has called the piece "massively relevant" to the Parliament's current political climate, she noted that its reemergence is "not a comment on Brexit by Banksy by any means but it is a timely unveiling of the museum having it on show."
Devolved Parliament will be up for display at the Bristol Museum & Art Gallery until August 2019.
In recent art news, Medicom Toy and Brandalism have an unveiled their latest Banksy-inspired figure.
Bristol Museum & Art Gallery
Queens Rd
Bristol BS8 1RL
UK