Harlem Gospel Travelers Share 'He's On Time' Single "If You Can't Make It Through A Storm"
The NYC quartet's debut album is on the way.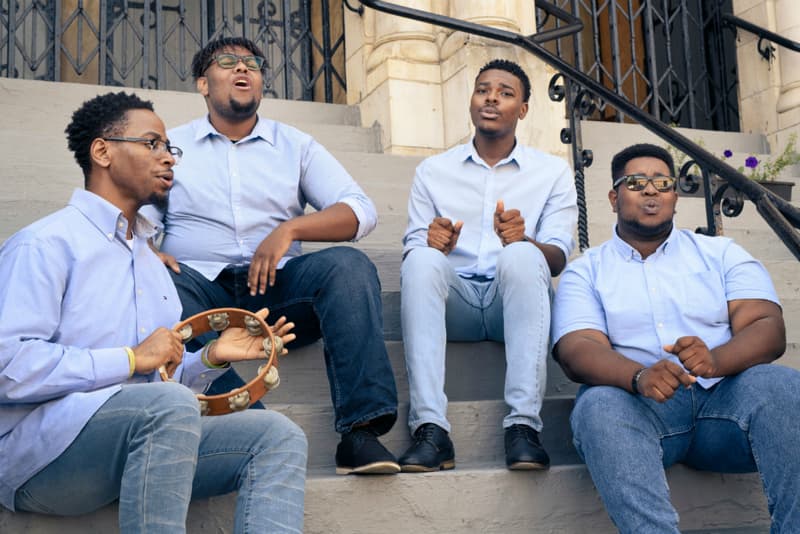 New York City group The Harlem Gospel Travelers are revealing plans for their debut studio album He's On Time and introducing the project by sharing a new record titled "If You Can't Make It Through A Storm."
Thomas Gatling, Asher Bethune, Stephen Pedley and George Marage's first full-length release as The Harlem Gospel Travelers, He's On Time will hit streaming services and similar platforms next month courtesy of Colemine Records. The LP will deliver ten new compositions to listeners, including today's single. Notably, He's On Time was recorded "mostly live to eight track analog tape" and was put together in directly under four days.
"'If You Can't Make It Through a Storm' is a song that charges the believer to increase their faith," Thomas Gatling tells us. "My grandfather died before I was born but I always felt that I had a spiritual connection with him. My mother told me that my grandfather had sang the song with his quartet and when I started singing it, it not only lifted me out of my dark place but brought me closer to him and his memory."
You can check out Harlem Gospel Travelers' latest single "If You Can't Make It Through A Storm" and take a look at their upcoming project's tracklist below, while their new studio album He's On Time will see release on October 11 via Colemine Records, and is currently available for pre-order. Harlem Gospel Travelers will celebrate the release of He's On Time with a special performance at Union Hall in New York City next Thursday, October 10.

The Harlem Gospel Travelers – He's On Time
1. Oh Yes He Will
2. Am I Doing Enough?
3. Motherless Child
4. He's On Time
5. If You Can't Make It Through A Storm
6. On The Right Road
7. Wash Me, Lord
8. Do You Know Him?
9. Brighter Day
10. Shine On Me