Concepts Announces New Boston Flagship Location
HYPEBEAST spoke with Deon Point, Tarek Hassan and Darin O'Brien about the new store and more in an exclusive interview.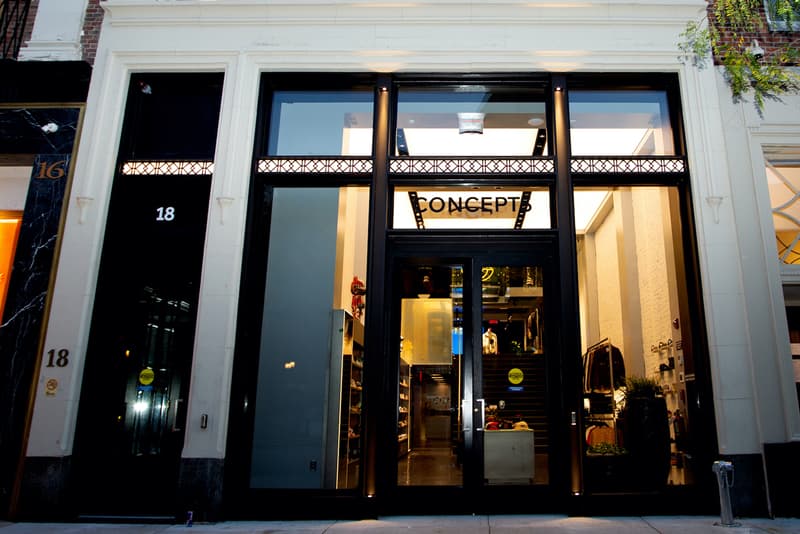 Since first opening its doors in 1996, Concepts has grown to become one of the most powerful and well-known retailers in the worlds of fashion and footwear. Behind the vision of founder/CEO Tarek Hassan, creative director Deon Point and president Darin O'Brien, Concepts has expanded from Boston and set foot in New York City, Dubai and Shanghai — and, along the way, created memorable collaborations like the "Lobster" series with Nike SB and the 999 "Kennedy" with New Balance.
Now, after almost 25 years in the game, Concepts is entering its next chapter with a new Boston flagship location. Spanning 4,700 square feet over three flores and located in the heart of Boston's Back Bay neighborhood, the store holds Concepts' usual curated selection of sneakers, apparel and accessories, but also serves as the brick and mortar introduction of VRSNL, a "women's-focused luxury boutique through the lens of streetwear."
The store itself is centered around a striking zinc cube that casts light into every corner for a unique visual experience. The staircase that connects all three floors is inspired by the Greek concept of "theatron," a "place of gathering for spectators." A DJ booth is present on the first floor, while concrete and stone fixtures add an air of luxury.
HYPEBEAST spoke with Hassan, Point and O'Brien about the new store, the importance of physical retail in an ever-evolving digital market, their favorite collaborations and more. See the full interview below.
HYPEBEAST: What's your favorite thing about the new flagship store?
Tarek Hassan, Concepts CEO and founder: The location, size of the store and the ability to express storytelling the way we've always imagined. This flagship store represents who we are as a brand, and also where we're going as a brand. From the beginning, we've been a lifestyle brand. Concepts is not just about streetwear or footwear — it's a lot deeper and more meaningful. The vision has always been there, but the time is now and this is the chance to express who we are, what the brand is about. It's a lifestyle, and we aren't pigeonholed to streetwear or footwear.
Darin O'Brien, Concepts president: After almost 25 years, Concepts has made a commitment to the local community and the culture of storytelling. This is really a moment in our journey overall and the evolution of what we've become. The commitment to who we are is still there, this is just the notion of an evolution and a strategic journey.
How does the new VRSNL experience fit into the Concepts DNA?
Hassan: Concepts was the result of introducing sneakers and skate culture, to the world of fashion. Our intention with VRSNL is to inverse that thinking, by taking a luxury women's platform with a strong presence in the designer fashion world, and provide a space for streetwear to exist, all while serving our fastest growing customer, women.
In today's world of e-commerce where any product is available with a few clicks, Concepts has still managed to successfully make brick and mortar retail a priority. How have you managed to keep customers coming back instead of shopping from the comfort of their home?
Deon Point, Concepts creative director: Concepts is rooted in retail, and that's where we excel. The brand starts with people, and for us it's so important to have people in the store touching and feeling the product. Even though we've adapted to online, I think there's something to be said about the fact that we've always carried the torch for brick and mortar. Even though our e-comm is growing, the people who shop at Concepts are such a core part of who the brand is. Concepts is a family — people continue to shop in-store with us because of that. I truly believe our customers have trust in us and honestly, online shopping doesn't buy loyalty. It's the brick and mortar locations that keep customers coming back again.
Hassan: Watching people interact in the store is priceless for me. It's a different feeling when you're watching 1,000 people waiting in line to buy a shoe. Maybe I'm old fashioned in that way, but you can't replace the feeling of the staff, and the music, and being able to walk out of the store with the product you waited in line for. Right now, we're focused on doing this through the lens of health and safety, but nonetheless we wanted our consumers to be able to come to the new store and really have the brick and mortar experience.
Tell us about why storytelling is so important in your co-created product, and how you find inspiration for these stories.
Hassan: Everything starts with inspiration. It's never just been about products and materials, there is always a story behind it. Products can come and go, but the story behind it will always remain. If we own the storytelling, everything else can be easy for us.
O'Brien: Inspiration and creativity is super important for everything we do, but the how is what's special about Concepts, and what we really bring to the table. We sweat the details, and that's an important piece.
Do a few favorite collaborations instantly come to mind, or is that too much like being asked to pick a favorite child?
Point: To us, every collaboration is very meaningful. We literally live through every project that we do. We're always trying to push the boundary, to build, to tell a bigger story, to go out of our comfortable zone even more. We're proud of everything we've achieved with our partners, but some collaborations are timeless, like the Concepts x Nike SB Dunk "Lobster." These moments where a product becomes a household name, and is less affiliated to Concepts or Nike, but rather something that tells a story on its own and stands the test of time, are priceless. We don't have a lot of time or energy to think and look back, we're always thinking about the next one.
Where do you see Concepts heading in the next decade?
Hassan: I look at brands that I respect and they remain authentic. You maintain that in years to come, and you'll remain successful. You never want to sell out, and to do that you have to invest in your roots and where you come from. If you can maintain that authenticity, the sky is your limit. We know a lot of great brands that maintain their identity and who they are for hundreds of years, and that's how we see our brand.
O'Brien: If you think about Concepts and what we have done for the past 25 things, a few things are consistent. Those are the retail experience, the storytelling through product, and the connection to the community. 10 years from now, it will be those three things, but they will all be better. Those three things are fundamental to who we are.
With Concepts almost 25 years deep in the game, what are you most proud of?
Hassan: I'm most proud of my team. I wouldn't be where I am, and the brand wouldn't be where it is without the team. I'm proud of every moment. Second, I'm proud that we've stood strong through the good times and the bad times. Everyone has challenges in life and in business and we've been able to weather the storm. We're in the best places we've ever been with the best team we've ever had, and I'm very proud of that.
O'Brien: What we're most proud of is that we're still here. We have a solid, passionate team that lives and breathes what we do. I think running a business or a brand without those passionate people makes things really difficult.
Concepts' new Boston flagship is located at 18 Newbury Street, Boston, MA, 02116, and will open to the public on October 24. Store hours are 10 A.M.-7 P.M. Sunday-Thursday and 10 AM-8 P.M. Friday and Saturday.
For more footwear news, check out WACKO MARIA and Nike SB's upcoming Blazer Low collaboration.