Walter Van Beirendonck Wants You to Take Humor Seriously
The legendary designer is enjoying a cultural resurgence. Who could be more fitting for the times we're in now?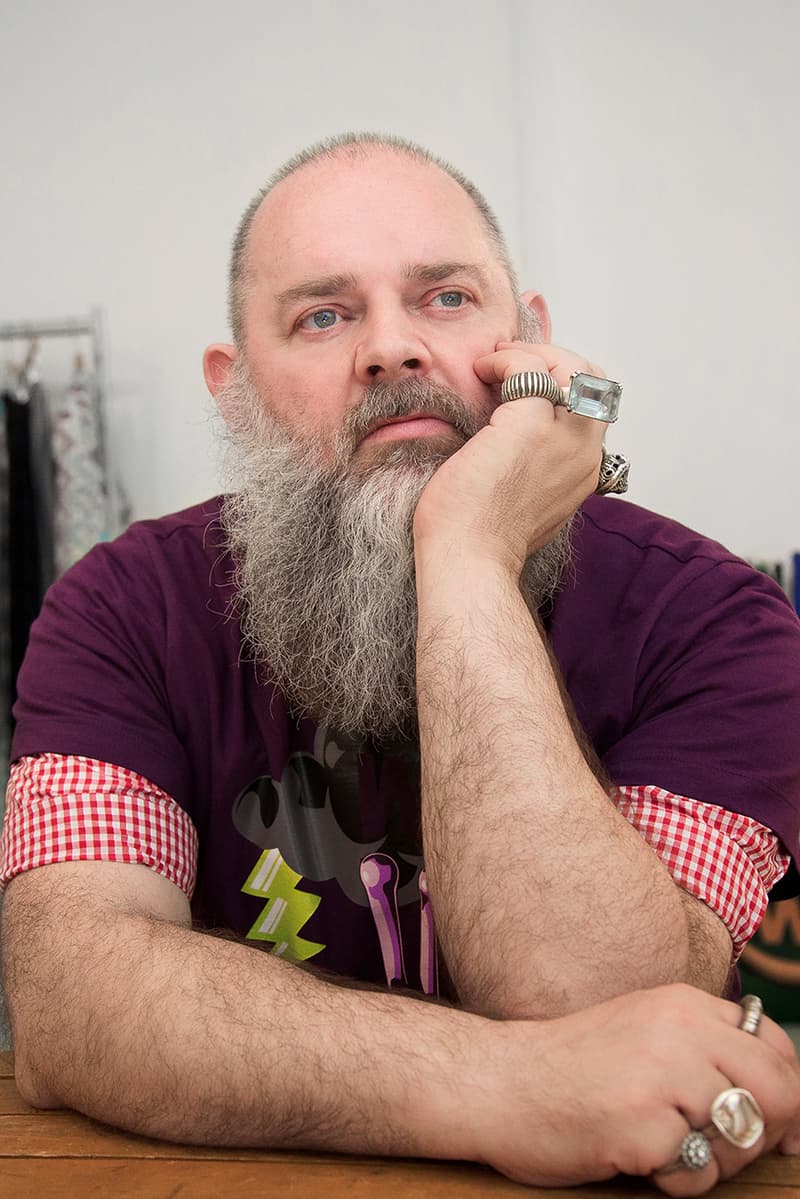 Walter Van Beirendonck Wants You to Take Humor Seriously
The legendary designer is enjoying a cultural resurgence. Who could be more fitting for the times we're in now?
Approximately a third of the screen is taken up by a white beard. Against the background wall, shelves heave with toys, models, dolls, and plastic figurines (including a Spiderman figure which teeters, imposingly, from above). At the center of it all is the 63-year-old fashion designer Walter Van Beirendonck.
Van Beirendonck is speaking via Zoom from Zandhoven, a small village in rural Belgium, where he lives with his partner, the designer Dirk Van Saene. Though he still regularly makes the 11-mile commute into Antwerp, where he is the director of the fashion school at the Royal Academy of Fine Arts, Van Beirendonck has, like most of us, seen his life shrink dramatically this summer. "I miss the world," he says. "I miss seeing exhibitions. I miss being in another city — not that I was traveling that much, just for work. And I miss coming together with other people."
"People don't dare anymore to be creative. And that is such a pity."
Despite a career spanning almost 40 years, Van Beirendonck remains something of an outlier within fashion. He doesn't share the pop-cultural omnipresence of Karl Lagerfeld or Donatella Versace, nor the carefully-cultivated mystique of Rei Kawakubo or Yohji Yamamoto. Instead, both he and his work have maintained an "if you know, you know" quality for almost four decades. His idiosyncratic, often cartoonish collections (and the frequently challenging to wear pieces within them) represent an increasingly rare proposition in today's fashion market: the result of total creative freedom, completely unfettered by corporate or commercial concerns.
Van Beirendonck, unlike almost every other significant working designer today, remains completely independent, with total control over his brand. "I'm 100-percent free to do whatever I want," he says. "And I'm supported by my clients, and by my fans. It's a big community." And it has allowed him to occupy a boundary-pushing, controversy-courting position throughout his career. Yet for all the bombast of his work, it's rooted in serious intent.
His collections, since the earliest days of his career, are a means of agitating for the causes closest to his heart: he was ruminating on climate change, LGBT rights, and the lack of diversity within the fashion industry long before they became "woke" buzzwords for the fashion industry. As the fashion critic Tim Blanks — a longtime supporter of Van Beirendonck — puts it, "his sensibility has always been that of an activist. So his voice is fiercely authentic. And he functions best in a crisis. Heaven only knows we can take our pick of those right now."
Today, though, van Beirendonck is cynical about the co-opting of political sentiment adopted by so many brands today. "It's something which is really misused," he says. "You can see statements coming from certain designers, who never cared about the world before. Suddenly everyone is caring about everything, when before they cared about nothing. It's typical fashion."
"I'm a little bit shocked by it," he continues. "It's become a way to get attention, a marketing tool, to do political statements. And that is something I definitely don't want to do."
Instead, the designer took a different tack for his most recent Spring/Summer 2021 collection. "It's much more about a feeling," he says. "And a statement about protecting yourself." The designer, constrained by the restrictions of the COVID-19 lockdowns, found himself with limits imposed on his creative process for the first time. "I was just thinking, 'what can I do?'" he says. "The big problem at that time was fabrics: all of the companies I work with were closed. So I had to work with the fabrics that I had already selected, and that had already arrived at my studio."
"I felt for a long time that the press did not get it. And a lot of people never will."
Faced with limited resources and unwilling to compromise on design, Van Beirendonck opted to make the entire collection in miniature, and present it to the press on a series of custom-made mannequins. It made for one of few memorable moments in what was otherwise agreed to be a largely forgettable men's fashion week. "It's interesting," he says, "it actually had a very good effect on the selling. Orders were as good as before. I was rather relieved." He cites the presentation as an example of something he couldn't have done without his independence — and a stark contrast to the rather bland offerings of so many other brands. "You can see that even money is not making it happen. There were a few big productions, and a few of them I liked. But a lot of them were bullsh*t."
"People don't dare anymore to be creative. And that is such a pity. I feel like everything is flattened now. I feel like everything looks the same."
Which leads to Virgil Abloh. Earlier in the summer, after Abloh's Spring/Summer 2021 presentation for Louis Vuitton, Van Beirendonck took to Instagram to accuse Abloh of copying his work, particularly regarding a series of garments with dolls sewn onto their fronts, in a style which looked notably similar to his own Fall/Winter 2016 collection. Abloh, for his part, forcefully denied the allegations — and, in the lengthy show notes that accompanied his collection, claimed that the pieces were in fact inspired by traditional Ghanian sculptures.
Inevitably, as the law of social media dictates, this led in turn to a backlash against Van Beirendonck himself. The designer found himself the subject of one of Kanye West's Twitter rants, and was accused of cultural appropriation by some media outlets, who drew attention to Van Beirendonck's own use of figures and imagery from African, South American, and Oceanic cultures throughout his career.
Today, wary of reviving the controversy, Van Beirendonck is keen to steer clear of the subject of Abloh and Vuitton. Nevertheless, he confesses to being saddened and surprised by the backlash he received. "I mean, I try to avoid it," he says. "But I went through all of that criticism. I was even called a racist. But I mean…I embrace the world. I love the world. I have so much respect for all of these different cultures." Ironically enough, one of Van Beirendonck's most media-spotlighted moments was his own criticism of cultural appropriation in a 2014 show, via a series of headdresses that were widely regarded as a veiled dig at Karl Lagerfeld for his use of Native American symbols.
But as a designer who rose to prominence during the 1990s, much of Van Beirendonck's career predates today's more widespread concerns about where a creative figure — especially a white male — should be allowed to draw references from. As such, he remains somewhat skeptical of the heightened sensitivity of the times he finds himself in. "It's not good for the fashion world," he says. "We don't have the possibility to think spontaneously. I think artists should have the possibility to be inspired, and triggered to come out with statements."
Though he has put the incident behind him, Van Beirendonck insists that being referenced, in and of itself, was not what he took issue with. Rather, his frustration stems from his belief that his influence and legacy in menswear has consistently been under-acknowledged by the fashion industry, despite the frequent allusions to his work that he sees in other collections. "A lot of the things which I started in men's fashion…it's not easy to say, or to prove," he says. "It's more general than that. It's about how we are now working with gender, with colors, with prints. A lot of these things I really pushed forward a long time ago."
He laughs. "I don't know. In a hundred years, maybe people will see it."
The issue, I suggest, is that Van Beirendonck's contributions to menswear have been overlooked due to the outlandish and often humorous nature of his designs. He reflects for a moment. "It's a direction which is not always easy to get," he concedes. "And especially not by serious people. It's only in the last 10 years that I feel any kind of respect. I felt for a long time that the press did not get it. And a lot of people never will."
"The really serious press, they hardly show my work," he continues. "Vogue, and the traditional men's magazines…they are not interested. I mean, we do the press from Antwerp. I know what is being sent to which magazines. And the mainstream is really not interested. Which I do understand. I don't think they can include my work in their editorials. Not with all the pressure from the big houses, who are paying for publicity."
He becomes more animated. "If you only make things in black, and you only go for 'serious' clothes, you're much easier understood," he says. "And of course, that's a skill. But humor is also a skill."
For his part, Blanks believes that Beirendonck's legacy might be best expressed through the students he has worked with at the Academy in Antwerp. "He's very successfully moulded young minds with his dynamic queer sensibility," says Blanks. "I guess his legacy will ultimately be very similar to Rei Kawakubo, in the way that he subverts orthodoxy, taking the substance of menswear (fine tailoring, for instance) and cracking it open with colour and print and incredible craft and the pursuit of absolute freedom."
Regardless, in a positive and unexpected development for the designer, his brand is newly finding favour with a younger audience, who are hungry for the giddy, high-impact, '90s-defining aesthetic of his clothes. The vintage retailer House of Liza, which sells archival pieces of Van Beirendonck's, reports that demand for his collections is markedly on the rise. "When I started selling it 10 years ago, there wasn't much demand," says the store's founder, Gonçalo Velosa. "But the social media boom has brought his old work to the forefront again. A new generation has discovered his work, and it's like it has taken them on a history lesson. "
It's something that Van Beirendonck has seen for himself. "They are all posting pictures of themselves wearing W&LT [the name of Walter's brand during the 1990s]. It's like a kind of community," he says. "I suppose that style of the '90s is back: all these young people wearing heavy shoes, and bright colors, with a touch of gothic sometimes. And there's not much out there that looks like W&LT." Emboldened by its growing success, last year Velosa worked with Van Beirendonck on a one-off sale of pieces from the designer's own archives, sold via the online marketplace Farfetch.
And he has seen, too, that the popularity of his new work is rising: The boutique LN-CC, which began carrying the brand earlier this year, reports positive sales. "We were super happy with its performance," says Head of Buying Reece Crisp, who notes that the more directional runway pieces have seen the strongest reaction from customers. "I think his customers are playful, and keen to have something unique." Selfridges, which picked up the brand two years ago, also reports strong demand from the store's personal shopping department. "His followers are keen collectors," says Head of Menswear Jack Cassidy. "I think the appeal is that Walter has stayed true to his vision." For Spring/Summer 2021, Van Beirendonck has picked up significant new stockists including the e-comm store MATCHESFASHION.
He attributes some of the success of his recent collections to the industry catching up to his own way of working: avoiding the "money jobs" and working according to his own rules has served him well, particularly during the pandemic. "I'm not working differently, to be honest," he says. "I was already working on a small scale, with a small team. I have direct contact with everyone who makes things for me. I'm happy that I have that way of working. And I think my clients have a lot of respect for it."
In spite of everything, then, it has been a positive year for Van Beirendonck. Does he feel optimistic about the future today? "I try to keep it up, as much as possible," he says. "But now, with the situation we are in…the Climate…Trump… it's just not an uplifting situation." He takes a deep breath. "I'm not so sure there will be a good end to all this."
"But I try to keep up hope."