Everything Is a Slipper Now
Mule, slip-on, and backless styles might be the defining footwear trend of this decade. Will we ever go back?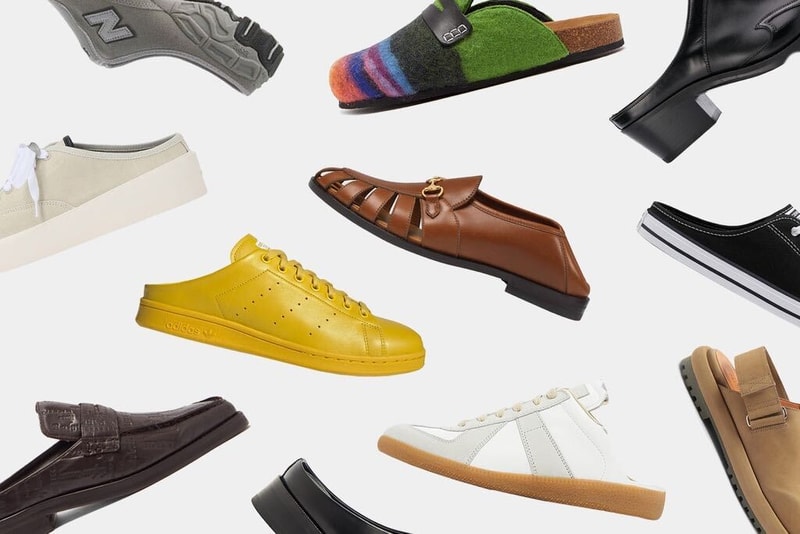 Over the last six months of COVID-19 lockdowns, many of us have seen our footwear rotations steadily dwindling: sneakers have gone back into their boxes, sandals gather dust in the absence of any opportunity to wear them, while oxfords, lace-ups, and derbies have increasingly begun to feel like a relic from a former era.
My own arsenal has been reduced to two options: shearling Suicoke slippers (which I endorsed over the summer on this very site), or a pair of backless, padded shoes that make my feet look like in-flight neck pillows. Frankly, nothing else at the moment will cut it: when the most far-flung excursion of the day is likely to be the walk to the grocery store, the idea of pulling on a proper pair of shoes seems like an almost unnatural act.
Of course, there's nothing new about slippers: their existence dates back to at least the 12th century. And within the insular world of fashion, their popularity exploded at Alessandro Michele's first Gucci show in 2015, when he debuted a backless, fur-lined loafer which has since become one of the brand's most hotly-demanded staples.
But in recent years, it's gone beyond a trend, into something else. At this point, pretty much every shoe you could think of has been reinvented as a slipper, or a slip-on: a cowboy boot or a running sneaker. A skate shoe or a pair of Converse. Even workwear boots — surely the hardiest of men's footwear — have been transmogrified into something you could wear to pad around your apartment. But in doing so, we might have committed the Jurassic Park error: we were so preoccupied with whether we could make something backless, we didn't stop to think if we should.
It raises the question: if lockdown is only going to cement our desire for comfort further, will traditional shoes become redundant? Will shoelaces go the way of Blockbusters, payphones and travel agents?
Raven Smith, a columnist and writer based in London, made the transition into slippers around three years ago, thanks to a pair of backless Gucci shoes. The style he chose aren't exactly a loafer: they have a rounded-off, clompy feel that renders them closer to a clog, or even a Croc. He hasn't looked back. "I feel like I stand taller in them," he says. "It must be like some women are with heels."
Smith acknowledges, though, that their reputation as a cozy-boy staple might not be entirely earned. "They are actually not easy to wear," he says. "There's a real element of jeopardy to them: if you unclench your toes while you're walking or dancing in them, they're gone. It really adds a level of pressure when you wear them to a wedding." Nevertheless, he has taken to wearing them everywhere, and has found them surprisingly versatile: as he puts it, "you can't go to a smart occasion in pool slides. But you can wear a clog." This point was proven only recently, when the Succession actor Nicholas Braun wore a pair of embellished Crocs for this year's Emmys (Smith himself shared the image on his Instagram account.)
"There's a real element of jeopardy to them: if you unclench your toes while you're walking or dancing in them, they're gone."
For many, the appeal of a slipper lies in this fluidity between formal and informal: somehow, when a shoe becomes backless, it seems to become fancier, and more "designed." The retailer MATCHESFASHION, which reports a brisk trade of slippers and mules, attributes a large part of their popularity to that fact.
"They've become the shoe of choice for entertaining at home," says head of menswear Damien Paul. "I definitely feel that we do not want to entertain, even in tiny gatherings, in our bare feet — and they are an elevated move away from sandals or sneakers." It's this nebulosity — particularly among the more recent iterations of the shape, which seem hybridized with other footwear styles — that is the core of their appeal.
"I like clothes that eschew definition," says Dal Chodha, a writer and backless aficionado. Though he's been a fan of a more traditional slipper for almost 15 years (his preferred styles are by Stubbs & Wooton or Lemaire), he lately made the transition into trickier shapes, as their popularity among luxury designers has spread. Currently, he alternates between leather clogs by Rick Owens for Birkenstock, a pair of mules by Edhèn Milano ("like a monk shoe with the back sliced off"), and slippers made from upcycled Berber rugs by the brand CALLA. Yet in spite of seeming more consciously designed, all of them are balanced by an inherent straightforwardness. "I like the ease of them," he says. "I don't like buttons or zips or laces or buckles. They are get-on-and-go."
"They've become the shoe of choice for entertaining at home."
David St. John James, a London-based stylist, also emphasises the appeal of their simplicity. He came to them via the actor Will Ferrell. "I was shooting him some time ago," he recalls, "and he was wearing a pair of proper clogs from Sweden. I thought they looked great: so basic, and so easy. Kind of nurse-y, like a French sabot. In my mind, that's when I thought this could possibly be my shoe."
"I've dipped in and out of different Birkenstocks," he says. "But my first fashion pair were from Gucci. I love them so much I got a back-up pair." Alongside those, he's currently eyeing a chain-accented pair from JW Anderson. "They look like something a pilgrim father would wear," he says, approvingly. "Now, I'd wear them with everything. Suits, shorts, you name it."
It might be that the backless trend isn't, then, a trend after all: instead, it might represent a fundamental shift in what we want on our feet. After all, less than a decade ago, the concept of a "luxury sneaker" seemed like an extraordinary novelty that was guaranteed to burn out — and they have now become the cornerstone of the men's luxury fashion industry. Like it or not, smart dressing might have become an anachronism. Men's magazines may have been presaging the return of the leather lace-up for years, but it looks increasingly as though there is no going back.
For Smith, that's certainly the case. "I've never gotten bored of them. And I don't think I will," he says. "Nothing would stop me from wearing them."
He laughs.
"Well. Except the weather."