Nike ISPA Road Warrior: The Price of Fame
Legendary culture writer Scoop Jackson explores Nike's latest industry-shifting sneaker.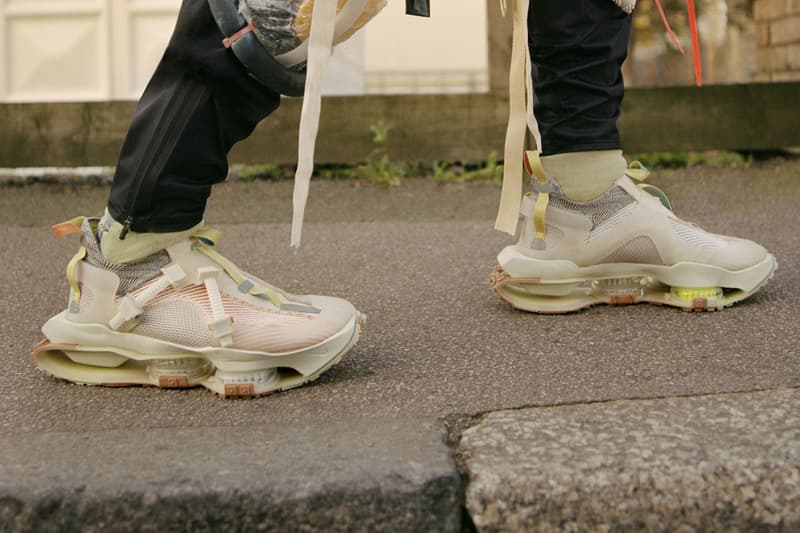 In an Apple Store in Chicago on July 16, the day before the official drop of Nike's IPSA Road Warrior, trying to get my iPhone repaired, I get stopped. Three times. From door to counter. Then twice once sitting. Even the Apple Genius chimes in: "What the f**k are those?" My feet are speaking. Conversations begin. "Never seen no sh*t like those in my life," seems to be the consensus. I recite the price. Another "WTF." No question mark. But. When I asked all during the course of my hour-long session "would they invest if they could, even at that price?" All (and that includes the other dozen or so people that stopped me throughout the same day) said, "If I was into sneakers like that,'Yes,'… even at that price."
The origin, the existence, the purpose of a singular shoe within the culture that over the last 40+ sneaker seasons has taken on an unexplainable and somewhat "beyond understanding" life of its own inside of sports, pop, global, fashion and urban spaces seems irrelevant during a stage in which society at this moment seems to be functioning. And yet, on July 6, the YEEZY BOOST 700 MNVN "Bone" got a release date. On HYPEBEAST, it received close to 30,000 fire emojis; on the adidas site on the July 11 release day, all men, women and infant sizes in-stock "Sold out;" on Flight Club's site, by mid-morning of that same day (with the exception of a size 5.5M), three words: "Out Of Stock." Elsewhere, New Balance dropped a 327 and it sold out in minutes, creating a mini-frenzy while generating Hamilton on Disney+-type interest. Dior accents an Air Jordan 1, and the culture (both high and low ends) loses its collaborative mind and the price goes from $2,200 USD day-of, to (in some places) $19,000 USD by next day.
And the pandemic was supposed to change things.
Now here comes Nike, with the one shoe that has the potential to flip the entire cultural script: the ISPA Road Warrior. In a time when sneaker purchasing or "copping" is no longer the thing, when IG posts of "gets" and closets have reduced meanings, when there's so many more important things that are more important at this moment and in this movement, the drop of a sneaker seems, well, irrelevant. Unless…it's not.
"When I think about the Nike ISPA Road Warrior, I do see an opportunity to open the lens of sneaker(s) a bit, especially when it comes to athletic footwear and place it in a different conversation than we have had before," says Jacques "Kustoo" Slade, video show host and sneaker historian.
Sneaker culture when at its best is rooted in storytelling. Whether it's the shoe telling the story or the person wearing the shoe is telling the story. And the new ISPA Road Warrior from Nike not only has a story, but possibly has an unprecedented one awaiting it. A hybrid of several shoes that existed before, this venture into the future of design and innovation is one unlike many highly-anticipated sneaker iterations that create buzzes worthy of hypebeasts entering raffles or NBA players calling connects for early plugs. A sneaker that 1. Is not for everyone; 2. Everyone is not going to get; and 3. Everyone is not going to "get." Get it?
"Sneaker culture when at its best is rooted in storytelling. Whether it's the shoe telling the story or the person wearing the shoe is telling the story. And the new ISPA Road Warrior from Nike not only has a story, but possibly has an unprecedented one awaiting it." — Scoop Jackson
But what distances the ISPA Road Warrior and ascends it into this unfulfilled and virtually uncertain category of reserved-for-retro-only supremacy, is the price tag: $500 USD. Very rarely have current running or speciality project renderings transcended into luxe areas the way some current retro basketball and lifestyle silhouettes have. And even most of those come with some streetwear or couture designer's concept and collaboration attached to the sneaker. Rarely straight outta the lab, does something like this occur. If ever.
"ISPA shows an optimism about the power of design, offering us an opportunity to explore new areas to innovate for various lifestyles," Darryl Matthews, Senior Design Director, Nike Sportswear (NSW) Fuel Footwear Innovation told me. "With the ISPA Road Warrior, we partnered with designers from all aspects of the company, from innovation platforms to color and materials, to bring a new expression of design to the consumer. It was a company-wide, team-oriented effort and the result is a piece of footwear that only Nike could design."
Which is what makes this shoe so novel and its future so rare. ISPA (which stands for Improvise, Scavenge, Protect and Adapt) is a division inside of NikeLab that specializes in sportswear (NSW). Some inside the company believe that the designers that make up the ISPA unit have the "best jobs in the company." Their freedom to express and experiment is unparalleled in the industry. Originating in November of 2018, ISPA has been the cornerstone of the sneaker culture's next level domain. Even with all of the new assemblage they have on-launch for 2020, The Drifter, The Flow, The Overreact Sandal, The Overreact FK, it's the Road Warrior that seems destined for a larger-than-expected experience.
The all-in-one, this-is-everything, from track-to-trail-to-runway appeal is the one thing that gives it the chance to resonate in ways most — if not all leading up to this point — other sneakers haven't. And while Nike has been flirting with performance and performance-based shoes that hover in the "upscale" price range (the Next% and Vaporfly 4% running shoes that entered the marketplace with $250 price tags; the Adapt self-lacing series, which has BB and BB 2.0 basketball models with $350-$400 price tags and a Auto Max running model that also has a $400 price tag; Jerry Lorenzo's Nike Fear Of God 1 basketball shoe collection stepped into the cypher with a $350 price tag; while the original Hyper Adapt 1.0 came into the game in 2017 with a $720 price tag), the $500 USD price point they decided to put on the ISPARW could be the benefit that removes all doubt about the sneakers "value" in a marketplace that is now putting the same — if not more —amount of relevance on the lifestyle aspect of a shoe as it does the performance potential.
Especially if the 'hood feels it, especially if the culture accepts it. Which outside of the NBA on the celeb/influencer/friends and family end has a substantial chance of happening. The scene is ripe for a game changer. Visibility the key. Drake, Billie Eilish, DJ Khaled, Anthony Anderson, Kenya Barris, Virgil Abloh (who is probably going to want to do an Off-White version for the collection), Hiroshi Fujiwara, Aleali May, Marcus Troy, Tremaine Emory, Sanne Poeze, Desus & Mero, Charli & Dixie, OBJ. It's easy to see all or a select few of them rocking or displaying a pair and repping them like they are new Bugattis or Rolexes. Or just something "next" that they have that separates us from them.
Basketball by way of the players association/relationship with the IPSARW will play a large role in how the sneaker is received and resonates in the global economy and post-social retail climate. Truth be told, basketball may drive it. And even though word is Nike plans to outfit most of their athletes during the NBA return in various models of the newly released Space Hippies (similar to what they did in 2012 at the London Olympics with the introduction of the Flyknit Racer), the basketball induce of the Road Warrior might happen organically. Anthony Davis, Paul George, Giannis, LeBron, PJ Tucker, even Westbrook (maybe especially Westbrook even though he is a Jordan Brand athlete) in a $500 USD sneaker that everyone isn't "up" on yet? A luxe item in the form of a sneaker that is a decade ahead of its time in design? Players will more than certainly be seen roaming around in the bubble, going to practices, attending other games, just hanging with one another, in Road Warriors. And that cosign will give it a "special" profile and elite stature in the marketplace, and immeasurable impact in the sneaker culture eco-system. We'll just have to wait, then witness.
"It's all about incubation," says jeffstaple, founder and CEO of Staple & RAD and legendary fashion and graphic designer. "The ISPA Collection is not meant for volume. Nike doesn't beholden ISPA to make a ton of money. Nike is one of the only companies smart enough to invest in projects like this so that other departments within the brand can feed off the progressive design and good will. So now, they have this incredibly well-researched, well-designed and well-marketed thing that eventually trickles down to feed the Amazon and Factory Outlet consumers…and that whole entire expense is a break even from all the sales to hypebeasts and StockX subscribers that just 'HAD' to have. (Like me. haha.)
"The $500 USD price tag on the Road Warrior is insurance to ensure Foot Locker and Champs don't carry it. It also covers increased marketing, R+D and production costs. It's not an inflated price for the sake of 'luxury' or 'hype.' And it's not an indicator of the cost of shoes to come from Nike."
"Nike is one of the only companies smart enough to invest in projects like this so that other departments within the brand can feed off the progressive design and good will. So now, they have this incredibly well-researched, well-designed and well-marketed thing that eventually trickles down to feed the Amazon and Factory Outlet consumers." — jeffstaple
Michael "MJ" Jaworowski, co-owner of Notre in Chicago, an upscale streetwear retailer/urban fashion house that will be one of the select few to carry the Road Warrior in-store: "We relate it to a concept car," he says the day before the official; drop. "So limited."
I tell him the guy at Notre's warehouse used the term "super exclusive."
"They're pushing the limits," Jaworowski says of the Road Warrior design and the ISPA group as a whole. "But it's Nike, so we want to see some sh*t. I'm not sure how it translates to the luxe market, we'll see. But I want to see more and I think the customers do too."
Just as the Comme des Garçons collabs years ago gatewayed Nike into the high-fashion lane and helped establish the concept/ideology that sneakers could be both boutique accessories and high-end luxe footwear, the ISPARW can push that coexistence even further. All of the components of the shoe breed some familiarity for those who've never seen any sneaker like it before. And that familiarity — inner-weavability of all of the components of the shoe — along with the price point has to go further than seeing a Swoosh off the split toe cage and feeling that that alone makes it worthy of typing the digits of your Amex black card into a box and pressing send.
Slade placed the potential in purview: "I love the thought of a luxury Nike sneaker. Too many luxury brands have been able to get away with very mediocre products that don't serve the sneakerhead audience. With Nike taking a risk with design and pricing it above the norm, they take the distinct risk of creating an elevated offering for those willing to pay for something different and unique. On a whole, I don't think it changes the world of sneakers, but for those looking to wear and represent something new, the Road Warrior is the window to the outside."
It's hard to determine what makes a certain sneaker have a certain life, even harder to predict the life it is going to live. No one, not even the greatest designers, not even the greatest players who sit in with those greatest designers to formulate signature lines that eventually reach icon status, not even the greatest influencers or sneaker gods or sneaker sites who have Nate Silver-type forecasting skills when it comes to pre-and-post StockX experiences certain sneakers are going to have. There is no rhyme or reason or rhythm in how the game unfolds when it comes to why the public responds to a silhouette and why it doesn't. The market is fickle, consumers are fickler. Sorta like sports. But with the ISPA Road Warrior, there's something that lends itself to a belief that not only can this shoe shift the entire landscape on many levels, but that it could do what those other shoes that border-lined a similar space haven't yet.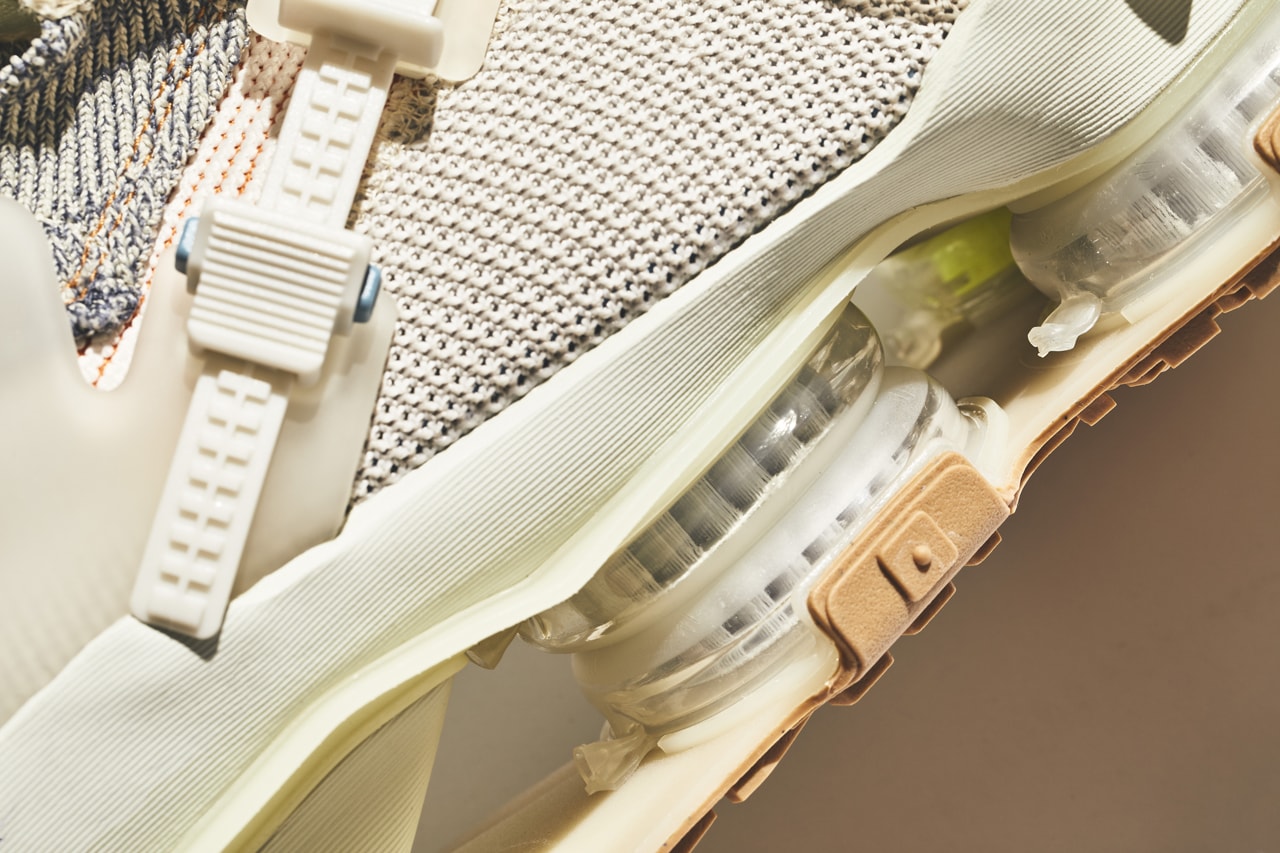 As a guy who is an author of a sneaker book, Sole Provider, and former host of the sneaker-forward web series for ESPN From The Ground Up, this moment seemed irresponsible to let pass by without forecasting what I believe might be next. (Or "next" down the line: Imagine how this shoe might re-enter the market as a retro ten or twenty years from now when it does make sense? When streetwear, the sports world and the fashion industry have caught up to it?) Only because — even with hundreds of sneakers dropping every month, even during a pandemic — these transcending-grail-type situations don't happen very often. The culture has moments, but not all or many are generational or historical. Many don't transcend beyond their intent and purpose, many don't shift the axis. My gut, internal, intrinsic feelings are that this might low-key be one of them. And as I might be dumb and/or wrong, I refuse to be the one who didn't see this coming.
So the release happened, now what? "Sold Out" day one on the SNKRS app. But. Sales won't tell the story, numbers of units moved won't prove me or this story right, the spike in price on the resale market will have no effect on what this will eventually be all about. The buzz will tell us all we need to know.
There are signature items in societal circles that elevate above a simple experience or existence. Signifiers of something special. The wheat suede of a Timberland 6" boot, the cement/elephant print pattern on a Jordan 3, jeffstaple's pigeon on the heel of an SB Dunk, the red bottoms of a pair of Christian Louboutins, the buckle on a Gucci loafer. So in the ISPA Road Warrior case, as a whole shoe that is its own signifier, what happens when Prada calls and wants to do with it what Dior did with the Jordan 1 or what happens when Tom Sachs gets his hands on it? While this may seem like an "inside sneaker" story, it's really not. This is a story about a shoe and the role it might play in society and the life it might live in culture, fashion and sports.
Let's talk about Kanye West for a second. In 2012, a few years after his original collab with the company, he and Nike produced the Air Yeezy 2. Not many got their hands on a pair, but it reached holy grail (not just grail) status. Even PJ Tucker and Nate Robinson wore them in games. Supreme flex. And this sneaker became the origin of what the future of Ye's shift to fashion, sneaker and sports culture would become. Back then, even with its advanced design and modified simplification, the shoe had a "WTF" factor. One that so many sneakers wish was their life experience. But only a chosen few get that life. It's one that can't be forced nor predicted. It is one that only happens when so many variants fall in line and an item moves the cultural needle in a way that nothing of its kind has in a generation. Which now makes this question, upon its release, conclusive: Is the Road Warrior next?
---
Scoop Jackson is the author of
The Game Is Not A Game: The Power, Protest and Politics of American Sports
and current senior features writer for ESPN. You can follow him on Twitter at @ibescoopjackson.