Best New Tracks: Arca, Khruangbin, Ras G, Knxwledge & More
HYPEBEAST's 10 essential projects headed into the weekend.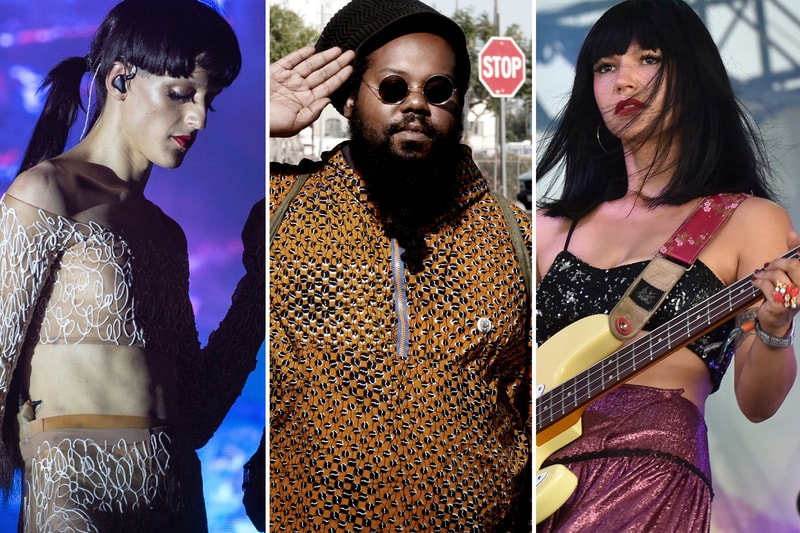 As the week in music comes to a close, HYPEBEAST has rounded up the 10 best projects for the latest installment of Best New Tracks.
Welcome to Summer 2020. This week's installment of our weekly roundup of the best tracks out features the ongoing theme of uplifting and soulful offerings from multi-talented and diverse artists. The goal is to provide you with some solace and respite from all that's going on in the world while stressing the importance of solidarity during the historic Black Lives Matter protests. In the words of Sam Cooke, "A Change Is Gonna Come." Houston trio Khruangbin returns with their new project Mordechai. The late Raw Fruit, Vol. 5-6. Meanwhile genre-bending and transformative Venezuelan artist Arca delivers her highly-anticipated album KiCk i.
Tap in for the full rundown of HYPEBEAST's latest Best New Tracks below.
---
Khruangbin – Mordecahi
Khruangbin returns with their latest full-length album Mordechai. The three piece group — consisting of guitarist Mark Speer, bassist Laura Lee Ochoa, and drummer Donald "DJ" Johnson — offer 10 tracks of psychedelic and euphoric soul and RnB with impeccable cohesion. The offering follows their early-February collaboration with Leon Bridges for the Texas Sun EP. Khruangbin has been building up to this moment for quite some time thanks to strong singles like "Time (You and I)", "So We Won't Forget" and last week's "Pelota". The band pulls inspiration from Pakistan, Korea, West Africa and the Congo and manages to make it not only work, but truly shine.
Listen: Spotify | Apple Music
---
Ras G – Raw Fruit, Vol. 5-6
The late, great Ras G passed away back in July of last year but his legacy will live on forever. The Los Angeles-based producer, DJ and co-founder of Poo-Bah Records remains prolific even after his journey to the afterlife. Today he released Raw Fruit, Vol. 5-6, a deep dive into his eclectic, Afrofuturistic mind with homages to De La Souk, J Dilla and more through 26 songs spanning a full hour. Put it on in the background through July 4 weekend. You won't regret it. The release arrives alongside a limited edition red vinyl 2xLP pressing from Fat Beats, which is limited to 100 copies.
Listen: Spotify | Apple Music
---
Arca – KiCk i
Arca has finally dropped off her new KiCk i project after months of teasing the album. Through 12 tracks, the Venezuelan experimentalist fuses techno, reggaeton, electro, balladry, and more for a truly genre-less must-listen that delivers on the hype and then some. She taps collaborator and muse Björk, Shygirl, and Rosalía (for the highlight reggaeton "KLK"). The first album since Alejandra Ghersi began identifying as a LatinX trans-women is an otherworldly journey.
Listen: Spotify | Apple Music
---
City Girls – City on Lock
Leakers can't stop the City Girls. Yung Miami and JT were the victims of a full leak of their new project, City on Lock so they shrugged it off and officially dropped it anyways. The 15-song album is rich with trap anthems, amplified with a hint of Miami bass-inspired production. The star-studded cast features Lil Baby, Doja Cat, Lil Durk and Yo Gotti, but the City Girls never take a backseat. They manage to be tongue-in-cheek, witty and memorable throughout.
Listen: Spotify | Apple Music
---
donSMITH – Dear Culture EP
Harlem upstart donSMITH delivers a soulful, mature four-track Dear Culture EP that showcases the poise of a veteran. It blends old-school boom-bap, nostalgic with the golden-age-reasoning and purity of a hip-hop-head that longs for simpler times. He floats over self-produced instrumentals on "OG > IG – HISTORY", a harsh reprimand of clout-chasing culture and a referendum to keep your heart open and your mind clear. He's found his pocket in the lyrical department too. Be on the lookout for more in the near future. In the meantime visit his BandCamp where he hosts his other project, I Spent the Past Ten Years Sober.
Listen: Spotify | Apple Music
---
LaDonnis – "Black Boy" feat. ER
Atlanta rapper LaDonnis took to YouTube to offer one of the most harrowing protest song of the current movement titled "Black Boy". The montage features pop culture fixtures throughout the past 50 years with jump-cuts of police violence, riots, and political figures. It's a lot to unpack but it's a necessary release that showcases the influence of Black culture in America contrasted by the systemic racism that's broken multiple generations in the United States of America. There's an interlude of Basquiat answering a question from an interviewer about his anger with a breath and pure silence. The visual ends with a quote from Malcolm X: "We all have in common the greatest tie we could have… we are all Black people."
Listen: Spotify | Apple Music
---
Kipp Stone – "Fill in All the Blanks"
East Cleveland rapper Kipp Stone has been grinding the past few years, working as a janitor in a nursing home so he can focus on making his music at night, growing as both a lyricist and producer. His latest track "Fill in All the Blanks" released late this week via Closed Sessions. The new track finds him crooning over minimalist instrumentation in an effort to detail the need to feel whole, loyalty, and the slow yet steady growth of his music. It's a strong foundation for what's next. We'll be waiting.
Listen: Spotify | Apple Music
---
Burna Boy – "Wonderful"
Burna Boy propelled himself to global stardom last year with his immaculate fourth studio album, African Giant, garnering himself his first every GRAMMY nod for Best World Music Album. Now the Nigerian Afrobeat star returns with "Wonderful", his latest single from his upcoming album Twice As Tall. "It's important for me to show that music is a uniting force that transcends state lines, barriers and borders. This song is about the 'wonders' of seeing the impact of my music on people's lives as they shared their joy, pain and pleasure with me while I toured the world," Burna Boy shared. "The pandemic forced us all to take refuge in our homes. Above all, Africa is home, it is the motherland to all people. For us to truly matter, Africa has to matter."
Listen: Spotify | Apple Music
---
Terrace Martin – "Freeze Tag" feat. Kamasi Washington and Phoelix
Terrace Martin, Robert Glasper, Kamasi Washington and 9th Wonder have formed a supergroup, Dinner Party, and introduced their first single to the world, "Freeze Tag". The track features Chicago singer Phoelix and the collective's chemistry is on full display with a soulful, uplifting track that also features a behind-the-scenes visual of the recording process. "They told me put my hands up behind my head/I think they got the wrong one/I'm sick and tired of runnin'/I been searchin' where the love went/I been lookin' for a dove/Then they told me if I move, they gon' shoot me dead," Phoelix sings. The lyricism is often smartly disguised in the movement of the instrumentation but it is power nonetheless.
Listen: Spotify | Apple Music
---
Knxwledge – Koko and 10,000 Proof EPs
Prolific producer Knxwledge returned with two new essential projects this week, premiering his Koko EPinspired by his dog and 10,000 Proof, a full-length 12-track effort that melds a cappella features from Philly rap legend Vodka. Koko EP offers an additional 5 tracks, one of which offers a GoldenEye 007 sample from the Nintendo 64. According to Stones Throw, Both 10,000 Proof and Koko EP were pressed on 7 and 10-inch vinyl with Knxlwedge's 1988 "Knx Box" packaged deal. "That was a one-time thing, no plans to press them separately," the record label states. Earlier this year, Knx debuted his first full-length album in five years with 1988.
Listen: Spotify | Spotify | Apple Music | Apple Music
---
Jonah Yano – souvenir
Jonah Yano dropped his debut album souvenir, a beautiful homage to his complicated relationship with his father and balancing living in Toronto with his Japanese heritage. "The song, in my dad's Japanese lyrics, is about a pair of shoes he bought me when I was a kid," Yano explained to HYPEBEAST back in April. After being separated for 15 years, Yano visited his father in Japan in an effort to "make sense of their complicated relationship." The singer notes, "my verses question his absence from my childhood and my general confusion about my circumstance, which was a fatherless upbringing in an entirely different country as a result of my parents' separation."
Listen: Spotify | Apple Music
---
Hoops – "Fall Back"
After going on an indefinite hiatus back in 2017, Indiana band Hoops made a strong return earlier this week with their new single "Fall Back". The group got back together in December 2019 and began fleshing out new ideas. The latest project was recorded back home in Bloomington, Indiana and within a week the trio had hit their stride. "This record is a more honest representation of our influences and interests as musicians," Auscherman continued. "We've grown a lot in four years, as people and as listeners. We're starting to sound more like ourselves." Their new album Halo is set to release October 2 via Fat Possum.
Listen: Spotify | Apple Music
---