Best New Tracks: Travis Scott & Kid Cudi, Isaiah Rashad, Earl Sweatshirt & More
More essential listens to add to your rotation this weekend.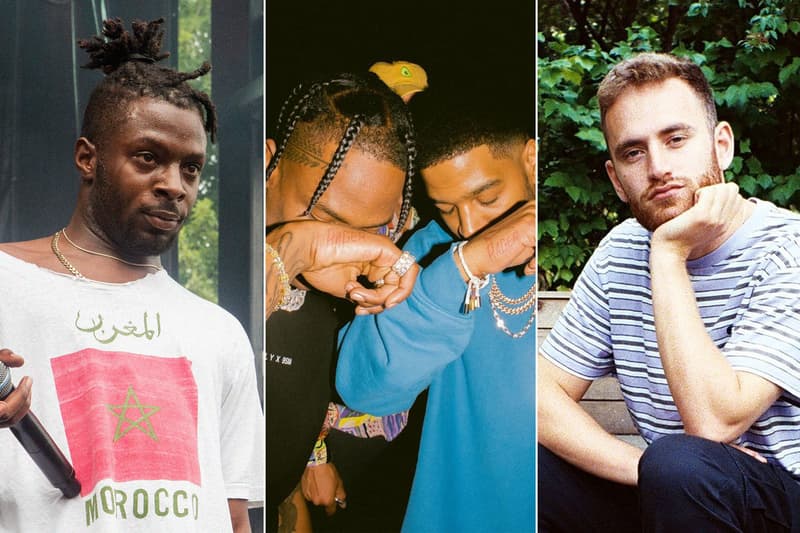 Another busy week in music has come and gone in a rush and while most of us are still cooped up this Spring 2020 season due to the ongoing coronavirus pandemic, there's more new releases to add to your weekend rotation now more than ever. Artists the world over have banded together to release new livestreams, get creative with shot-at-home videos and engage with fans to keep everyone's spirits up. This week, Earl Sweatshirt blessed the hip-hop world with two new verses, collaborating with Quelle Chris and Maxo. Tom Misch and Yussef Dayes showcased their otherworldly chemistry with their joint project What Kinda Music. If that weren't enough, Isaiah Rashad returned from a multi-year hiatus and Kid Cudi and Travis Scott debuted a new song. Check out HYPEBEAST's 10 essential projects of the week with the latest installment of Best New Tracks and stay tuned for more music coverage throughout the weekend.
---
Travis Scott and Kid Cudi – "THE SCOTTS"
Travis Scott has made it no secret that his namesake is inspired by two of his heroes, his uncle Travis and his favorite artist, Scott Mescudi known frequently as Kid Cudi. The two even have matching tattoos, so the bond is real. Late into the week, the duo linked for the surprise collaboration "THE SCOTTS" premiered through an exclusive Astronomical Tour Fortnite concert. The track is a star-studded affair with production by Travis, Take A Daytrip, Dot da Genius, Plain Pat with additional mixing and mastering by Mike Dean. It finds the superstars right at home in their pocket with electric guitar loops, signature background humming and comedy from Cudi as he half-sings half-raps, "Tell these phony b*tches, "Beat it"/ With that photoshoppin' body, Adobe, please help me/ She in there makin' panini, she know I got all the bread/ She know me, got it."
Listen: Spotify | Apple Music
---
Isaiah Rashad – "Why Worry"
It's been quite the week for Top Dawg Entertainment fans, as the crew celebrated TDE Fan Appreciation Week with a number of new releases. After drops from label mates Ab-Soul, Zacari and SiR, it finally happened. Isaiah Rashad delivered his first single since 2016's critically acclaimed The Sun's Tirade with "Why Worry". The Crooklin-produced instrumental is the perfect background for Rashad with near-chopped and screwed vocals, subtle guitar riffs and an addicting horns section near the chorus. Isaiah delivers a pretty straight-forward verse, reflecting on his success, paid bills and knowing who's truly in his inner circle. Now we all wait for his third studio album, The House Is Burning.
Listen: Spotify | Apple Music
---
Earl Sweatshirt – "WHOLE WORLD" feat. Maxo
Earl Sweatshirt is in top form with his latest single "WHOLE WORLD", tapping up-and-coming Def Jam signee Maxo on the song's front-end. The Alchemist produced offering is an expectedly perfect blank canvas for Earl to paint upon as he showcases why he's one of his generation's best. The beat is a slow, subtle creep. (Now can we get a full Alchemist x Earl project, please?) "My effervescence lost, but not entirely, I shrug the venom off/ And kept a tiny piece for times we in the war/ I like to think of life as deep, chilly water (Water)/ We in it, feelin' warm, swimmin' upstream/ F*ck is n*ggas on?" Earl is in a completely different universe when it comes to the pen. He ruminated on the decay of America with Feet of Clay back in November and delved into even more minimal sLums-inspired production when compared to Some Rap Songs. But with "WHOLE WORLD", there's a redefined clarity. It'll be as interesting as ever to see where Earl takes it from here.
Listen: Spotify | Apple Music
---
James Blake – "You're Too Precious"
James Blake is back. The singer-songwriter took a break from covering Frank Ocean, Radiohead and Billie Eilish on his Instagram account to debut some original work, and it doesn't disappoint. "You're Too Precious" is dreamy and skeletal where pitch-alterations abound. At times glitchy with added computerized vibratos, the echos take you to a mysterious land with just the right of rhythm through background claps. James delivered his last studio project Assume Form some 16 months ago, so this could very well be his introduction to his next experimental full-length. Stay tuned.
Listen: Spotify | Apple Music
---
Kali Uchis – To Feel Alive
This week also brought four new tracks from the one and only Kali Uchis, her first collection of songs since 2018's Isolation LP. She "recorded all of it alone, in my room, last week because I won't roll out my real album right now, but wanna give my babies something," Kali said in a recent Instagram post. The 10-minute effort is full of catchy electronic synths that balance her ballads with an upbeat rhythm. It's the perfect complement to her smooth and airy vocals and should hold you over until she drops off her official full-length later this year.
Listen: Spotify | Apple Music
---
Tom Misch and Yussef Dayes – What Kinda Music
Tom Misch and Yussef Dayes connected almost two years ago and have been working on What Kinda Music ever since. What resulted was an undeniable masterpiece full of free-flowing experimentation that asks a simple question, "What kinda music do you want to hear?" Because the duo can do it all. Dayes solidifies himself as one of the best drummers in the world and Tom's guitar blesses every track with ease. They dabble with electronica, progressive jazz and some hip-hop courtesy of Freddie Gibbs on "Nightrider". They released a coinciding documentary and their live recording sessions for "Kyiv" and "Lift Off" are essentials views. Misch and Dayes have dropped off one of the best albums of 2020.
Listen: Spotify | Apple Music
---
Quelle Chris and Chris Keys – Innocent Country 2
The ever-thoughtful Quelle Chris returns with his latest collaborative effort with instrumentalist Chris Keys for Innocent Country 2 following their previous record from a half-decade ago. "Most of this album, production-wise, started with the core ideas from Chris," Quelle told HYPEBEAST in a recent interview. "Some more fleshed out and some less. From there we build. Sharing, discussing and adding and tailoring ideas until it's right. I listen to everything on repeat 24 hours a day and arrange and rearrange and make notes obsessively until it's "right"." They got it more than right this time as Innocent Country 2 is deeply human, completely cohesive and an emotional journey from start to finish. Features from Pink Siifu and Earl Sweatshirt are particularly memorable, too. The hour-long album should be on repeat for quite some time.
Listen: Spotify | Apple Music
---
Charli XCX – "Claws"
Charli XCX promised her new album how i'm feeling now, recorded completely in quarantine, would be releasing in the near future. She returned with her new single "Claws" late this week following her lovestruck "Forever" track. Dylan Brady of 100 gecs produced the offering, blending pop and trance with electronic pop to match. "Like your mind, like your smile/Like your eyes, I could die," she sings. "Aeroplane, you are so fly/Singin' songs by Jeremih." The thought of Charli jamming out to Jeremih in between recording makes us smile.
Listen: Spotify | Apple Music
---
Smino – She Already Decided
Welcome back, Smino. The St. Louis artist surprised his fans with the 16-track mixtape She Already Decided. It featured highlights like rapping over Baby Keem's "Orange Soda" and an unexpected T-Pain feature. It was his first mixtape since 2014's Retail and his first full-length since his critically-acclaimed studio project NØIR. He also dropped off a new visual for the sixth trap on the project, "Cabbage (Freestyle)", a revealing and charismatic compilation of behind-the-scenes tour footage. S.A.D. showcases Smino's versatility with double entendres, quick-witted bars and his ear for melodies.
Listen: Soundcloud
---
Zsela – Ache of Victory
Zsela is a star on the rise. The 25-year-old singer-songwriter is wise beyond her years, and her latest Ache of Victory EP is a perfect testament to that. She's already performed at New York City's Whitney Museum of American Art and covered Nina Simone's classic "Don't Let Me Be Misunderstood". Last year she debuted two original singles in "Noise" and "Earlier Days" that caught the music world by storm. Her voice captivates and steals the show on each and every song. The 16-minute effort could easily be a film's score that belongs in the Criterion Collection. Stay tuned for more from Zsela in the future.
Listen: Spotify | Apple Music