The Biggest Trends at New York Fashion Week 2018
Keeping up with fashion's capricious tastes.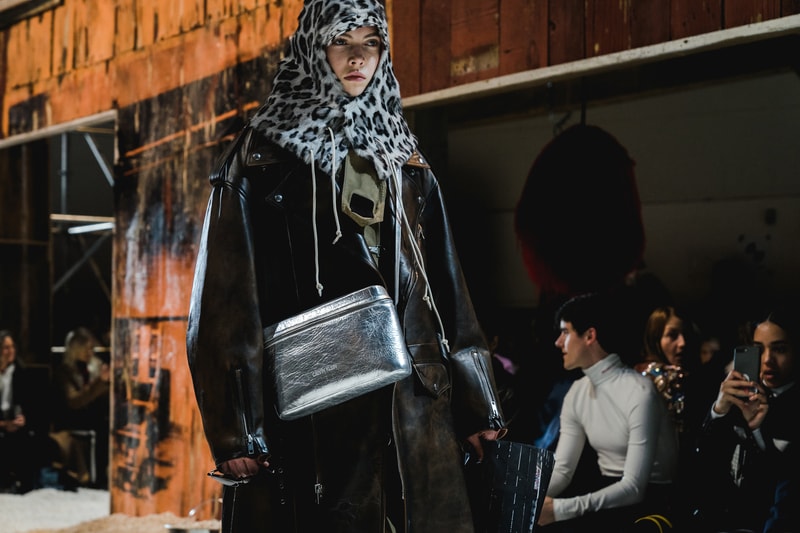 Each bi-annual Fashion Week showcase yields a handful of stylistically disparate runway presentations, all with their own idiosyncratic execution and inspirations. Still, the collective output consistently produces new, thematically-linked trends, which are picked up by the following season's street style stars before inevitably trickling down to society at large. This year's New York Fashion Week Fall/Winter 2018 exhibitions were no different, with a selection of motifs linking the otherwise distinct collections. Check out the biggest of these linking concepts below.
Yellow
Anything but understated, yellow layers appeared throughout the week's shows. LANDLORD, Raf Simons, Ralph Lauren, N.Hoolywood and CLOT all made liberal use of the hue, bolstering layered pieces with a pop of color. Meanwhile, Abasi Rosborough and Eckhaus Latta displayed outfits entirely informed by yellow, making a strong case for the color as more than a styling detail.
Furry Coats
Warm outerwear is a seasonal staple for Fall/Winter collections, but this season designers got a little comfier than usual. Fur showed up everywhere from DYNE to Calvin Klein, confirming the fuzzy looks seen on many attendees as a bonafide trend. Furry coats were complemented by lined hoods and fleece layers, allowing for a range of complementary, cozy styling.
Metallics
Although less popular than yellow, metallic colors accented a variety of big-name runway shows, ranging from Tom Ford to Calvin Klein. Silver, gold and bronze informed an array of bags, coats, linings and even trousers. Subtle tones appeared at Eckhaus Latta, underlining the quiet sophistication of a floral shirt and granting eye-catching sheen to John Elliott's womenswear. For those not brave enough to style Feng Chen Wang's shiny puffer jackets and pants the designer also offered up a Jordan Brand collaboration informed by shiny detailing.
Workwear
Though workwear staples like denim and trucker jackets are nearly always runway staples, Fall/Winter 2018 is particularly rich with subversive blue collar style. N.HOOLYWOOD centered its entire show around revised construction worker style — right down to the model's hard hats — and Willy Chavarria informed his fingerless gloves and relaxed jeans with retro '90s sensibilities. C2H4's presentation was similarly transformative, reworking multipocketed jackets, work pants and overalls into technical designs with contemporary fabrics and muted colors. As per usual with Raf Simons' Americana-focused Calvin Klein, this year's showcase incorporated a variety of workwear references, including the omnipresent fireman-inspired coats and several cargo-pocketed jackets.
Corduroy
This season, corduroy broke out from its workwear roots, complementing a variety of diifferent looks. John Elliott's presentation was one of his most progressive, further distancing the label from its athleisure looks; corduroy aided to further elevate the clothing beyond rote menswear. The slouchy trousers were complemented by boxy shirt-jackets, a nod to the fabric's heavy-duty origins but reworked for modern wardrobes. Similarly, LANDLORD took corduroy in another adventurous direction, juxtaposing its aggresive styling with matching layers and pants executed in bright corduroy.
Animal prints
Bold colors, loud patterns and aggressive styling yielded clothing that demanded attention, refusing to blend into the background. Animal prints may be the clearest example, with leopard, zebra and tiger-inflected patterns executed across a range of colorful clothing. Everything from muted earth tones to Spring-friendly pastels offered the detailing, which appeared in collections ranging Coach 1941 to LANDLORD. From Calvin Klein's printed hoods to Eckhaus Latta's patchwork snakeskin boots, the patterns appeared from head to toe, serving different purposes at each — they kept in line with LANDLORD's '80s punk influences, elsewhere upping the sense the luxury of Tom Ford's offerings.
Brush up on the recent collections with our extensive Fashion Week Fall/Winter 2018 coverage.