The Most Notable Footwear Collabs From Digital Fashion Month FW21
COMME des GARÇONS' Air Foamposite One, Casabalanca's New Balance XC-72, and more.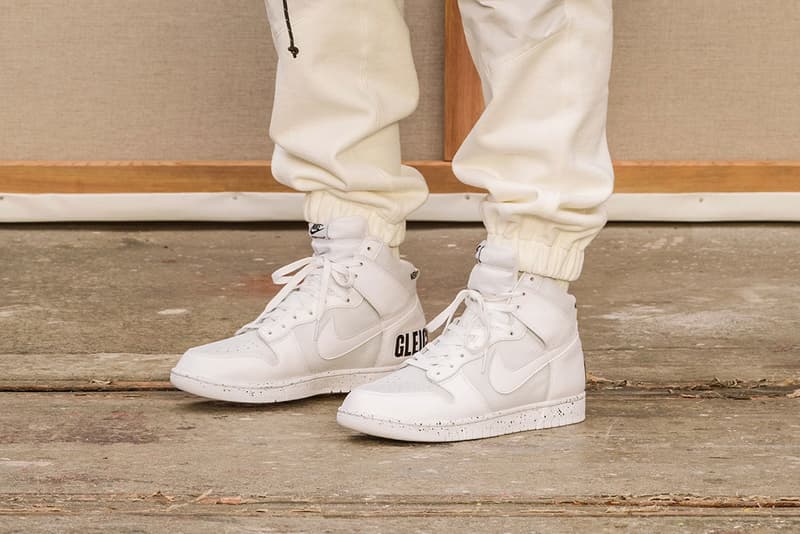 Fashion Month means many things to many people. For sneakerheads, it's all eyes on the ground, as the ultra-expensive runway presentations essentially represent little more than a preview of the most collectible kicks of next year. And why not? There's no better venue for teasing a covetable collaboration than a lush lookbook shot by a well-heeled photog, as evidenced by the massive influx of high profile footwear first seen on the feet of models in Milan, Paris, New York and Japan.
Though there were more than enough in-house silhouettes to write home about (including GmbH's vegan boots and kolor's patchwork trainers), it was the collaborations with stalwart sportswear brands like Nike, New Balance and Converse that primarily stole the show. By no means is this a comprehensive list, but it does include the need-to-know silhouettes that debuted over the past few weeks.
Junya Watanabe MAN x Stepney Workers Club
If Junya Watanabe's eponymous menswear line is known for anything, it's the Japanese designer's myriad seasonal collaborations. His inimitable workwear — those famous patched jeans especially — is no slouch but the COMME des GARÇONS designer's partnerships usually make a bigger splash. Fall/Winter 2021 enlists everyone from Carhartt to British rapper Loyle Carner, partnering with fellow Brits Stepney Workers Club for an accompanying footwear collaboration (there's also an insulated New Balance in the works but it didn't hit the runways). As usual, Watanabe opts for a low-key approach, retaining SWC's original slip-on design but adding premium textiles and, occasionally, his brand's acronym to the midsole — it reads as gibberish to most viewers but those who know, know.
COMME des GARÇONS HOMME PLUS x Nike Air Foamposite One
Junya Watanabe's mentor, Rei Kawakubo, is no less beloved for her ongoing relationship with Nike — COMME des GARÇONS' mainline runway shows are as popular among sneakerheads for showcasing the new footwear designs as they are among the fashion set. The Fall/Winter 2021 collection brings another high-profile COMME des GARÇONS HOMME PLUS collaboration, remixing Nike's Air Foamposite One to Kawakubo's exacting standards. Interestingly, this is the first time that a custom mold has been applied to the Foamposite's weighty upper, yielding a dynamic, warping shape rendered in monochrome white or black.
Pigalle and Nike have enjoyed their own lengthy collaborative history, ranging from stylish hoop shoes to friends and family exclusives. For Fall/Winter 2021, the Parisian sportswear brand is dropping its first-ever Air Jordan 1, taking on the Mid silhouette in a variety of eye-poppingly bold velvet makeups. Vivid hues ranging from pink to green to yellow create an unmistakable bouquet that neatly coincides with Pigalle's equally striking runway show. Classic white laces, soles and sockliners keep the design clean — aside from the occasional dyed lace — but don't expect to ever see these on store shelves; founder Stéphane Ashpool has clarified that these are once again not set to see general release.
Wales Bonner x adidas
Ever-talented Jamaican-British designer Grace Wales Bonner continues to fly under the industry's radar at large — perhaps her sumptuous, thoughtful tailoring is too meaty for the Instagram generation? Whatever the case, Wales Bonner's skill has been noticed by adidas, whom she rejoins ahead of Fall/Winter 2021 for another throwback-inspired offering. Again taking on sleek, retro runners, Wales Bonner serves up old school running shoes in grassy green, bold yellow and versatile cream, accented by darker Three Stripes branding and the occasional bit of hand-stitched detailing. Occasionally hidden under the hems of wide, creased trousers or pooled beneath a collaborative adidas tracksuit, Wales Bonner's footwear fits neatly into her line's retro-cool purview.
UNDERCOVER x Nike Dunk Hi
It seems like UNDERCOVER whips up a new Nike collaboration every season nowadays — not even including Gyakusou drops — but who's complaining? Fall/Winter 2021 sees the launch of two Dunk Hi silhouettes, imagined in black or white and offset by speckled midsoles. Rather than toying with shape or color, the Japanese streetwear imprint calls upon one of its signature motifs: bold text. German and English verbiage coincides on each side of the shoe, riffing on UC's slogans by mixing and matching languages to break up three concise statements: "NEW LIFE, NEWER NOISE, CHAOS/BALANCE."
Casablanca x New Balance XC-72
Could there have been a better venue for New Balance to launch its new XC-72 silhouette? Casablanca's rich, opulent Fall/Winter 2021 lookbook was the perfect outlet for the sneaker brand to tease its soon-to-be-sought-after sneaker, juxtaposing the model's vintage-inspired shape against the monied motifs that pervade the Parisian label's latest apparel designs. Appreciably chunky, the XC-72 is a perfect fit to Casablanca's illustrative skirts and patterned track pants and no less vivid thanks to a white/green/orange makeup and the extra bold iteration that sports hits of yellow and black. A more muted all-white design is also available for sneaker aficionados playing it safe.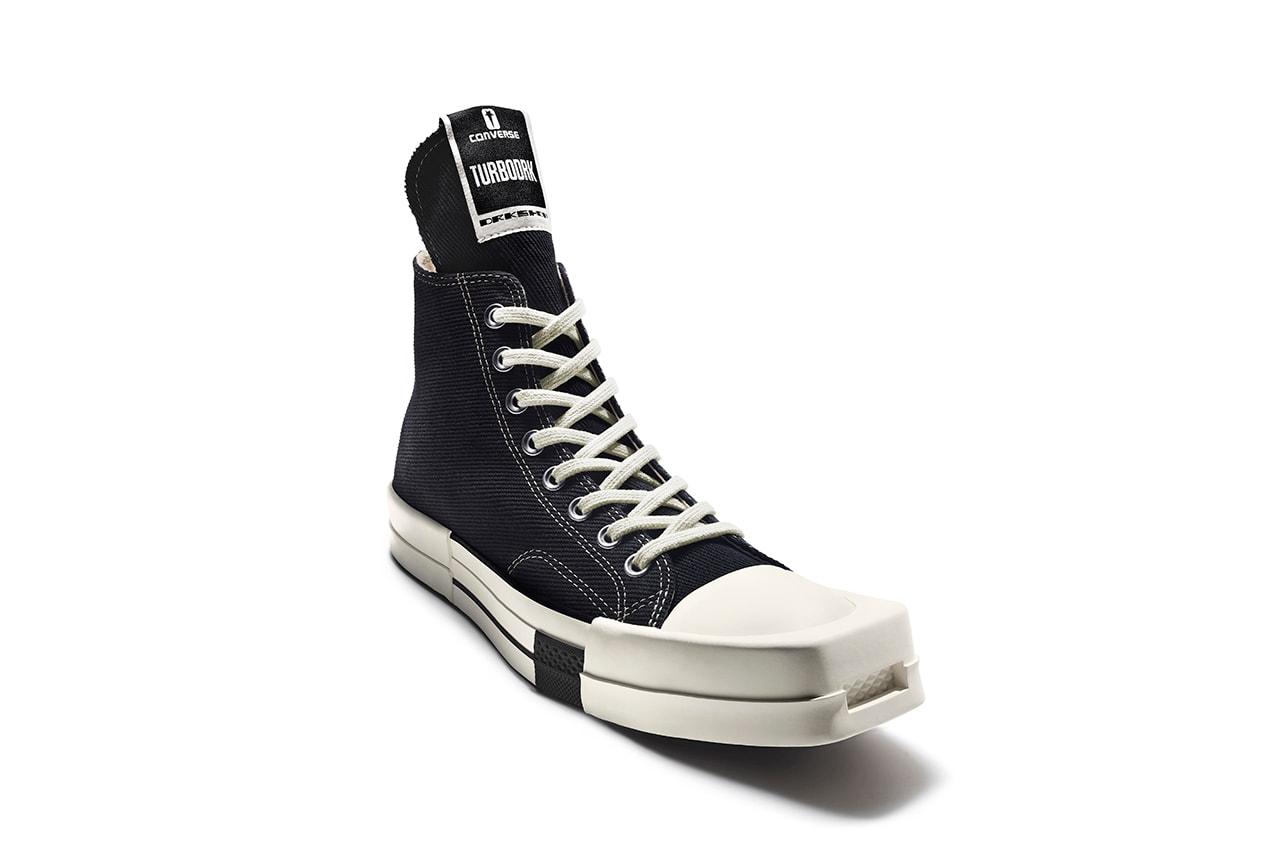 Leave it to Rick Owens to make the statement of the season. After bouncing around between footwear companies like adidas and Birkenstock, Owens has returned to where it all started for Fall/Winter 2021: The Swoosh — rather, Converse, one of Nike's subsidiaries. This time, Owens is remaking the iconic Converse Chuck Taylor in his own image, amusingly serving up a rendition even more outré than his own Ramones sneakers, themselves a riff on the classic Converse shape. Owens' wild shoes are squared-off and mean, retaining the Chuck '70s' premium canvas and rubber and little else. A tall co-branded tongue heralds the shoes' collaborative nature (these are issued under his DRKSHDW diffusion line) but is far less noticeable than that abrupt, snub-nosed toe, the first Converse Chuck Taylor sneaker to feature such a heavily-tweaked toecap.