Best New Tracks: Gunna, Disclosure, Preservation & Quelle Chris, MIKE & More
Including some of the best under-the-radar releases of the year so far.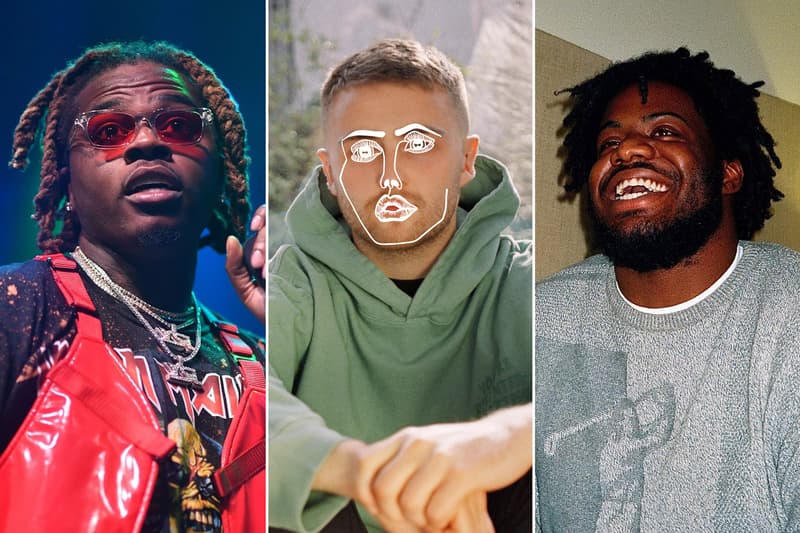 As the week in music comes to a close, HYPEBEAST has rounded up the 10 best projects for the latest installment of Best New Tracks.
This week brought some major releases to streaming services with Gunna dropping his highly-anticipated sophomore studio album WUNNA. There's quite an ensemble of features, enlisting Roddy Ricch, Young Thug, Travis Scott and Lil Baby with production handled by go-to collaborators Wheezy, Turbo, Mike WILL Made-It and Tay Keith. Brothers Guy and Howard Lawrence returned for Disclosure's first offering of the year. Titled "ENERGY" from their upcoming album of the same name, the upbeat motivational anthem taps Eric Thomas, the hip-hop preacher from the group's 2013 "When A Fire Starts To Burn". While technically not a new release, Tyler, The Creator's decision to finally drop his IGOR single "BOYFRIEND" on YouTube after over a year of being exclusive to physical releases of his GRAMMY Award-winning album is reason enough to celebrate. Brooklyn rapper MIKE announced his next full-length project Weight of the World with a trip to London for his "Nothin 2 Say (Never Forget)" music video, following a number of solid self-produced efforts.
Tap in with the full rundown of HYPEBEAST's latest Best New Tracks below.
---
Gunna – WUNNA
Over the past two years Gunna has taken the title as hip-hop's feature king in a Thanos-like declaration of, "I am inevitable" in regards to your favorite rapper's next single. He's lent his signature melodic autotune to the biggest names in music and somehow managed to maintain his originality and signature sound without the threat of oversaturation. Now he's back with his sophomore studio album WUNNA, ditching the murky underwater aesthetic of his Drip series for some clarity thanks to a trip down to Jamaica (as highlighted by his recent documentary). Even with the biggest names in the industry crowding the tracklist with appearances by Roddy Ricch, Young Thug, Travis Scott and Lil Baby, Gunna's voice cuts through. "DOLLAZ ON MY HEAD" is an undeniable standout with his YSL Records mentor Young Thug. "ROCKSTAR BIKERS & CHAINS" finds the 25-year-old Atlanta rapper tapping into his inner rockstar. He is one, after all.
Listen: Spotify | Apple Music
---
Disclosure – "ENERGY"
Brothers Guy and Howard Lawrence are ready to deliver their much-needed soundtrack to summer with Disclosure's ENERGY. The tracklist alone will garner some excitement as they've tapped Mick Jenkins, Channel Tres, Aminé, slowthai, and Common to make appearances. Kelis, Fatoumata Diawara, Kehlani and Syd will also contribute. On the title track "ENERGY", they offer an upbeat anthem with vocals from hip-hop preacher Eric Thomas. It's also nice to see a premium visual in the midst of artists doing all they can to deliver on-the-run music videos given the limits of the coronavirus quarantines. Director Kid-Studio films surreal group workout regiments gone awry. Take heed while you try and get in shape for summer in the confines of your apartment.
Listen: Spotify | Apple Music
---
MIKE – "Nothin 2 Say (Never Forget)"
Brooklyn rapper-producer and [sLums] founder MIKE returns with the announcement of his new project Weight of the World set to release on June 21 via his own 10k label. It will be the fourth straight effort that he debuts during the Summer Solstice. It's that kind of abstract thoughtfulness that inspires intrigue surrounding his movement. On his new single "Nothin 2 Say (Never Forget)" a vocal sample that starts as a high-pitched dose of chipmunk soul serves as the fulcrum, eventually fading into the background as MIKE waxes about grief and loyalty. He's putting out some of the most forward-thinking hip-hop today (see "Fortune Teller", "Regrets" and "NUMBERED DAYZ") and it's never sounded better than it does right now.
Listen: Spotify | Apple Music
---
The Weeknd – "In Your Eyes (Remix)" feat. Doja Cat
The Weeknd went from being MIA for years to being classifiably prolific in just a matter of months. His After Hours universe has given us too many visuals to count, a Deluxe Edition and countless remixes. Now he's back with his "In Your Eyes (Remix)" featuring additional vocals by Doja Cat. "When you look deeper into the song, it's more complex than it seems. It's basically about two people who are in love with each other who are just f*cking each other over," he told Variety in an interview earlier this week. That theme is right on brand with The Weeknd's entire songwriting career, but it infuses the 80s-inspired pop with upbeat synths to mask the melancholy. Meanwhile Doja Cat gives you absolutely no reason to doubt why she's a full-blown superstar.
Listen: Spotify | Apple Music
---
Tyler, The Creator – "BOYFRIEND"
Tyler, The Creator celebrated the one-year anniversary of his GRAMMY Award-winning IGOR by offering up his "BOYFRIEND" track digitally for the first time through a surprise YouTube upload. Sure, it's not technically a new track, but there are plenty of people out there who let this song go unheard if they didn't buy a physical copy of the project. It's positioned as an extended version of track number four, the interlude titled "EXACTLY WHAT YOU RUN FROM YOU END UP CHASING" and taps Santigold and Charlie Wilson. Tyler continues to mess with the pitch on his vocals while Jerrod Carmichael handles the outro. IGOR is the gift that keeps on giving.
Listen: YouTube
---
Khruangbin – "So We Won't Forget"
Houston-based trio Khruangbin composed of Laura Lee Ochoa, Mark Speer and Donald "DJ" Johnson, have dropped off a new single, "So We Won't Forget" from their forthcoming album Mordechai out June 26. The dream-like track adds smooth electric guitar while the Scott Dungate-directed music video is a must-watch filled with police chases, reconciliation and filling a bedroom with memories through portrait sketches and memorabilia. It's heartwarming and moving all at once. The song follows the previously released "Time (You and I)", a seriously funky groove that you should check out if you haven't yet. "Memory is a powerful thing," Khruangbin said in a statement. "Now more than ever it's important to tell the people you love that you love them, so that they don't forget."
Listen: Spotify | Apple Music
---
Tems – "These Days"
Nigerian singer Tems is someone to watch this year. She collaborated with Khalid for his "Know Your Worth (Remix)" and stole the show. On "These Days", produced by Amaarae and Rvdical The Kid, she's maneuvering unrequited love and the resonating heartbreak that comes from a lack of communication. The instrumental is bass-heavy and paired perfectly with echoing "ooh's" in the backdrop. "You knew/ That you were never humble/ But I didn't mind it/ Now I'm feeling undermined/ Can you please make up your mind, yeah/ 'Cause we're running out of options" she sings. Tems was also selected for YouTube Music's Foundry Class of 2020. Stay tuned for more.
Listen: Spotify | Apple Music
---
Phoebe Bridgers – "I See You"
Phoebe Bridgers's new record Punisher is set to release June 19 via Dead Oceans. After releasing "Kyoto" and the green screen DIY music video that was filmed due to her Japan visual being axed because of the coronavirus, she's back with "I See You". The track was originally titled "ICU", but she decided it was best to change it given all that's going on in the world. "It's about my breakup with my drummer," she said in a statement. "We dated for a few years, made music every day, and were extremely co-dependent… But if this tells you anything about our relationship, we wrote this song together, just like everything else." She has also announced a virtual world tour that launches in her kitchen starting May 26. We can't wait.
Listen: Spotify | Apple Music
---
The Alchemist – "Man of Many Hats"
Through the first five months of 2020 there hasn't been a producer who is having a better year than The Alchemist. He's now entering his fourth decade crafting instrumentals and he's as relevant as ever. He first teamed up with Amsterdam-based streetwear imprint Patta for his collaboration with Conway the Machine for LULU and had even more planned for his DJ tour through Europe. It was ultimately canceled due to the novel coronavirus. Earlier this week he dropped "Man of Many Hats" alongside a capsule collection of limited edition vinyls and t-shirts. They were gone in a minute, but you can still listen to the dual-sided single via his Bandcamp. It spans nine minutes of hard-hitting drums, resonant piano chords and just enough grain to take you back to the boom-bap era.
Listen: Bandcamp
---
Preservation – "Rose Royce" feat. Quelle Chris
Quelle Chris put out one of the best rap albums of the year with his Chris Keys collaboration Innocent Country 2. On his latest feature with New York producer Preservation titled "Rose Royce", Quelle is effortlessly jogging a victory lap. His bars are just an exhibition to display the fact that there isn't a beat on this planet he can't destroy lyrically. But it's the way he melds his voice and becomes one with "Rose Royce" that's truly special. Preservations's upcoming Eastern Medicine, Western Illness project, out May 29, is inspired by his three year stay in Hong Kong where he crafted the instrumentals solely from Chinese vinyl samples that he found in the city's record stores. It will feature Brooklyn emcee Ka, Mach-Hommy, Your Old Droog, Roc Marciano, Navy Blue and a number of rising Chinese emcees to pay tribute to the city.
Listen: Spotify | Apple Music