Why Loafers Are Going to Be 2020's Most Important Shoe
The menswear staple is eking out sneakers for footwear dominance.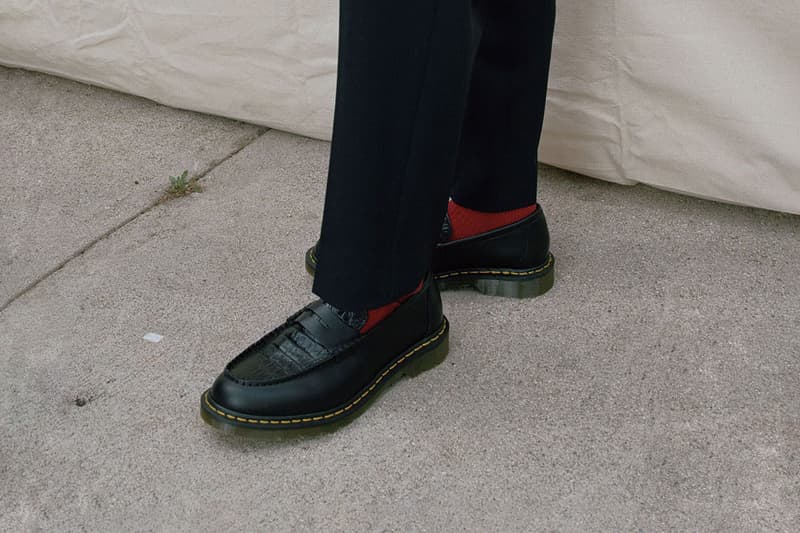 It's funny how trends latch on to otherwise ordinary garments, giving would-be staple pieces a sudden sense of urgency that dissipates within a few seasons. The Spring/Summer 2020 season, for instance, saw menswear brands like Dior, Louis Vuitton and UNDERCOVER embracing tailoring, bringing arguably the most trend-averse piece of clothing — the suit — into the style-conscious limelight. Though the street-style set will likely be making room in their closets for a new selection of blazers in the months to come, the real revolution may already be underfoot: enter the rise of the loafer.
A timeless staple since the early days of G.H. Bass & Co's Weejuns, the loafer's popularity has hardly ever wavered in certain menswear (read: formalwear) circles. Otherwise, the leather shoe has jostled for favor with other laceless styles like sandals and espadrilles. The workwear boom of the late naughties saw a newfound appreciation for heritage brands like Alden and Viberg and upstarts like Oak Street Bootmakers alike, with the following years marked by streetwear revisions of traditional silhouettes and plentiful luxury options. In particular, the latter industry is primarily responsible for launching the humble loafer to stratospheric new heights.
In 2015 Gucci launched its now-iconic Princetown mule, a moment marked in loafer infamy. The backless, fur-lined shoe was a mutation of the legendary Gucci bit loafer, dreamed up by then-new creative director Alessandro Michele and destined to spark countless thought pieces about the season's new must-have shoe. Five years on, the Princetown is still a staple, coveted across the globe. Its legacy lives on in the countless luxury mules that have emerged since, but it wasn't until the rise of the Ugly, Thick-Soled Sneaker in 2017 that the loafer began to evolve once again.
Following the rise of the Triple-S and other marmite shoes, loafers either grew to skyscraping heights or received stripped-back makeovers. Martine Rose hacked the heel off her square-toed slip-ons and Margiela gave its tassel editions a running sneaker sole, while Converse Japan revived the skate-ready One Star loafer and Stüssy imagined Dr. Martens' Penton loafers in tonal faux crocodile.
Comparitively free-wheeling designs began cropping up en masse in 2018, granting the humble loafer newfound relevance. This was bolstered by the model's effortless slip-on design and the sheer variety of available models. Instead of being positioning as a mere wardrobe staple, however, contemporary designers are imagining the loafer as an essential shoe, as worthy of attention as sneakers and boots.
Why is the loafer once again a talking point in 2020? There's something innately appealing about that no-frills lace-free design, a sleek shape that allows for revisionary designers to create something truly special. Consider Kiko Kostadinov's collaborative Camper kicks, 1019 ALYX 9SM's rollercoaster-buckled editions and the loafer-sneaker hybrids recently proffered by Rick Owens' footwear designer Vaz Rajan and Erik Ellington's Human Recreational Services; the shoes all utilize recognizable loafer silhouettes as the base for adventurous colors, on-brand accents and progressive construction. Indeed, the simple loafer is both an ideal starting point for envelope-pushing designs and a hassle-free shoe.
This duality encourage Fall/Winter 2020 Fashion Week attendees from Milan to London to try their hand at tackling loafers. Fashion Week — both the presentations and guests — often represent the first barrier between runway trends and mainstream embrace; seeing the loafer crop up at the FW20 events is a strong implication that a wider loafer movement may be in store. Gilded tassel slippers and loud Gucci slip-ons made appearances, as did Dr. Martens' Adrian loafer, encompassing both ends of the price spectrum. Here's where the loafers' broad appeal comes into play, with tailored italians, scrappy British youths and international jetsetters all incorporating the loafer into their personal style.
Loafers are an organic in-between, a stepping stone bridging omnipresent sneakers and more imposing leather shoes. Loafers boast more formality than the former and lace-free comfort over the latter, not to mention additional versatility. With men's wardrobes expanding to incorporate more formal items — or at least fashion-forward iterations of them — the loafer provides a natural starting point. Despite the silhouette's inherent versatility, streetwear-leaning men may have traditionally shied away from the loafer for stylistic reasons, or because of their youth. As streetwear grows up, however, consumers do the same. Though many jobs have relaxed their dress codes, the transitioning codes of menswear encourage experimentation, naturally facilitated by the adaptable loafer.
On the actual runways, the loafer emerged as a consistent favorite, with technical innovation occasionally dragging the shoe into the future. GmbH recruited ASICS for sneaker-loafers — recalling last year's Cottweiler Reebok loafers — while A-COLD-WALL* offered technical slip-ons and more conventional leather loafers alike, straddling both camps. Jacquemus, meanwhile, delivered a typically European take on the silhouette, demonstrating restraint and respect for tradition.
Seeking something more conventional than Margiela's tabi loafer? The ever-popular Dr. Martens Adrian has emerged a favorite of London's fashion crowd (even more so than premium alternatives, like loud Gucci loafers). The Adrian's appeal is predicated on a blend of chunky sneaker appeal with leather shoe refinement, underlined by the all-important comfort factor. And if heavy-weight footwear falls out of favor (a not-so-distant future foretold by Balenciaga, ostensibly the catalyst for the chunky sneaker trend), the sleek slipper, warm weather T-strap and classic penny loafer offer slimmer styling, which, along with a host of heeled options, demonstrate the loafer's versatility.
There are plenty of other dramatic takes on the silhouette, from Kiko Kostadinov's slick Campers to Maison Margiela's hefty hyrids, but the classic loafer is here to stay. Inside the microcosm of the fashion industry, it's indicative of maturation; the well-documented shift from suiting to streetwear is reversing, swapping the stiff adherence to tradition seen in pre-'00s menswear collections for the fluidity of contemporary menswear brands.
Outside of the industry, however, the loafer never went anywhere and never will. Consider New York's recently-revamped Belgian Loafer store, which drew crowds of downtown scenesters and investment bankers alike at its recent sale. Even after the next transition of fickle trends — are derbies next? Could monk straps return? — the loafer will remain a staple, with a newly-expanded roster of younger fans.