Music Projects You Missed This Week
Featuring Lil Durk, Mulatto, REASON and more.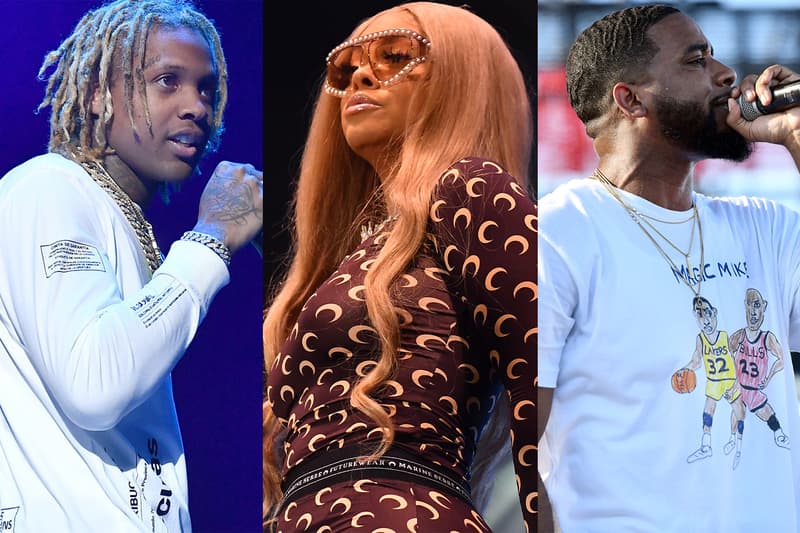 As we power through the final days of 2020, HYPEBEAST has rounded up a carefully curated list of Music Projects You Missed This Week.
This selection includes the new full-length releases from Lil Durk and Four Tet, along with a collaboration from Kelsey Lu and Yves Tumor. Mulatto, REASON featuring Mereba also join the list with brand new music videos, along with fresh singles from Bakar, Puma Blue and River Tiber.
---
Lil Durk — The Voice
Shortly after dropping a visual in honor of King Von, Lil Durk surprise-released his latest full length, The Voice. His sixth studio album follows May 2020's Just Cause Y'all Waited 2, and features appearances from the likes of 6LACK, Young Thug and the late King Von himself.
Listen: Spotify | Apple Music
Mulatto — "Spend It"
Mulatto spread holiday cheer in the music video for "Spend It," a cut from the extended version of Queen of Da Souf. Directed by Megan Gamez, the rapper gave back to her Atlanta community and emphasized on the importance of giving to the less fortunate. "I could spend that sh*t on me all day, but today, we gonna spend that sh*t on people who need it," she said at the beginning of the visual.
Listen: Spotify | Apple Music
Four Tet – Parallel and 871
Four Tet spent his Christmas Eve by dropping a pair of full-length releases entitled Parallel and 871. The two records, which features 10 tracks and 20 tracks respectively, follow his March 2020 project Sixteen Oceans and arrives shortly after the release of his Madlib collab "Road Of The Lonely Ones."
REASON x Mereba - "Westside"
TDE's REASON revisited his October 2020 album New Beginnings with a visual for "Westside," a cut that features Spillage Village's Mereba. "I had to get rid of every fear, anxiety, doubt, and negative mindset to make this project," REASON said on Instagram in celebration of the album. "Through it all I'm just proud and thankful for the opportunity to share this part of myself with y'all… I want to give a HUGE thank you to everyone involved in making this project with me. For this to be my debut it was a very special and emotional process so thank you to y'all forreal!"
Listen: Spotify | Apple Music
Bakar – "Having A Good Time, Sometimes."
Bakar is making the most of the final weeks of 2020, dropping his introspective new single "Having A Good Time, Sometimes." The cut arrives just after his collaboration with Lancey Foux entitled "Play," with both singles expected to appear on his forthcoming record.
Listen: Spotify | Apple Music
Kelsey Lu x Yves Tumor (feat. Kelly Moran and Moses Boyd) – "let all the poisons that lurk in the mud seep out"
Kelsey Lu enlisted Yves Tumor, Kelly Moran and Moses Boyd for her latest track "let all the poisons that lurk in the mud seep out," the classically-trained musician's first official release since May 2020's Morning Dew. "'let all the poisons that lurk in the mud seep out' is about taking risks and diving headlessly into the unknown while being wholly yourself," she said in a statement, adding, "deconstructing the poisons that brought you doubt and mania as to the powers that lies within and accepting that whatever is evil will come to light while bending oneself backwards to embrace their true nature and the depth that lies within."
Listen: Spotify | Apple Music
Puma Blue – "Silk Print"
Puma Blue is closing out his year with another single entitled "Silk Print." This marks the English singer-songwriter's fourth release of 2020, following "Velvet Leaves," "Snowflower" and "Opiate," with all the tracks set to appear on his February 2021 full-length, In Praise of Shadows.
Listen: Spotify | Apple Music
River Tiber – "Rainbow Road/Hypnotized"
Canadian artist River Tiber finally dropped his first releases of 2020 with the back-to-back singles, "Rainbow Road" and "Hypnotized." His first music release since August 2019's "Nevada," the two tracks hears the Toronto native handle almost all of the instrumentation, including vocals, bass, guitar, drums, tambourine, vibraphone, synth, rhodes, violin and the cello.
Listen: Spotify | Apple Music