Here Are This Year's Best Luxurious Mooncakes for Mid-Autumn Festival
Featuring mooncakes from Louis Vuitton, CELINE, BAPE, Gucci, and more.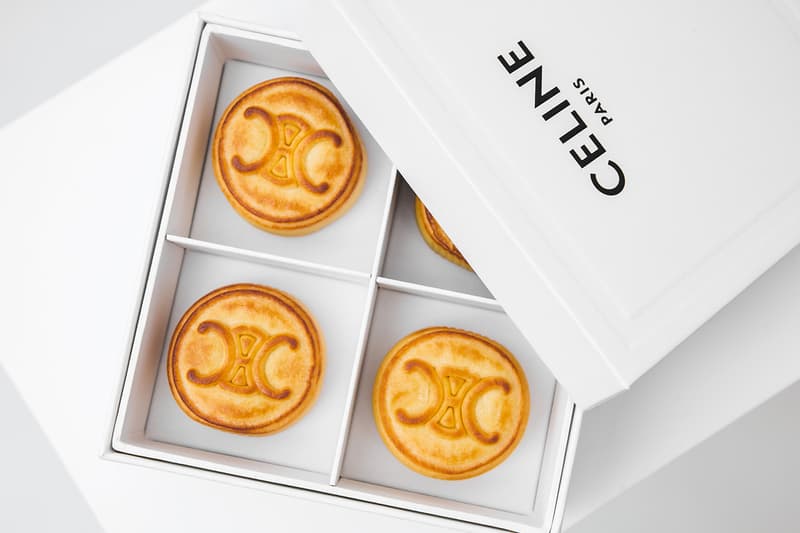 It's that time again for global and local brands alike to take part in one of East Asia's biggest holidays — Mid-Autumn Festival. Taking place on the 15th day of the 8th lunar month, one of the more celebrated aspects to the 3000-year-old holiday is the delectable mooncake. The 890-calorie lotus seed paste/egg-yolk filled "cake" (there are less popular variants which use meat and nuts as filling) is typically enjoyed after a family supper along with an assortment of fruits.
While last year we picked 5 fashion houses that stood out in terms of delivering a mooncake that was on-brand and presented in a creative manner, this year was slightly more of a challenge as more brands look to raise the bar. One prominent change is the size and texture of the new "designer" mooncakes. Gone is the more traditional lotus paste-filled cake that cuts evenly into four pieces, and in place are now bite-size versions with a largely Western dessert take on them — think chocolate fillings and cake/pastry-like consistencies.
This year sees repeat names like Louis Vuitton, Gucci, BAPE, and Burberry, but also new entrants from fashion houses like CELINE, Fendi, Hermès, LOEWE, Maison Margiela, and Saint Laurent. Hong Kong-based official Ferrari dealer Blackbird automotive kicks it up a notch with a full Mooncake display box that mimics the rear of BB LM. Without further ado, here are this year's top branded Mooncakes. Happy Mid-Autumn Festival!
Louis Vuitton
LV Chocolate Cloud Monogram
Louis Vuitton delivered as expected. Arriving in a tall box, the entire package opens vertically to reveal blue paper cut out art in the shape of a hot-air balloon with cloud illustrations. Much like LV's trunks, the bottom has a slide-out drawer compartment; inside are four delicately-wrapped chocolate hybrid mooncakes.
LOEWE
Natural Wooden Box
LOEWE's mooncakes come in a natural wooden box with two compartments. Branding is large and centralized at the top of the box while each bite-size mooncake comes stamped with the label's monogram. The bottom drawer contains a wooden mold in case you wish to try your hand at baking some LOEWE-branded mooncakes for next season.
Blackbird Automotive
Ferrari BB LM-Inspired Mooncakes
Hong Kong's classic car and Ferrari purveyors Blackbird Automotive have set the bar high this year for its release of mooncakes. Referencing the lesser-known Ferrari 512 BB LM — a race car that was part of Luigi Chinetti's North American Racing Team (NART) — the mooncake box takes on the same mesh design as the rear of the 70's-era prancing pony with fully working lights. As a little Easter egg, this is the same rear fascia that was employed onto the stunning Blackbird-commissioned one-off P80/C.
Maison Margiela
White "Numbers" Box and Mooncake Cookie
Maison Margiela keeps branding strong for this mooncake release. Coming in an all-white minimal wooden box with the "Numbers" logo at the top, two levels of mooncake-biscuits are contained inside. Furthering the Margiela branding are four unique pick stitches stamped on the petite delights.
A Bathing Ape/AAPE
Camo Tin Lunchbox and Lantern
Both A Bathing Ape and AAPE come in tin lunchbox style containers, fully covered in each of the brands' respective camo patterns. BAPE kept it flashy with pink camo while AAPE went for a more outdoors approach, even including a camping mug. Both miniature mooncakes from BAPE and AAPE see their corresponding ape head mascots stamped at the top.
Gucci
Monogram Tin Box With Gucci Bee
Gucci's mooncake box appears more like a watch box or jewelry box at first glance. At the top is debossed Gucci branding with a pewter knob. The inside of the box is lined with light-blue satin material, where six individual mooncake tins are placed. Each tin is adorned by various artworks including the "GG" monogram. Gucci has chosen to stamp its cakes with the "Bee" motif.
CELINE
Minimal CELINE Monogram
CELINE offers up a simple and direct batch of mooncakes — no bells and whistles. A white box with black text branding, followed by four separate squares for each cake. This minimal design is clean and focuses more on the quality of the cake — a simple CELINE monogram with slight browning at the top. It is so hassle-free and simple that you can almost picture these being sold year-round at a bakery in Paris.
Fendi
LED Lantern Carousel
Fendi sits high on this year's "wow" scale for mooncake delivery. The entire packaging takes the shape of a lantern while a transparent acrylic board between the handles is lit via several LED strips — the whole light show can also spin. Everything sits on a solid pedestal where the cakes are accessed from pulling on the large brass knob. Each cake is marked with an "FF" stamp.
Burberry
"TB" Monogram
Burberry gets points for keeping it traditional this year. Where many have chased the bite-size mooncake craze, Burberry went with the time-tested traditional filling and shape. The Peter Saville-designed TB monogram is present throughout while the letters that form the "Burberry" name are split up via four individual mooncake boxes.
Hermès
Metal Rainbow Stick
Hermès was the only one to not present an edible gesture for the yearly celebration. Instead, the French house elected to create a package containing two luxurious rainbow sticks. This Japanese invention is to be spun between the palms of the hands where, when in motion, each strand of metallic material will appear to form together and look as if a rainbow-colored bubble is being suspended above your hands. The shape of the rainbow stick just so happens to look like a paper lantern that is used during the mid-autumn festival.
Saint Laurent
Gold Foil With Textured Black Box
Those who shop Saint Laurent footwear will easily recognize this box — it's the exact same design as an SL shoebox down to its texture. Upon opening the main lid, you are met with smaller versions of the shoe box, and then below that, another four boxes; it's like a Matryoshka Doll in mooncake form. The cake itself has a consistency of a brittle cookie or a compressed mille-feuille. A welcomed change from the aforementioned soft and spongy mini mooncakes, and more closer to pastry.
Let us know if you've managed to try a unique mooncake for yourselves over the Mid-Autumn Festival, and if you think this year's batch of branded mooncakes were better than last year's.
In other food news, LeBron James' trademark application for "Taco Tuesday" has officially been rejected.