Why Are We All Pretending to Be Outdoorsy?
As leisure time becomes scarce, outdoorsy fashion is the ultimate luxury.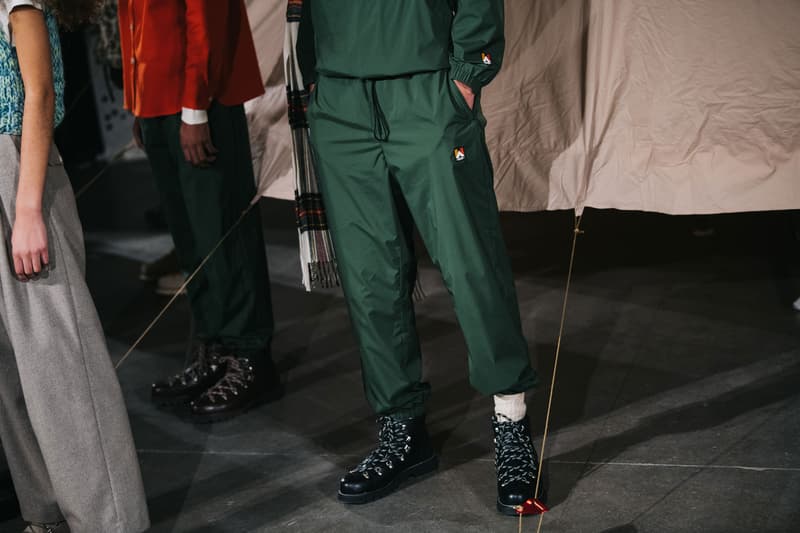 By 2019, none of us so much as blink an eye at the sight of a Manhattanite wearing workout gear outside of the gym — whether they are actually on their way to Equinox or simply wear high-performance leggings and Nike Flyknits as a daily uniform is beside the point. And sure, even though there are those among us who are still scandalized by leggings outside the gym, the athleisure look has become normalized to the point where it's no longer a cutting-edge style. In its place is a new kind of practical look that is perhaps even more incongruous in an urban, fashion-forward setting: the rugged, outdoorsy style.
It should be noted that "Outdoors Style" has long since been a thriving subculture in Japan. There, brands like White Mountaineering have pioneered the rugged look as a conscious fashion choice, while magazines like GO OUT combine shopping suggestions with tips on traditional outdoor activities. But as a Western phenomenon, the outdoorsy look is a more recent fashion — at the same time as luxury brands like Acne and Off-White™ have recently released hiking-style boots, true performance wear brands like The North Face and Patagonia have become as commonplace in streetwear-heavy wardrobes as in the closets of suburban New England dads. It's a look primarily adopted by — though not exclusive to — men, with upstart American and European brands such as Reese Cooper and PHIPPS making outdoorsy styles a core part of their DNA.
The look's proliferation in cities like New York and London could easily be attributed to an overall relaxing of dress codes. But the rise of outdoorsy style also runs parallel to the growing demand for sustainable fashion and, perhaps most importantly, a desire to escape our screens and connect with nature.
"People talk about living somewhat a bit more offline lifestyle. With all these stressful factors we're all in, it seems natural to pull the plug and then get out and enjoy nature," Karl Oskar Olsen, head designer for Wood Wood, tells HYPEBEAST. The Danish fashion brand and boutique has frequently turned to the outdoors for inspiration, with its Spring/Summer 2019 lookbook aptly titled "The Outside." Those looks, along with the styles in its Fall/Winter 2019 collection, are lowkey — they consist of muted shades in Earth tones and neutrals, with a few pastel pops of colors, with approachable styles that look like they could survive a bit of roughing up. And that's exactly what makes them aspirational.
"For me luxury is to have time to actually go out and do other stuff than work," Olsen adds. Time after all is in short supply in the digital age. We are increasingly expected to be online and available at all times and to optimize our habits in order to get the most work done; as such spending time outside and untethered has been reimagined as a luxury good. The ability to not be hooked to a screen 24/7 is becoming increasingly exclusive to the wealthy class. Hiking clothes communicate to the world that you have that kind of luxury — and if you don't, wearing them can at least approximate the feeling while you sit at your desk in the urban landscape.
That emphasis on slowing down and connecting with nature can make the outdoorsy look more attractive to burned-out millennials than athleisure. Athleisure promotes its own kind of luxury, specifically a lifestyle that allows for enough time to go to the gym and enough money to buy expensive clothing to sweat in. Like the outdoorsy style, it too elevates functionality, but the prototypical athleisure look — black, sleek, body-hugging — emphasizes efficiency and speed. Bulky hiking boots and cargo pants meanwhile are far from aerodynamic; they should be worn somewhere far away from cell reception, not in a gym that has its own wifi and co-working space.
That is not to say all outdoorsy styles are alike. If actual hiking gear from the likes of The North Face sits at one end of the spectrum and luxury hiking cosplay from the likes of Balenciaga sits at the other, designer Lou Dalton is somewhere in the middle. At the Fall/Winter 2020 presentation for her namesake brand at this past London Fashion Week: Men's, Dalton displayed pieces that are intended to function equally well in the English countryside as at a London bar, with tents and folding chairs serving as decor to further emphasize the collection's connection to the outdoors. The rugged look may have become trendy for the moment, but Dalton sees the style as fitting a true need in the lives of those around her.
"I have a lot of close friends, some of which were in the presentation, that also partake in a lot of activity, whether it be cycling, running, walking, just in terms of giving them head space. Allowing them to look after themselves," she tells HYPEBEAST. "As we all know, mental health and mental awareness and well-being, it's a topical conversation."
Dalton also believes the clothes need to actually work. That's why collaborations are so crucial to her line, with Dalton turning to John Smedley to create high-quality knitwear and working with Gloverall on sturdy outerwear. "If I'm going to do a polo shirt or something, I know that my boys will wear that if they're going out for a hike," she tells HYPEBEAST. "Because it can withstand all elements. But again, it's smart enough for them to go out to the pub at the end of the working day."
Dalton maintains that those hybrid pieces allow her customers to simplify their wardrobes, a necessity in a world that seeks to produce less waste and buy less product. It's no coincidence that outdoorsy-inspired labels like PHIPPS and Reese Cooper are also making commitments to Earth-friendly practices, while The North Face and Patagonia have perhaps maintained their dominance in the outdoors-sphere due to their public support for sustainable practices. "Consumers are increasingly more thoughtful in how they seek out their apparel needs," Pelagia Kolotouros, Global Creative Director, Lifestyle, The North Face, tells HYPEBEAST. "They recognize the importance of utility, sustainability and function for longevity in the apparel and gear they purchase."
Even those who were once responsible for maintaining the suit and tie's stronghold on the workplace are adapting. Goldman Sachs notably relaxed its dress code earlier this year — though that may not necessarily indicate that Goldman Sachs is interested in dismantling dress codes and helping its employees reduce their wardrobes, as much as it's a response to the fact that Silicon Valley has codified jeans and hoodies as billionaire power attire.
Subconscious desires to return to nature aside, Dalton and other designers would agree that at the end of the day, the outdoorsy-style clothes are useless if they don't actually work. "Our sales will not approve my designs if I make an outdoor-looking jacket that is not kind of water-repellent or has some kind of function. They will say it's not going to sell," Olsen says of Wood Wood's functionality. The consumers who purchase those items to wear in urban settings may not get the full impact of an item's functionality, but they will at least feel they are making a worthy investment.
That begs the question of Lou Dalton and Wood Wood's higher-end counterparts — could one in fact wear Off-White™ hiking boots to climb a mountain? Or use hobo's gardener gloves to tend a garden? Or take Dior's BMX bike out to a dirt track? Or maybe the better question is, would they? Perhaps the ultimate showcase of luxury would be actually taking those $800 USD hiking boots out for a test drive.