Japanese Subcultures You've Never Heard of: Outdoors Style
A deep dive into the country's infatuation with nature.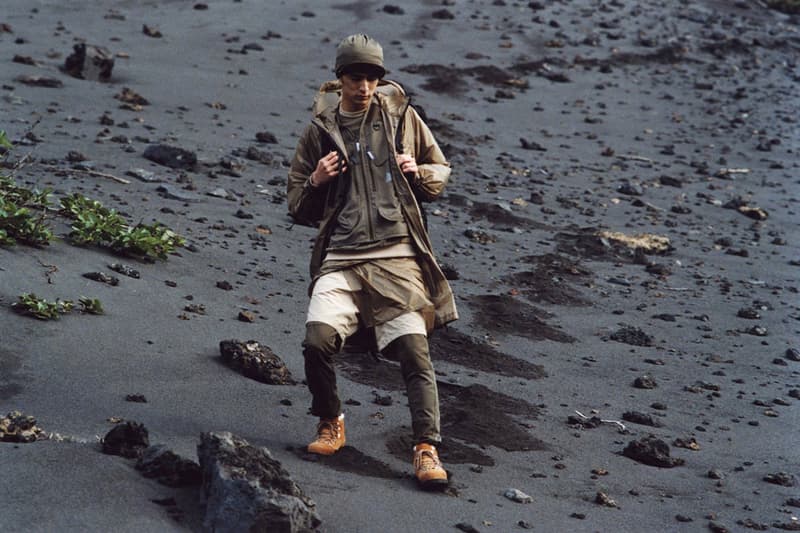 Considering the size of the country, it's impressive how much Japan has influenced the rest of the world; Japan's technology, video games, cars, anime, food and music has permeated the collective consciousness of the planet. Although articles have been dedicated to topics ranging from Shibuya-Kei music to BE@RBRICK, certain niche Japanese subcultures have yet to receive proper attention. Ranging from countrywide crazes to online-only collectives, Japanese society's unique blend of borrowed cultures is a breeding ground for distinctive trends, some with longer shelf lives than others. In this series, we aim to document oft-underappreciated Japanese subcultures, shedding light on relevant elements of Japanese society that have yet to receive deserved attention.
Unsurprisingly, Japanese city-dwellers are keen to escape their metropolitan lives and enjoy the country's natural beauty. Though the nation is quite successful at blending nature into its more urban locales, there really isn't any replacement for being truly immersed in nature. For certain Japanese people, this goes beyond mere day trips — some dedicate their lives to adventuring, living out of renovated vans or seeking out a daily uniform infused with water resistant properties and hidden stash pockets. Lisa Yamai of Snow Peak puts it simply: "In Japan, people that live in bigger cities go camping for vacation, to escape the urban life and embrace nature. The purpose is to surround yourself with nature in comfort." The love for the great outdoors results in some devotees shaping their entire lives around the concept of adventure, but the infatuation usually begins with clothing.
Menswear veterans and amateurs alike are almost certainly aware of some of the larger Japanese fashion labels, like visvim, White Mountaineering, nanamica and The North Face Purple Label. Outdoors Style – an umbrella term for all outdoorsy clothes  —  is a founding design principle for each of these brands regardless of the varying core influences. The years Hiroki Nakamura spent working for Burton inspired visvim's rugged, hand-stitched boots and GORE-TEX lined parkas. White Mountaineering's Yosuke Aizawa designs cargo pants and camouflage shirts fully intended for home, the streets and Aizawa's preferred place to unwind: the campsite. Outdoors Style is more than just clothing, of course. For example, NEIGHBORHOOD & White Mountaineering's Helinox collaborations center entirely around a full capsule of camping equipment — including foldable portable chairs, tables, easy-to-set-up tents and even bags. At its essence, however, the functional, multi-pocketed clothing truly informs the Outdoor Style subculture.
"The purpose is to surround yourself with nature in comfort."
Outdoors Style can be broken into a trio of tastes — subtly technical, extremely technical and heritage-driven. Brands like Minotaur, Mountain Research, and The North Face Purple Label infuse recognizable clothing with functional details ranging from GORE-TEX and COOLMAX to taped seams and stash pockets, creating quietly practical staples. Meanwhile, and wander, Descente ALLTERRAIN and alk phenix focus on the functional aspects, crafting quick-drying shell jackets and water resistant hiking trousers without sacrificing contemporary design. Finally, labels like Meanswhile and Snow Peak offer a traditional-influenced take on Outdoors Style, elevating haori jackets and tsunagi boiler suits with technical fabrics and heritage detailing, like sashiko-influenced stitching. What makes the Japanese approach to adventure gear interesting is the open-mindedness. Related items that may not be appealing in conventional menswear — belted climbing shorts, strappy sandals, sport sunglasses — lure in Japanese clothing fanatics simply based on a brand's pedigree and the products' usefulness.
Versatility throughout Japan's extreme seasons is a key draw to Outdoors Style. One of the key reasons for this is the "extremity of the climate here," Sam Fitzgerald from nonnative & COVERCHORD notes. "It is oppressively hot and humid in summer, bitterly cold in winter, pours torrential rain from May-July, and intermittent typhoons batter the country from late summer through to mid-autumn. This extreme weather makes outdoor wear very appropriate for a city like Tokyo, given how much time people spend walking, cycling and moving about in the elements." This versatility results in Outdoors Style-appropriate clothing serving as lifestyle wear, as opposed to clothing only worn on weekend excursions. This results in "Guys in Harajuku or Shibuya wearing head-to-toe outdoor style, even if they are just going between their office and home," say Garbstore's founder Ian Paley & Head of Menswear Buying Carin Nakanishi.
In spite of the great weight given to clothing in Outdoors Style, there's much more to the subculture than fashion, making it more squirrely to pin down exactly. Perhaps the clearest codification of Outdoors Style in Japan comes from GO OUT, a monthly magazine — indeed, it has included the phrase "Outdoor Style" alongside its title since inception. Since 2007, GO OUT has covered a huge variety of outdoorsy topics. A single issue may range from a new Keen sandal drop or Haglöfs collection to niche activities like parasailing and tenkara — traditional Japanese fly fishing.
The end result is a kind of Outdoors Style bible, catering to both longtime adventurers, new converts, and the fashion-focused. Unlike style-centric publications like Free & Easy and the original Heavy Duty, GO OUT aims to cultivate an all-consuming adventure-focused lifestyle.
The Japanese have plenty of outdoorsy pastimes. This includes "Going camping and/or swimming in the sea, Hanami (cherry blossom watching), going to mountains to see leaves changing in autumn, and visiting the countryside hot springs," according to SHELTER-Tokyo's Kent Kadomasu. "We very much like bathing outdoors amongst nature," he continues. The beauty of GO OUT lies in how it ties together a host of tenuously-organized concepts. The magazine makes an appealing entry point into a world many Japanese people are already familiar with since the great outdoors have been crucial to Japan's culture for centuries.
"They (Japanese consumers) behave as a collector, buying very deeply into the lifestyle."
Since the foundation of modern-day Japanese civilization, nature has been a fixture in the country's society. It goes all the way back to "ancient times," Kent Kadomasu asserts. "Japan's religion is Shinto — our God, Amaterasu Omikami, who created Japan is regarded as the God of Sun. That is to say, our God is Nature itself." Hence, The Land of The Rising Sun means much more than a country that appreciates a nice sunrise. Japanese culture is founded wholly around being outside — it's a blend of appreciating and coexisting with nature. To put it simply, an appreciation for the outdoors is, "Necessary for me to survive here in Tokyo," Kadomasu says. This love of nature goes even deeper, as Paley & Nakanishi point out: "appreciation of nature is seen across Japanese design and lifestyles: traditional Japanese architecture famously blurs the distinction between outside and in; while 'seasonal' confectionaries in the shape of sakura flowers or Autumnal 'momiji' leaves play an important role in ritual and gift giving." Indeed, living among nature is akin to a religious experience. Kadomasu points out that "Shinto shrines are surrounded by rich nature, and have very beautiful gardens indicative of traditional Japanese beauty."
Despite possessing a strong metaphysical connection to nature, the Japanese often express their passion for Outdoors Style in very material terms. "The Japanese consumer will appreciate that there is a product for every function," posit Paley & Nakanishi. "They behave as a collector, buying very deeply into the lifestyle." Conversely, "The Western consumer will value the experience of the lifestyle a little more than the products associated with it." Beyond merely dressing the part, Japanese people often crowd their homes with signifiers of their dedication to the lifestyle, including camping chairs, lanterns, and branded throw pillows.
Like the clothing, Outdoor Style's interior design hews towards the "lived in," with comfy furnishings and DIY flourishes, like industrial clamps functioning as wall-mounted potholders or handmade cookware. True believers go to great lengths to leave their handiwork on every inch of their living quarters, hand-drafting coffee and showcasing worn-out trek gear like trophies.
To those who truly live up to Outdoors Style, there is an extra layer of dedication that takes some away from conventional shelter. These die-hards will seek out vintage vans to live in and travel the country. It's much more common for van or Jeep buffs to live normal lives, only busting out the Volkswagen for weekend getaways, but each subculture has its fanatics. Regardless of their tact, the rugged automobile experts who count nonnative's Takayuki Fujii and N.HOOLYWOOD's Daisuke Obana among their ranks, deck out their vehicles as carefully as they do their own houses. Stylized mirror ornaments, floormats, stickers, and wheels are all key in demonstrating one's fealty to Outdoor Style. Even Pendleton blankets and travel wipes are often tucked into hidden compartments. These road warriors frequently hit the road in search of adventure, often traveling to distant Outdoor Style gatherings.
3 of 6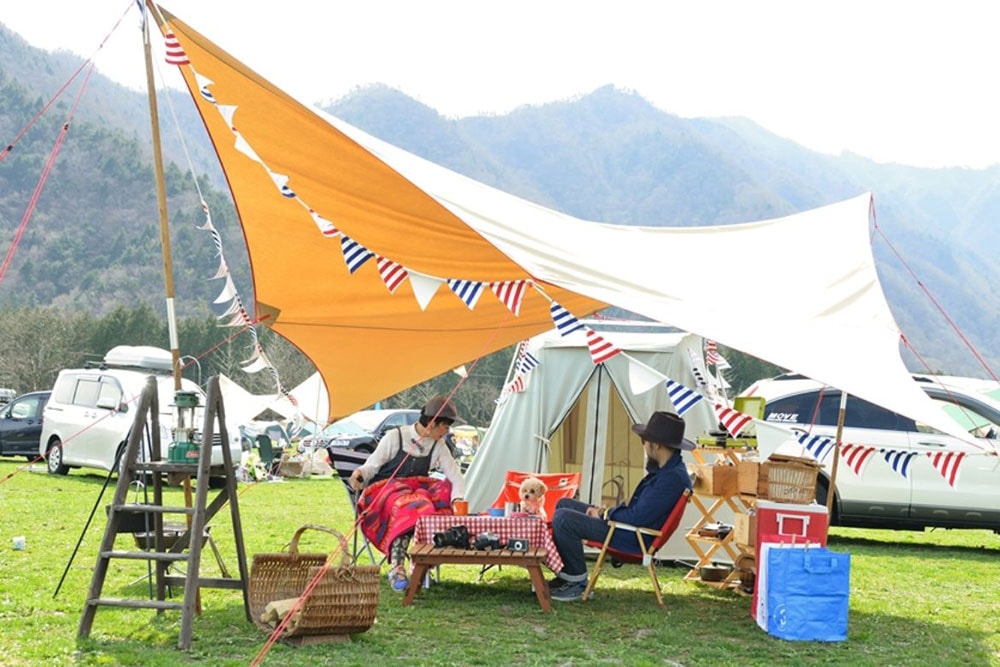 4 of 6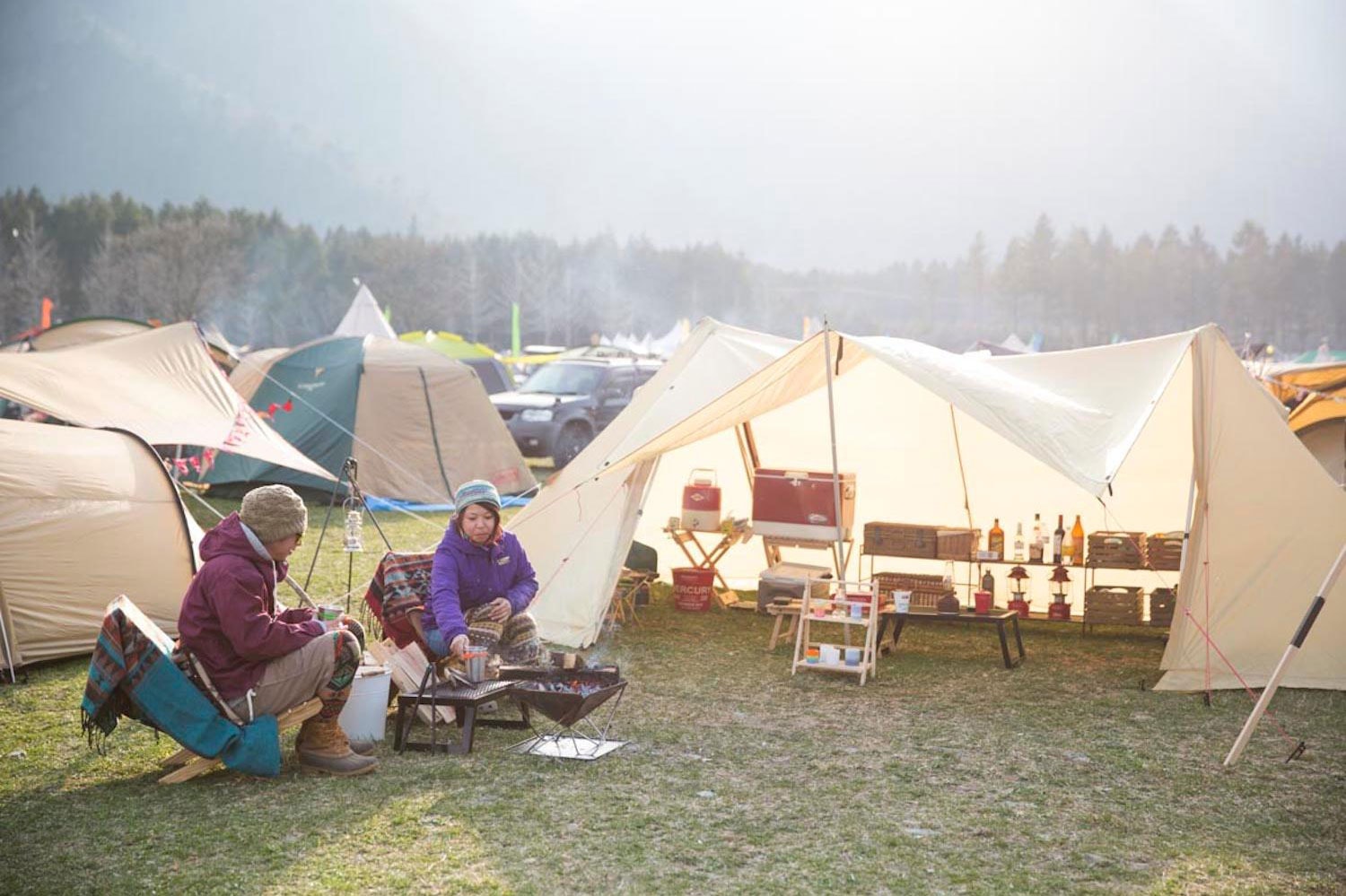 Communal meet-ups are a cornerstone of the Outdoor Style community. Occasionally centered around music — Fuji Rock Fest or Summer Sonic — the get-togethers are often sponsored by brands or community hubs, with Snow Peak, GO OUT and Coleman each bringing together hundreds of Outdoor Style aficionados. Attendees are as diverse as the readership of GO OUT, but love for the outdoors is universal. Each event offering a distinct schedule; activities may include taste-testing beer, grilling, trying on new footwear, group hikes, and campfires, all set against a backdrop of vans and collapsible campsites. Here, friends relax and meet community members, inducting newcomers to the ways of the outdoors.
"That is to say, our God is Nature itself."
While there's a wealth of information that can be recorded about Outdoors Style, bonafide outdoorsmen and women care less about codifying the style and are more about simply living the lifestyle. As Fitzgerald puts it: "whether [certain clothes] are outdoor style or not, and whether they need a catch-all term to classify them I think is irrelevant. What interests me is the constant evolution of outdoor wear, and all the incredible textiles and designs being developed that continuously push the boundaries for performance and comfort in clothing." What draws most to the avocation is the simple fact that humans are eager to go outside. This simple truism ensures the continuing strength of the subculture with Japanese sensibilities informing its detail-rich tenets.
For more on Japanese subcultures, check out our look at Guro Lolita and Yami Kawaii.