Will LFW:M Ever Break Past "Potential"?
Once again, LFW:M showed a lot of promise.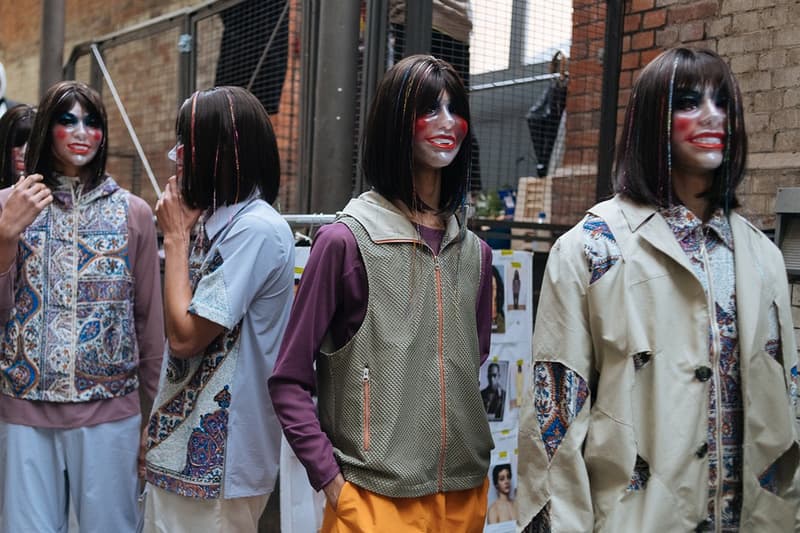 London Fashion Week: Men's is undergoing a revamp. The branding switch was announced in an article by The Business of Fashion, revealing that it'd teamed up with young agency Superimpose Studio, who'd previously worked with the likes of adidas Originals, Burberry and Childish Gambino, to name a few.
"Brands usually come to us because they need an injection of life," Superimpose's Ollie Olanipekun told BoF. The two year plan is a gradual rollout but, more importantly, a small admittance that perhaps LFW:M did need to catch up to the array of young designers it hosts. More than anything, it signals that there is the potential to do more with the event with some left-field thinking.
Potential is a word often connected with London's fashion scene. With sponsorships and grants that are geared towards the first few seasons of a designer's lifespan, this leads to designers who come racing out of the gate and then have the rug pulled from underneath them as their funding comes to an end.
The cycle has been repeated so often that there's now a clear track for a London designer going down this well-trodden path. There's usually a few unexpected collaborations for a season or two and then a fledgling sportswear brand swoops in and sponsors the designer's entire show, forcing them to become second billing in their own collection. Typically the next step is to work for an established house, folding their own label and avoiding the stresses and pitfalls of being a young designer. It was a scenario that repeated itself a few times this season, albeit with slight variations.
But there are instances when that potential is realized. Craig Green and Martine Rose are current stalwarts of LFW:M, bringing a plethora of press and buyers to each of their shows. Green held this season's show once again in the Vault, the original Billingsgate Fish Market, this time making the runway a mirrored floor that made the space look like something out of a Stanley Kubrick film.
Rose, meanwhile, went to a rather typical '80s office building to pay homage to '80s subculture and speak about Britain's current mess of a political scene via clowns next to a 'promising Britain' slogan. Rose explained the direction by saying, "I did lots of cartoon prints and clowns that feel sort of playful but sinister as well, because there is something laughable about what's happening, but also absolutely terrifying." It's taken longer than it should've considering her design skill, but Rose is now clearly ensconced as one of London's premier names.
Other clear standouts were Kiko Kostadinov, Nicholas Daley and Paria Farzaneh, each of which staged attention-grabbing shows. The latter hosted a runway show/gig, with musical group Sons of Kemet taking part in the runway one by one, gradually building the music until there was a full-on concert that saw the likes of actor Riz Ahmed enthusiastically joining in the festivities. It was the kind of scene that invited the often spoiled attendees to look beyond the narrow purview of fashion with no real-world context and instead made the clothes part of people's everyday lives.
Elsewhere, Bianca Saunders and Ahluwalia Studio showed clear signs of promise. It's unfair to judge designers fresh from University by the same standards as those with shoe collaborations and several stockists under their belt, but there's a clear overarching story — be it exploring sustainability or male identity — to both these designers collections that shows how both will be a talent to watch in the future.
Returning to prominence were Lou Dalton, Chayalan and Michiko Koshino. Dalton's penchant for relatively understated design meant that she was lost in the shuffle when logomania and streetwear took over. But with the pendulum gradually swinging away from that, she's regained admirers while Chalayan and Michiko Koshino showed that London isn't just a constant stream of newness.
The collection of names who showed their collections this season displayed that there's more than enough talent in London to make it an exciting and varied event, but overall it still felt slightly bloated at three and a half days long, with a group of designers who either didn't need a runway show or didn't warrant one.
LFW:M has been teetering on the brink for a while, with the persistent rumor that it will come to an end never quite leaving people's minds. The problem HYPEBEAST had with last season — that the event itself was out of step with the designers on show — still persisted, but it became clear that steps were being made to address that. This season showed that there is potential for it be truly relevant again. Whether it actually happens remains to be seen.
In other fashion week news, see the five best designers you may have missed at LFW:M.