The Best Street Style From LFWM 2018 Carved out Three Big Trends
Something classic, something bold and something offbeat.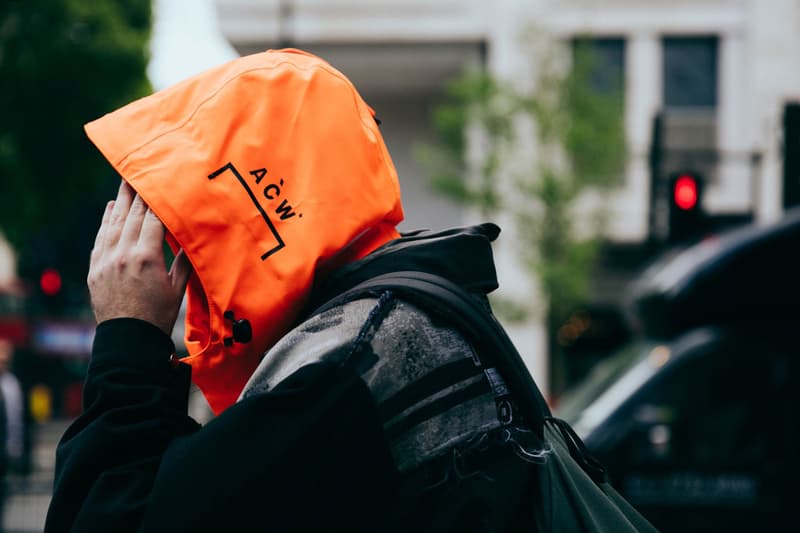 London Fashion Week usually sets the stage for the boldest outfits to parade both on and off the runway. However, Spring/Summer 2018's tone was slightly restrained. With energies spent on larger looming issues such as the general election and the surrounding attacks in the city, not much zest was reserved for venturesome clothing. Adding to that was the absence of a few big-league designers, which meant fewer foreign fashion editors were seen on the streets of London.
But this isn't necessarily a bad thing. In fact, this week's best street style was an honest and true reflection of London's finest. Fashion enthusiasts went for tried-and-trusted pieces, as well as timeless fits rather than brazen colors and flamboyant silhouettes. On display was a mix of high-fashion labels such as Louis Vuitton, Maison Margiela and Chanel, and also more contemporary/street imprints like Supreme, OFF-WHITE and Vetements. Three main trends were apparent throughout the week: classic menswear tailoring, bold patterns and utilitarian straps and buckles. For each trend, we've offered some runway inspiration from a few noteworthy collections that showed during LFW:M 2018.
Classic Menswear Tailoring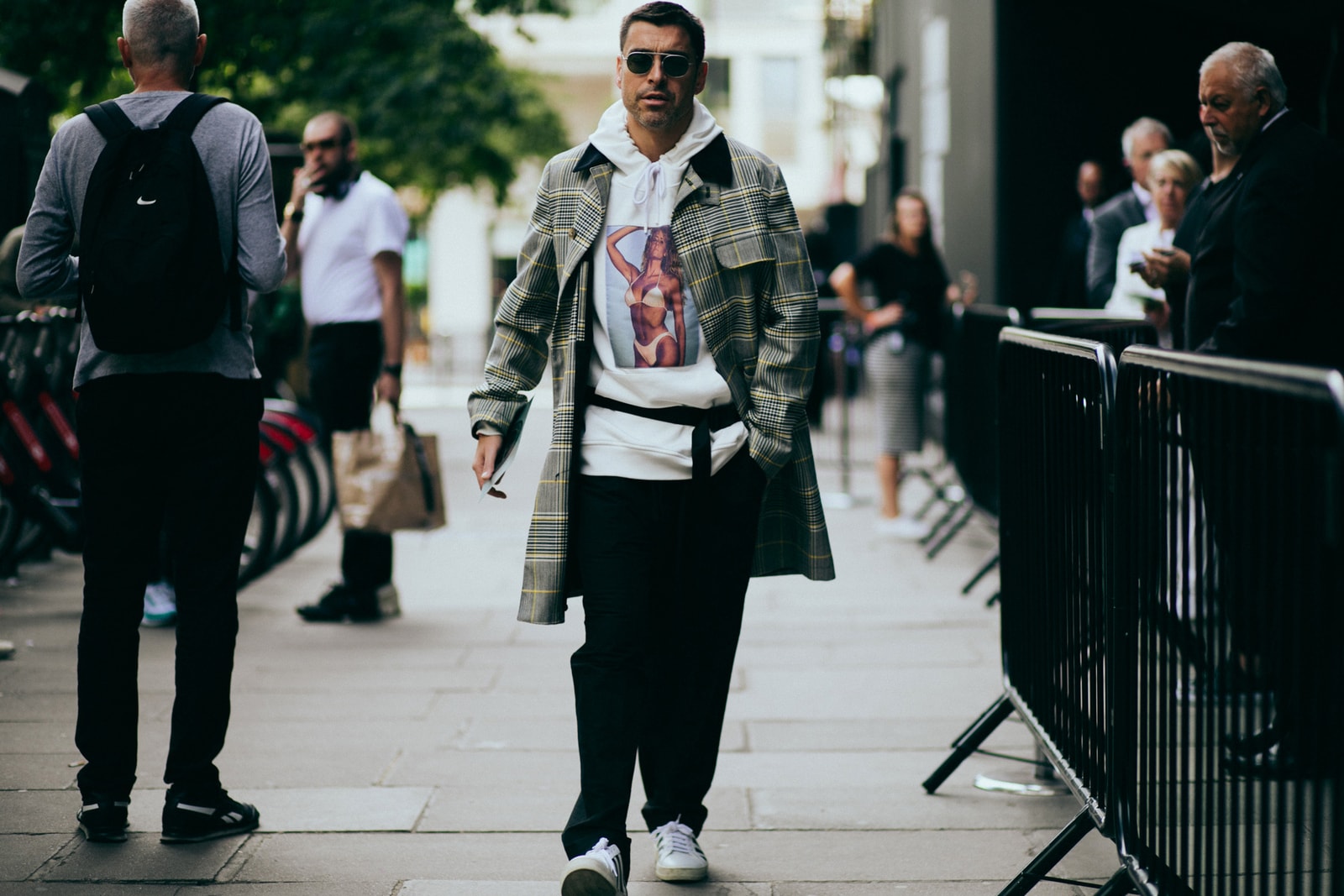 The most identifiable motifs from both streetwear and traditional menswear come together in this ensemble. A quintessential streetwear outfit consisting of a graphic print hoodie and adidas runners is topped off with a Glen plaid print trench coat — a noteworthy trend from last week.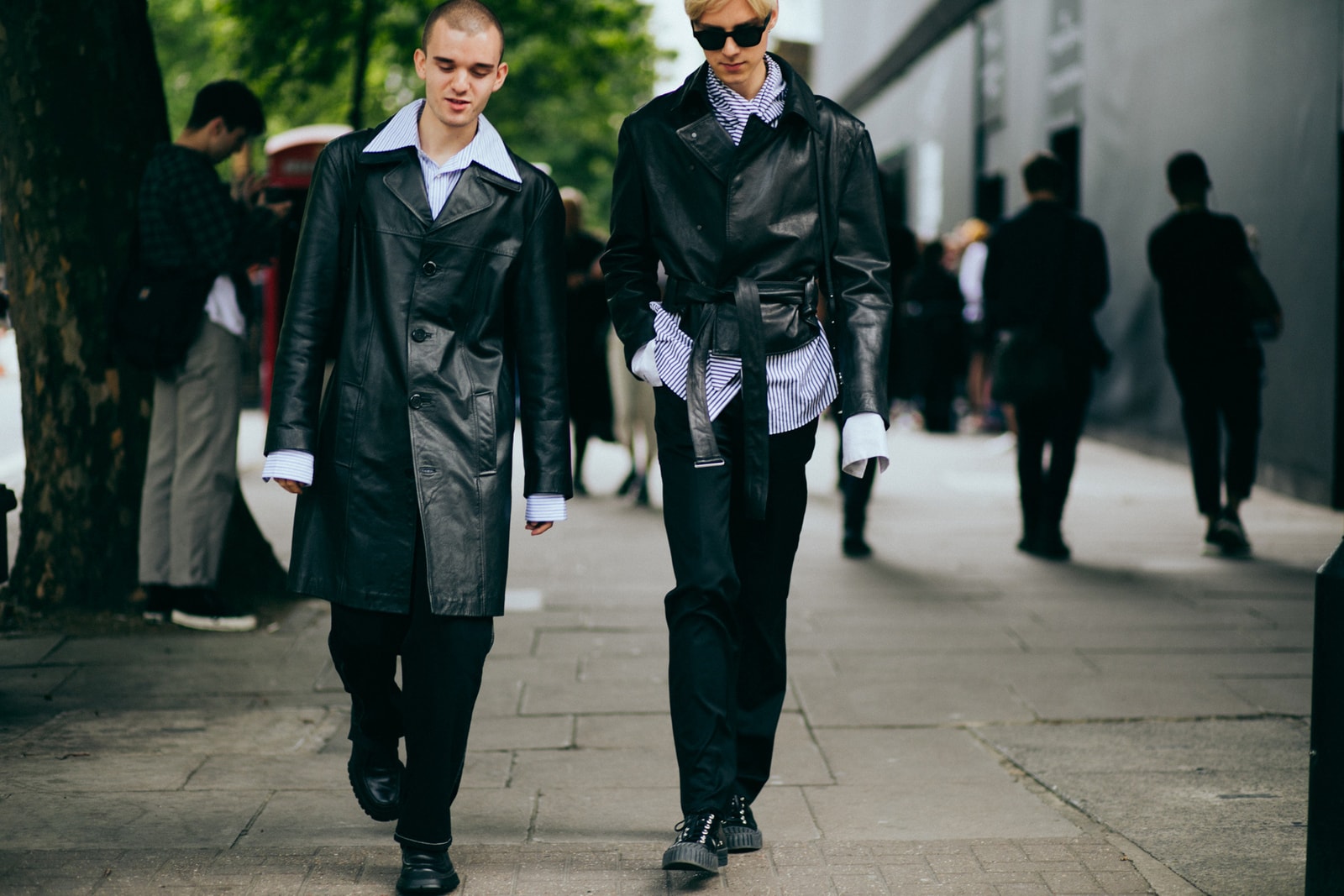 A stark black leather coat and jacket is layered over a summer-friendly blue and white striped button down for an ultimate complementary look. Oversized collars, elongated cuffs and untucked hems add some variety to the otherwise fitted silhouette. Black bottoms and shoes keep things minimalist and clean.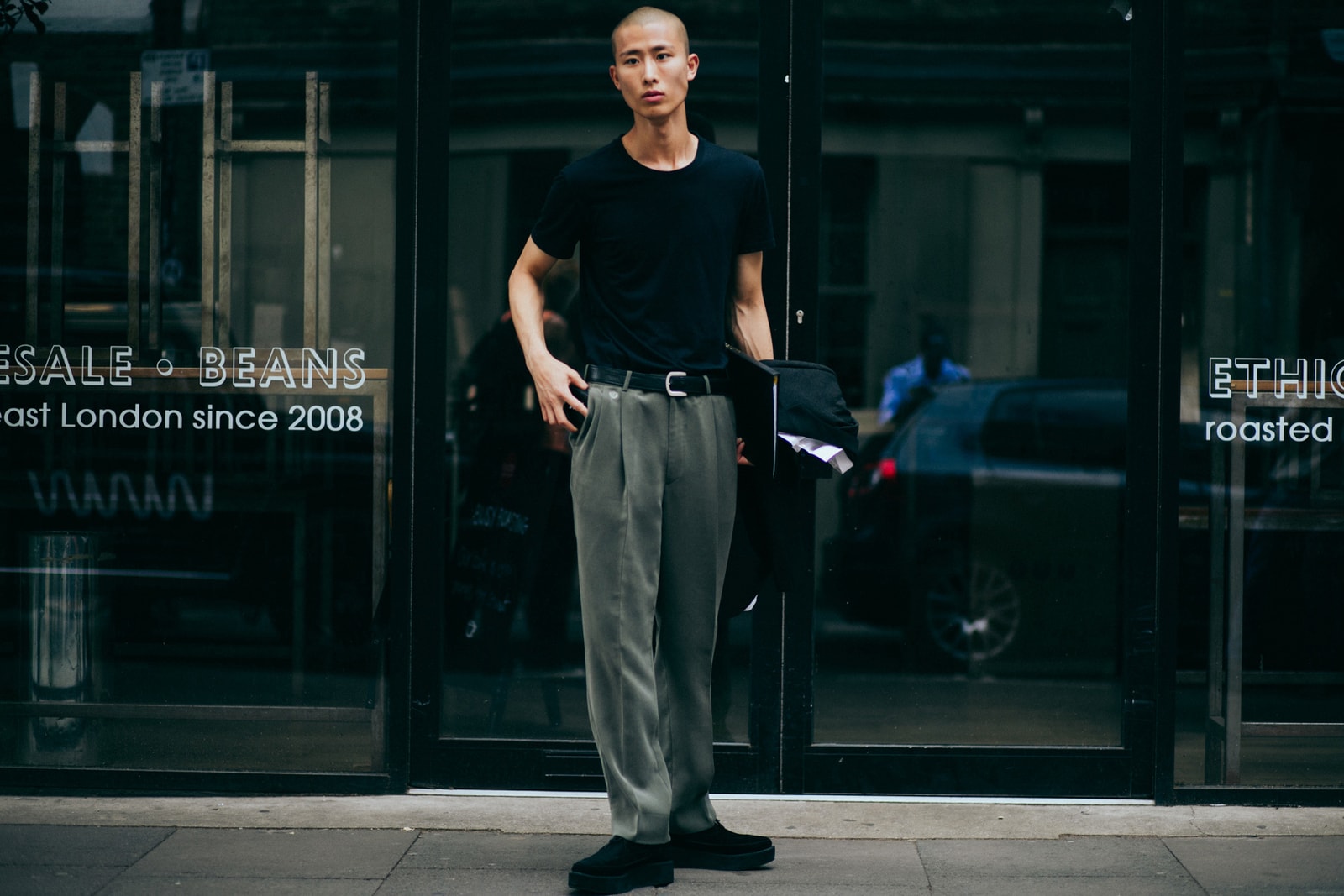 Looping back to last week's theme of traditional menswear tailoring, this pure and simple outfit sees a black crew neck tee tucked into a belted and deep-pleated pair of trousers. Everything is understated and slick by way of a grey and black color scheme.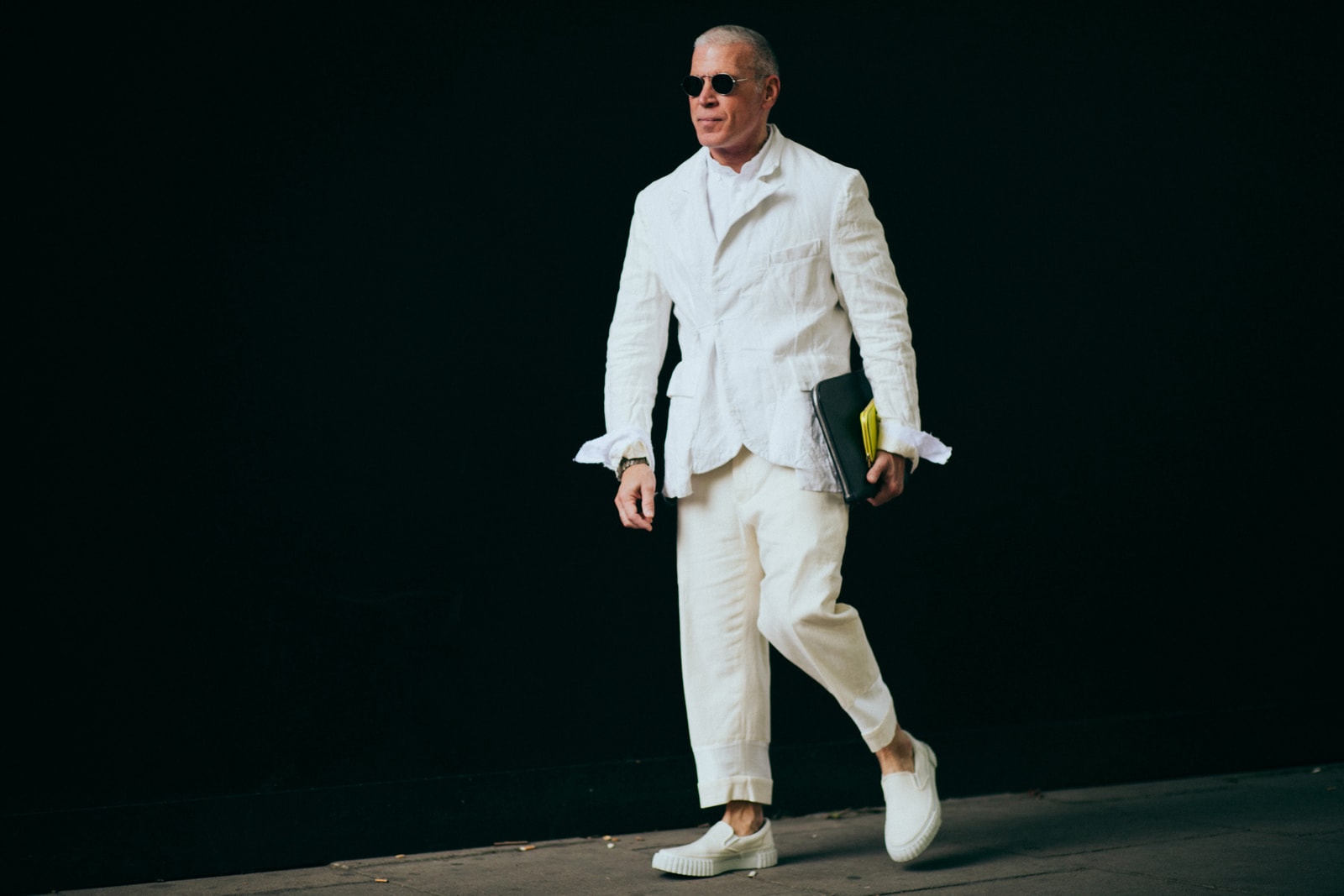 You can elevate a monochromatic outfit with contrasting textures and well-tailored proportions. Menswear influencer Nick Wooster goes for the classic summer white outfit consisting of a mandarin collar shirt, a linen white blazer, off-white cropped pants and white slip-ons from GANRYU COMME des GARÇONS.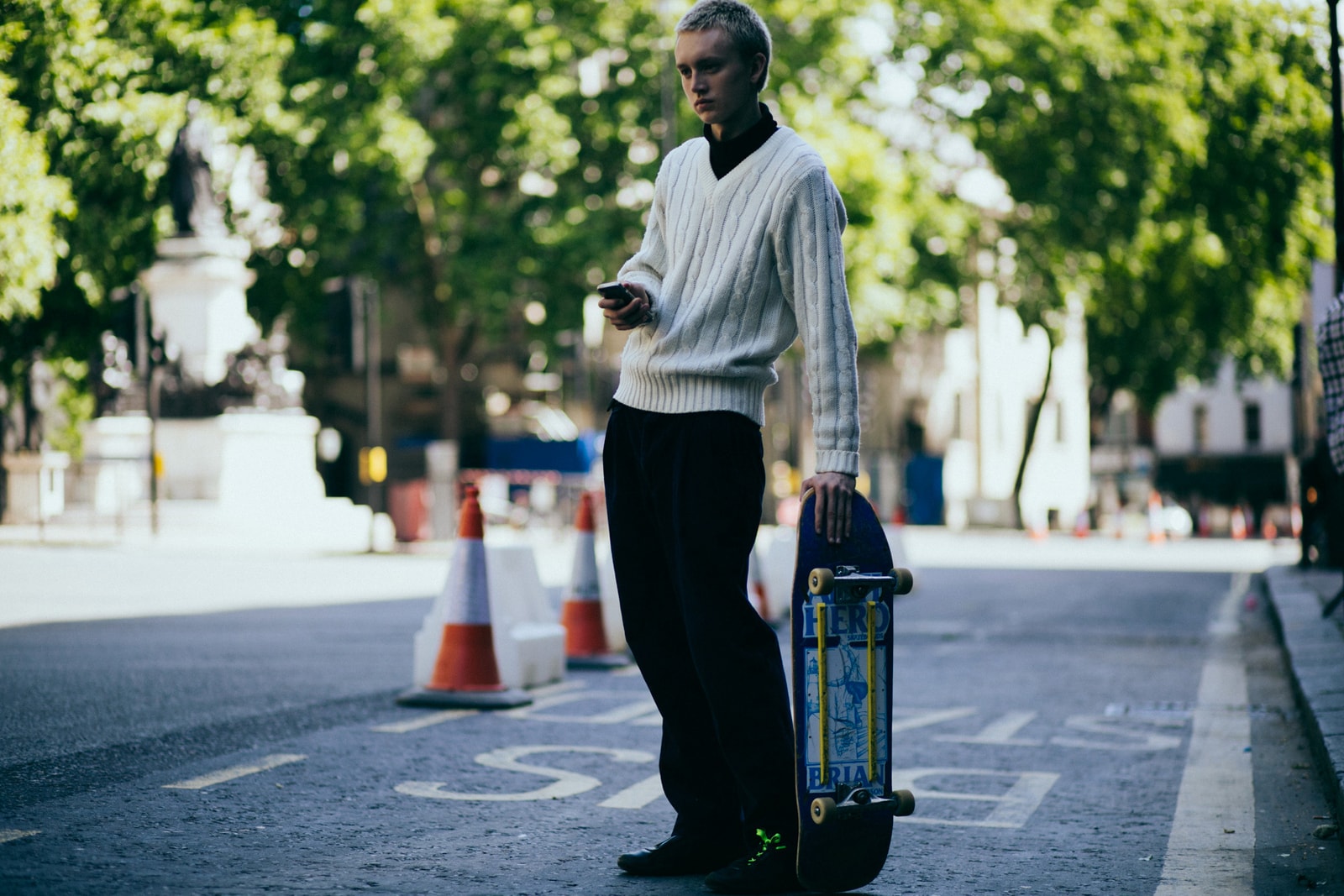 Prep-school meets skater in this minimal but cozy ensemble. A classic cable knit sweater in cream droops over a pair of slightly baggy pants and sneakers. Country club style is making a low-key comeback, so dig out those polos and knits.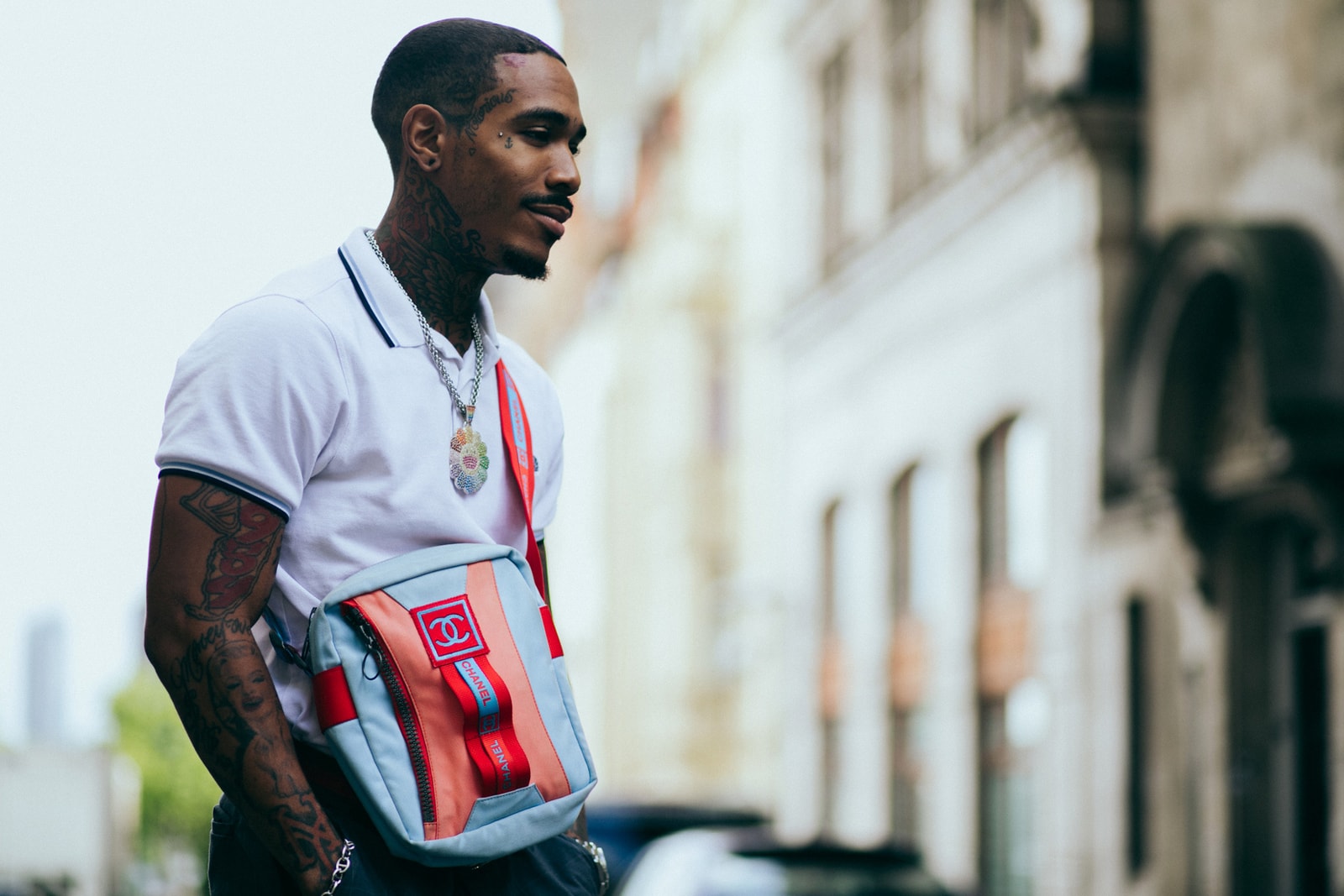 Maybe not traditional menswear in the three-piece-suit sense, but the polo shirt is still a classic menswear piece and perhaps the original sports-luxury garment. For this look, J $tash pairs a polo with a wild diamond Murakami flower necklace and a bold Chanel pouch slung across the chest. Recently, Ben Baller created MORE extravagant spinning 18-Karat gold Murakami flower pendants.
LFW:M 2018 Spring/Summer Runway Inspiration
Kiko Kostadinov
John Lawrence Sullivan
Wales Bonner
E. Tautz
Songzio
PRONOUNCE
Xander Zhou
Martine Rose
Bold Prints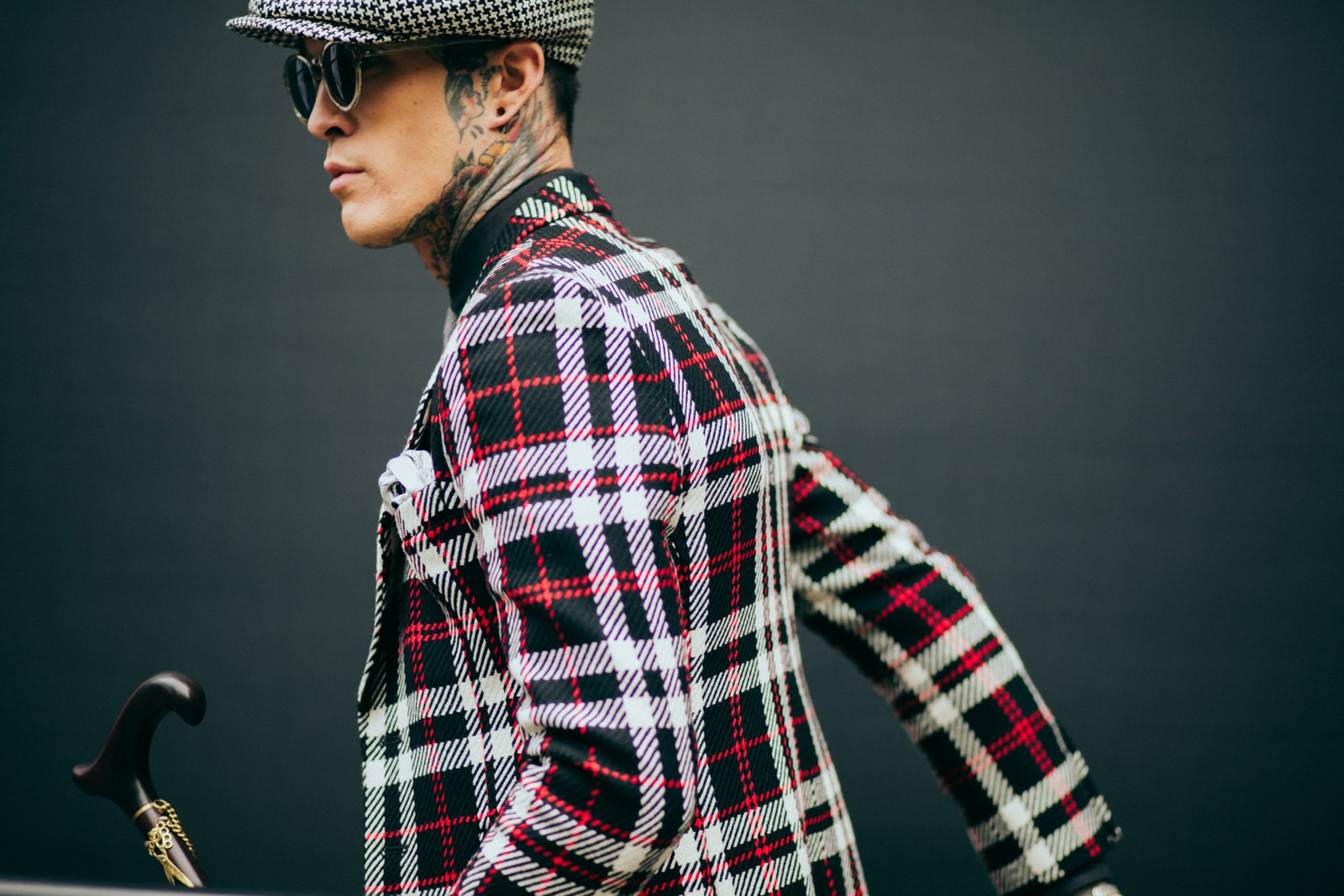 This look carries forward the menswear tailoring trend from above and brings us into the second theme: bold patterns. Here, traditional pieces — a newsboy hat and a tweed blazer — and heritage patterns — i.e. the houndstooth print and check plaid — come together for a statement-making look. Pair it with an embellished walking cane, a pocket square and some metal-frame sunglasses to complete the aesthetic.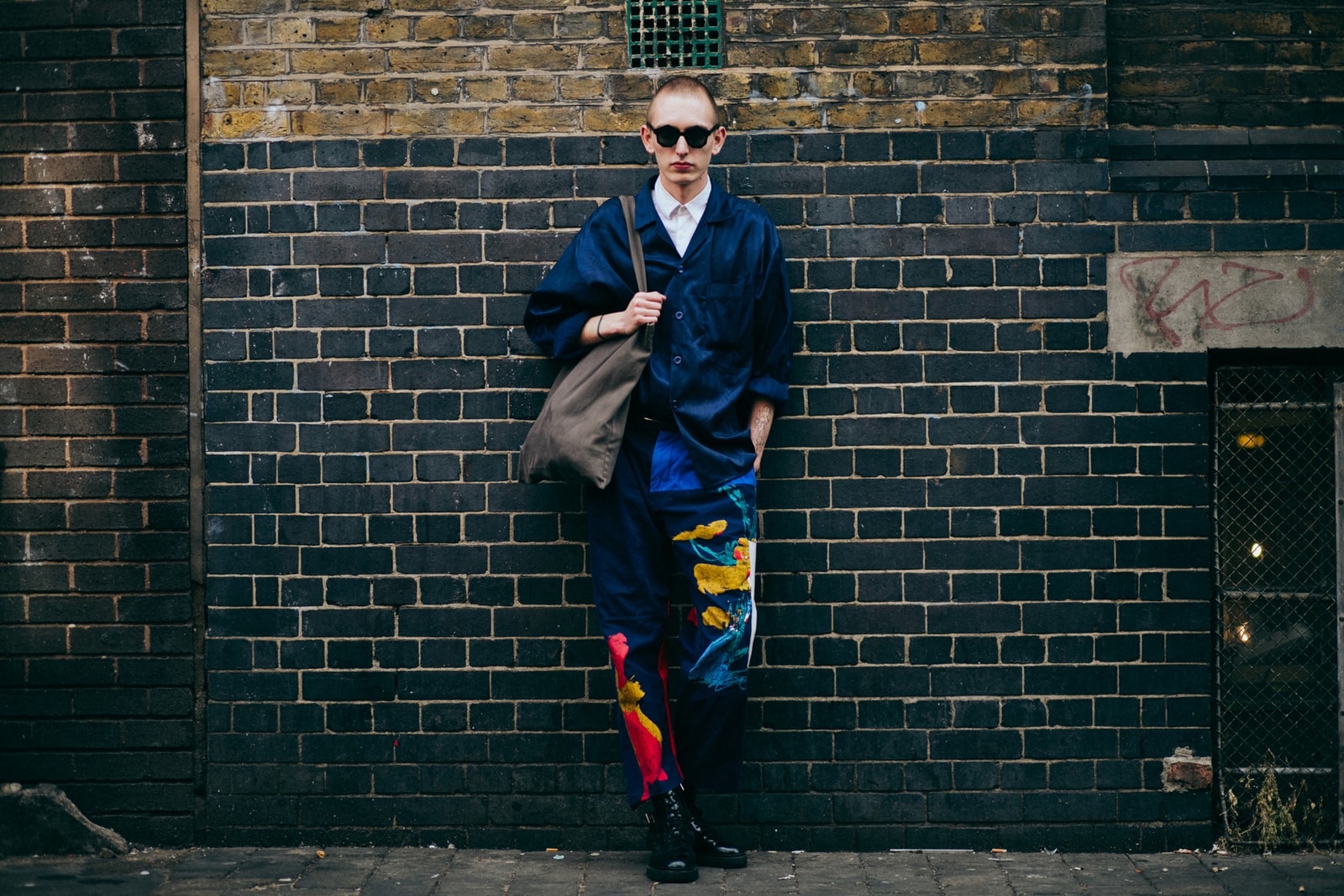 Embroidery had its run a few months ago, appearing on almost every silk bomber in sight. This time, however, it appears on the trousers with a more intricate design that wraps around the leg, creating a "pattern" of some sort. A lightweight silk blazer with no embellishment completes the navy color scheme and balances out the ornate detailing on the bottom.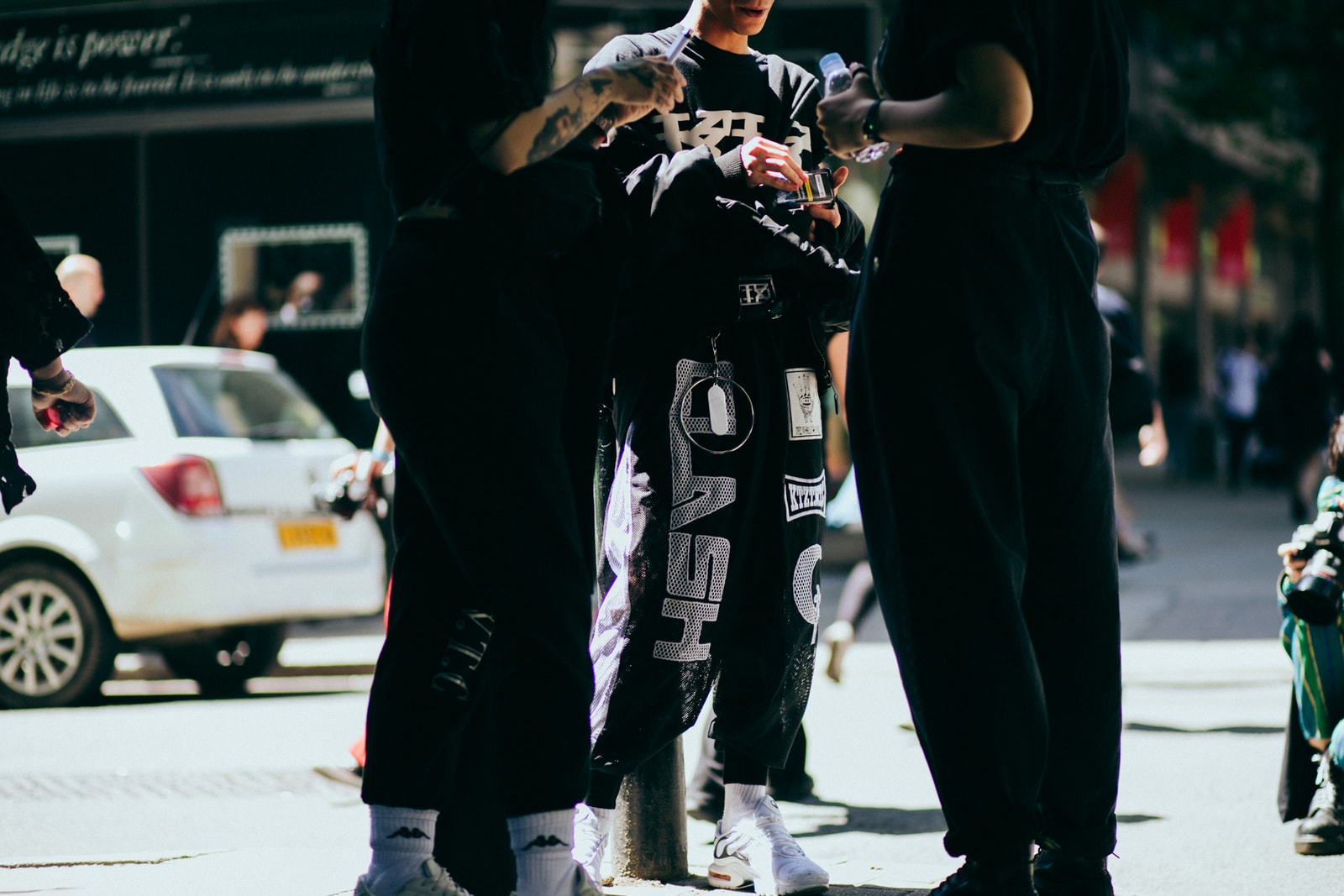 Bold type font graphics come together to create an all-over print in this KTZ ensemble. Black and white creates a high contrast effect that carries from head to toe, while baggy silhouettes with clean, fitted hems are a trending streetwear fit that has a bit of retro feel. Finally, Nike Air Max TNs complete the wavy black and white look.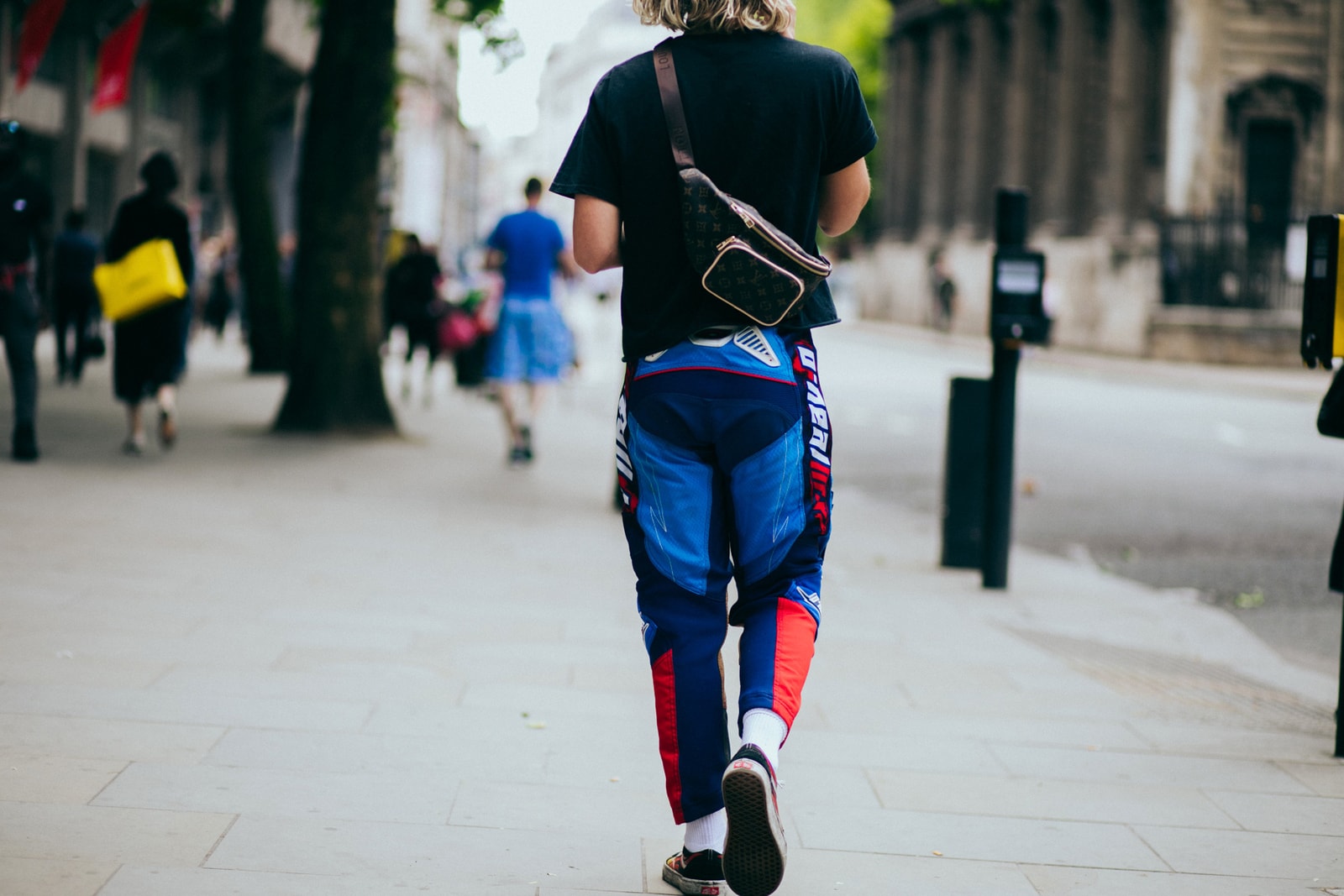 A textbook marriage of high-fashion and streetwear. The iconic Louis Vuitton monogram print appears as a waist pack slung across the body, and is clashed with a pair of bold, racing-inspired track pants and classic Vans slip-ons.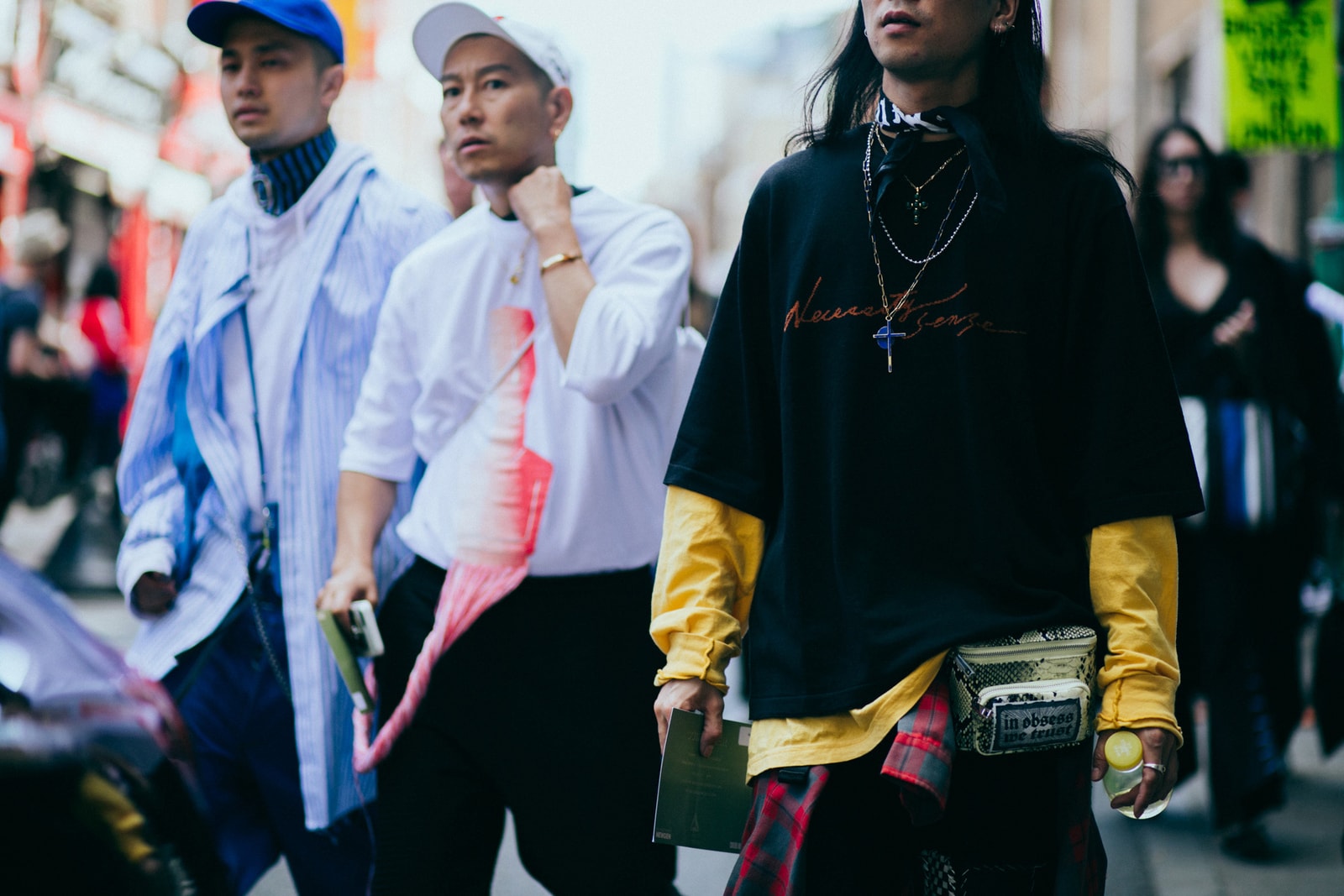 This look goes hard on layering to create its own symphony of patterns. A flannel tied around the waist and a yellow snake skin pack lies at the heart of this outfit, which is topped off by an oversized yellow long-sleeve shirt and black short-sleeve tee from NE.SENSE. Finally, a medley of chains, necklaces and a bandana complete the look.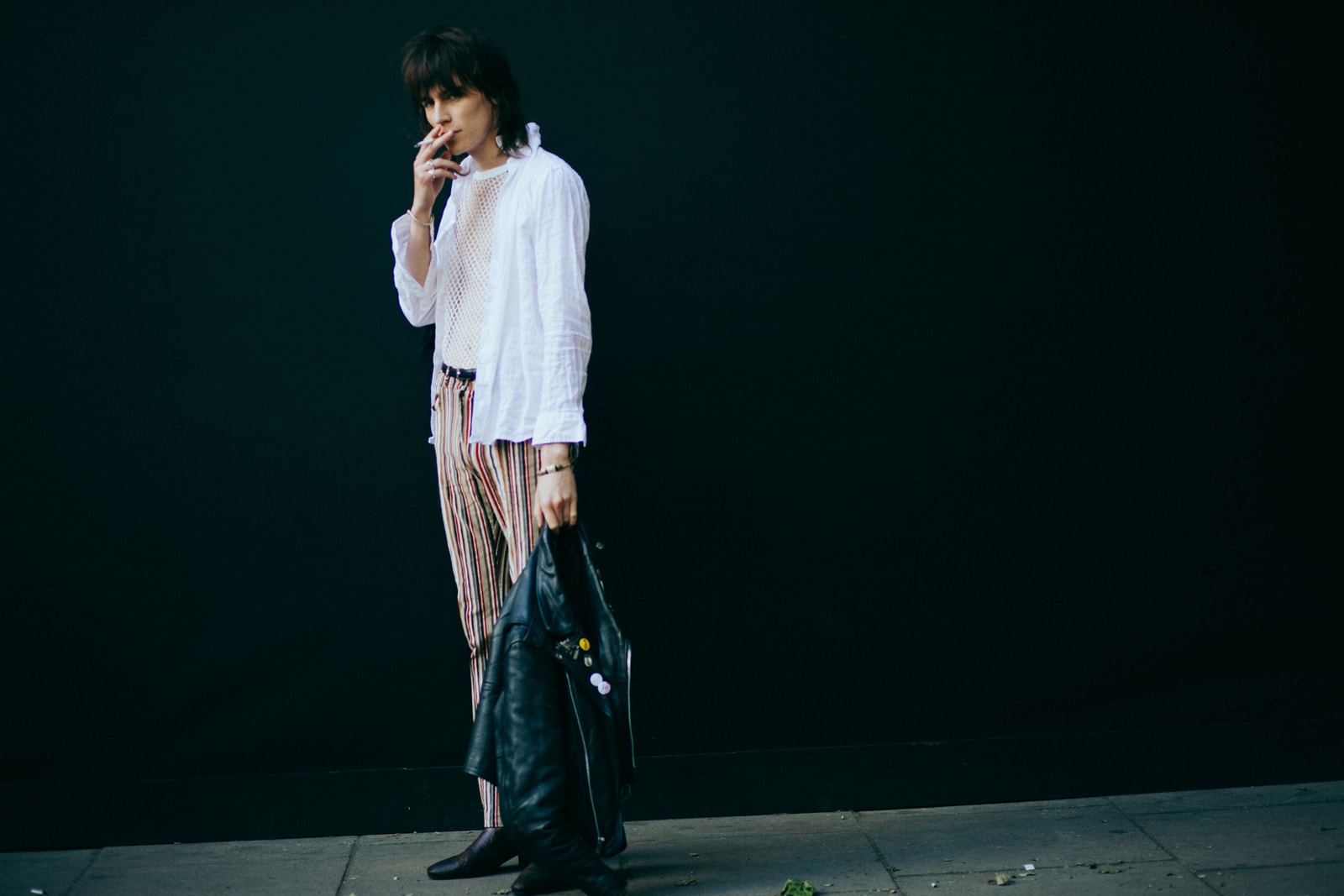 A nod to '80s punk fashion, this look sees a white fishnet shirt matched with a pair of Missoni-esque striped pants. A black leather Moto jacket and Chelsea boots are wardrobe staples that will tie together any outfit, while the mullet haircut is reserved for the more daring.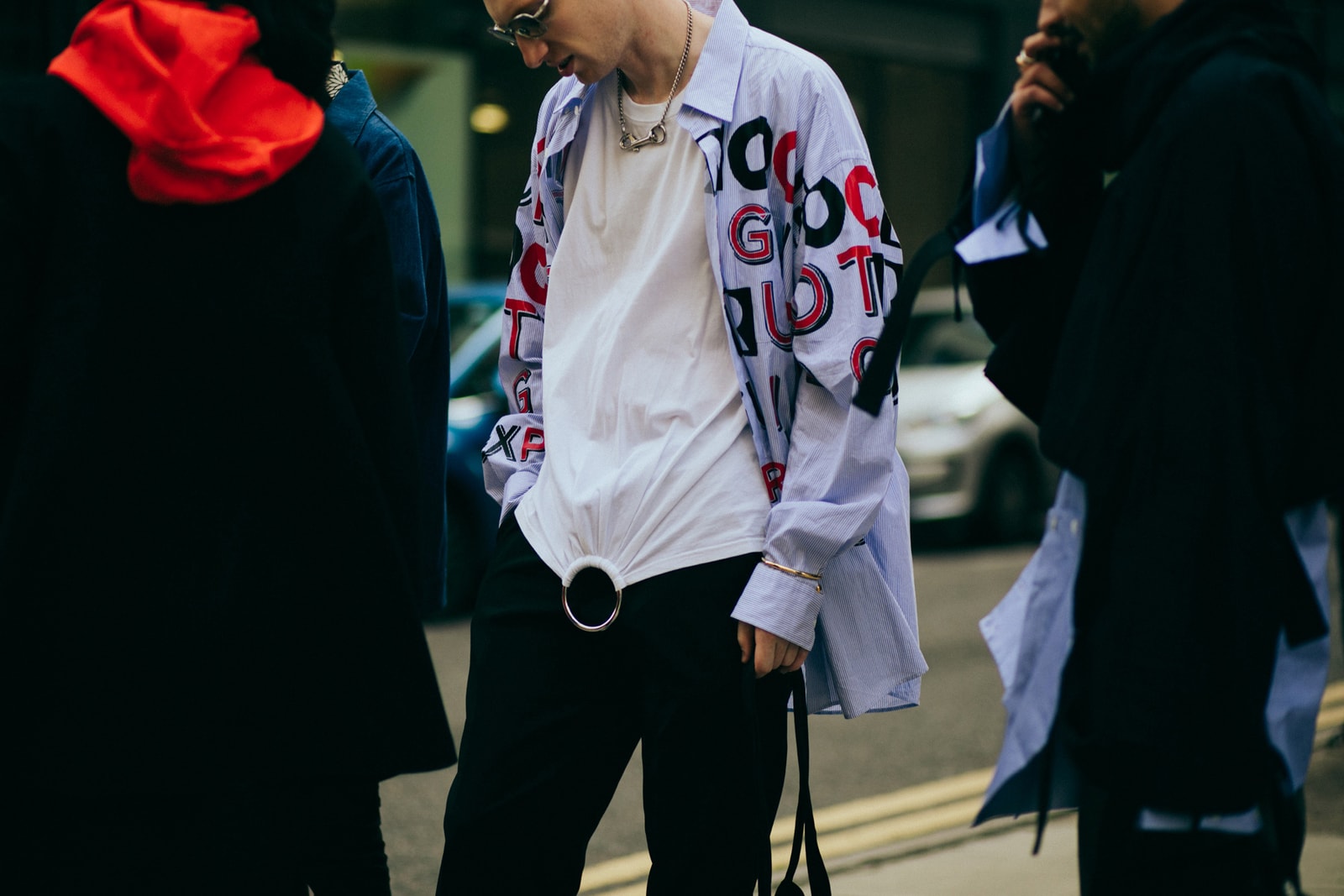 You could say Raf Simons' Spring/Summer 2017 collection re-introduced the graphic-print Oxford shirt to the streetwear scene — and this look champions that trend with a graphic print button up from Maison Margiela. The base of the outfit is a pair of black trousers and a simple white shirt with metal ring hardware at the hem. Other metal accessories such as the chain-link necklace and bangle add a minimalist, punk touch to the ensemble.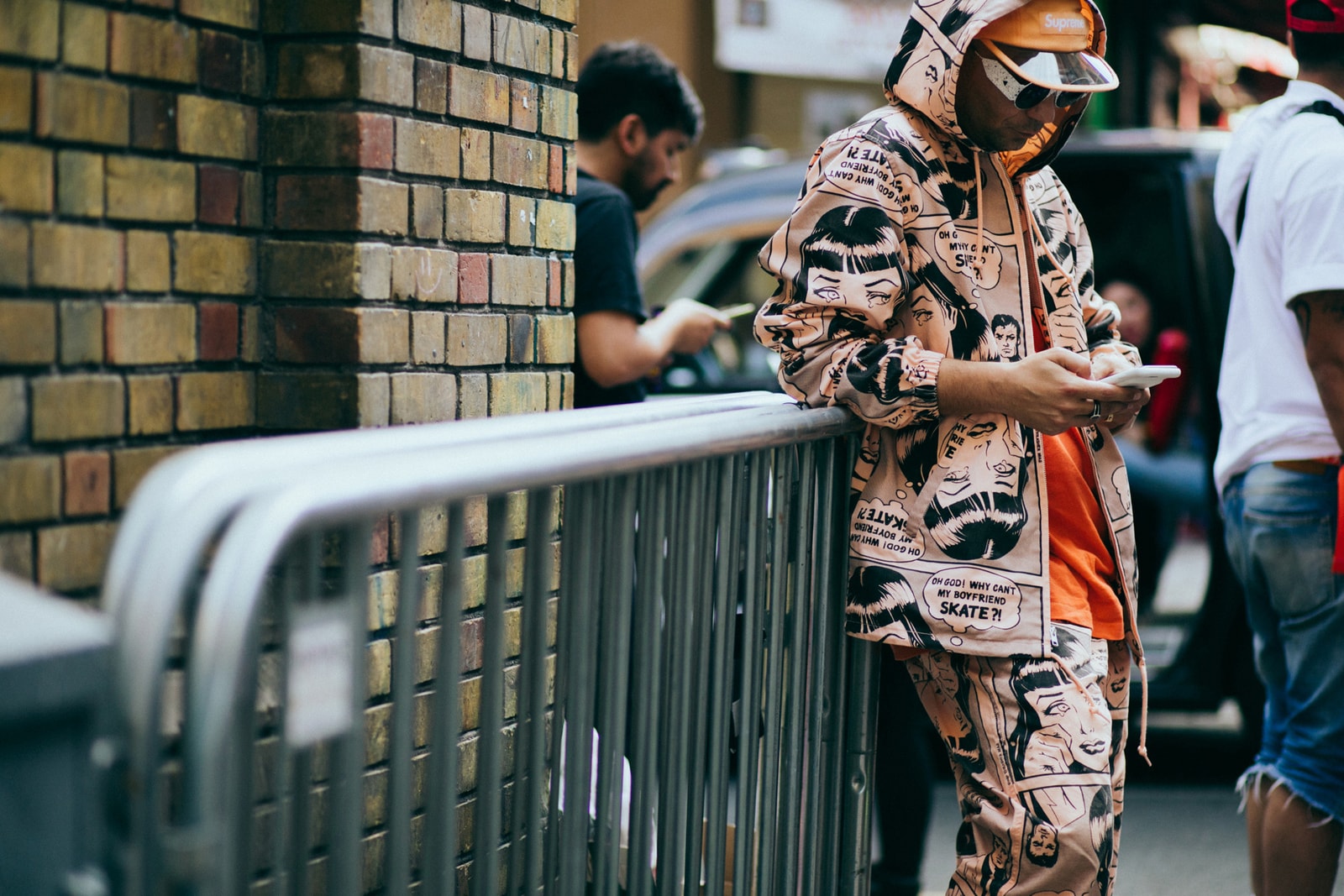 Here's an all-over Supreme look for the streetwear purists. The newest Supreme x Thrasher Summer 2017 collection suit boasts an orange tinted Roy Lichtenstein-inspired comic strip print, which is matched with orange Supreme gear throughout, like the visor cap and essential tee.
LFW:M 2018 Spring/Summer runway inspiration
Astrid Anderson
Charles Jeffrey Loverboy
Alex Mullins
Edward Crutchley
Straps and Buckles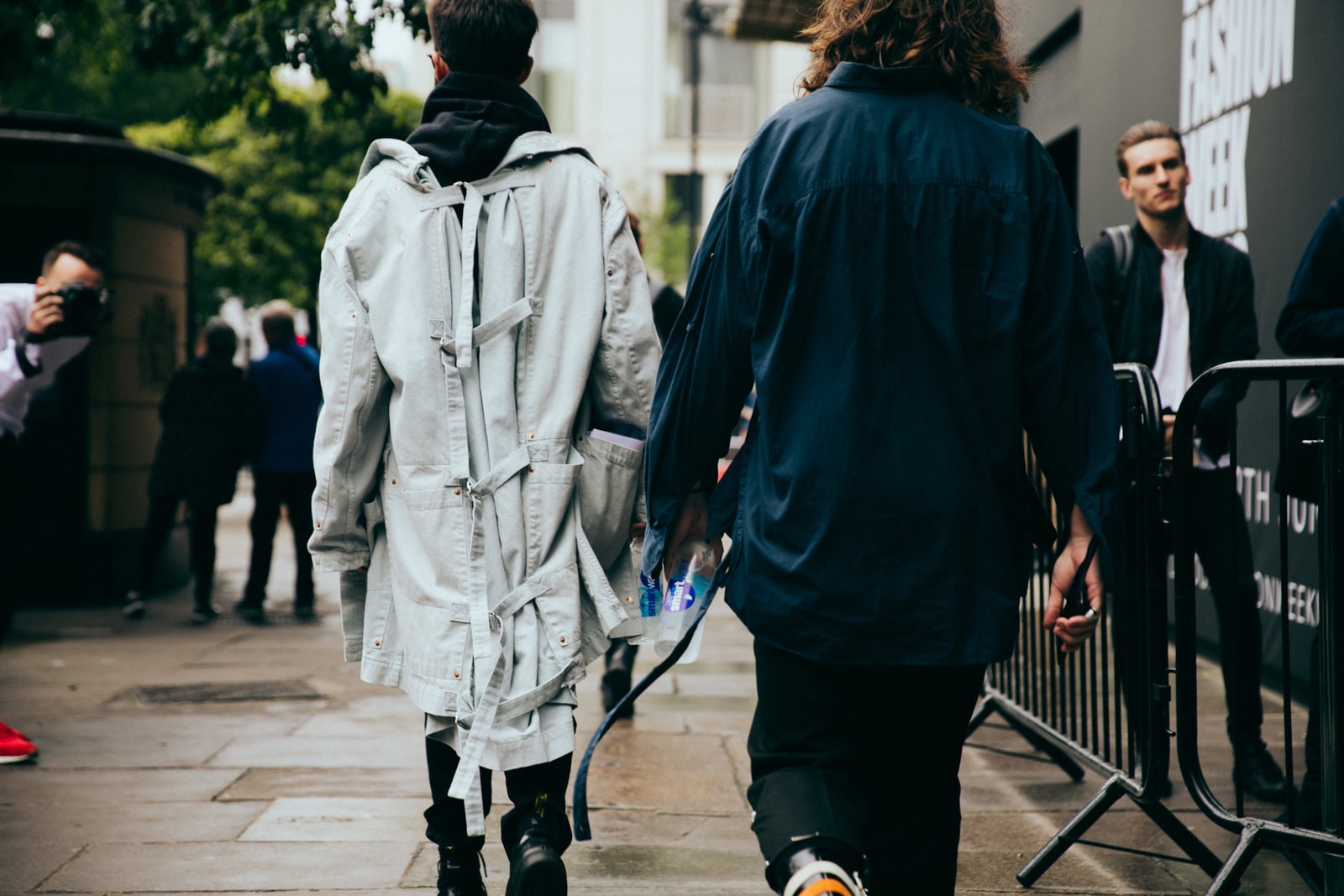 Unlike the previous two trends, the strap theme is something that is still relatively novel. This look leans towards the more avant-garde end of the spectrum. An oversized canvas cotton coat tied together with excessive straps at the back add another layer of texture and shape.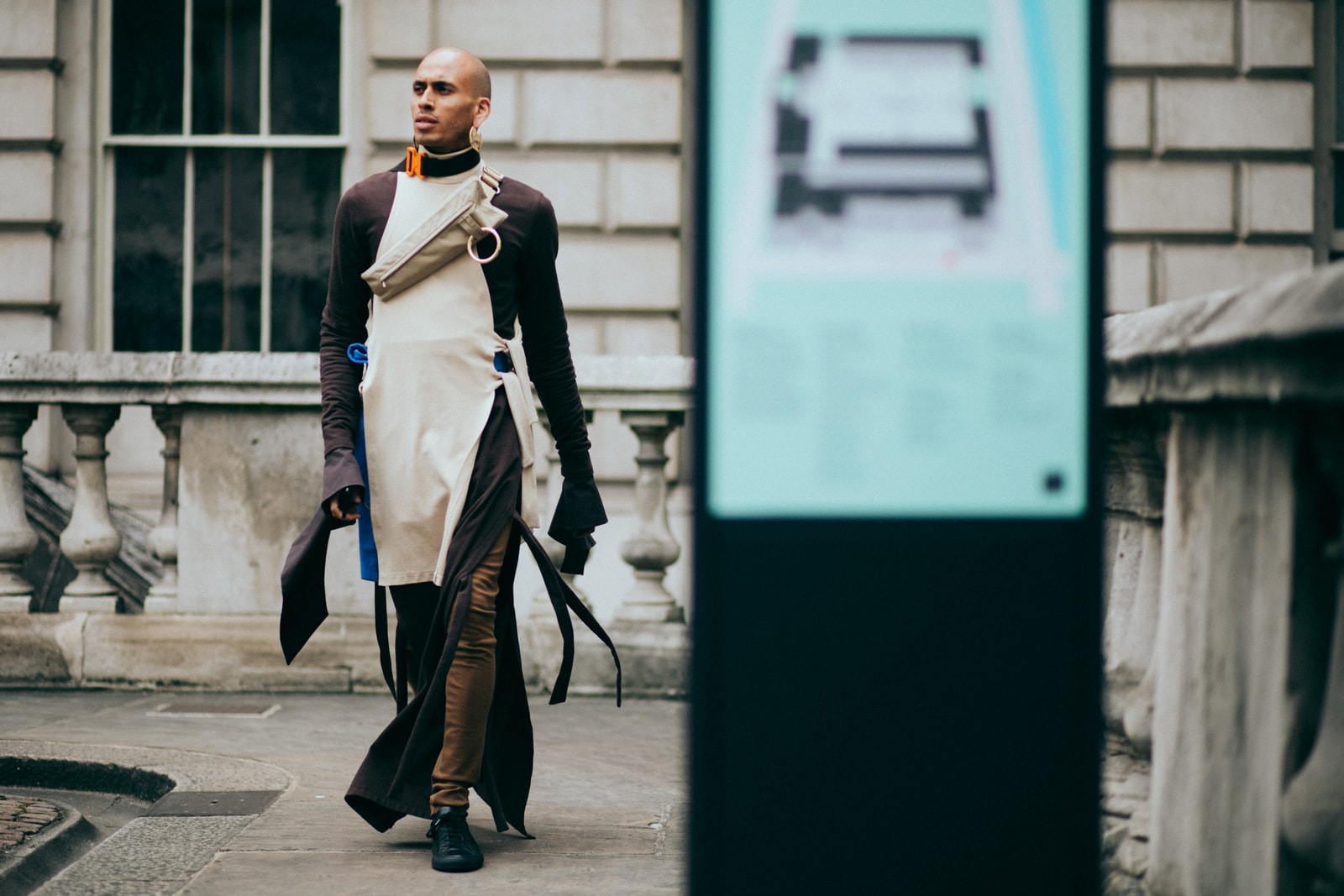 Patrick Mason brings a heavy dose of high-fashion with this unique fit. Various straps and buckles embellish a multi-layered silhouette that boasts a neutral camel/brown palette. Hits of orange and blue contrast the sepia tones and come through the bucket details, which help tie in the pieces for a more streamlined aesthetic.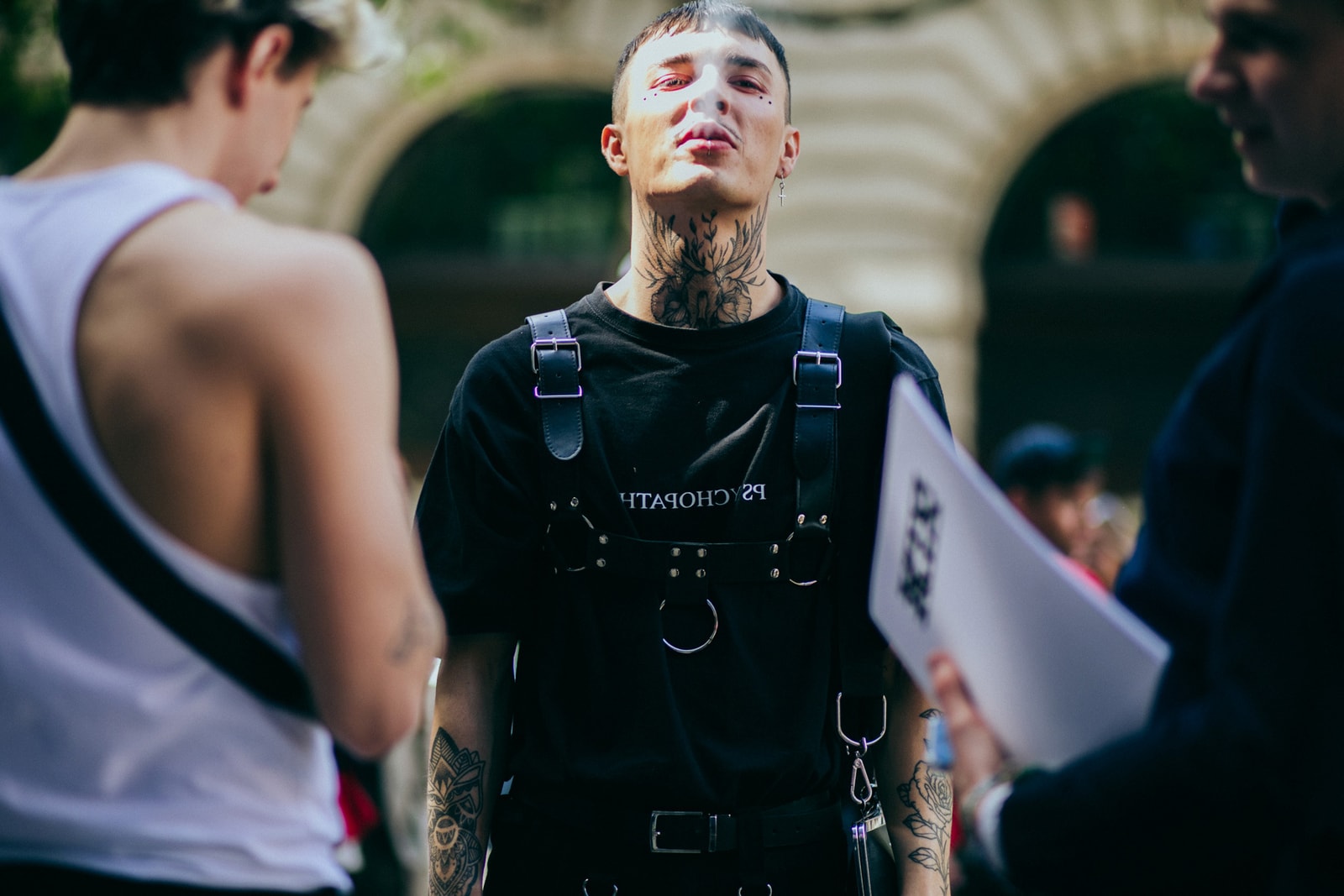 An all-black outfit is anything but basic when its covered in silver metalware throughout. This outfit features a simple graphic tee tucked into a pair of belted pants. What makes the look, however, is the black leather body harness straps with the silver metal buckles.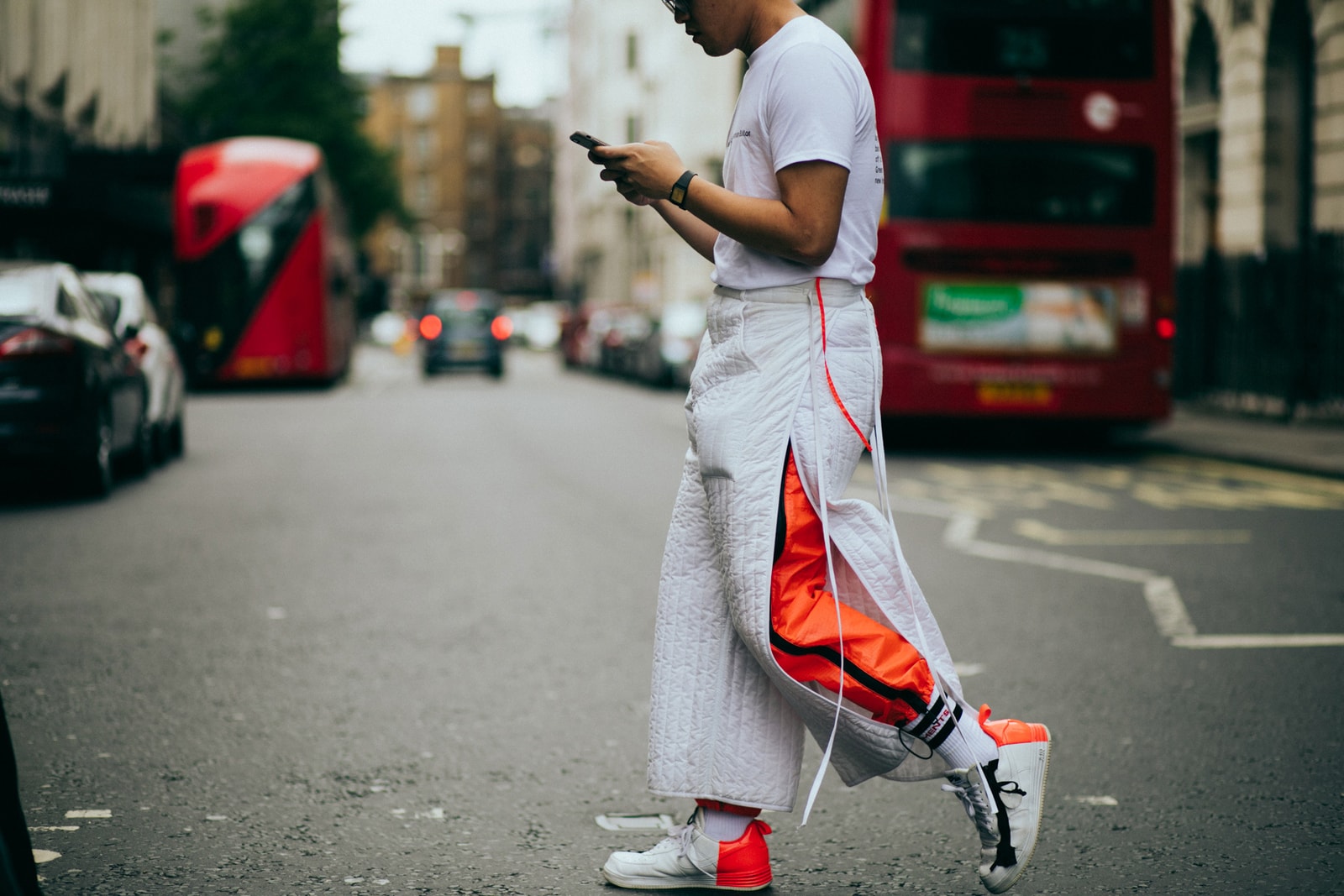 This multi-layered outfit is one that the neo-streetwear enthusiasts will appreciate. Brands that straddle both the high fashion and streetwear spheres, such as OFF-WHITE, A-COLD-WALL* and Vetements, have paved the way for exaggerated proportions, unique layering techniques and strappy accessories. Vibrant motifs such as the bright orange track pants, Vetements crew socks and Nike Lunar Forces are given an avant-garde edge with an interesting trouser overlay brought together by dangling strings and straps.
LFW:M 2018 Spring/Summer runway inspiration
Christopher Raeburn
D.GNAK
A-COLD-WALL*
Matthew Miller
Craig Green
Tourne de Transmission