The Best Shows of London Fashion Week: Men's 2018 Spring/Summer
From Liam Hodges to A-COLD-WALL*, London did not disappoint.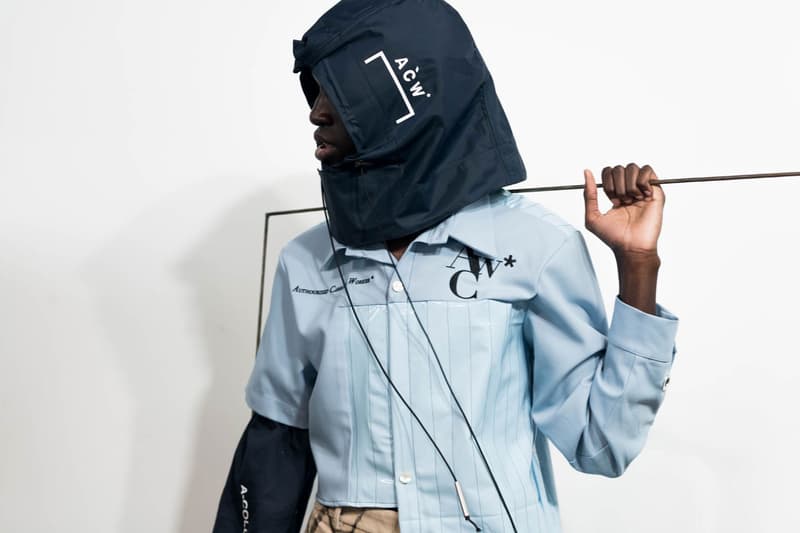 It's been a rather slow London Fashion Week: Men's for the 2018 spring/summer season. It's easy to connect it to the attacks that happened a few weeks ago – although they did loom over the proceedings in the form of sniffer dogs and heightened security – but it's a multitude of things. One, it's the spring/summer season, which is traditionally a smaller season for both menswear designers and buyers due to the lessened selling time. No sooner has the sun come out than the sale season starts, which makes the warmer months not really worth it for many reasons. There's also the fact that there has been some big names missing from the schedule and there's also the overlap with Pitti, which often means Monday sees an exodus of the world's biggest press and buyers.
But, all of this aside, there were still highlights from this season. Here's a look at the bright spots of LFW:M's 2018 spring/summer.
Martine Rose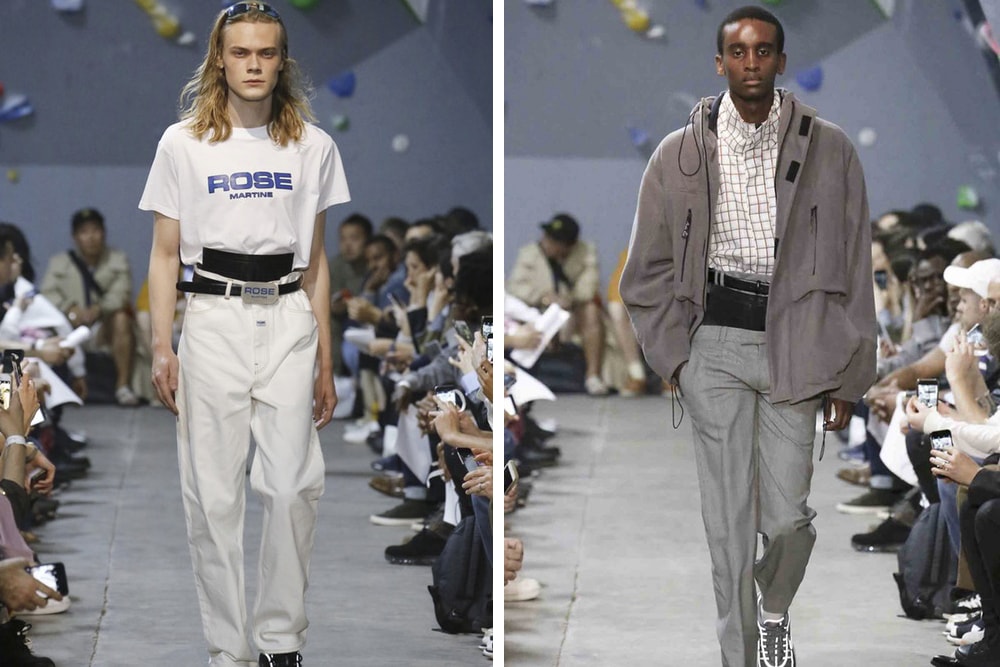 London is often viewed as the little brother to Paris shows and, historically, it's been for good reason. It wasn't until relatively recently that London even had it's own dedicated menswear week, and it's been even less time since designers started creating viable brands. Martine Rose is a designer that's been showing since the days when menswear in London was a single day tacked onto the end of womenswear.
While Rose hasn't always shown in runway format, the designer has lasted the course when many others have fallen and is one of the few London menswear designers who've weathered several storms, even taking a hiatus when it was needed. And collections like the latest 2018 spring/summer one show just why the designer has managed to not just last, but thrive.
This was a show that took place outside of the confines of the BFC's official show space, taking place in a climbing centre that added character to the proceedings. The designer is a buzzed about name due to her Balenciaga connections but her clothing would stand out even if you weren't aware of her consultancy work. The range was a great blend of the avant-garde, the references (one graphic riffed on Nokia's old logo) and the nods to the initiated in the use of the Nike Air Zoom Spridion, which is a shoe that's very of the UK. All in all, it was a collection that justified just why the designer had been nominated for the ANDAM prize.
Mihara
Yasuhiro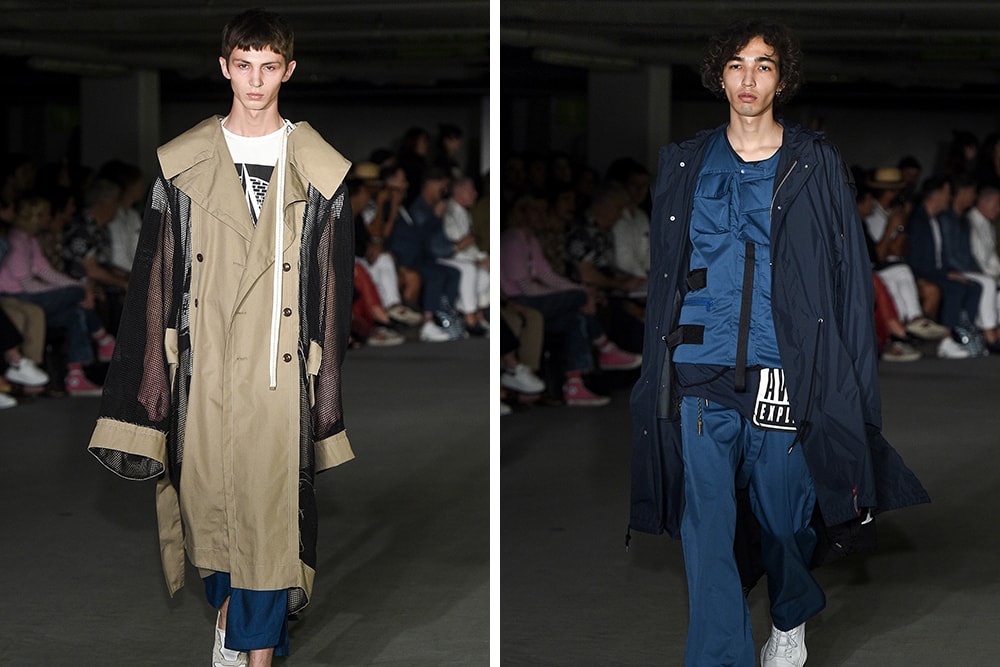 If London is viewed as the little brother to Paris it's because designers such as Mihara Yasuhiro typically don't show in the UK. The Japanese designer has brought a level of production expertise and sense of occasion not often seen in London's shows.
The car park location helped give the show a sense of atmosphere, something that's often missing when all the shows use the same BFC show space. The clothes, while not as strong as last season, showed production expertise. Be it, the half-wrap jeans or the slip-on sneakers, it's clear that Yasuhiro is just that much better at making clothing than most things on show at LFW:M. He's one of the few designers that we've openly wondered why they weren't showing in Paris instead of London, although we hope he doesn't move city any time soon.
Matthew Miller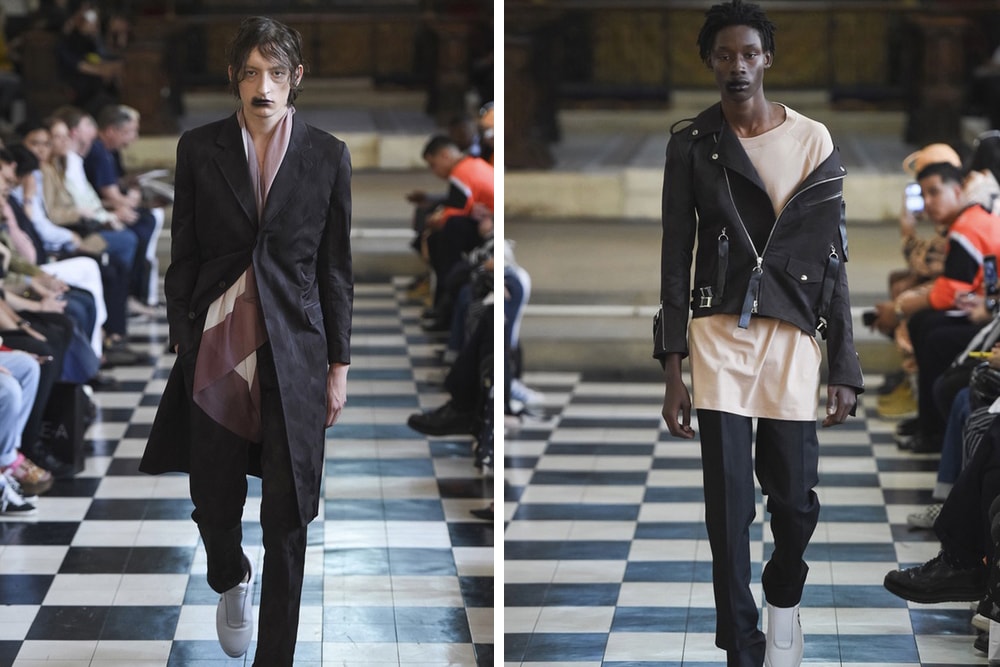 Matthew Miller was one of a growing number of London-based designers who shunned the official BFC showspace, this time choosing a church in central London. The gamble paid off, showing why the choice of venue matters so much when it comes to the reception of a show. The juxtaposition of the church settings with the grunge-influenced, morose styling techniques made for great visuals – and that's before we get to the clothes.
While it's tempting to demand newness at every turn, the best fashion businesses tend to have shapes and silhouettes that are hits with consumers, meaning they'll likely update those shapes while adding a few new ones every season. Miller did just that this season, improving on his return pieces by using new materials, while quietly adding some new pieces to appease the long-term buyer who's ready to try something new. Miller has become one of LFW:M's safest hands which, while it may not be the most exciting compliment in the world, it is one of the highest.
Charles Jeffrey
At times, fashion week can become a bit of a drag. Between the shows, the different locations, the parties, and the general lack of sleep, the shows can sometime blend into one. There is very little chance that you won't be able to remember Charles Jeffrey LOVERBOY shows. Jeffrey's shows have become one of the highlights of each London Fashion Week Men's, just as much for their theatre and spectacle as for the collections on display. This season, his first standalone show, was no different, and the eccentric and extra show was a useful burst of fun in what can at times be a very self-important weekend. The show itself was also inherently political this season, with the show notes describing it as "a euphoric unity of debauchery" and "dancing in the face of threats to freedom."
Charles Jeffrey hasn't been on the menswear scene too long, he only graduated from his MA course at Central Saint Martins in 2015, but his riotous explorations of queer culture and history made his debut show a must-see for all of LFWM attendees. The words being discussed as everyone poured out of the show space were things like "fun" and "hilarious," not necessarily the first two words we associate with fashion week.
A-COLD-WALL*
After last season's super-exclusive A-COLD-WALL* show, this one saw the brand pack out main show space at London Fashion Week Men's. The collection itself referenced that awkward gap between education and employment, youth and adulthood, that we can all relate to and all understand. As well as the show's strong theme, it didn't disappoint in terms of pieces, with the collection offering a refinement of the brand identity and showing why people have queued round the block for its recent Academia Correction Workshop pop-up and sample sale.
It's quite scary to think just how young a brand A-Cold-Wall* is, with the brand only being founded in 2015. In that short time, Samuel Ross' brand has gone from strength to strength and the reason that this show was such a standout was because it showed that trend continuing. It was a fitting finale for an otherwise quiet London Fashion Week Men's, and it gave the normally slow Monday a real sense of excitement.
Liam Hodges
As with Charles Jeffrey and A-COLD-WALL*'s Samuel Ross, Liam Hodges is seen as one of British fashion's golden boys. His show this season showed why London turns out for him, as well as indicating some new directions for the designer and his brand. One new direction was the introduction of denim, which contributed to a more refined feeling for the collection, while another was the debut of his collaboration with FILA, with the footwear in particular being a particular highlight.
There were other motifs including the NOISE and FASTER graphics, which referenced to the collections inspiration from noise. Some of the other standout pieces featured a screaming bear, which the show notes described as "Munch's Scream for a generation that just wants to be cute but the shit they have to deal with while moving onwards and upwards is breaking them down." That screaming bear also marked the end of the show, when a genuinely terrifying life-size version came pounding through the show space.