Meet Ricardo Cavolo, a Self-Taught Artist Who Creates "Fire Artwork" by Blending Music & Fashion Influences
The all-around-creative behind Kaytranada's '99.9%' cover.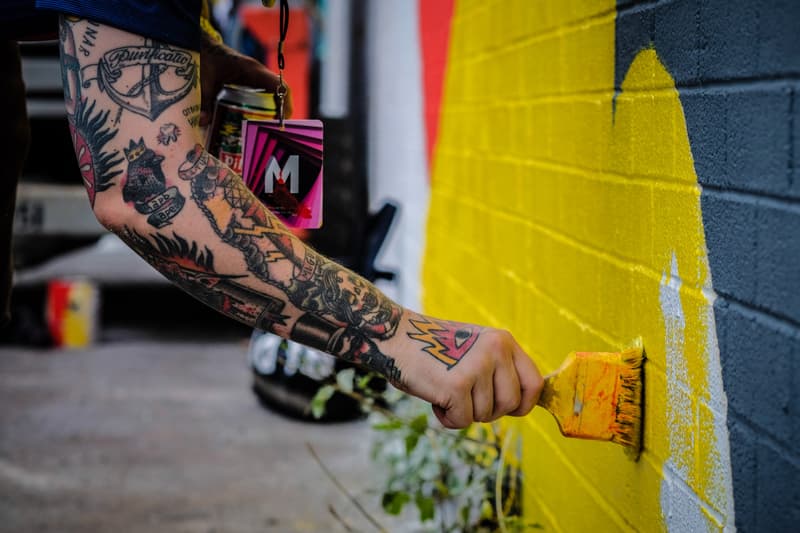 1 of 3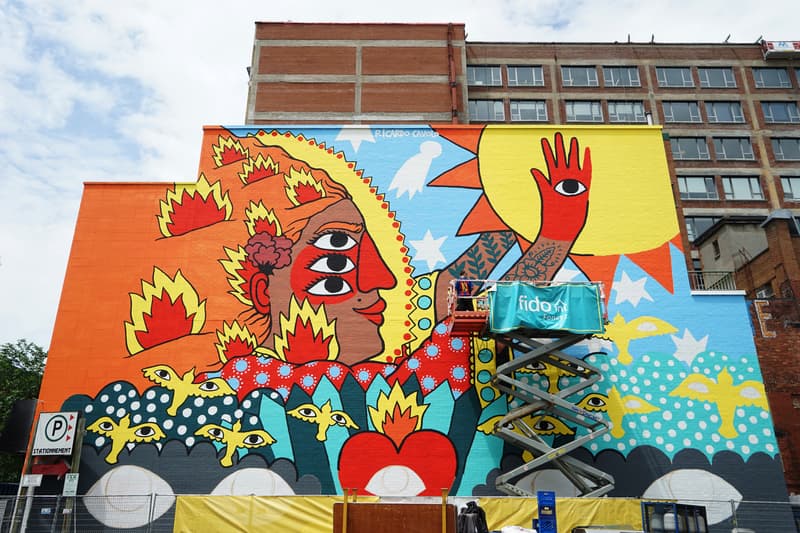 2 of 3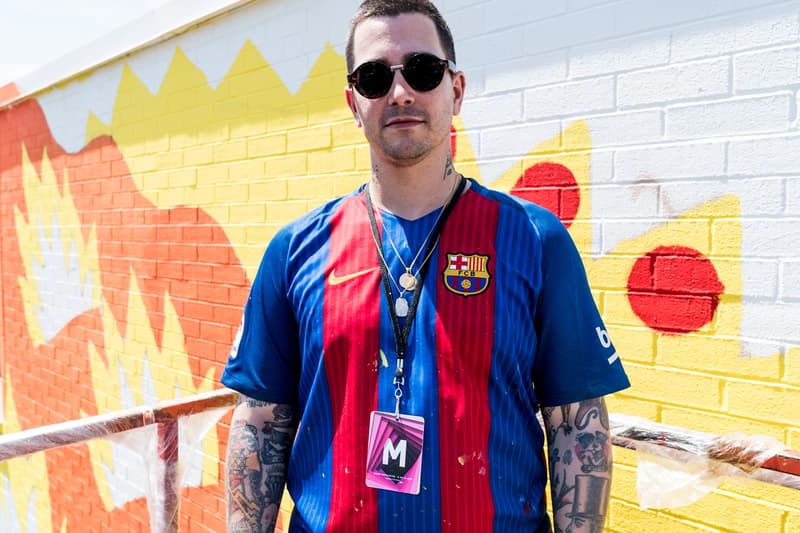 3 of 3
If there was one word to describe the work of Ricardo Cavolo it would have to be "fire," the Spanish artist told us. Indeed, not only are there depictions of flames in Cavolo's diverse range of artwork, but the self-taught creative always seems to bring the heat in any sort of endeavor he encounters. He has garnered worldwide acclaim for his mind-bending paintings, illustrations, and murals that cull medieval alongside traditional folk art references.
Moreover, key artistic influences also extend to his favorite fashion brands spanning Gucci and Prada alongside renowned musicians such as Kanye West and The Notorious B.I.G. In fact, Cavolo is perhaps most famously known for designing Kaytranada's debut studio album, 99.9%. It's safe to say music will always have a profound impact on the self-taught artist's work. In September 2016, he created a musical diary dubbed 101 Artists To Listen To before You Die that depicts original illustrations of iconic musicians from Chief Keef to Johnny Cash.
We recently sat down with Cavolo at MURAL Festival 2017 in Montreal, Canada to discuss his fiery artwork, rap music as well as future projects. Check out the full interview below and head over to Cavolo's official website to view more artwork.
1 of 2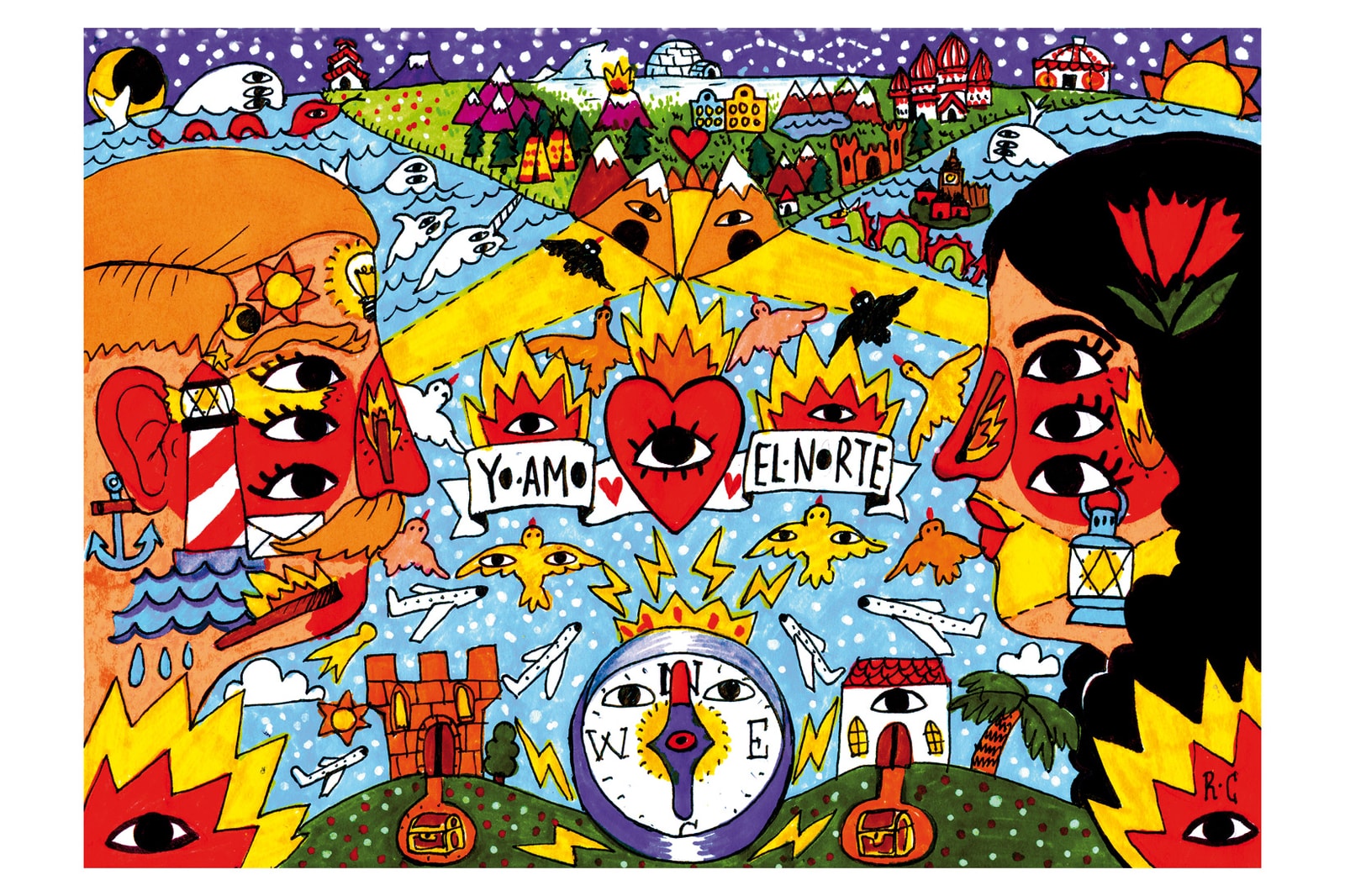 2 of 2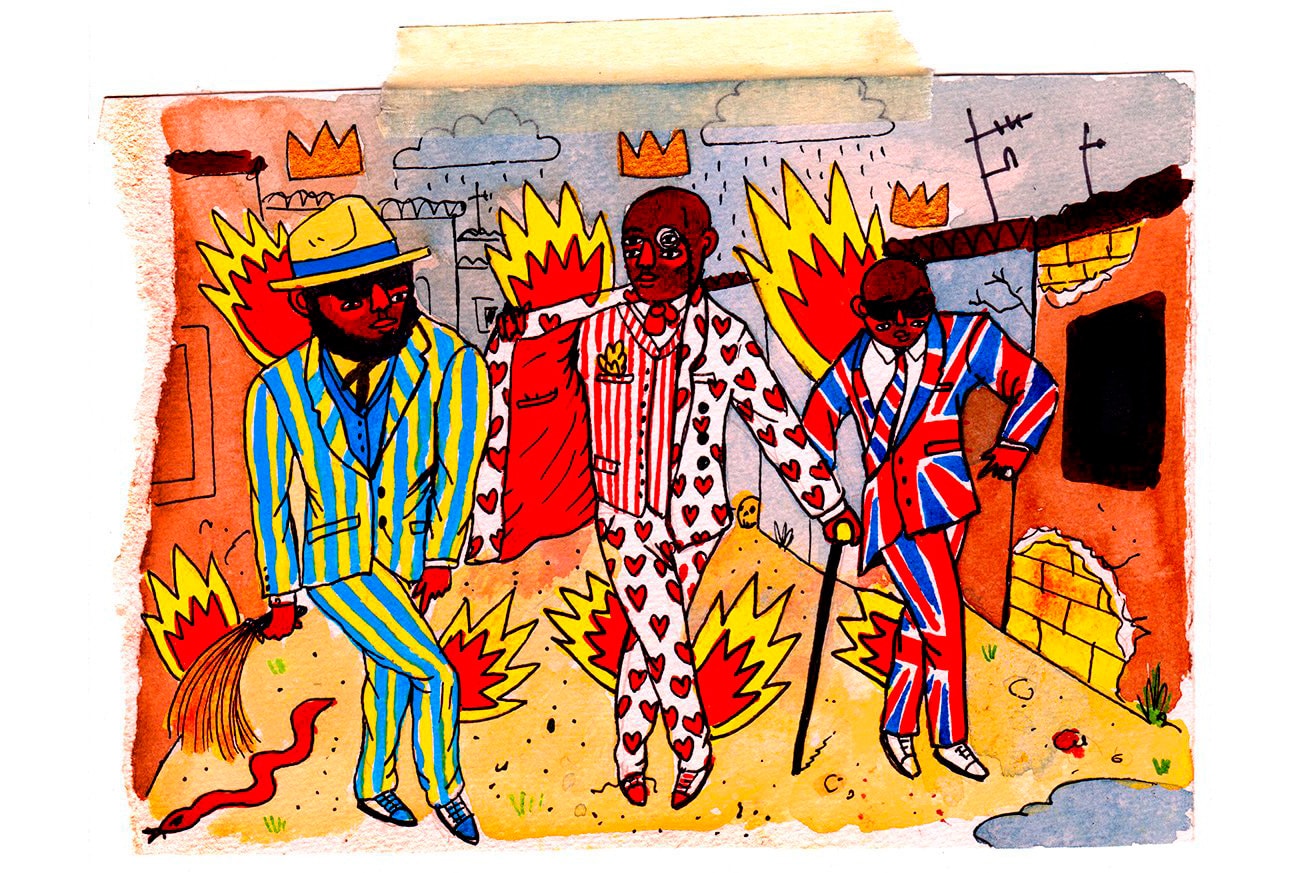 Can you tell us about what you're trying to accomplish at MURAL right now?
Well, I was here the first year, Mural number one. But this is the fifth one and this is like, to me, it's a huge improvement because the first year was a small wall, and this year is the biggest one in the main center of the whole place. It's something great. I'm painting this woman grabbing the sun, like a symbolic way of go-getters.
What's your signature motif?
The eyes, double or triple eyes, plain colors, powerful colors, and some symbols or icons like birds or flaming heart or shooting stars. I'm taking all these things from medieval art. I'm really into that.
How long have you been into street art?
Eight years give or take. I mean, I'm not really just a street artist because I'm doing more things. I'm a painter, I do my own books, and now I'm launching my own clothing brand. So many different things!
1 of 3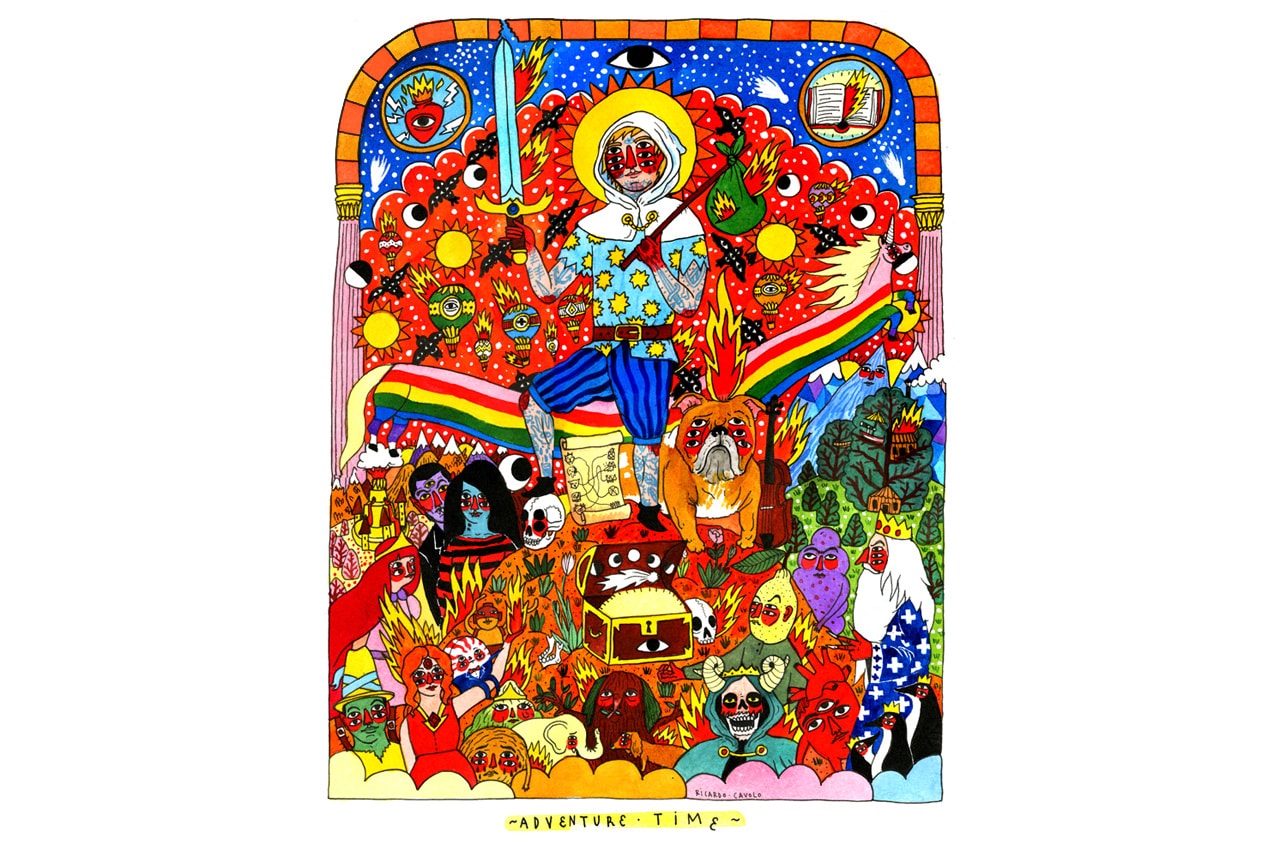 2 of 3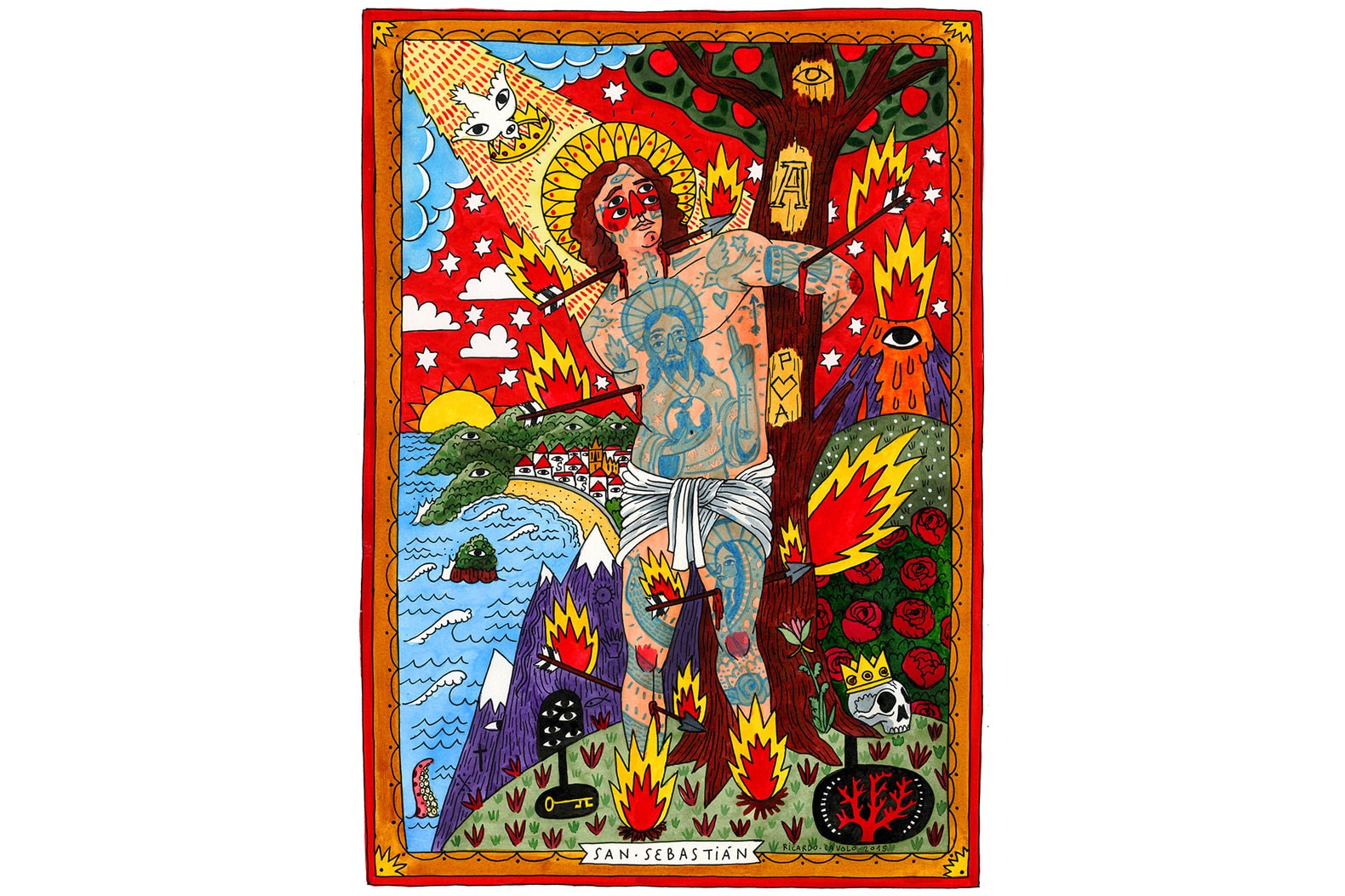 3 of 3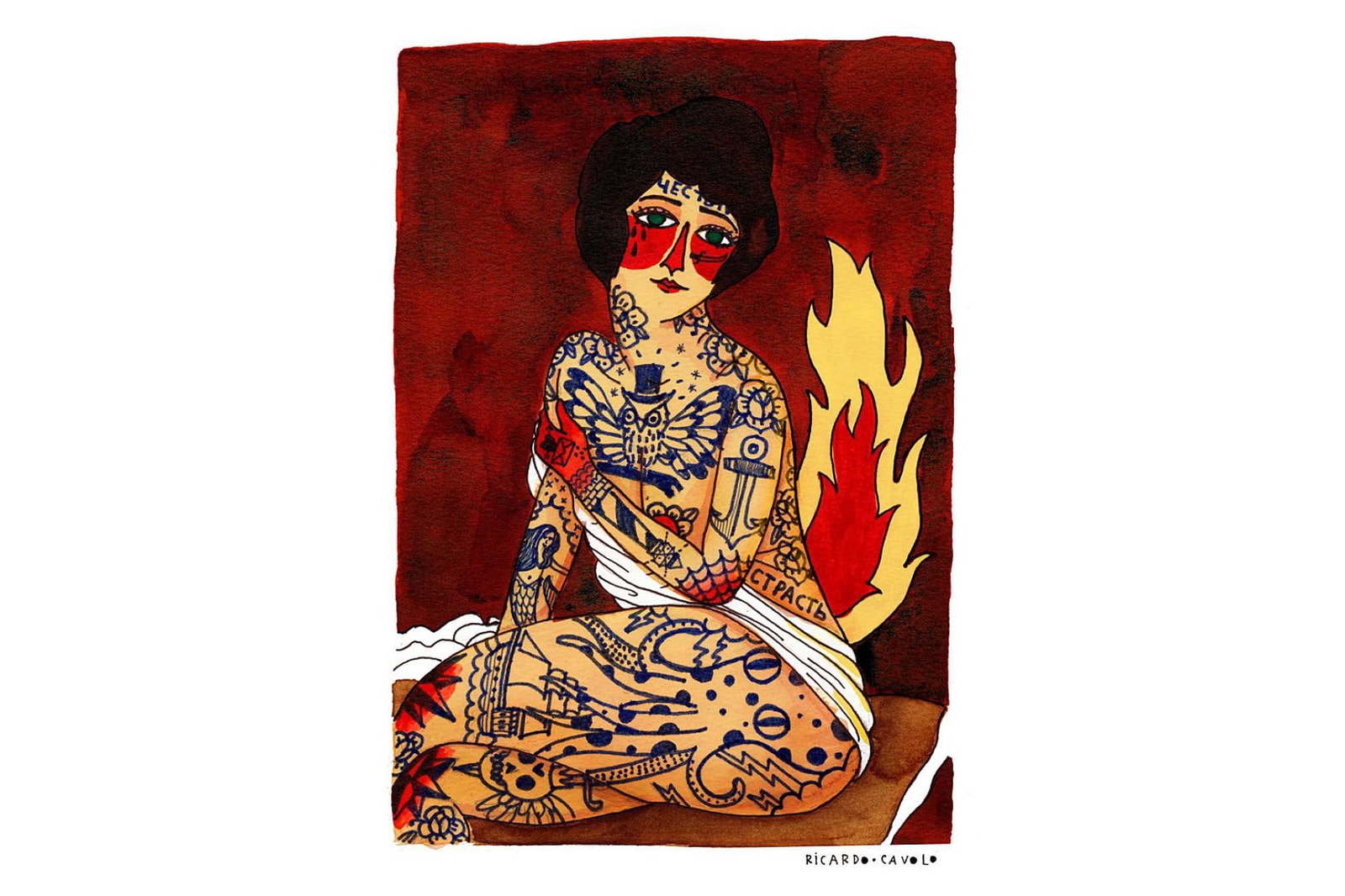 Which one is the most challenging?
Right now, probably the clothing brand. It's a huge dream for me. We've been working for the last five years on this. So, this is like the year for us. I've been working on walls for eight years maybe, eight to 10 years, so It's already cool for me, even if it's a huge thing like this one. But the clothing brand is something different. It's something new.
How did you meet Kaytranada?
He met me at some point because I'm coming here maybe… this is the fourth time. Because my manager is from here, he's Andre. My office is here (Montreal), so I have a lot of exhibitions and at some point, Kaytranada saw my work here, maybe the exhibition or maybe the first wall. I don't know. He knows Andre (MURAL founder) and my office people. So, he just wanted something with me and of course, I said yes. It's a dream!
Are you really into his genre?
Yeah, of course. Rap is my thing for working… I don't know, 90 percent of my music is that type of music. It's like a dream also because, through his album, I've been more based now in the U.S. and working with other rappers. It's been great.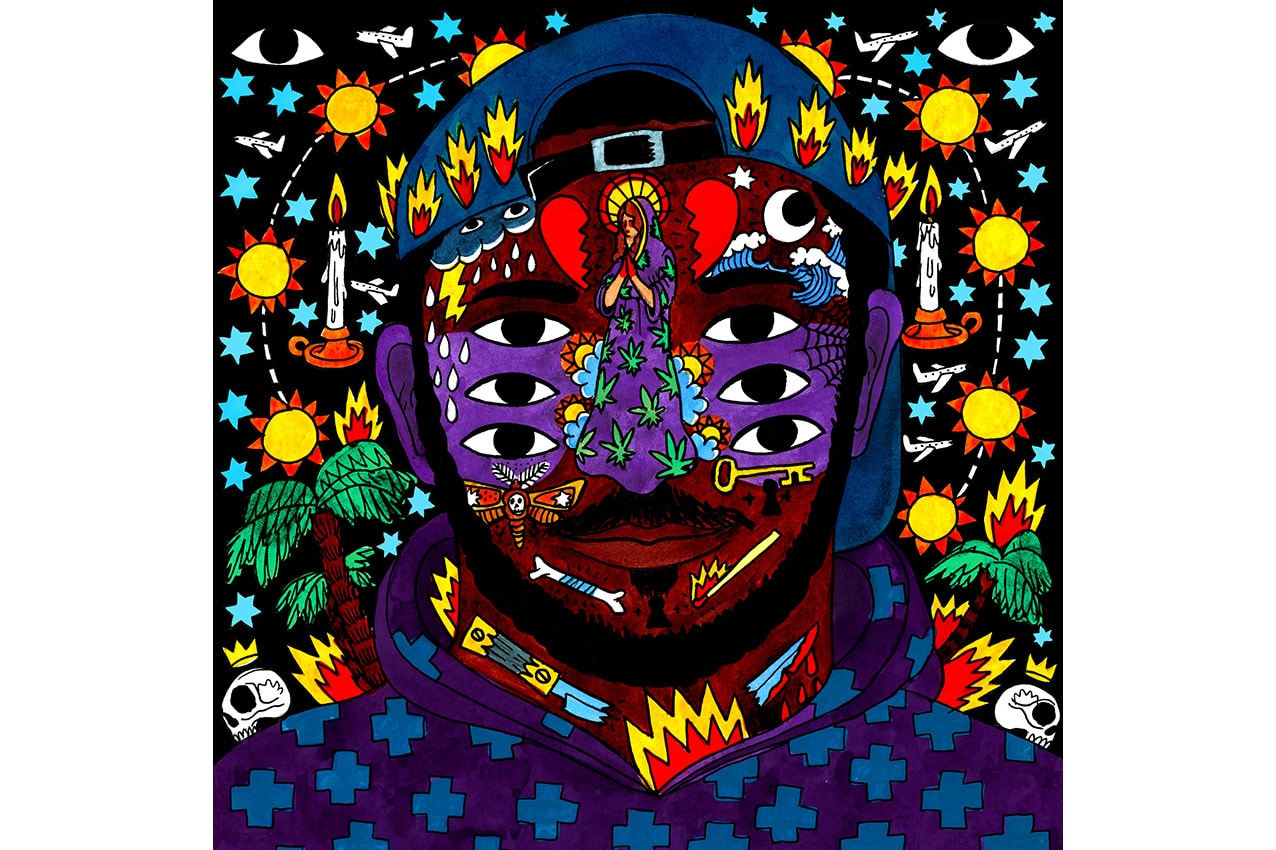 Who's the number one artist that you want to collaborate with?
Kanye West, he's a huge inspiration for me. Anytime I have to give a lecture or talk, something like that, I watch some of his lectures from a university and it helps me a lot.
Have you ever reached out to him?
No, no, no… I think it has to come in a natural way. If it happens, it happens; if not it's okay. But I think it has to be something natural.
1 of 3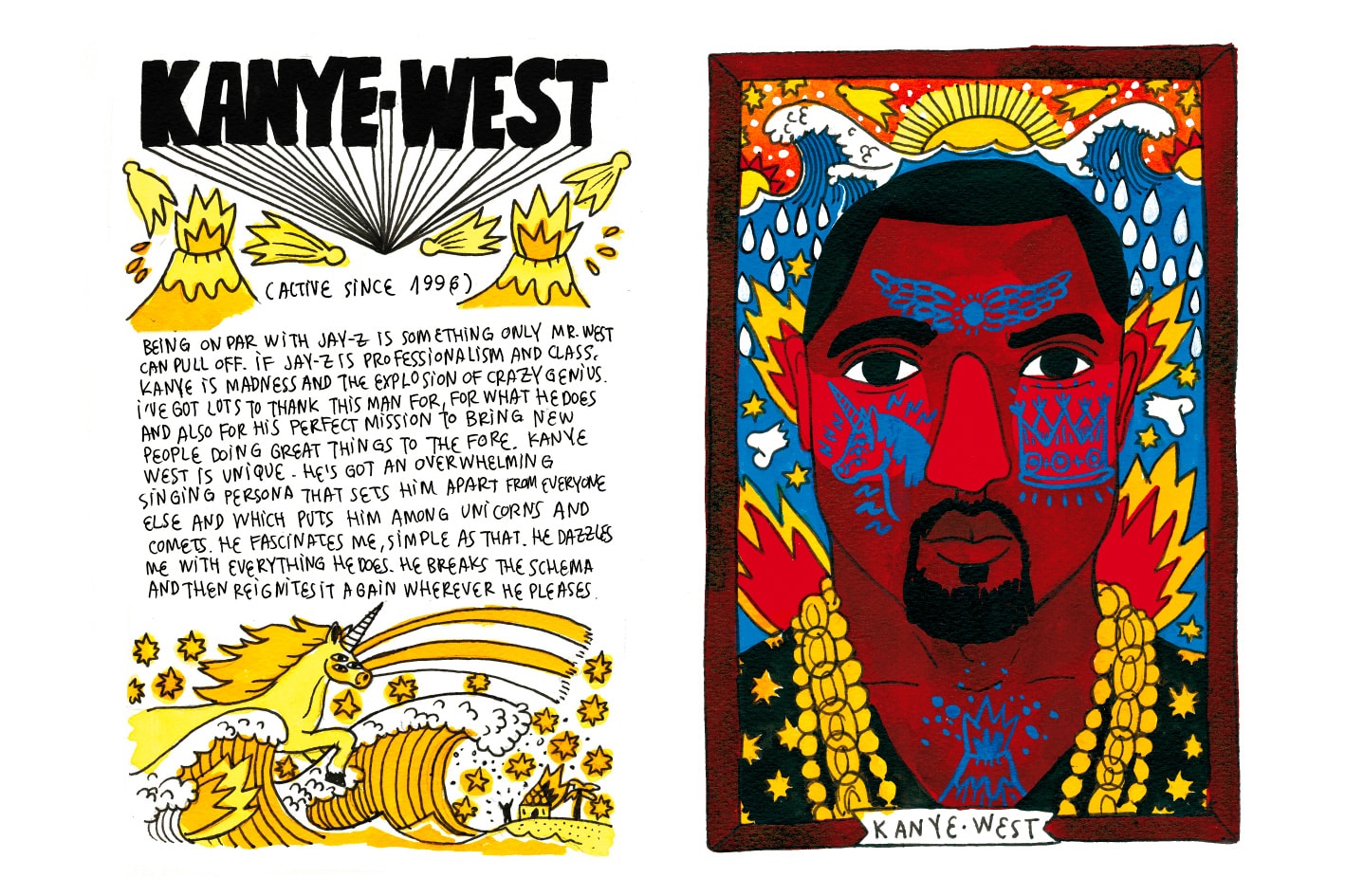 2 of 3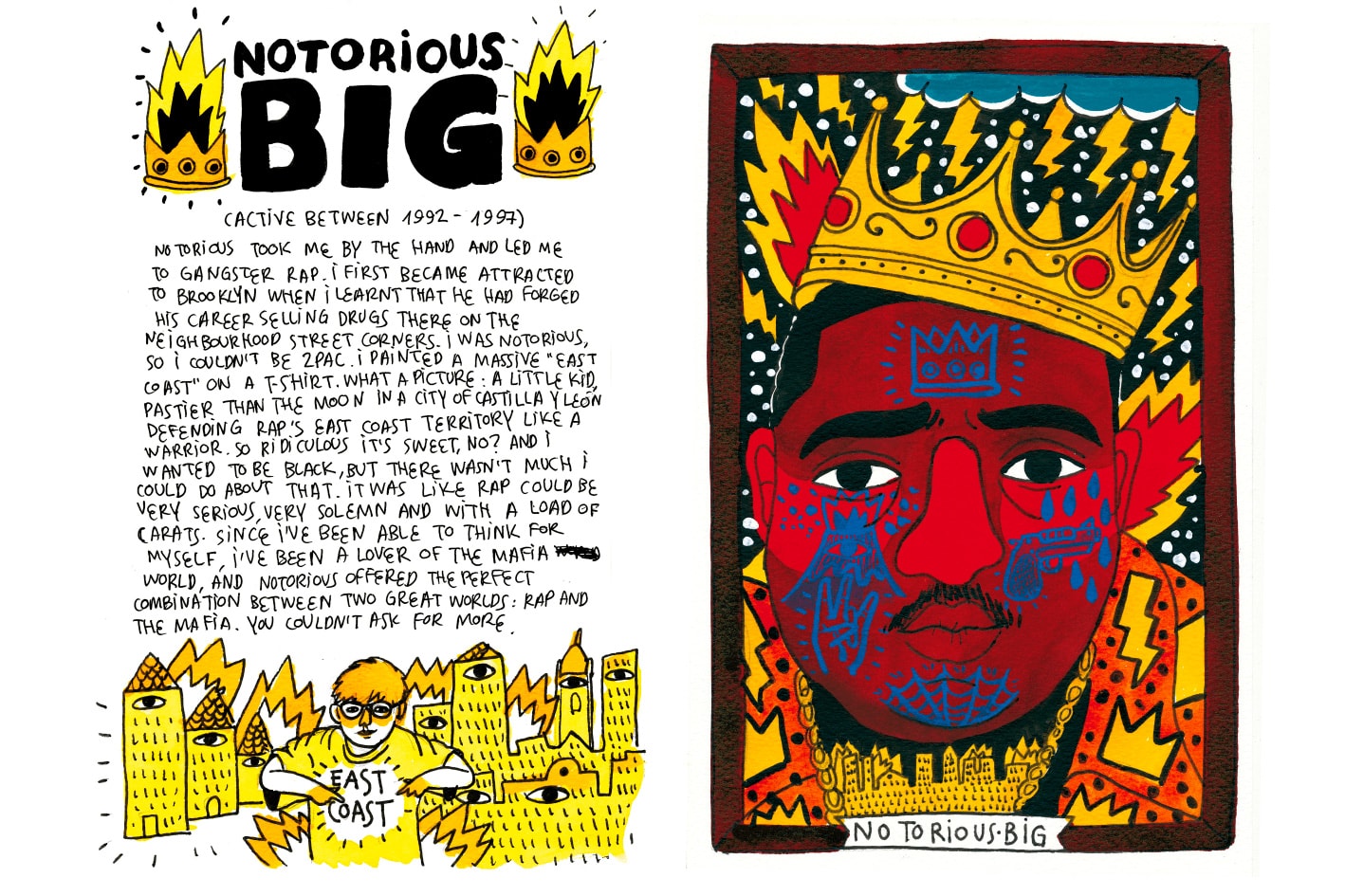 3 of 3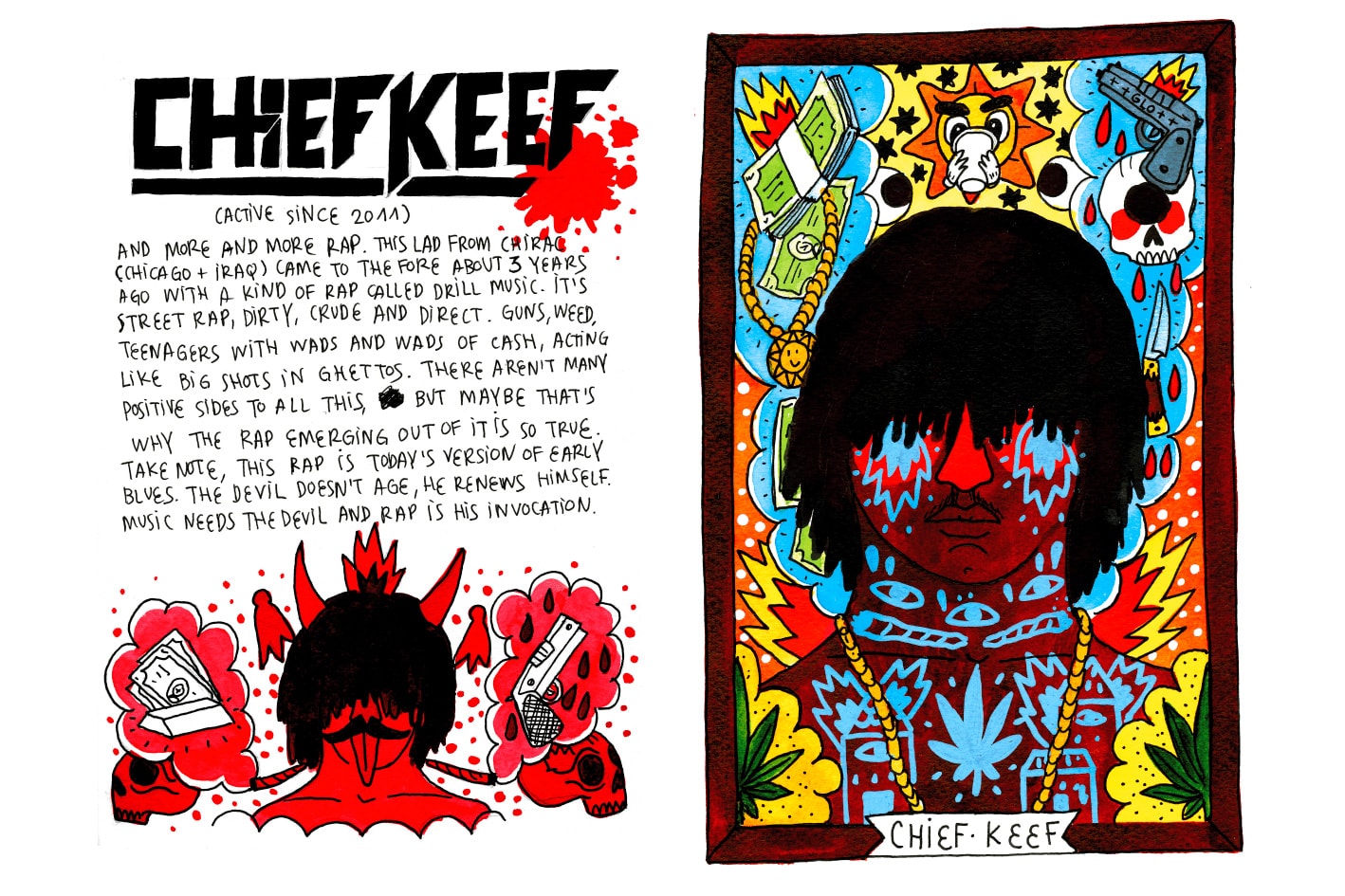 Can you tell us about any of the upcoming projects that you're working on?
Right now? This year is all about the clothing. We're releasing a collaboration with Gucci, with Bally's, Prada, as well as our thing.
Do you think there's a big influence of art in fashion now?
Yeah, it's been always like that. But I think the late years, for sure. It's been uh… Louis Vuitton with [Jeff] Koons. It's just about that. That's like official art but of course, Gucci is always working with an artist.
What are the advantages and disadvantages of collaborating with a fashion brand?
I haven't found yet the bad points of it. Give me a couple of years to find something like that. For now, for me, it's something great just spreading my message through huge brands. So, I don't know, for now, it's only positive.
1 of 2
2 of 2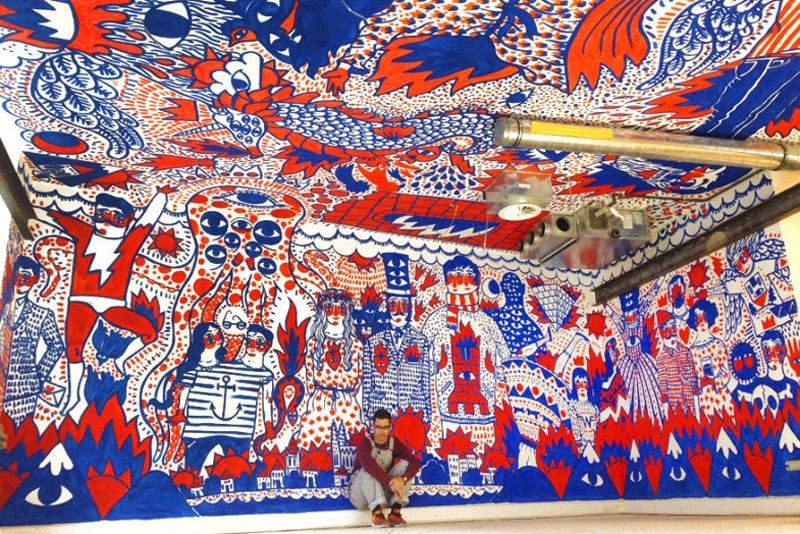 How do you balance work and life?
Before maybe five years ago, I would say just work, work, work. But now I would say 50% work, 50% life. Because it's so necessary to keep your life full of things that you can process and use for the work. So, it's just being serious and professional but at the same time, try to enjoy every moment. It's really not big but it's really true, it really works.
Whenever you're traveling, what are some things you always need to have?
My iPod possibly because I have all my books for reading comics and watching TV shows. It's my tool. I have the Apple iPad Pro, so I can also sketch there. It's my go-to tool for trips.
Where do you see your art 10 years from now?
It's difficult to say because right now, the last two years, my style is evolving a little bit. So right now, I'm in a new stage for me. It's getting more simple, more power from the beginning, so maybe it's going to be even more simple, more powerful, bolder. That's what I'm trying right now. So, I hope I'm going to that direction.