The Best Street Style on Instagram This Week Has Eyes on Plaids and Stripes
And a strong supply of beige and white essential fits.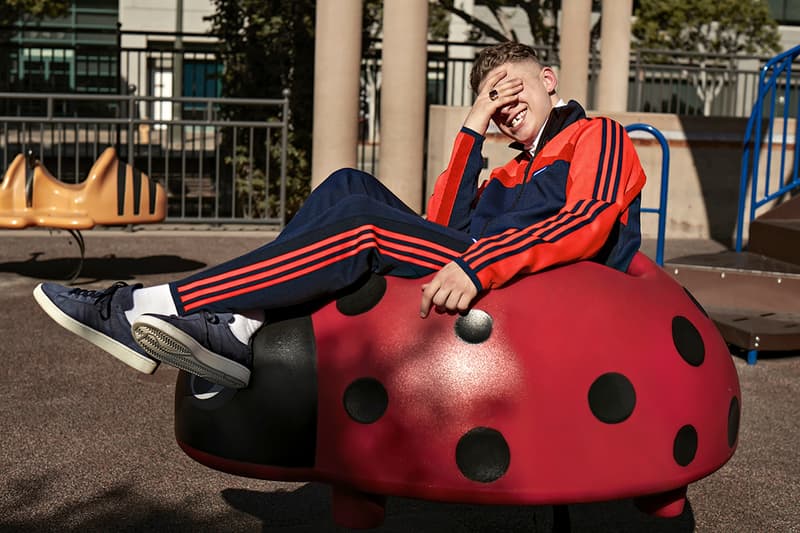 The best street style on Instagram this week was a symphony of three standout trends: Tattersall plaids, beige and white and racing stripes. In the Spring/Summer season, we usually expect an onslaught of loose fits and breezier textiles, but IG streams have shown us more tailored cuts, groomed styling, linear patterns and structured materials. While other noticeable trends (such as pink) are also having a high stride right now, neutral shades and traditional menswear elements seem to be the bread and butter of streetwear this season.
Since the second week of street style trends, we've been seeing the British Plaid trend — such as Tattersall plaid and Haymarket check — gain traction in smaller occurrences, e.g. appearing on accessories such as dad caps and Nike Air Max sneakers. This week, however, the print asserts itself as the main protagonist of the outfit, coming by way of trousers and blazers and channeling classic gentleman style through fitted waists, clean hemlines and tucked-in shirts.
The second theme of this week — the beige and white combo— is not so much a new trend but more of an essential uniform that can take the place of your all-black outfit for summer. White and beige will keep things fresh and clean for the warmer temperatures and offer the ease and versatility of an all-black look. We're seeing more linen and khaki (and the occasional camo-print for a more bold option), while functional gear has also been surfacing in more sepia-tones.
Contrasting the minimalist vein of the former two categories is the racing stripes trend. Antithetical to the neutral, subdued color palette of beige/gray/brown/white, this trend pivots on pronounced stripes of red, orange and other bold primary colors. We've moved on from the recent Kappa tracksuit influx but are still maintaining the signature bold stripe trend with a more streamlined look.
Make sure to tag #hypebeast on Instagram to show us your best street style fits for next week.
1. Tattersall Plaid
Luka Sabbat
's clean look perfectly balances traditional menswear with modern streetwear pieces. Well-tailored straight leg Tattersall plaid trousers are paired with an essential olive bomber jacket that is cropped just enough to meet the trousers at the waist. Zipping the jacket up keeps the silhouette neat and streamlined, while a touch of orange peeps through at the collar and is corresponded at the bottom with a pair of aged-leather boots.
Here, the Tattersall plaid print is composed of more compact scores of red and gray and appears on a classic blazer. The blazer breaks up the otherwise mellow outfit by adding a block of lightness between the dark-toned garments. Layered outerwear pieces create an interesting mix of necklines and collars — a muted forest green knit turtleneck, a buttoned-up plaid blazer and a wide-lapel black wool coat— while silver hardware accessories at the neck, belt chain and safety pin pendant add some punk influence to the traditional silhouette.
A subtle nod to country club style, this fit sees a classic white polo with red and blue detailing tucked into cropped pinstripe trousers from
Eri-Ife Williams
. Line details on the crew sock echo the linear detailing throughout the outfit and add an extra bit of
Ralph Lauren
-inspired preppiness. Clean white sneakers with a gum sole keep things crisp while silver chain necklaces and a do-rag add some contrast to the very prim and proper ensemble.
Streetstyle in Asia has been embracing the tucked in shirt and tailored pants look for a minute. In this shot, we see two iterations of the beige/gray print in two different tones and patterns. However, they both share the same high-waisted, belted styling. A velvet V-neck tee in bold red and black add textural variety and a hit of early noughties vibe to the look.
Amplified classic menswear isn't just taking over the men's streetwear scene, but the entire fashion realm including womenswear. Here, Bella Hadid wears a head-to-toe tattersall plaid look that also mixes in the oversized fit style. The statement-making outfit sees balance in proportion with a fitted waist — a consistent element in previous looks — and a white fitted crop top and white tennis sneakers to keep things clean.
This look shows how the Burberry-inspired print can seamlessly blend into a classic streetwear ensemble without employing traditional menswear tailoring. A hoodie layered underneath a coach jacket and accessorized with a waist pack slung over the chest makes for a quintessential streetwear uniform. The yellow-tinted glasses hit on the popular retro vein, while classic white FILA dad sneakers continue the '90s motif.
2. Beige & White
This refreshing outfit makes a statement without bold colors by combining several shades of beige and cream and a neat mix of textiles. A fitted white trucker jacket is worn over a cream-colored thin-knit turtleneck, while
Dickies
khakis rolled up at the hems hang over a pair of
Converse
all-stars in beige. Subtle fitting adjustments, such as buttoning up the trucker jacket and rolling up the khakis, create a streamlined silhouette that modernizes the workwear garments.
Skepta
most likely has no interest in being a fashion icon, which is why this pure and simple essential fit is so effortlessly executed. There might be nothing special about a white
Lacoste
cap, plain white tee and pair of khakis, but this ensemble functions as the backdrop to a gold-plated and diamond-encrusted inhaler necklace. The British rapper keeps it real regarding his asthma, but not without a bit of ice and 14k.
Those in the Southern Hemisphere going into winter may find this functionally useful, while others in spring/summer can at least appreciate the aesthetic value of this look. Here we see a medley of desert shades harmonize a wild mix of textiles, shapes and patterns. A tonal brown
Stone Island
puffer is contrasted by a utility vest and a pair of grey camouflage pants for a unique composition of functional garments.
Kanye West
made a recent appearance in an outfit that goes the hard on trending keywords: dad hat,
COMME des GARÇONS
, camo JNCOS pants and full on dad shoes. Layering, baggy fits and chunky knits create a cozy but low-key hype look by opting out of saturated colors.
Sometimes a simple outfit stands out because it's repeated within a group photo. Beiges and browns cover a lightweight anorak and tech-wear pants, which creates a muted color-block effect on performance gear.
3. Racing Stripes
A$AP Rocky
remixes a classic black and navy outfit by featuring
VLONE
's signature orange in clean stripes of color by way of a canvas utility belt, horizontal 3M bars at the knee of the trousers and black and orange 
Air Jordan 1
s. Pretty Flacko opts for a more tailored fit with cropped hems and less bagginess.
This look, which is comprised of an oversized orange bomber and tapered red stripe pants from
Jerry Lorenzo
's
Fear of God
, plays with proportions by keeping it big on top and slim on the bottom. Classic streetwear elements — track pants, orange, bombers and graphic print T-shirts — are all tied together with a shared color palette of red, orange and black. The red stripes on the pants are matched with a hit of red on the graphic tee, while the orange bomber boasts black knit at the collar, cuffs and hem to correspond to the rest of the outfit's black base.
Wide-leg pants and long sleeves are kept neat and streamlined thanks to vertical red lines and a clean navy and white base. The bagginess is levied by tonal planes of thicker materials that hold shape, while extra details like the buttons down the side of the pants add a special touch. A red belt ties together the linear theme and red/blue/white palette.
This truly racing-inspired outfit is perhaps the predecessor of the striped track pants and bold typography graphics trend. High-octane colors and an elaborate collage of graphic logos cover a black base for extreme contrast. As with many other head-to-toe looks, this ensemble is finished with a pair of clean white low-top sneakers to counterbalance the bold outfit.
This outfit's styling starts from the wild 8-bit-inspired Raf Simons x adidas Originals Ozweego 2 sneakers, whose colors are mirrored in the red-stripe track pants and the yellow trucker jacket. Throw in a tech-wear bask in the middle of summer for good measure because some people don't dress for the weather.