LVMH Reports €42.2B EUR in H1 Revenues and Kering Enters Deal for Valentino in This Week's Top Fashion News
Stay up to date on the latest industry headlines.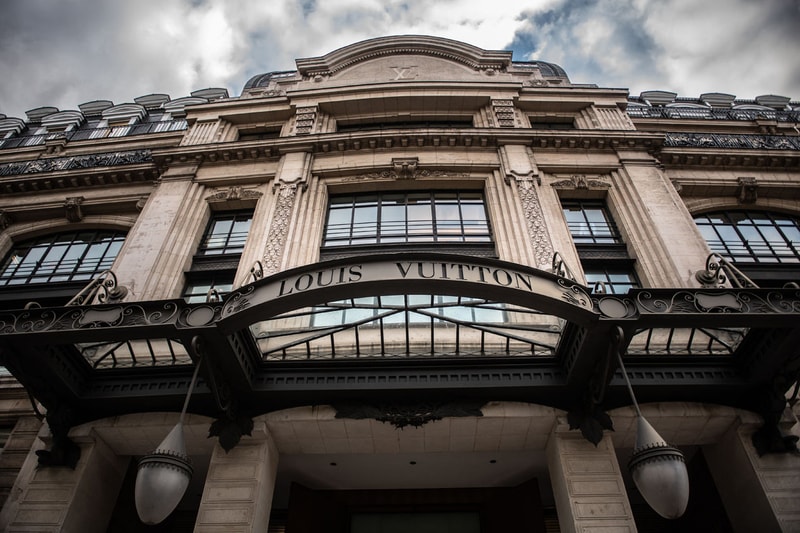 This week, several top fashion companies and conglomerates reported their earnings for the first half of 2023. Leading the way, LVMH raked in revenues of €42.2 billion EUR, while Hermès recorded a 25% increase in sales, with consolidated revenues of €6.7 billion EUR; and Prada Group fetched revenues of €2.23 billion EUR, up 17% from the first half of 2022. Meanwhile, Kering struck a deal to purchase 30% of Valentino from Qatari investment fund Mayhoola.
Elsewhere in the industry, the CFDA revealed the official calendar for September's New York Fashion Week; Raf Simons and Miuccia Prada announced Prada Beauty; Phoebe Philo launched the website for her new brand, and a Billionaire Boys Club x Moncler collaboration surfaced online.
Below, Hypebeast has rounded up the top fashion stories of the week so you can stay up to date on trends in the industry.
LVMH Moët Hennessy Louis Vuitton reported revenue of €42.2 billion EUR in the first half of 2023, marking a 15% increase from the parent company's half-year figures in 2022.
The company, which is headquartered in Paris and houses luxury labels including Louis Vuitton, Christian Dior and Tiffany & Co., among others, saw its sales increase by 22% across Europe, compared to the same period last year. Revenues in Asia, excluding Japan, also heavily contributed to LVMH's sky-high revenue, and overall, the group recorded organic revenue growth of 17% when weighed against the first half of 2022.
In a statement, Bernard Arnault, chairman and CEO of LVMH, said, "LVMH achieved outstanding results during a six-month period of ongoing economic and geopolitical uncertainty. Thanks to the desirability of our brands, we approach the second half of the year with confidence and optimism but will remain vigilant within the current environment and count on the agility and talent of our teams to further strengthen our global leadership position in luxury goods in 2023."
Kering Purchased 30% Stake in Valentino
French parent company Kering on Thursday announced that it is purchasing a 30% stake in Italian brand Valentino from Qatari investment fund Mayhoola. The deal, which includes the option for Kering to acquire all of Valentino's share capital before 2028, was valued at $1.87 billion USD.
"I am impressed with the evolution of Valentino under Mayhoola ownership and very delighted that Mayhoola has chosen Kering as its partner for the development of Valentino, a unique Italian house that is synonymous with beauty and elegance," said François-Henri Pinault, chairman and CEO of Kering. "I am very pleased of this first step in our collaboration with Mayhoola to develop Valentino and pursue the very strong strategic journey of brand elevation that Jacopo Venturini will continue to lead."
Kering will obtain board representation at Valentino, though Mayhoola "will remain the majority shareholder with 70% of the share capital and will continue to execute on the successful brand elevation strategy," per the company.
Hermès, the French luxury design house behind the famous Birkin that was recently named the "most coveted designer bag across the globe," saw flourishing financial success in the first half of 2023.
The company reported consolidated revenues of €6.7 billion EUR, up 25% at constant exchange rates compared to the same period last year. Net income, meanwhile, amounted to €2.2 billion EUR, marking an increase of 36% from 2022; and recurring operating income reached €2.9 billion USD, comprising 44% of total sales.
"The 2023 first half results reflect the strength of the pillars of the artisanal model of the house: quality of materials, exceptional know-how and abundant creativity," said Axel Dumas, executive chairman of Hermès. "To support this growth, we continue to invest in our production capacities, in the expansion of our network, while accelerating job creation and training in all of the group's métiers."
Prada and Miu Miu are off to a strong start, according to the Prada Group's half-year financial report for 2023.
In the first six months of this year, the company, which also houses Church's, Car Shoe, Pasticceria Marchesi and Luna Rossa, reported a net profit of €305 million EUR, marking a 62% increase from the same period last year. Additionally, the group's revenues reached €2.23 billion EUR, up 17% from the first half of 2022. With currencies adjusted, the Prada Group's sales increased by 20%.
Further, operating profits saw an increase of 61% to €491 million EUR, and gross profit rose 21% to 1.79 billion EUR. The group's top brands — Prada and Miu Miu — both achieved growth in retail sales. Prada saw an 18% increase in consumer sales in the second quarter, while Miu Miu earned a larger 50% increase in the sector in the same period.
Since announcing the launch of her namesake fashion brand in February, Phoebe Philo has been quietly developing the label's debut collection, scheduled for delivery this September. This week, ahead of its release, the former Celine designer returned to officially open her eponymous imprint's website for registration.
Philo shared the news on Instagram, posting a black title card reading, "phoebephilo.com is now open for registration," with no caption. Still in its bare bones, the website asks visitors to register for "news and further updates" with their title, first name, last name and email.
Philo's brand will launch in September, exclusively through the aforementioned website, with shipping initially available in the U.K., Europe and the U.S. Register now, here.
Earlier this week, the Council of Fashion Designers of America (CFDA) released the official calendar for the forthcoming iteration of New York Fashion Week, taking place from September 8 to 13.
The upcoming season's roster includes more than 71 designers,a cross menswear, womenswear and genderless categories. Among them, Peter Do will make his debut at Helmut Lang, with the first show on the calendar, and Ralph Lauren returns to the NYFW schedule for the first time since September 2019. Other designers showing during the week include WHO DECIDES WAR, Dion Lee, Willy Chavarria, Coach, Head of State, Advisry and Grace Ling. Luar will close this New York Fashion Week in the final slot.
Take a look at the full calendar here.
Raf Simons and Miuccia Prada are gearing up to launch an all-new department: Prada Beauty.
The venture will mark "another milestone" for the company, according to Prada Group CEO Andrea Guerra. The expansion will house unisex beauty and skincare products, which will likely include a selection of lipsticks, colorful blush and eye shadows, correction products and serums. Prada has not disclosed the exact product portfolio, but its selection of teaser images offers quite a few hints.
Peruse Prada Beauty's promotional imagery here.
Diesel on Monday announced that its forthcoming Spring 2024 runway show will be open to the public. The event, which is scheduled to take place during Milan Fashion Week on September 20 at 9 p.m. CET at the Scalo Farini location, will be accessible through a first-come, first-serve registration portal.
Diesel is following on from the success of its open-to-the-public Spring 2023 show last year, which saw thousands of attendees pile into its stadium-like venue. The label's move to open its shows to a wider audience is reflective of creative director Glenn Martens' push for inclusivity and "bringing fashion to a more democratic and larger audience," per the brand.
Diesel will launch an online registration system on September 6 via its website, where anyone will be able to secure tickets to the live show until they run out. The upcoming runway will also be live-streamed across the brand's digital channels.
Moncler and Billionaire Boys Club are cooking up a collaboration, according to a slew of new images that did their rounds online earlier this week.
In the photos, fashion fans took a peek at a few of the pieces included in the range, including a T-shirt donning dual iconography on its front with similar motifs planted on its rear neckline. Additionally, the collection looks to include a varsity-style leather and cotton hooded jacket, with silver embroidered emblems and a signature red Moncler logo.
The brands have not yet disclosed when the collaboration will release. Stay tuned for more information.
LVMH announced earlier this week that it will be the official premium partner for the upcoming 2024 Paris Olympic and Paralympic Games.
According to a release, LVMH and its brands will support athletes throughout games, and its first confirmed spokesperson is Léon Marchand, a swimmer on the France national team.
"This unprecedented partnership with the Paris 2024 Olympic and Paralympic Games will contribute to heightening the appeal of France around the world. It was only natural that LVMH and its Maisons be part of this exceptional international event," said Bernard Arnault, chairman and CEO of LVMH. He added, "Sports are a tremendous source of inspiration for our Maisons, which will unite creative excellence and athletic performance by contributing their savoir-faire and bold innovation to this extraordinary celebration."