Editor's Picks: Our Favorite Sneakers of 2022 So Far
HYPEBEAST staff members share what they've rotated in the year's first six months.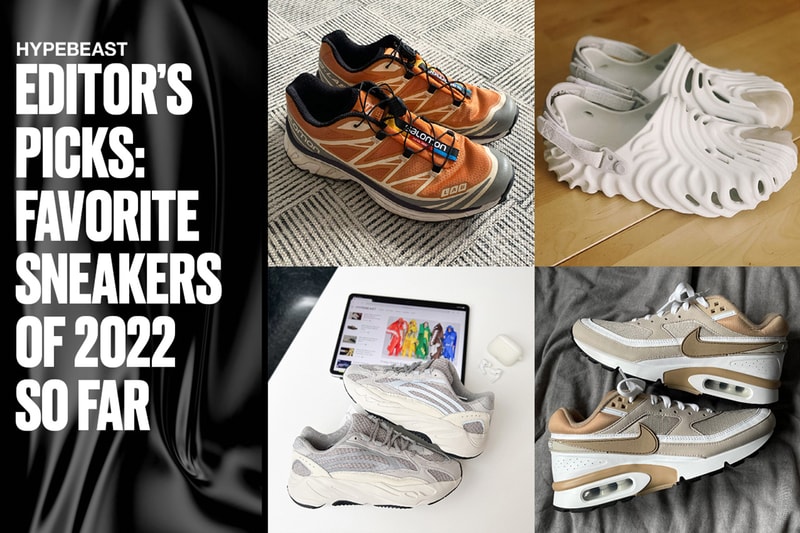 The footwear space is in somewhat of a bizarre state right now. From a product standpoint, there's been an inundation of hot-ticket collaborations, unexpected crossover team-ups and mass-produced GRs that have captured the hearts of sneakerheads across the world. This is certainly a big indicator that the culture is alive and kicking, but various factors — from supply chain issues to rising prices due to inflation and brands having no answer for bots — have undoubtedly made buying sneakers less appealing at times.
Regardless, the emotions that one experiences when they purchase a pair they've been eyeing for months, inhale that unforgettable new-shoe smell and feel like their greatest self when they lace them up them doesn't get old — especially for the team here at HYPEBEAST. So to ring in the Summer season, our staff came together to curate a list of all of our favorite kicks that we've kept in rotation throughout the first half of 2022. The round-up includes everything from European Nike exclusives to coveted collaborations to comfy clogs and more.
Take a look at the list below, and note that it doesn't reflect the best shoes that have been released this year — we'll have that ready for you come December.
ACRONYM x Nike Blazer Low "Black"
Personally, Errolson Hugh's contributions to Nike have always been exciting. Between his time with NikeLab ACG and collaborations with the Swoosh via his label ACRONYM, Hugh has continued to explore futuristic themes that have continuously prompted me to ponder what's next. So when the ACRONYM x Nike Blazer Low popped up, it was the heel clip system that immediately grabbed my attention. Having the option to customize my pair with the provided clip units felt like a glimpse into the future of fashion. However, once the ACRONYM Dynamics Lab by solebox introduced "DLC" for the shoe with ten 3D printable heel clips, my excitement hit an even higher level. While there's certainly room to refine these ideas, I'm hopeful that modular design has a bright future in streetwear. – Logan Fairbrother
Nike Air Max BW "Cream"
If you think of sneakers with close ties to London, Air Maxes are some the top "trainers" that come to mind, specifically the Air Max BW — a staple of the U.K.'s underground club scene. Earlier this year, a Euro-exclusive "Cream" colorway of the BW surfaced and I knew I had to have them. I live in New York, but luckily for me, I was in London at the time, saw them sitting on the shelves at Patta and felt obligated to cop such a special souvenir. This is the very first BW in my collection, and one of my favorite details on the BW is how its Swoosh is like a puzzle piece that becomes one with the rubber molding as it wraps around the entire sneaker. And of course, I can't forget the "Big Window" (BW). That shiny air unit really shows the shoe's comfort, especially when walking through the streets of NYC. I hope Nike continues to push out more colorways of the BW in 2022. I feel like this model doesn't get the same love as its siblings like the Air Max 1, Air Max 90, or Air Max 95! – Nicholas Llanton
Salomon XT-6 "Apricot Buff"
Like most hiking-turned-lifestyle shoes hopped on by fashion aficionados, the Salomon XT-6 aptly fits the bill. The trail-runner has slowly crept up as a highly sought-after performance silhouette, with the "Apricot Buff" edition making its way into my sneaker rotation. Boasting top-of-the-line comfort and an overall distinct design, the shoe has allowed me to rock everything from festivals to Fashion Week, to daily walks with ease. The XT-6 is a prime example of Salomon's strong presence in the footwear game, especially as functionality continues to meet style. – Isabella Chon
Salehe Bembury x Crocs Pollex Clog "Stratus"
I'll be first to admit that clogs and mules never really piqued my interest until the pandemic infiltrated our lives. However, as COVID ran its course, I definitely started to gravitate towards footwear offerings that were easy to slip on and off, versatile and provided ample comfort, and that's exactly what these Salehe Bembury x Crocs Pollex Clogs supply. Given that few folks were able to pick up the designer's inaugural colorways back in December, the hype was through the roof for this release and I was fortunate enough to pick up the "Stratus" pair for retail which — which as any sneakerhead can relate probably relate to nowadays — is an extremely sweet feeling. The exaggerated concaves throughout the upper give the silhouette a refreshing, obscure and fashion-forward look all at the same time, and the fact that these are essentially done up in all-white, they pretty much compliment any outfit in my closet. – Elliot Santiago
adidas YEEZY BOOST 700 V2 "Static"
The original 700 V2 'Static' is my favourite YEEZY of all time (top three sneakers, period). I couldn't tell you the number of days I've worn my 2018 pair, but I'd guess they'd be my single most-worn piece of footwear ever. I literally wore the outsole down into the midsole, and, although I had a back-up pair before this year's restock, I never knew the right time to retire my OGs. That is now done. RIP. – Felix Young
JJJJound x New Balance 990v3 "Brown/Black"
JJJJound and New Balance have an impressive shared history in recent years. After 2018's understated take on the 990v3, 2020's green and gray 992s and last year's technical-inspired 990v4, the duo returned this year with another 990v3. The beauty of the 2022 collaboration lies in its colorway which mixes light green with earthy brown overlays. The final detailing comes in black, giving extra depth to the simple design. Across all of JJJJound's collaborative releases, the key theme has been their wearability — there's nothing showy, unwanted or distracting — this 990 is the same, and its green and brown colorway can be worn with anything. – Jack Stanley
Nike SB Dunk Low "Phillies"
There are a number of native Philadelphians in the HYPEBEAST office, and as anyone from the City of Brotherly Love can attest, we wear our heart and our cheesesteaks on our sleeves (and apparently on our tongues too). When I saw that Nike was releasing the Nike SB Dunk Low "Phillies" to skate shops, I realized this was the pair for me. Combining my love for kicks with MY city and doing it with a tip of the (baseball) cap to the powder blue Phillies road uniforms from the 80's – there wasn't a more perfect sneaker out there. So when my New York Mets-loving wife presented these to me for Father's Day, well, my Philly pride went into overdrive.
Arriving in the usual purple SB box, the attention to detail is astounding. The nubuck toe boxes give way to premium suede overlays in gorgeous powder blue. The vinyl, record-player feel of the maroon Nike swoosh throws back to the nostalgia of 70's and 80's games at Veterans Stadium. But the real winner here is the detail behind each tongue. The left tongue displays a Philly cheesesteak oozing with whiz, leaving me longing for a trip to Pat's on Passyunk Avenue. The right side displays the quintessential Philly landmark, the Liberty Bell. After a lace swap for contrast (replacing the blue laces with the Phillies maroon), I was ready to rock these to the World Series 2022. Go Phils! – Justin Goldberg
Air Jordan 3 "Neapolitan"
As a female in the sneaker space, I tend to reject the "shrink it and pink it" approach to female exclusives. When I first saw images of the Air Jordan 3 "Neapolitan," I knew this pair would be an exception. It wasn't even the sneaker's dusty pink shade I was initially drawn to (although I do love its subtlety). It was the color's thoughtful contrast with the brown elephant print that caught my eye. I should also admit that the ice cream-inspired color scheme and the shoe's nickname — "Neapolitan" — triggered a bit of nostalgia for me as somebody whose first job was scooping ice cream at a local shop. – Courtney Kenefick
G DLP x New Balance 327 "Sabará"
As a Brazilian sneakerhead, it's always a joy to share projects that elevate the local identity. In recent years, the number of collaborations involving stores and national brands has grown a lot, and my choice is a result of this evolution. The 327 "Sabara" was developed in partnership with the sneaker destination 'G DLP Store', presenting a visual identity that elevates the typical Brazilian fruit Jabuticaba. The shoe was part of G DLP 10th anniversary celebrations and the result is far from the (unfortunately) common projects aimed at Brazil that are limited to showing the green, yellow and blue of the national flag. – Marcus Vinicius
Air Jordan 4 "Military Black"
Artist, engineer, musician, mathematician — Leonardo da Vinci was a man of many trades. Amongst his teachings, the Renaissance man once professed that "simplicity is the ultimate sophistication." Though rooted in the past, those words can easily apply to the Air Jordan 4 "Military Black." A subtle refresh to the "Military Blue" colorway from 1989, the Tinker Hatfield-designed silhouette comes in a year of highly anticipated retros. This Jordan release, however, may easily go down as sneaker of the year. Just looking at the shoe makes you think less. The best designs have that effect. Starting with the accents, the light blue of the OG iteration is replaced with a sleek black that is seen in the eyelets, outsole, underlay and heel counter — the latter of which prominently replaces the Nike Air branding with a large Jumpman logo. Additional highlights include a supple tumbled white leather throughout the upper, light gray in the wings and suede midsole, along with white rubber netting to complete the look. Dress it up, dress it down — the AJ4 "Military Black" is fit for any occasion. – Shawn Ghassemitari
Hello Kitty x Nike Air Presto
I probably won't be wearing this pair too much but it is one of those releases that I had to get as we don't really see too many anime crossovers with Nike. I also have a soft spot for the Presto as I remember as a kid the marketing push for these was pretty strong when they first came out. My best friend at the time got a pair on release and everyone thought he was so cool as the neoprene upper was just different at the time. Now, tie that in with the history of the first Hello Kitty x Nike Air Presto from 2004 which was for friends and family with colorways from both Steven Smith and Hiroshi Fujiwara, and you can understand why I had to add them to the collection. Another thing I like about this release is that If you didn't hear about the collaboration being official, you'd probably think it was a bootleg. – Ambrose Leung
Patta x Clints Steppers
Manchester-born label Clints has had a rapid rise over the past year or so. The brand produces limited-run pieces that often sell out instantly to its cult-like following and the Stepper itself silhouette heavily nods to nostalgic days of skate culture in the late '90s. But with the impressive designs and marketing tactics from Clints alone, the Patta cosign appeared to push not only Clints to the next level, but it also brought a fresh heap of eyes onto other independent, Black-owned businesses throughout the rainy city and beyond. Throughout the design, however, its "Brown/Teal/Green Black" color scheme overlays the suede panels along with Patta's insignia sitting comfortably next to the customary Clints branding on the lateral mid-panel.
- Jack Lynch