8 Artists You Need to See at Wireless Festival This Year
Your guide on who to see before the headliners hit the stage.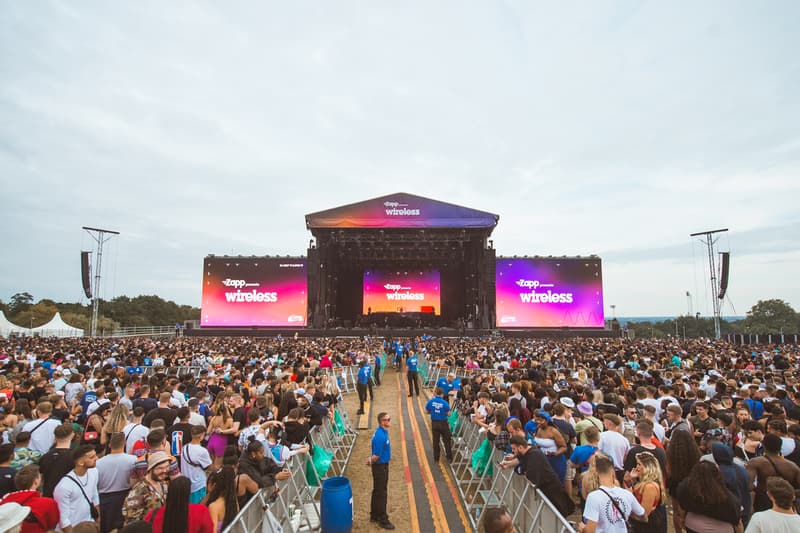 We are now well and truly in the middle of festival season in the U.K. and the pre-pandemic days of counting down to freedom feel like an eternity ago. With Glastonbury Festival gone for another year, the country is now looking for the next place to attend.
Britain has been blessed with some of the best festival lineups in years this time around, and some of the best are still yet to come. Wireless Festival has been a go-to spot for music fans for the last few years, with some of the most-watched and viral performances taking place on its main stages. 
This year, the festival is coming in the form of three different events across three locations. London's Crystal Palace and Finsbury Park along with Birmingham's NEC venue will be welcoming some of the biggest stars in the world over the next couple of weeks with the likes of J. Cole, Dave, Cardi B, A$AP Rocky, and Tyler, The Creator covering the headline slots.
But aside from the main attractions for the festivals, there is a huge bunch of U.K. talent at disposal to enjoy that stretch across U.K. rap, drill, soul, R&B and more. Below, HYPEBEAST has pulled together eight artists we think you should see at Wireless Festival this year between Friday July 1 through to Sunday July 10.
DC
South East London's DC is one of the U.K.'s best-kept secrets. As a rapper that happily employs a laid-back delivery, his well-considered rhymes sit on the fence between the temptations of life on the streets along with masculine energy that stands up for the goodness that men can bring to the world. His most recent project In The Loops is a timeline of introspectiveness that navigates through tunnels of trials, tribulations, and the struggles that have led to his success. While his personal growth has been evident through the music releases, his stage presence has too. His 2021 performance at the Camden Assembly was nothing short of a shutdown, and fans can expect to see more of the same at Wireless.
Backroad Gee
Hailing from East London, Backroad Gee has been making his mark on U.K. music for a while now. His collaboration with Pa Salieu for "My Family" was a turning point for the artist, but now BRG has continued to build up his name as a solo artist, curating a stellar discography that bases itself on his loyalty to those closest to him and his undesired memories of street life. By working his way through music with a unique and rugged finesse, Backroad Gee usually obliterates his manic production in a way that can only be admired when witnessing his hectic stage shows. 
Potter Payper
Essex-born rapper Potter Payper has been non-stop working since his release from prison a couple of years ago. Since things became business as usual from his career that first began in 2010, he's been working with some of the best spitters in the country while delving into new flows and sonics that still supply the pain-fuelled rap that he's known for. His latest collaboration-heavy mixtape Thanks For Waiting showed a different side to Potter Payper, steering away from his now-iconic Training Day trilogy with a new side of growth and maturity that delivered road rap with sprinkles of radio-friendly energy. The last mixtape brought his hit record "Gangsteritus" – which recently garnered attention following its appearance on Top Boy – and you can expect to see it in full, live effect if you head to his Wireless performance. 
Mahalia
As one of the brightest stars in U.K. soul and R&B right now, Mahalia is the Leicester-raised artist with love and heartbreak in her bones. Her latest EP Letter To Ur Ex navigates the tricky roads of love and relationships while her smooth vocals also disclose details of a bad breakup as a warning to all her fellow women who may be heading in the same direction. But it's not all emotionally-charged – tracks such as "In The Club" give the chance for listeners to have a dance as the 50 Cent-influenced record shines a light on the two-step assertiveness of the artist.
Unknown T
Unknown T has cemented himself as one of the U.K's most looked-at drill artists. Raised in Homerton in the borough of Hackney, the artist first made his stamp with his now-viral "Mad About Bars" freestyle, showcasing his distinctive style and punchy assertiveness with his pen. While drill continues to divide opinions on which lane it belongs in for U.K. music, Unknown T has regardlessly embedded himself as one of the most exciting voices to come out of the capital. With cannoning 808s being heard in abundance, you can also broaden your palette with more laid-back records along with club-ready anthems that are destined to make you "bend your back and then dig it."
Knucks
For South Kilburn native Knucks, rhyming has always been in his DNA. Known for specifically experimenting with grime in his earlier days, Knucks progressively went on to study the arts of hip-hop, taking inspiration from the likes of J. Cole and MF DOOM before finding that his abilities naturally suited a nostalgic, jazz-inspired backdrop. It wasn't until recently though, that the artist has touched base with a more drill-tinged approach. His latest album ALPHA PLACE – which went number 3 in the U.K. album charts – shows his progression as an artist that now has no issues in finding new pockets where he needs to. Check out album stand-out "Bible" featuring U.K rap OG Youngs Teflon to hear his newfound progression as a straight-talking, 808-riding wordsmith.
ENNY
South London rapper ENNY has been one of the U.K.'s most pleasant success stories of recent times. After quitting her job in 2019 to follow her newfound success in music, her soulful and witty lyrics have sent her cruising through the rap scene while continuing to carve a new path for female rhymers who deserve their flowers. Centering her musical content around soulful productions, ENNY likes to touch on topics such as gentrification, political issues, and the bottling up of emotions that fall hand in hand with unrequited love. While the music sometimes has a deeper meaning, the overall sonics of the material allows you to dance, sing and embrace a raw and live sound that doesn't come around too often.
French The Kid
Coming from Essex, French The Kid first took over U.K. speakers with his breakout track "Bella Latina," catching the masses with his smooth transitions from English to fluent French. As the guy that has been adding a slice of European flavor to the rap scene for a minute now, his ability to switch flows while delving into topics that stretch across family struggles and mental health is something you can't ignore. But while speaking about the things closest to him, French isn't afraid to switch things up with his tough, street-talking pen game opening the door to those who only rave for the road rap gun fingers. 
In other music news, Michael Jackson supposedly turned down a collaboration with Tupac due to his loyalty with Biggie Smalls.