Who Is the Louis Vuitton Skate Shoe For?
Making sense of the divisive Lucien Clarke collaboration.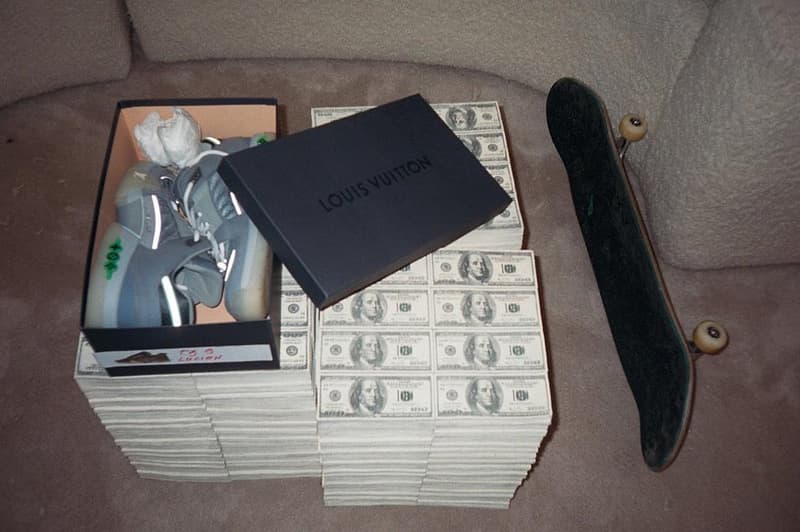 Face it: skateboarding is fully mainstream and has been so for decades. Once a joyful expression of youthful rebellion, the irreverent domain of rebels, punks and outcasts, it's become a mainstream cash cow in 2020. Skaters like Nyjah Huston and Tyshawn Jones are household names, and thousands tune into globally-televised contests like the X Games and SLS. Skate lingo, style and attitude has been co-opted by designers and marketers from Supreme x Louis Vuitton to Pac Sun. Skateboarding was even supposed to make its Olympic debut in Tokyo this year before the coronavirus pandemic brought the 2020 games to a screeching halt.
If skateboarding is underground no more, why were so many people seemingly up in arms about Louis Vuitton's first-ever skate silhouette? In some ways, LV's foray into the market (accompanied by the requisite spread in Thrasher) should have come as no surprise. Virgil Abloh, the omnipotent streetwear deity who's been the Artistic Director of LV menswear since March 2018, has long flirted with the "idea" — if not the actual "activity" — of skateboarding.
Abloh wears Nike Dunks and clothes from old-school skate brands like Droors in his Instagram posts, which his hordes of acolytes study fastidiously. He's working with Nike on a skate-inspired style called the Rubber Dunk, and he's positioned himself alongside Palace team member Lucien Clarke, arguably the leader of an amorphous breed of skaters known just as much (or sometimes more) for their sartorial choices and other off-board exploits as they are for their impressive on-board skills. In fact, it was Clarke who the Louis Vuitton skate shoe was designed for — or by, according to Virgil's Instagram post announcing the shoes.
HYPEBEAST's notoriously feisty commenters were not fans, mocking the shoe in the same way they clowned A$AP Rocky for not properly crediting Osiris and original D3 designer Brian Reid when he created a chunky skate shoe with Under Armour, and similarly deriding LV's metallic D3 knockoff. "LV doesn't belong in skateboarding" said one. "This is it. This is the death knell [for skateboarding]. It's downhill and decay from here," said another morose-sounding contributor in a lengthy post. "Money can't buy respect in skateboarding" quipped a third. Others noted its similarities to turn-of-the century styles from DC Shoes.
The worry and the questions seem to be uniform. Is the man who once tweeted "Design is the freshest scam" scamming skateboarding for its image? Is this simply another example of a luxury brand looking to appear "authentic" by aligning with skateboarders, long held aloft as paradigms of cool?
At its very core, a Louis Vuitton skate shoe is a contradiction. It's comparable to riding a Boosted Board instead of a regular skateboard: Louis Vuitton is using skateboarding's inherent irreverence to portray itself as something it's not. You can get the "style" without actually having to partake in the activity. Apart from Clarke and other pros who may join Abloh's fledgling "skate team," nobody will actually be skateboarding in the Louis Vuitton skate shoes.
The reasons for this are several. First and foremost, the cost will be prohibitive. As it stands currently, the cheapest men's sneaker on Louis Vuitton's webstore retails for $700 USD. If you buy shoes infrequently, or view them as "investment pieces," the popular buzzword often used to justify an egregious purchase, that may be palatable. However, if you're skating? Not a chance. Most skateboarders tear through a pair of shoes in short order — even the aforementioned Huston, who told HYPEBEAST he swaps his footwear every few weeks. Skaters who aren't part of Virgil's team simply don't have the means to step into a fresh pair of LV skate shoes once or twice a month.
However, whether the shoes actually are put to griptape or not is beyond the point. The Louis Vuitton skate shoe may be for skateboarding in name and even build, but no matter what Abloh or his team may say it's not really meant to be skated in. All it needs to achieve its intended purpose is to be expensive (which it certainly will be) and have the right co-signs (which with Virgil's vast network won't be an issue either).
On the other hand, maybe the Louis Vuitton skate shoe will go the way of Pharrell and Reebok's ICECREAM footwear line from the mid '00s. Although the chunky, colorful, Nigo-designed footwear was endorsed by influential pros like Terry Kennedy and Jimmy Gorecki and accompanied by a memorable skate video, it was derided by the core skate community for being too commercial and too expensive. ICECREAM members have even stated that the first Board Flip model was extremely difficult to skate in. However, 15 years later, the ICECREAM Skate Team is held aloft as a standout piece of street culture from the aughts, its frosty initial reception all but forgotten and its shoes thirsted after by manchilds who couldn't afford them when they first released — like this writer.
Is Virgil's fledgling, Clarke-helmed skate team ICECREAM 2.0? Is it a real effort to bring skateboarding into a new world, or is it a mere cash grab? Is it just a toe-dip in the water of skateboarding that caused larger-than-anticipated ripples? Only time will tell, but it's a story we'll certainly be following.
And to Louis Vuitton, a question: can we get a pair of these for a wear test, or are they just for show?