Nyjah Huston and Nike SB Are Feeling Free
The world's best skateboarder talks about his new Nyjah Free 2, names his favorite Nike SBs and more.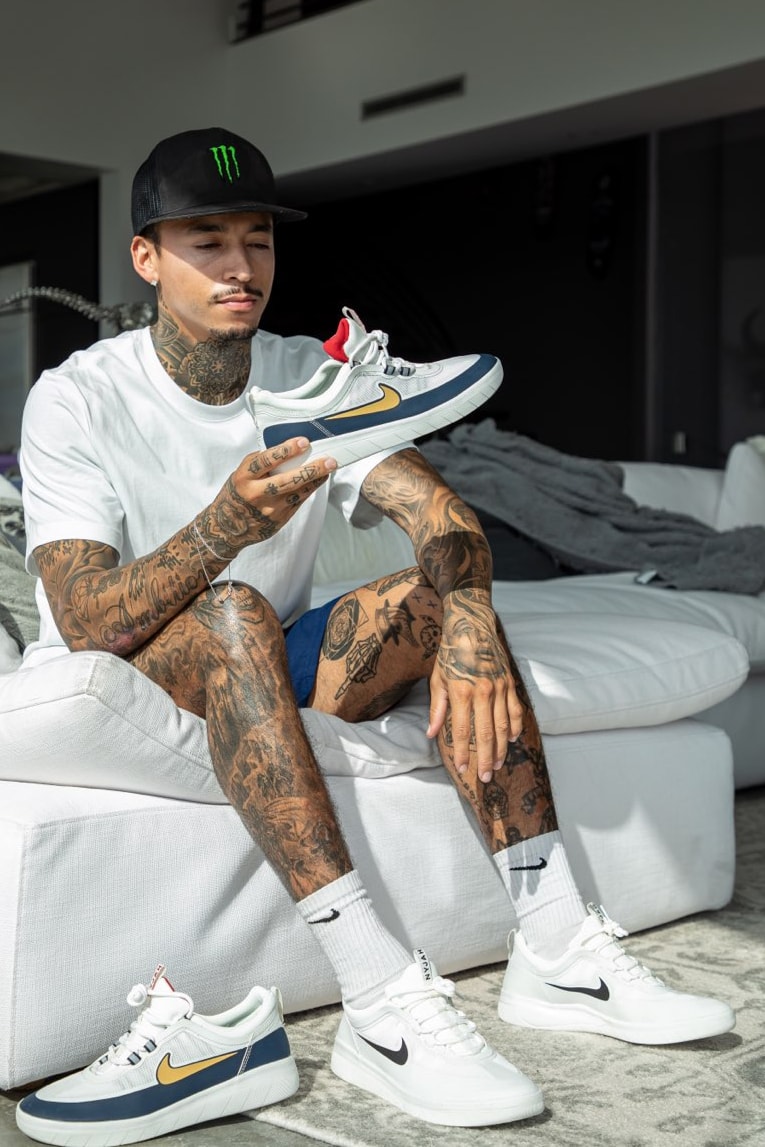 Nyjah Huston and Nike SB Are Feeling Free
The world's best skateboarder talks about his new Nyjah Free 2, names his favorite Nike SBs and more.
It's rare you reach the pinnacle of anything — much less a sport like skateboarding — at only 25 years of age, but Nyjah Huston has done just that. Widely regarded as the world's best skateboarder, Huston has eighteen X-Games medals (12 gold) and six World Skateboarding Championship titles (four first place) under his belt. He's also won more prize money than any skateboarder in history, and was a favorite to secure a gold medal for US Skateboarding at the 2020 Tokyo Olympic Games before the contest was paused due to the COVID-19 coronavirus.
However, even an Olympic-level disappointment can't stop Huston from pushing forward: his second signature silhouette with Nike SB, the Zoom Spiridon-inspired Nyyah Free 2 is rolling out over the course of this summer; he's set to appear in the upcoming Tony Hawk's Pro Skater reboot; and he's been staying busy through the pandemic, filming clips for an as-yet unspecified project. To get a look at the man behind the impossible tricks, incalculable tattoos and outstanding Long Beach home, HYPEBEAST chopped it up with Nyjah about his new signature sneaker and more ahead of its release on the Nike webstore this summer.
"That's something I told Nike in the first place — it's important to have something that looks good and people want to wear all the time, for any activity."
HYPEBEAST: Why the Zoom Spiridon inspiration on the Nyjah Free 2? 
Nyjah Huston: I wanted to take this second shoe into more of a sporty look and vibe than the [first Nyjah Free], that's where the Spiridon tied in. The main reason why we did that first colorway, the white, black and red, is that it really breaks up the shoes so you can see the different materials and panels being used. The first shoe is pretty simple as far as its build goes, but this one we've got all the mesh material and a bunch of things going on.
What performance feature does Nyjah Huston look for the most from his skate shoes?
I would say break-in time and comfort. I need the shoe to break in really fast and feel good on my board. Most [pro skaters] don't like the feel of new shoes, so we always want our shoes to be able to break in as fast as possible — but also last as long as possible, because kids out there obviously don't want to be buying shoes all the time. I personally want to be able to skate in my shoes for a long time because I like the way it feels when it's broken in.
Your signature line is no stranger to Nike Free soles, but I've always wondered: how does that translate to skateboarding, which is a vastly different set of movements than running? Does it aid with board feel, flexibility, etc?
Yes, yes, absolutely. The way that sole is designed, all the little patterns move in a certain way that makes the shoe really flexible out of the box. And obviously board feel for a skater is such a big thing. When I'm designing a shoe, I want its back to be really protective so we don't bruise our heels, which is one of the most common injuries in skating. And then the front half of the shoe I want on the thinner side, obviously still protected but with as much board feel as possible because you use the front part of your foot and your toes so much when you're flipping your board.
We're back to a rubber upper on the Nyjah Free 2. How does that suit your skating style as opposed to standard suede builds?
I've really become a fan of the rubber. It's crazy, when we were doing it on the [first Nyjah Free] I was a little skeptical about it. I ended up getting used to it pretty fast though, and I've grown to like it a lot more over the years I've been skating it. I heard good feedback from other people that skated this shoe as well. So I hope [everyone] will like it.
How important is it to have a signature shoe that performs well and looks good too? Do you aim to have a shoe people wear casually, or is performance always your main focus?
It's absolutely a mixture of everything. That's something I told Nike in the first place — it's important to have something that looks good and people want to wear all the time, for any activity. Obviously, I have mainly skate fans out there but I also have a lot of people who probably don't skate as much, so I want them to be hyped on the shoe as well.
How often do you swap out your skate footwear? Do you prefer the feel of a fresh pair or a more worn-in one?
It kind of depends on what I'm doing. If I'm skating some more low impact stuff, I might want my pairs to be more broken in. But if I'm skating something bigger I'd prefer a fresh pair — one that I only took hour or two to break in. But I do like skating in my shoes for a while- I normally skate in them until they at least start ripping a little bit and that's normally after a couple weeks. That's with some hard sessions though, so those things are lasting for a minute.
How has your life and daily routine been adjusted since the Olympic postponement? Are you taking some time off or continuing to train as usual?
I'm always training and on my board and staying healthy. In the past few months, I've been skating a bunch, actually, doing a lot of filming, putting out some video parts. Just trying to stay productive and make the most out of these weird times with everything being closed.
You're going to appear in your sixth Tony Hawk's Pro Skater this fall. Is that a different feeling from the first time? 
Yeah, definitely a different feeling from the first one. Honestly, I can't even really remember how I felt about it back then. I know I was super pumped. But it's sick that they're bringing it back. I feel like it's time, Tony Hawk games were gone for so long. It's still such an honor to be in there, you know? I mean obviously it was insane being in there when I was 11 or 12 years old [Huston first appeared in 2006's Tony Hawk's Project 8], but man, it's still so sick. And I look forward to playing the game. I don't play a lot of video games so I'm gonna probably have to touch up on my skills a little bit, but I'm stoked for it.
Lastly, we have some quick hitter questions for you: which recent SBs do you prefer?
Ben & Jerry's or 7-Eleven SB Dunk Lows?
Ben & Jerry's.
Reverse Skunk or Strawberry Cough SB Dunk Highs?
Reverse Skunk.
Strangelove or Travis Scott SB Dunk Lows?
Travis Scott.
Kevin & Hell SB Blazers or P-Rod SB Dunk Highs?
I'm gonna have to go with P-Rod because he's the man.
---