Phlemuns Makes Clothing for Introverted Extroverts
A Q&A with brand founder James Flemons.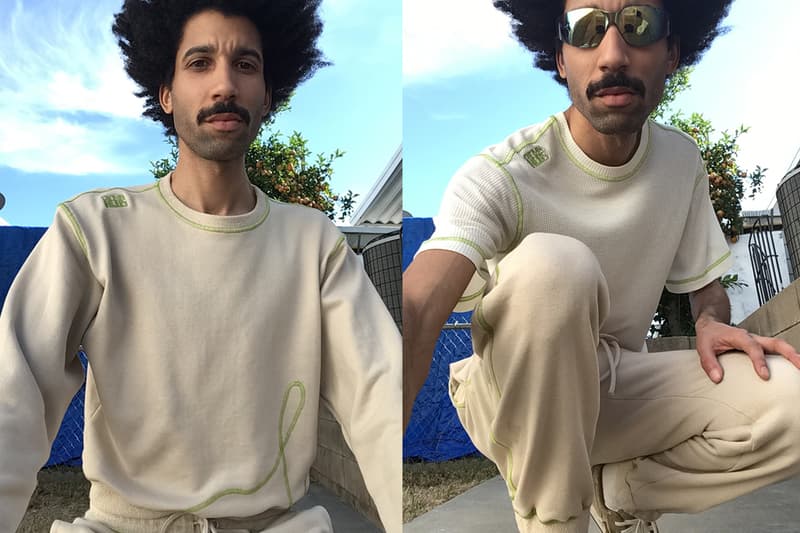 James Flemons is proving Los Angeles fashion can give New York a serious run for its money. Since the near-eponymous brand was founded in 2013, Phlemuns has blossomed both in the designer's hometown and online, finding a wide and global following eager for his collections. His ethically-produced and gender-inclusive clothing spans drawstring cinched cargos, backless waffle tees and cloud-printed summer-y sweatsuits (i.e., sweat shorts and sleeveless hoodies).
"I've always been an introverted extrovert," he says. "So I'm shy until I'm comfortable enough to have the big personality that I do. And that translates a lot into the way I dress as well. I don't like to be the most flashy person in the room, but I like to show some form of expression in the way that I dress."
His approachable but never predictable designs have struck a serious chord. He's landed an exclusive line at SSENSE with Phlemuns NonBasics and earned much coveted fans like Solange, Lil Nas X and Rico Nasty, among others.
HYPEBEAST spoke with Flemons about his origins as a designer, navigating fashion's unprecedented reckoning and his hopes for the future.
Can we begin with how you started as a creative and as a designer?
I think I was maybe 10. My parents saw that I excelled in drawing and art, and that kind of accumulated with having all these older sisters. Whatever your older siblings have on TV, you're watching — Fresh Prince of Bel-Air, music videos. And then one of my sisters got this Crayola fashion kit one year for Christmas. It ended up being me drawing outfits that I saw on TV and in the music videos that I really liked. My world just kind of expanded as I was working in retail at the age of I think 15.
My major [in college] was product development. I worked at Marc by Marc Jacobs for about a year and a half, maybe two years. I moved to New York in hopes of moving up in the company. I kind of got chewed up and spit out of New York and moved back home. That's when I started to immerse myself in sewing every day and Instagram was on the rise — this new platform in sharing with friends and with the world. Honestly, the more I think about it, I'd like to kind of coin myself as the first Instagram designer. (Laughs) It wasn't really a thing when I started. I took advantage of not really having much ability and not getting any jobs, not knowing Instagram was going to turn into what it is now.
"Following my gut and my intuition has never steered me wrong. It's kicked in high gear now lately more than ever."
Phlemuns is gender-inclusive, and it's been nice to see fashion opening up to that, but there is still some pushback. Why do some people still resist the idea that fashion doesn't need to be divided into men's and women's?
Peeling back the layers a bit, I think it really comes down to these kind of capitalist structures that we all live under that are manmade things that keep us on a leash and in these boxes — male-female, black-white, gay-straight, these non-gray areas. When I go deep in my brain, that's where it kind of comes back to, and just people are afraid of change.
Thinking back, I guess that's why I love the '70s so much. Black culture and fashion had such a high visibility and such a strong voice, but there were also no cookie-cutter labels on identity when it came to masculinity and femininity. Gap Band had, like, femme aesthetics to their Black cowboy font, or, you know, David Bowie, and later on with Prince. It's always been there. In some ways, it's maybe been demonized because it couldn't be controlled.
I saw your video on Instagram about microaggressions and the open letter that you wrote to fashion and media. I wanted to open the floor to speaking about that further?
Yeah, it's a double-edged sword. I'm so happy that these conversations are being had, but also on the other hand, I've been talking about this for years now in almost every interview I've had whether it's been included in the article or not. I've talked about the racial disparities and my experiences as a Black designer, and I've always thought it was important to speak on no matter how tired of it people were because whether you see it in your life or not, it doesn't go away in mine.
"It's always kind of felt like it was this tokenism. It was like only one POC designer at a time can get spotlighted."
Someone may make a passive comment and to them, it's nothing. They may never think about it again, but not only do I have to deal with it in that moment, but I have to relive the other experience that I have had in dealing with that same type of situation. And they're usually not big enough to like, make a stir about. Even in early interviews that I did, I would always be labeled as this "urban" brand. So many of these styles that I create are in-line with so many of my peers who are not Black. We can sit on a rack together. So why is my clothing specifically labeled urban, which to me is just kind of like a polite way of saying ghetto or Black. I've always wanted to be respected as a designer just as my peers, but recognize the fact that I am present as a Black designer.
Are you optimistic that fashion might become more open or accepting of the multi-dimensionality designers?
I mean, I'll be frank, after a while, all these lists of like Black designers — I'm being constantly tagged in them and my DMs being blown up by random people who have never commented or reached out to me before to be mentioned in their stories — it got to be a little overwhelming and annoying. And I was like, "Okay, so now, now we want to do this. When, you know, we should have been visible and praised this whole time." That's the way of the world right now, but I am happy to see that there is actually change happening, and not just conversation because it's just like, for so long, it's just been a conversation. I've been a part of so many conversations.
It's always kind of felt like it was this tokenism. It was like only one POC designer at a time can get spotlighted. Hood by Air had their moment, Luar had their moment, Telfar had their moment, Christopher John Rogers has this moment. It can never be more than one of us at a time shining or getting the praise. And I feel like maybe now we're at a time where we can all be seeing people for what they have to offer.
My whole take on this whole thing is cutting down on the hypocrisy and really looking at yourself and how you've contributed. And even within myself and seeing how I'm may potentially have played a role in that.
"How do I give back to those people who actually genuinely support me and aren't here just for a co-sign or to tokenize?"
There's also the more behind-the-scenes dimensions, like problematic hiring practices and abusive and unethical treatment of garment workers. It has to be about that as well.
Exactly, I have been such a strong advocate for being anti-fast fashion. These garment workers are people that I know and love and are friends of mine, people I consider family. I'm happy that these conversations are not just about what we see on the finished end but that ownership and recognition of how deep-rooted it goes.
There has been a lot of mystery within the world of fashion and garment making that has not really been talked about because it's not that much of a visible aspect of the industry. And I'm happy to be a part of those conversations. People don't know really what a [goes into] business like mine every day. It's not just sitting around drawing and buying fabric and having fun.
I love watching fashion documentaries, engulfing myself in the experience of others. But in so many of these documentaries, you see how ragged it runs. I mean, Alexander McQueen committed suicide. There's so much to keep up with, and in the age of Instagram where it's all so visible. I've been trying to be very transparent and vocal in helping the world, or my platform, see all that goes into the behind-the-scenes.
The mental health conversation is another important one to be having right now.
I really think there needs to be a shift. There's so much visibility and eyes on my business now. It's really hard. We're expected to run like we're Amazon, like a fast-fashion business. It's not easy to just keep up with the demand all of a sudden.
I was going through a really rough patch and having all of these quote-unquote "successes" that were seen on Instagram. In real life, day-to-day, I was losing my mind. But I would run into a friend or a fan on the street and they're just like, "Oh my gosh, congratulations, you're living your dreams!" And deep down inside. I'm like, "I have no money, I'm losing my mind, I'm hungry, I have no money so I can't pay rent. I don't know what to do," this, that and the other.
You can't treat every business and every label the same because the machines that run them are a lot different. I'm pretty sure people of color don't have as much funding and power behind their business as their white counterparts. And I think that that should also be recognized and a part of the conversation as well.
How are you thinking about moving forward as the company continues to grow?
I'm finally kind of at a place where I can like map things out and make intentional decisions to take the brand certain ways. SSENSE has been such a great wholesale partner in taking on my brand and actually having a conversation with me as an individual, as a creative and as a brand has been a huge change and development in my world. Then, just really becoming comfortable, having a core team finally and being able to grow with them.
My plans for the future are just very standing strong in my identity as a person and as a designer. I guess I didn't realize until recently how much I questioned that. I think I got to a point where I have the people on my side. I think the first time I saw that really was when I was on the Dazed 100 list in 2017. The highest I got to was number two which I wasn't expecting, and I finished at number nine which was really insane to me. I shifted things to like, how do I give back to those people who actually genuinely support me and aren't here just for a co-sign or to tokenize but actually truly genuinely support my wellbeing and what I do as a creative?
"I am happy to see that there is actually change happening, and not just conversation because it's just like, for so long, it's just been a conversation."
And, I haven't really opened up too much about this, but I'm really kind of shifting soon to OnlyFans. My platform will really be catered to only my fans and shift away from the dynamic that is provided by Instagram, seeing how I can actually monetize off of my presence in the world and not just be either stolen from on a platform like Instagram or being suppressed by the algorithm and the censorship that comes with that which I think has definitely put a hold on what it is to be creative; At the end of the day everyone really makes their content knowing that it's going to be placed on Instagram at some point.
That's where the future of my brand is really going at the moment. Following my gut and my intuition has never steered me wrong. It's kicked in high gear now lately more than ever, so I'm just rolling with it.