SUNNEI Is in a CGI World of Its Own
Discussing the label's do-what-you-want SS21 collection, SUNNEI Canvas.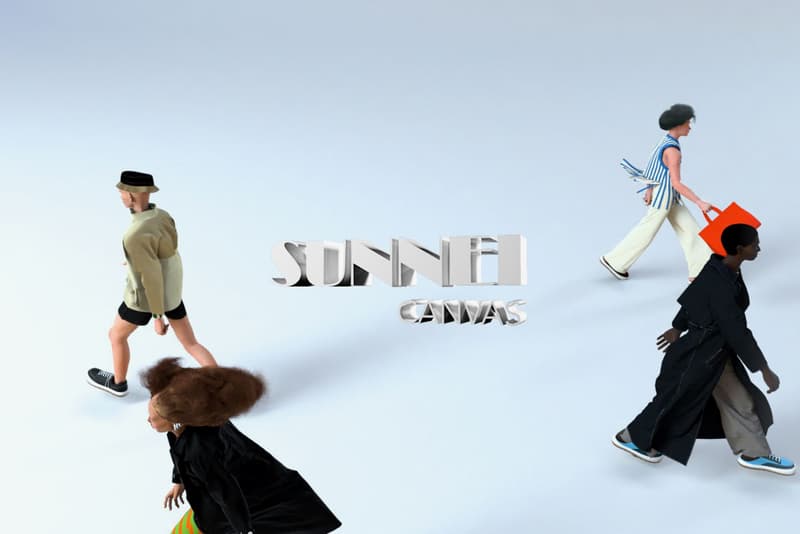 SUNNEI has presented the first round from its Spring/Summer 2021 collection, titled SUNNEI Canvas.
A year after Bianco Sunnei, Loris Messina, and Simone Rizzo brought SUNNEI into an even more contemporary atmosphere with its future-friendly but familiar FW19 show, the brand has taken the vision even further by using CGI to tell the story of its SS21 collection. Characters are seen wearing all of the latest SUNNEI pieces, many of which are a part of the SUNNEI Canvas experience.
Canvas is the brand's new VR platform which offers endless amounts of customizability to notable pieces from current and past SUNNEI collections. All of the pieces are served in white, acting as a canvas for creativity. A selection of 30 retailers will then be invited to digitally customize the shape, fit, and materials used in each piece.
HYPEBEAST spoke to SUNNEI's leading team about SS21, Canvas, and more.
How did the lockdown affect your creative process?

We approached the lockdown with the positive spirit that has always characterized us as individuals and SUNNEI as a brand. We immediately reacted to the situation on different levels: first of all we worked on a strategy that could prevent us from suspending all activities by adopting a system in which the whole team could continue its activities from home. Moreover, even if the store was closed we didn't want to lose the connection with SUNNEI's community especially in such a particular moment, therefore we continued everything digitally: on our website (both e-commerce and customer service have been constantly available) and on our social media especially thanks to a special project named "Artists Gathering". Finally, we took advantage of the situation to focus and develop a project that we already had in mind that is where SUNNEI Canvas has come from.

With that in mind, what was your starting point for this collection?

In this period we could slow down and focus on what is really important for us in order to re-start from there. This included rediscovering the connection with retailers that is something that historically was much more personal than it is right now. SUNNEI Canvas looks in this direction, giving a selection of stores worldwide the chance to customize a selection of the brand's signature pieces in total white. Features such as shapes, fits and fabrics can be modified digitally getting to a one-of-a-kind collection to each retailer. Furthermore, we have always seen the 3D and the gaming world as the future and a situation in which physical contact is impossible accelerated the process that we believed it was coming. For this reason we thought it was the right time to delve into this sphere by collaborating with Milan based studio PEZZO DI STUDIO for the making of male and female avatars with human-like features and a 100 percent SUNNEI aesthetic to enrich SUNNEI Canvas' platform.

How did you find presenting a collection without a physical show?

Presenting the new collection has never been direct synonym of traditional runways for us, we have rather intended it as a special opportunity to communicate SUNNEI's vision in creative ways. In the case of SUNNEI Canvas, we think that a show wouldn't be the right way to present this kind of project even in a situation where it could be possible. Differently from Canvas, the second part of the SS21 collection – that will be presented in September – will be focused on experimentation and art because it's conceived as the complementary side of this first section composed by SUNNEI's carry-overs, that is why we think that a more physical approach when presenting it will be needed.

Has the experience of the last few months made you feel differently about how you present your collections, and who will wear your clothes?

We think that this pandemic has shifted consumer priorities towards a "do more with less" attitude, and SUNNEI's no-trend philosophy goes exactly in this direction, we design pieces that are versatile being appropriate for disparate occasions of use.

Do you think the events of the last few months will change your brand going forward? If so, how?

This period confirmed our idea that the fashion system was following a scheme and a rhythm that was impossible to keep pace with. The current situation will surely help restore priorities that is something we have always given importance to in SUNNEI, giving relevance to quality, value and timelessness.
A second SUNNEI SS21 collection will be presented in September 2020. You can shop SUNNEI's SS20 collection online now, and you can catch the CGI presentation on SUNNEI's dedicated Milan Fashion Week page.
In other news, Balenciaga has unveiled its Speed 2.0 trainer.