Commemorative Nike Kobe 5 Protros Lead This Week's Best Footwear Drops
Alongside Union's new Jordan Brand capsule, Sean Wotherspoon's Earth-centric adidas Superstars and much more.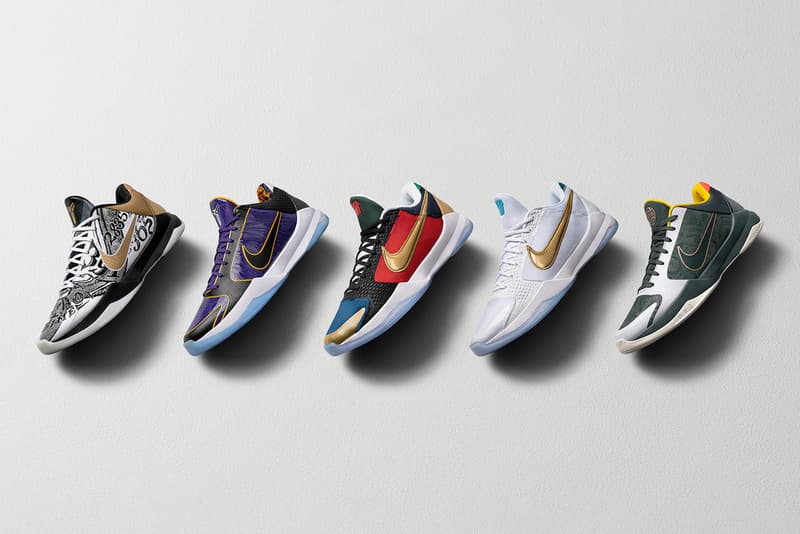 Happy Mamba Week, HYPEBEAST footwear community, and happy belated birthday, Kobe Bryant. What's normally an uneventful third week of August — except for National Dog Day — has become a celebration of one of the greatest players to ever grace the NBA hardwood, and this week's release lineup is full of special Kobe styles plus collabs from heavy-hitters like Union, Kanye West and Sean Wotherspoon. Before we dive into all the goodness, however, let's take a look back at last week's goings-on.
Of course, the official announcement of Mamba Week and its five special Nike Kobe 5 Protro colorways was front and center. Basketball shoes took the main stage between the Mamba's kicks and J.Cole's third and fourth PUMA RS-Dreamer releases in less than a month, but it's time to start thinking about boots as well — so HYPEBEAST rounded up a scintillating selection of the best leather boots for the days we can all go outside again.
With every passing week, 2020 looks more and more like the year of the Nike Dunk, and last week was no exception. On the Nike SB front, we were given our best look yet at the Dunk High "Strawberry Cough" and saw official images of the Air Jordan 1-inspired Dunk Low "Chicago," a scintillating "J-Pack" style. On the Nike Sportswear front, the ladies were front and center with the announcement of the chopped-up Dunk Low Disrupt and a leak of a clean white and yellow pair.
Rounding things off, adidas company man Kanye West (somewhat) surprisingly showed his love for Nike ISPA's Road Warrior during one of his Twitter binges. ISPA also revealed official images of its upcoming Tabi-toed Drifter. On the Jordan Brand front, the Air Jordan 5 "Black Grape" was the latest shoe to get golf-ified, and the quizzical Air Jordan Reign — a style that combines the Air Jordan 13 and Nike VaporMax 2020 — appeared in "Ash." Hikers had a moment too, thanks to Snow Peak and New Balance's weatherized "Niobium" capsule.
Caught up? Let's dive directly into this week's drops. See a hand-selected list of the dozen best styles below, and please note — as always — that release dates could be delayed due to the COVID-19 coronavirus. For even more releases, check out HYPEBEAST's Trading Post.
Nike Kobe 5 Protro "5x Champ"
Release Date: August 24
Release Price: $180
Where to Buy: Nike SNKRS and Foot Locker
Why You Should Cop: Nodding to Kobe's five NBA Championship rings with a Lakers-esque color scheme offset by black accents, the Nike Kobe 5 "5x Champ" is a simple-yet-effective salute to championship greatness. Although it's much more toned down than the "Big Stage" colorway — which released a day too early for inclusion on this list, though it's here in spirit — it's an equally heartfelt homage to the Mamba's legacy.
Ronnie Fieg x New Balance 1300 and RC_1300
Release Date: August 24
Release Price: $150 USD (RC_1300)/$180 USD (1300)
Where to Buy: KITH
Why You Should Cop: Ronnie Fieg loves New Balance's "Steel Blue" color palette. He loves it so much, in fact, that he's worked with NB on an entire capsule inspired by its subtle mix of grey and blue hues. The latest pieces of this extensive effort between long-standing collaborative partners? A RC_1300 with original colorblocking and a made in the USA OG 1300 with a flipped "Steel Blue" scheme. Each boasts extreme attention to detail, premium materials and a mauve outsole that provides an alternate nod to Fieg's first collaborative 1300.
UNDEFEATED x Nike Kobe 5 Protro "What If" Pack
Release Date: August 27
Release Price: TBC
Where to Buy: UNDEFEATED
Why You Should Cop: Basketball fans love a good hypothetical situation, and UNDEFEATED has cooked up two humdingers with its Kobe 5 Protro "What If" pack. One colorful style combines the hues of the 12 teams that passed Kobe up before he was selected 13th overall by the Charlotte Hornets. The other offers a more simple mix of gold and teal accents for a nod to what might have been had the Hornets not shipped Kobe to the Lakers for beloved chain-smoking center Vlade Divac.
Fear of God ESSENTIALS x Converse Skidgrip
Release Date: August 27
Release Price: $120 USD
Where to Buy: Converse
Why You Should Cop: Fear of God's ESSENTIALS sub-label may be best known for clean and simple … well, "essentials," but it's ramped up the vibrance substantially on its new Converse Skidgrip collaboration. A silhouette with a 110-year history, the Skidgrip boasts personal significance to FoG founder Jerry Lorenzo, who has fond memories of rocking a pair as a teenager in the '80s. This personal ethos translates into the colorful, high-cut makeup — a re-work of a classic style from the '80s made by California-based skate brand Jams.
Air Jordan 3 "Denim"
Release Date: August 27
Release Price: $200 USD
Where to Buy: Nike SNKRS and Foot Locker
Why You Should Cop: Bringing entirely new meaning to the phrase "Michael Jordan jeans," the Air Jordan 3 "Denim" combines a "Fire Red"-esque palette with premium elephant-printed denim accents. Unlike the katakana used on its exclusive CO.JP counterpart, this global release version opts to use an OG Nike Air hit under its translucent, Jumpman-equipped heel tab, making for a potent double dose of branded flair.
Jaden Smith x New Balance Vision Racer "White/Navy/Yellow"
Release Date: August 28
Release Price: $150 USD
Where to Buy: New Balance and Nice Kicks
Why You Should Cop: The second entanglement from Jaden Smith and New Balance, the Vision Racer "White/Navy/Yellow" discards the boisterous hues of the inaugural "Wavy Baby Blue" style for a more toned-down heritage blend of shades. However, it's not without plenty of the youngest Smith son's signature flair, thanks to a vegan, earth-friendly mix of materials and an extra-beefy midsole.
DIME x New Balance 860 V2
Release Date: August 28
Release Price: $165 USD
Where to Buy: END.
Why You Should Cop: Known for being equal parts cheeky and classy with its designs, DIME has linked with New Balance for two takes on the 860 V2. Although neither style is outwardly ironic, DIME fans will likely enjoy that the Montreal-based skate mavens opted to take on one of the most "dad"-esque shoes in the NB lineup — and make it look damn good too, with crisp white/silver and sporty navy/yellow colorways.
Sean Wotherspoon x adidas Superstar SUPEREARTH
Release Date: August 29
Release Price: $110 USD
Where to Buy: adidas
Why You Should Cop: Thought Sean Wotherspoon couldn't bear to leave corduroy behind? You thought wrong. For his first Superstar collaboration with adidas Originals, the Earth conscious, vegan-dieting, Round Two co-owning vintage vanguard has added colorful flower details with long, stringy threads meant to be tarnished to the classic sneaker — making for a style that will wear in differently from person to person. The build is true to Wotherspoon's vegan ethos as well: it's entirely free of animal-derived products, and even boast a recycled rubber sole.
Union x Air Jordan 4, Delta Mid and Zoom '92
Release Date: August 29
Release Price: $250 USD (Air Jordan 4, others TBC)
Where to Buy: Union
Why You Should Cop: A lot of West Coast heavy hitters have desirable collaborations dropping this week, but nothing's garnered more buzz than Union's Air Jordan 4s. Though they were divisive upon their inaugural reveal due to their chopped-down tongue, public opinion shifted in an enormously positive manner when Union founder Chris Gibbs revealed that the tongue was foldable — a nod to how he liked to wear his AJ4s as a youth. They're also constructed of retro basketball shoe materials like suedes and meshes for a nod to the '80s, and accompanied by similarly-styled takes on the new Delta Mid and the Zoom '92 that are sure to catch some residual hype as well. The 29th will see a Union-exclusive drop, and a full global release will follow shortly thereafter.
Nike Kobe 5 Protro "Girls EYBL"
Release Date: August 29
Release Price: $180
Where to Buy: Nike SNKRS
Why You Should Cop: Made for the top-flight youth league that provides summer competition for North America's finest young female hoopers, Nike's Kobe 5 Protro "Girls EYBL" is simultaneously sleek and scaly. This is due to its inspiration: Greek mythology's Medusa and her ability to turn her enemies to stone with a deadly glare, much like Kobe would freeze his helpless opponents on the NBA court.
adidas YEEZY 700 V3 "Arzareth"
Release Date: August 29
Release Price: $200 USD
Where to Buy: adidas, YEEZY Supply and END.
Why You Should Cop: Between "running" for president and going on a seemingly endless number of Twitter binges, Kanye West has been all over the place this summer. However, his signature adidas YEEZY line has been remarkably consistent. The latest product of that consistency? The YEEZY 700 V3 "Azareth." Cool in color and slim in build, the "Azereth" is a streamlined, BOOST-less step in a new direction for the 700 line. It's much cheaper than past models too, sliding in at $200 USD for men's pairs.
Civilist x Nike SB Dunk Low
Release Date: August 29
Release Price: TBC
Where to Buy: Civilist
Why You Should Cop: A stanchion of Berlin skateboarding, Civilist is nodding to the German capital city's work and play culture with its new SB Dunk Low collaboration. The simple black base represents the dull-yet-industrious nature of a Monday-Friday workweek, but the vibrant colorful details are a nod to Berlin's famed weekend raves, events that often bring a vastly different side out of office drones. In short, it's the "Get you a shoe that can do both" saying in physical form.