Best New Tracks: Aminé, James Blake & Flatbush Zombies, Bon Iver, Conway The Machine & More
This week's rundown focuses on the spirit of collaboration.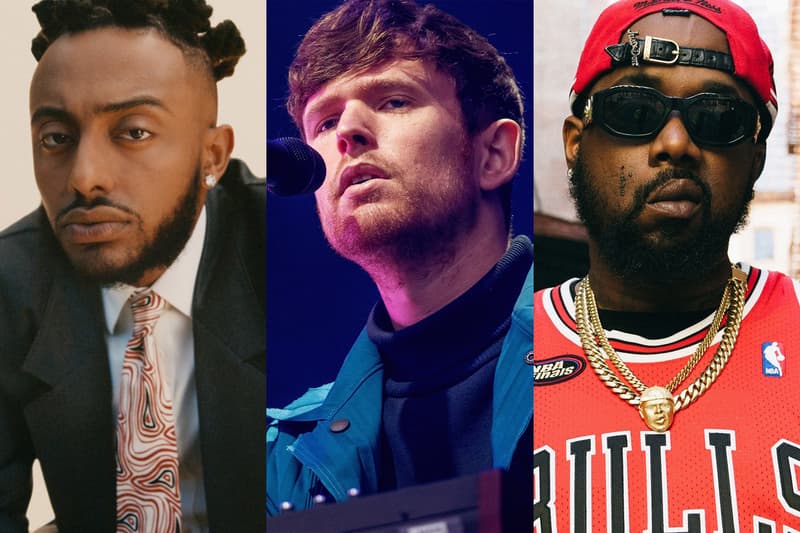 As the week in music comes to a close, HYPEBEAST has rounded up the 10 best projects for the latest installment of Best New Tracks.
This week's theme is focused on collaborative spirit. All of these selections are rooted in feature-heavy projects or unexpected teaming-ups that showcase these artists' versatility and need to experiment. Aminé's sophomore album Limbo finds the rapper reaching out to JID, Charlie Wilson, slowthai and Injury Reserve, the latter of which pays tribute in an emotional offering to the late Stepa J. Groggs who tragically passed away earlier this year. Flatbush Zombies surprised with "Afterlife" featuring James Blake, including a music video that utilized technology to make it look like the group was captured in a moving x-ray machine. Conway The Machine blended the Griselda and Wu-Tang universes in a multi-generational effort with Method Mad. Simply put, the man still has it. Other updates include Bon Iver reaching out to Bruce Springsteen, Black Noi$e's addicting blend of hip-hop and electronic music for "Mutha Magick" featuring the ever-underrated BbyMutha and Freddie Gibbs expertly bringing his technical wizardry to a Machinedrum beat.
Tap in for the full rundown of HYPEBEAST's latest Best New Tracks below.
---
Aminé – Limbo
It's been three years since Aminé dropped off his debut album Good for You. On Limbo, the rapper showcases his knack for melodies, unique energy and infectious hooks. He dedicates tracks to both Kobe Bryant and friend/Injury Reserve member Stepa J. Groggs. He and co-executive producer Pasqué hit their stride and the curated collaborations from JID, Charlie Wilson, Young Thug on "Compensating", slowthai and Vince Staples on "Pressure In My Palms" and Summer Walker on "Easy" advance the album while remaining cohesive. This is an album that will stick with you for months for its vibrance and emotionality and it's damn near one of the catchiest offerings of 2020.
Listen: Spotify | Apple Music
---
Flatbush Zombies & James Blake – "Afterlife"
Flatbush Zombies have kept busy throughout the year. Their now, more than ever EP dedicated all proceeds to charities supporting social justice. On "Afterlife", the trio continue their obsession with what happens in the next life with Erick the Architect's production growing even more ambitious. James Blake adds his signature sonic touches and vocals echoing in the background. The music video is the true standout though as director Arnaud Bresson used special techniques so that it would appear the entire film was shot through X-ray.
Listen: Spotify | Apple Music
---
Conway The Machine – "Lemon" feat. Method Man
Conway The Machine and Method Man, together on a track in 2020. Not more really needs to be said outside of hey, go listen to it. The Griselda rapper taps in-house producer Daringer for an instrumental that blends eras — "Lemon" is as fitting for Conway's upcoming From King to a GOD album (out September 11) as it would be for one of Method Man's earlier outputs. The album single artwork even pays tribute to the killa bees. Griselda is a rap crew that knows their history and it shows.
Listen: Spotify | Apple Music
---
Cardi B & Megan Thee Stallion – "WAP"
Cardi B tapped Megan Thee Stallion for one of the most head-turning singles and music videos of the year. It's as close to NSFW as a visual can explicitly come to these days. "WAP" (which stands for "Wet A*s P*ssy") is Cardi's first release as the main artist since early last year and she doesn't disappoint. The release is also a statement of solidarity for Meg as she recovers from the traumatic experience of being shot multiple times earlier this summer. It's going to be interesting to see how the made-for-radio version gets creative with censorship for this one. There's a Kyle Jenner special appearance too, because why not?
Listen: Spotify | Apple Music
---
Bon Iver – "AUATC (Ate Up All Their Cake)"
After premiering a new collaboration with Taylor Swift titled "exile", Bon Iver returned earlier this week with "AUATC" featuring a handful of notable collaborators — the main one being Bruce Springsteen who offered the faintest of background vocals on the track. "Ate Up All Their Cake" is the direct follow-up to "PDLIF" or ""Please Don't Live in Fear" and comes with the message of combatting the evils of capitalism and systemic racism while giving women empowerment.
Listen: Spotify | Apple Music
---
DaBaby – Blame It on Baby (Deluxe)
Deluxe versions of major hip-hop albums have been completely out-of-hand this year with artists like Lil Uzi Vert, Lil Baby, Gunna and Pop Smoke basically releasing another album's worth of music. It's a way to combat the modern day perils of streaming services' algorithms. DaBaby's Blame It on Baby (Deluxe) added 10 new songs with his braggadocious bars pairing well with additions like Young Thug, Stunna 4 Vegas and of course the current feature king: Gunna. Baby is on an incredible streak over the past two years with no signs of letting up.
Listen: Spotify | Apple Music
---
A$AP Nast & D33J – "Designer Boi"
For the past few months, A$AP Nast has kept busy blasting Tyler, The Creator for jacking his similar sartorial choices. But somewhere lingering in the background was a collaboration with Wedidit collective DJ and producer D33J. "Designer Boi"'s visual treatment finds the rapper putting together a playful photoshoot for "Designer Boi LLC." The beat features subtle acoustic strings and a chorus of repetitive, "what you want?" that's sure to be stuck in your head.
Listen: Spotify | Apple Music
---
Machinedrum & Freddie Gibbs – "Kane Train"
Another unexpected collaboration this week: Freddie Gibbs and Machinedrum's new song "Kane Train" from the producer's upcoming A View of U out October 9 via Ninja Tune. Machinedrum's production is triumphant and horn-heavy while Gibbs continues to showcase that there isn't a beat out there that he can't elevate through his furiously-delivered bars. It's safe to say that his motivation to be one of the best rappers of his generation isn't going anywhere. "Kane Train" is one of his best features of 2020, and if you've been paying attention, that's saying a lot.
Listen: Spotify | Apple Music
---
Liv.e – Couldn't Wait to Tell You…
22-year-old singer-songwriter and producer Liv.e dropped off her stellar Couldn't Wait to Tell You… to near universal acclaim from those that listened. If you haven't yet, you absolutely need to. The Los Angeles-based, Dallas-born artist has been steadily releasing singles that serve as hypnotizing vignettes into her psyche full of dusty loops and smooth vocals. Liv.e's effortlessly infused her music with the occasional chopped and screwed influences and plenty of nostalgic R&B like on "SirLadyMakemFall" where she rocks gold grills and performs through the grain of a vintage VHS camera. The near hour-long journey serve as diary entries from someone still searching while balancing her ability to be in the moment.
Listen: Spotify | Apple Music
---
Black Noi$e – "Mutha Magick"
Detroit producer Black Noi$e is the first artist to sign to his friend Earl Sweatshirt's Tan Cressida imprint. His upcoming album Oblivion releases August 14 and after dropping his collaboration with Liv.e, "The Band," he returns with "Mutha Magick" featuring Chattanooga, Tennessee rapper BbyMutha. The music video is a jarringly psychedelic display that's as fun to watch as the song is to listen to. The song lives somewhere in an alternate universe lodged between Crash Bandicoot soundtracks and Detroit's 1980s techno scene. BbyMutha continues to prove that there isn't an instrumental out there that she can't cater to her flow to
Listen: Spotify | Apple Music