Megan Thee Stallion Reveals She's Recovering from Recent Gunshot Wounds (UPDATE)
"I hate that it took this experience for me to learn how to protect my energy."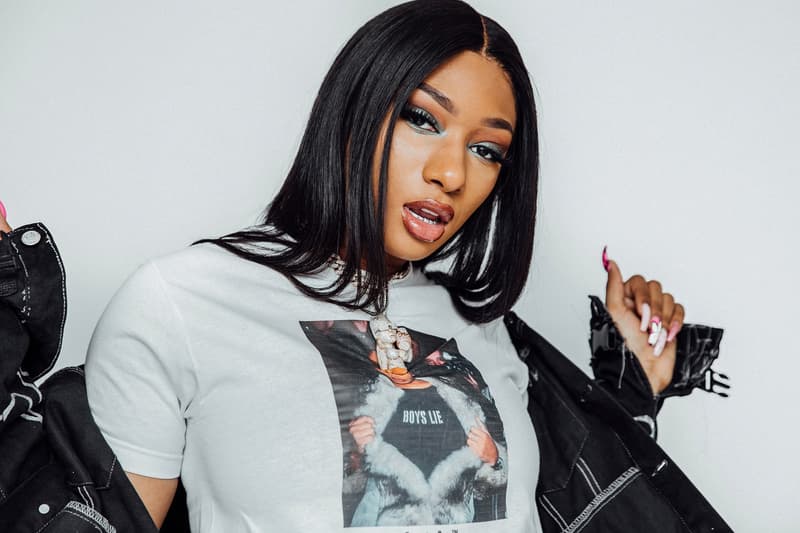 UPDATE (July 27, 2020): Megan Thee Stallion has broken her silence in regards to her recent shooting incident, taking to Instagram Live to reveal that she was shot in both feet in an intentional attack and that there were multiple bullets that needed to be removed during an emergency surgery. The shooting occurred in the early morning of Sunday, July 12 and saw Tory Lanez arrested for carrying a concealed weapon. Megan has yet to name the shooter.
During the video, Megan shed tears about just how scary the incident was and addressed all of the discussion that's taken place on social media with some painting her as the aggressor and other's making jokes at her expense. "It's nothing to joke about. It was nothing for y'all to start going and making up fake stories about," Megan said. "I ain't put my hands on nobody. I didn't deserve to get shot. I didn't do sh*t. And thank God that the bullets didn't touch bones or break tendons… where the bullets hit at, they missed everything but the motherf*ckers were in there."
"It's not that I was protecting anybody, I just wasn't ready to speak," she said of her two-week silence. "That's not no sh*t that you just immediately get on the internet and start talking about. And that's a lot of y'all's motherf*ckin' problem — you take y'all whole life to Instagram and Twitter and make it a f*cking diary and that's not me. So f*ck y'all blogs with your fake a** sources and your fake *ss friends. But on a positive note, taking some time to myself has made me realize how to move forward."
"Imagine being 25 and you don't have both of your parents. My momma was my best friend and I'm still not really over that," Megan said, getting emotional. "So you kind of try to fill your space with a bunch of people that you think are making you happy. I thought I was ready to give good energy to other people and other people wasn't ready to give good energy to me."
Megan detailed that she's taking the shooting as an opportunity to protect her energy and reassess who she opens herself up to. While she's still in the healing process, she assured fans that she's ready to get back to her regularly-scheduled programming and more "Hot Girl sh*t." At the end of last month, she sampled Eazy-E in her new single "Girls in the Hood." She also created one of the biggest hits of Summer 2020 by teaming up with Beyoncé for "Savage" Remix, hitting No. 1 on the Billboard Hot 100. She debuted her new "Sensitive Gangsta" persona on March's SUGA project, released during a major legal battle against her former record label.
Stay tuned for more updates.
---
ORIGINAL STORY (July 15, 2020): Megan Thee Stallion took to Instagram to reveal that she was rushed to a local Los Angeles hospital to have surgery to remove bullets from gunshot wounds she sustained in the early morning on Sunday, July 12. Her statement comes after reports circulated that she was at the scene when Tory Lanez was arrested for carrying a concealed weapon in a vehicle per TMZ. Earlier updates stated that it was initially thought that Megan's foot was cut by broken glass.
"I was never arrested. This whole experience was an eye opener and a blessing in disguise. I hate that it took this experience for me to learn how to protect my energy," Megan wrote in the post's caption.
"The narrative that is being reported about Sunday morning's events are inaccurate and I'd like to set the record straight," she continued. "On Sunday morning, I suffered gunshot wounds, as a result of a crime that was committed against me and done with the intention to physically harm me. I was never arrested, the police officers drove me to the hospital where I underwent surgery to remove the bullets."
Police received a disturbance call outside of a Hollywood Hills home at 4:30AM on Sunday, July 12. Witnesses told authorities that after an argument erupted between people inside of an SUV, shots were fired and the vehicle drove off. Once police obtained a description of the vehicle, they found Megan and Tory inside with another unnamed woman. Four shell casings were located outside of the home where the altercation occurred.
"I'm incredibly grateful to be alive and that I'm expected to make a full recovery, but it was important for me to clarify the details about this traumatic night," Megan stated. "I'm currently focused on my recovery, so I can return back to my life and back to making music as soon as possible."
Lanez has since been released on $35000 USD bond and is set to appear in court on October 13 facing felony gun charges. He has yet to make a statement about his arrest or the circumstances surrounding it. Stay tuned for more updates.