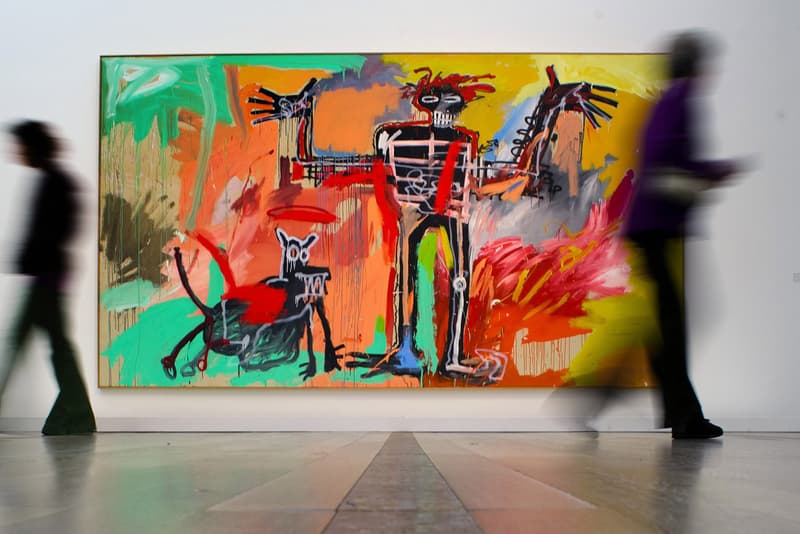 Jean-Michel Basquiat's Monumental $100 Million USD Painting to Go on Display
After Chicago billionaire Kenneth C. Griffin purchased it last month.
---
Back in June, Citadel founder and Chicago philanthropist Kenneth C. Griffin purchased Jean-Michel Basquiat's massive Boy and Dog in Johnnnypump for over $100 million USD. "The vast majority of Ken's art collection is on display at museums for the public to enjoy," Citadel spokesman Zia Ahmed said after the sale. "He intends to share this piece as well." This Thursday, the work will hang on the wall in the Modern Wing of the Art Institute of Chicago, where it will be on view to the public when the museum reopens.
"This is from 1982, so really at the height of his career," said Hendrik Folkerts, the museum's Dittmer Curator of Modern and Contemporary Art. "That's why we're so extremely thrilled to be able to reopen with this." Measuring 14 feet wide and 8 feet high, the work depicts one of Basquiat's almost skeletal Black male figures playing with a dog in the spray of an open fire hydrant, or "johnnypump." "He wants to paint these figures, both dog and boy, from the inside out," Folkerts explained, while the surrounding splashes of color evoke a "blazing hot summer landscape."
Boy and Dog in Johnnnypump will become the museum's only work on display by Basquiat. This new addition showcases the resonance of his works and his influence on a new generation of artists. "If I talk to young artists here in Chicago at the School (of the Art Institute) or anywhere else, Basquiat is an inspiration," Folkerts added. "Basquiat is there for them." Griffin is a leading donor to cultural institutions, especially in Chicago and New York, and has loaned other significant works, like Jackson Pollock's Number 17A and Willem de Kooning's Interchanged.
The Art Institute of Chicago is opening on July 30 and offering a week of free admission for Illinois residents.
For more news from the Art Institute of Chicago, an unseen drawing by Pablo Picasso was discovered beneath one of the late artist's paintings called Still Life.