We Don't Need a New Kanye West Album Right Now
Op-ed: Kanye's public mania deserves compassion, but his diagnosis doesn't absolve him of criticism.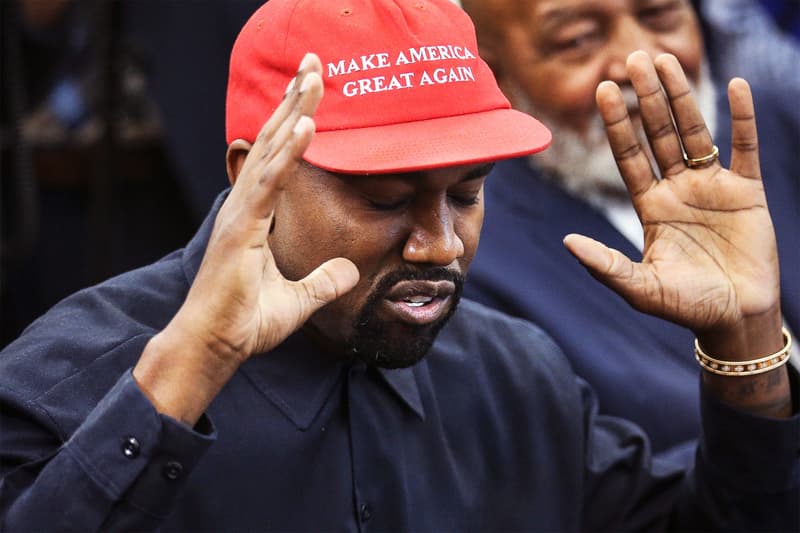 Kanye West doesn't want you to think he suffers from bipolar disorder. He thrives because of it. It's his self-proclaimed superpower. It's used in a candid statement scrawled on an album cover and worn as a badge of honor. But that depiction, while powerful and optimistic, is only a half-truth. There are plenty of things to lambast Kanye West for, but his mental health issues shouldn't be among them. It's not a marketing ploy for his next album. It's not a platform to legitimize his presidential candidacy. It's a cause for alarm and a cry for help.
We don't need a new album from Kanye West right now. We also don't need to follow his ongoing manic episode destabilizing through our social media feeds. But it's there. Sure, that "Shia Is Cap" tweet is an instant classic in the lexicon of great Kanye tweets, but there's also the dark side to his sporadic tweets. His confrontational, paranoid statements aimed at mother-in-law Kris Jenner and wife Kim Kardashian West after they attempted to intervene were widely ridiculed but they were still retweeted hundreds of thousands of times before he deleted them. Hopefully somewhere down the line, Kanye can laugh with his family about the eldest Jenner's "Kris Jong-Un" nickname. The issue here is that we're all watching the crisis from afar through the cognitive dissonance of a computer screen, the infinite scrolling of a Twitter timeline and through headlines (including ones on this website).
Fans and critics alike often dismiss these "ramping ups" as Kanye being Kanye, but this latest episode was different. The severity prompted Kim to open up about her husband's mental illness in a way that she hasn't before. "We as a society talk about giving grace to the issue of mental health as a whole, however we should also give grace to the individuals who are living with it in times when they need it the most," she wrote in a statement for her 182 million Instagram followers.
If you've been watching Kanye West in 2020, then you've seen him struggle. Kanye announced his 2020 presidential campaign under the newly formed Birthday Party. He's pivoted from being a fervent supporter of Donald Trump to criticizing the current president in an acappella freestyle over the phone with Forbes after the publication confirmed his billionaire status. Kanye announced a 10-year partnership with Gap for an extended YEEZY line. Somewhere in Wyoming, he's developing prototypes of his YZY shelters, sustainable houses for the homeless meant to transform America's architectural approach and income inequality. On top of all of those ongoing projects, Kanye promised a brand new album — his second straight nonsecular release, initially called God's Country but currently named after his late mother, DONDA.
With someone as supremely talented as Kanye West, it's hard to see where the ambition ends and the mania begins. He can declare himself a genius and present a long list of accomplishments in multiple fields to back those claims up. His lifelong fans will readily do that, too.
Both fans of Kanye and those in the media are often quick to lend their understanding to displays of depression and anxiety in the public sphere. Celebrities are applauded for their openness about these struggles, and they should be. In these spaces, mental health days are often an accepted and encouraged part of a progressive work environment to combat stress. But the next tier of serious mental illnesses like bipolar disorder are often met with ignorance and prejudice. How many times has Kanye been labeled crazy?
Millennials and Generation Zers are often lauded for their acceptance and open-mindedness. But many have neither the mental health vocabulary to properly address what Kanye is going through nor the empathy to step back from the spectacle and humanize his struggle. The terms manic and bipolar are often substituted for crazy, psycho or even conflated with schizophrenia, all of which stigmatize those illnesses. Studies point to an overall lack of access to mental health resources as the main root of the current multi-generational mental health crisis in the United States.
There are sustained moments when bipolar's manic qualities elevate one's energy to addicting levels. Racing thoughts usher in new ideas and every moment of faux-enlightenment only furthers one's delusions of grandeur. Synapses spark in the brain at such a rapid-fire pace that these periods of prolonged excitement — deemed as inspiration by the person in the throes of mania — dissolve when they can't calm down. To much of the outside world, people diagnosed with bipolar who display manic symptoms talk at a speed too rapid to be coherent, and invoke topics that are seemingly disconnected and nonsensical. Kanye described the feeling in David Letterman's 2019 Netflix series My Next Guest Needs No Introduction. "I feel a heightened connection with the universe when I'm ramping up."
Kanye's decision to refuse medication is a poor one. Losing control during mania is a near-certainty when the disorder is not combatted through some combination of mood stabilizers, anticonvulsants and antipsychotics, the latter of which already come with a strong stigma attached. What's disconcerting is watching his crisis play out in real time and seeing the way it defines bipolar disorder in the collective consciousness.
Kanye revealing his psychiatric hold at UCLA's medical center back in 2016 served as the first introduction for many to the illness, even though a reported 2.5 percent of United States residents are actively living with bipolar disorder. Kanye doesn't owe the mental health community his advocacy nor does he have the privilege to work through mania and depression in private because of his celebrity. Every erratic tweet and carelessly uniformed off-the-cuff statement during a presidential rally hurts those attempting to open up about their own internal battle.
His diagnosis doesn't absolve him of criticism either. It is possible to show Kanye West grace during his open struggle with his mental health, while also not cutting him slack for his troubling and contradictory beliefs. Kanye's rhetoric regarding race and politics is far too wide-ranging to attribute solely to his bipolar disorder.
These quotes are often ignorant and uninformed. His anti-abortion and anti-vaccination stances are reprehensible and lack proper tact and thoughtfulness. For someone who is such a renowned collaborator and spirited curator, his inability to listen to experts outside of his artistic endeavors speaks to his isolation and the company he currently keeps in his inner-circle. Is there nobody close to Kanye able to question his personal philosophy, political leanings or approach to mental health before he goes public and reaps untold damage to his legacy and those who have actually dedicated their life's work in these fields?
It's hard to imagine how Kanye West went from announcing, "George Bush doesn't care about Black people," during a 2005 Hurricane Katrina relief benefit to being one of Donald Trump's biggest public advocates a decade later. "I just love Trump. That's my boy," West revealed during a 2018 TMZ Live segment. "So many rappers [used to] love Trump, but then he get into office, and now they don't love him. Trump is one of rap's favorite people."
Donald Trump is not one of rap's favorite people. He's rightfully criticized for policies that disproportionately harm the Black community and has openly advocated racist ideologies for decades. In all likelihood, Trump has since dethroned Ronald Reagan as hip-hop's go-to political figure to ridicule, upending decades of Reagan lyrical references in the past four years alone. Some of the current President's greatest hits include spearheading the movement demanding for the first Black President's birth certificate in an effort to question Barack Obama's status as an American citizen; his "both sides" remarks following the violence in Charlottesville, Virginia legitimized white supremacists; He and his father were sued by the Department of Justice in 1973 for refusing to rent out apartments to African Americans. He called to bring back the death penalty for the Central Park Five in full-page ads throughout New York City newspapers and refuses to apologize even after the five Black and Hispanic teens were exonerated decades later.
West attributed his bond with Trump to their shared "dragon energy." That same TMZ Live visit resulted in Kanye reducing slavery to being a choice. "When you hear about slavery for 400 years — for 400 years? That sounds like a choice. Like, you were there for 400 years and it's all you are?" After plenty of pushback, West recanted and amended his thoughts in a separate statement to say, "we were mentally enslaved." He echoed a similar mindset during his South Carolina presidential campaign rally earlier in July where he proclaimed, "Harriet Tubman never actually freed the slaves, she just had the slaves go work for other white people." Kanye won't appear on the state's ballot after missing multiple deadlines.
Kanye openly recognizes that his support of Trump is contrarian. "That is a form of racism and white supremacy and white control to say that all Black people need to be Democrat and to assume that me running is me splitting the vote," he told Forbes. Democratic presidential nominee Joe Biden essentially confirmed Kanye's accusations.
Kanye then turned around and donated $2 million USD to various Black Lives Matter causes, paying for George Floyd's daughter's college tuition and marching with protesters in his hometown of Chicago, Illinois. While oftentimes antithetical, his intent has always been pure and almost childishly optimistic. Kanye wants his music to heal. He wants his YZY shelters to solve the problem of homelessness. He wants his YEEZY footwear line to bring sustainable manufacturing to the United States and create jobs. But he wants to do these things through a vision that is solely his while also not taking the proper precautions to heal himself first.
Outside of the context of his bipolar disorder, it's easy to copy and paste pull-quotes and call West and his aspirations crazy, but doing so doesn't provide the full picture. To understand Kanye the artist, you have to understand Kanye the person and the medical diagnosis that he struggles with.
During a particular segment of his South Carolina rally, Kanye's pain resonated throughout the building. "My dad wanted to abort me. My mom saved my life… " West yelled through tears. "I almost killed my daughter … She stood up, and she protected that child." He then brainstormed on how to give parents $1 million USD to support their newborns. These traumas need to be worked out through the privacy of therapy with a mental health professional, but as is often the case with mania, his "ramping up" won't allow him to consider that in the moment.
Kanye is still processing the pain from the untimely loss of his mother who died in 2007 from complications due to her cosmetic surgery. Her death has long-since informed his stance on the importance of family and even the abortion policy, but fails to recognize anyone's struggles outside of his own. He went from crate-digging obscure soul samples to relentlessly researching James Turrell installations and George Condo's contemporary art. Kanye's openness at a time when hip-hop's toxic masculinity went unchecked and even his courage to open up about his self-esteem were some of the main reasons why his music was so beloved and has been so influential for nearly two decades. It's unfortunate that Kanye doesn't research social justice issues and political policies in that same way.
But while much of Kanye West's life has been made public through his ambitions, successes and even failures, his ongoing battle with the peaks of mania and the lows of depression shouldn't be celebrated as a spectacle or shamed as an inferiority. We don't need a new Kanye West album right now. Instead, we need to hope that Kanye seeks the proper guidance through professional help. He doesn't owe the world another great work but his illness is getting in the way of allowing him to do so. Back in 2016 Kanye tweeted, "I cannot be on meds and make Watch the Throne or Dark Fantasy level music." He owes it to himself to try.