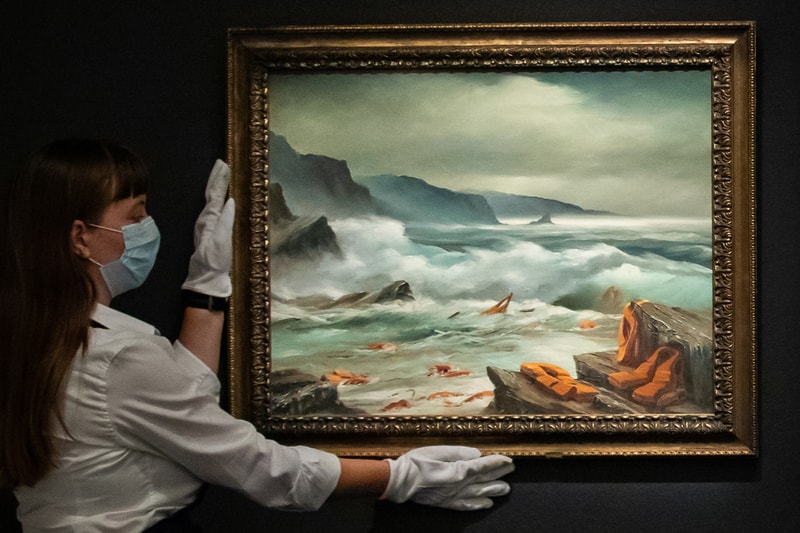 1 of 3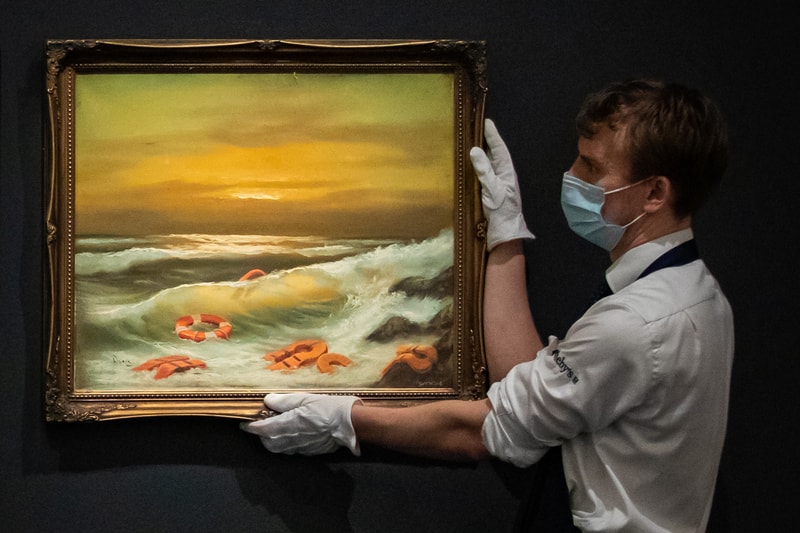 2 of 3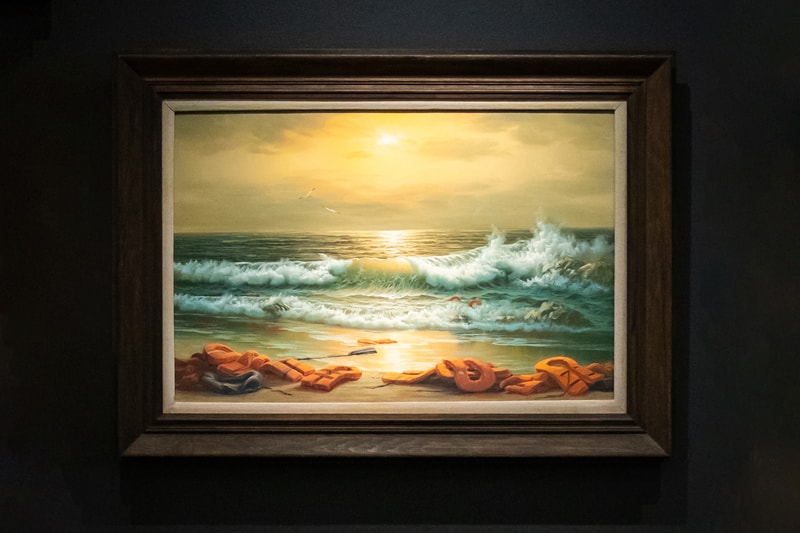 3 of 3
Banksy's 'Mediterranean Sea View' Triptych Fetches Over $2 Million USD at Auction
All proceeds will go to the BASR hospital in Bethlehem.
---
Sotheby's London recently auctioned off a 2017 triptych by Banksy called Mediterranean Sea View. The three paintings sold for £2.2m GBP (roughly $2.8 million USD) after a bidding war between two anonymous buyers. The final sale is nearly double its original pre-sale estimate of £1.2m GBP (approximately $1.5 million USD) — marking the second-highest price ever for a work by the elusive British artist. All proceeds will go to purchase new rehabilitation equipment for children at the BASR hospital in Bethlehem and to create a new acute stroke unit at the facility.
The paintings were initially created for Banksy's Walled Off Hotel in Bethlehem. They were hung in the lobby of the hotel since 2017. The works consist of three oil on canvas works portraying 19th century-style seascapes alongside abandoned lifejackets and buoys to shed light on the unfortunate deaths of thousands of refugees who have attempted to cross the Mediterranean Sea amid the global migrant crisis.
:This work juxtaposes an historic fine art genre with grim contemporaneity," described Sotheby's in a statement. "Though posing as eighteenth or nineteenth-century paintings of the 'Natural Sublime', the present work undermines and subverts the viewer's expectations to broach a difficult contemporary issue."
The Sotheby's sale also featured works by Rembrandt, Picasso, and Bridget Riley. Rembrandt's self-portrait from 1632 sold for £14.5m GBP (approximately $19 million USD). In total, 70 lots were offered at the live-streamed auction.
In other art stories, David Zwirner just launched an online viewing room featuring new paintings by Kerry James Marshall that address Black erasure in art.