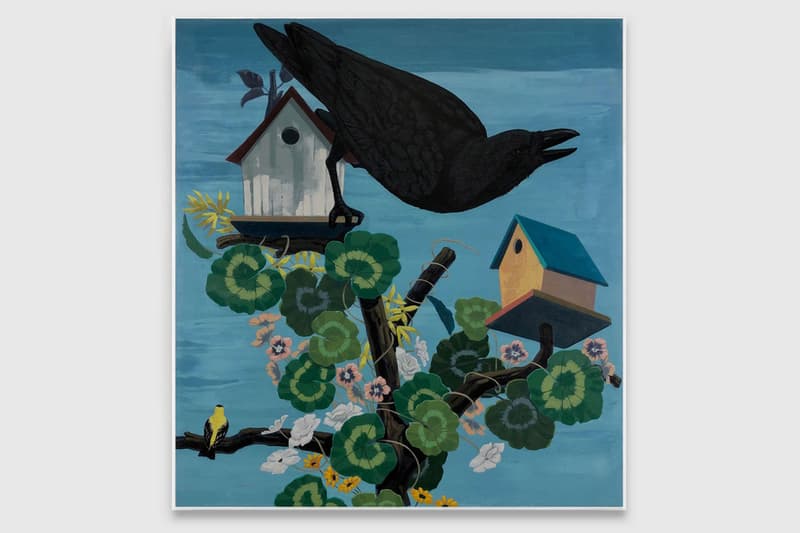 1 of 2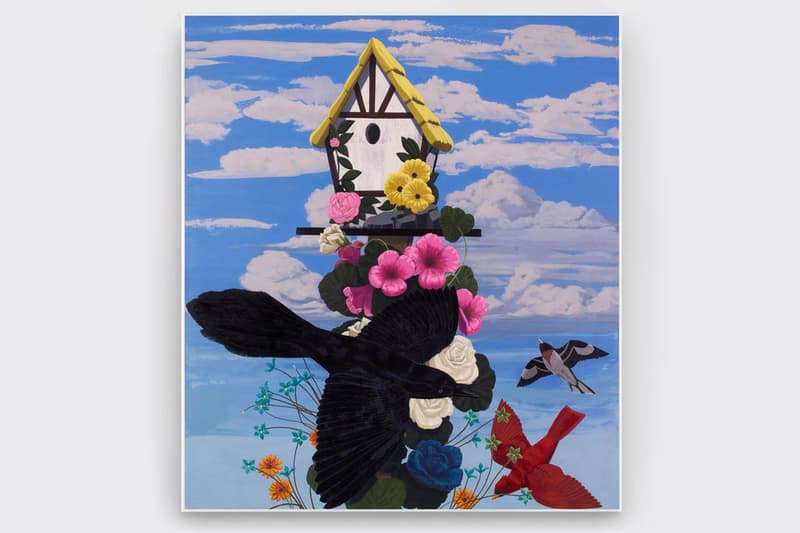 2 of 2
Kerry James Marshall's New Paintings Expose Black Erasure in Art
"For people of color, securing a place in the modern story of art is fraught with confusion and contradictions about what and who they should be."
---
Kerry James Marshall recently unveiled two new paintings as part of an online viewing room hosted by David Zwirner. The works, Black and part Black and Birds in America, are the artist's interpretations of the 17th century painter John James Audubon's iconic Birds of America series of 435 watercolors that illustrate wildlife. Marshall's images touch on Audubon's racial heritage and how the artist navigated his artistic journey through an "assimilated persona." Moreover, the artist sheds light on nuances of American racial politics that occurred in both Audubon's time when slavery was legal and how they're analogous with today's canon of Black art.
"Audubon made his reputation as an artist in his assimilated persona: he befriended the presidents James Harrison and Andrew Jackson in order to advance his ornithological efforts, and his work later inspired Theodore Roosevelt's conservation initiatives," said David Zwirner in a statement. "However, it was David Driskell's landmark 1976 traveling exhibition, 'Two Centuries of Black Art in America,' that proposed he claim a place within the canon of Black art."
Throughout his practice, Marshall addresses the longstanding erasure of Black scholarship in the art historical canon. "For people of color, securing a place in the modern story of art is fraught with confusion and contradictions about what and who they should be—black artists, or artists who happen to be black. A modernist has always looked like a white man, in one way or another. Universality has, unquestionably, been his gift to bestow on others," said Marshall.
In 2018, a painting by Kerry James Marshall sold at auction for $21 million USD making it the most expensive work ever created by a living African American artist. At that same Sotheby's sale, several record-breaking purchases of works by Black artists were made. Despite their high values, prices of works by Black artists at auction are a far cry from the numbers fetched by their white male counterparts. Jeff Koons sold his three-foot-tall silver Rabbit sculpture in 2019 for $91 million USD — making him the world's most expensive living artist. This imbalance of worth has raised questions on the stature of Black artists in the market, institutional sphere and art history curricula.
"None of us works in isolation. Nothing we do is disconnected from the social, political, economic, and cultural histories that trail behind us. The value of what we produce is determined by comparison with and in contrast to what our fellow citizens find engaging," said Marshall.
View both works above and learn more about Kerry James Marshall's practice by heading to David Zwirner's Online Viewing Room.
Elsewhere in art, Jenny Holzer teamed up with Avant Arte on a new work to raise funds for the New York City AIDS Memorial.