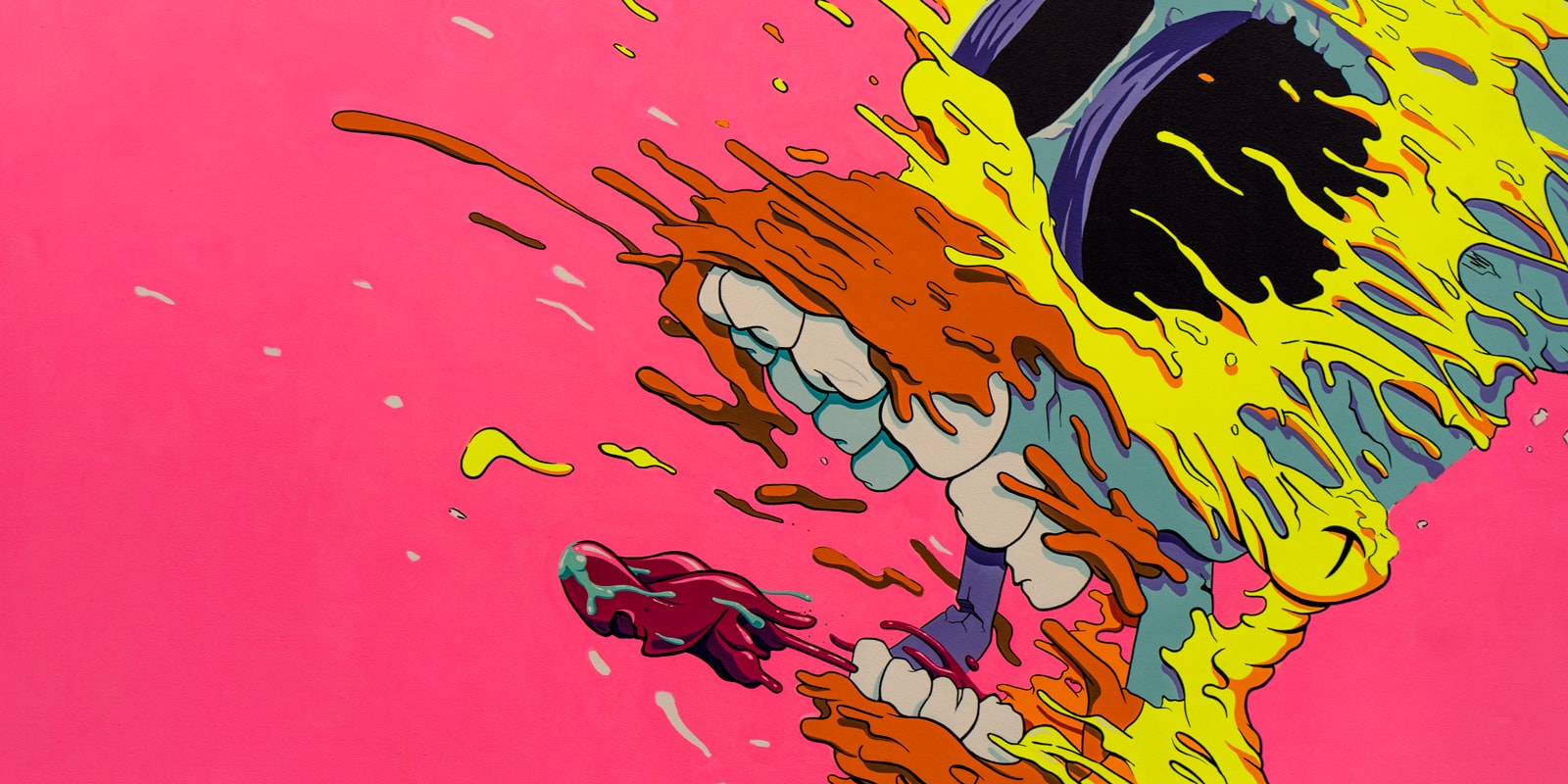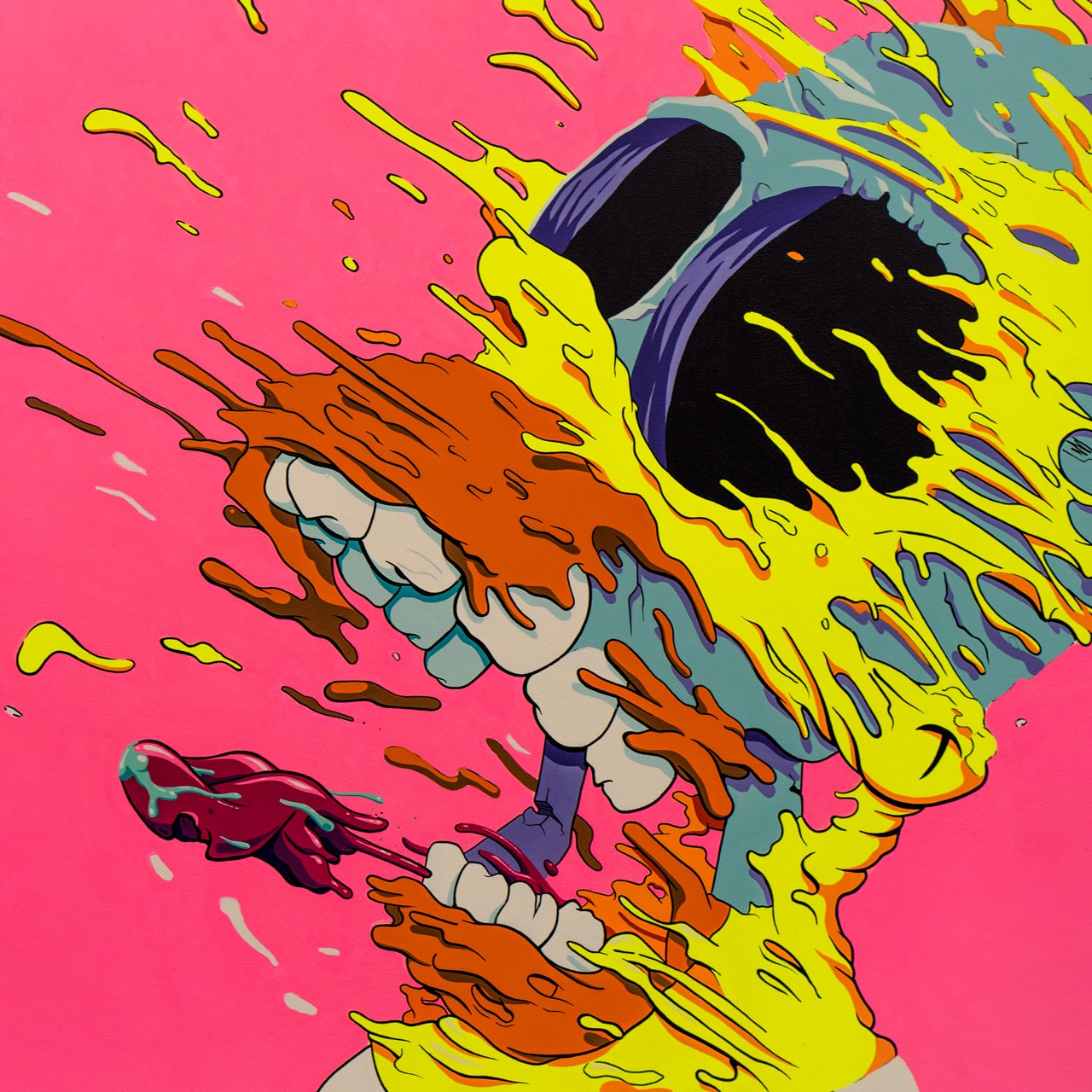 Matt Gondek Puts His Own Twist on Nostalgic Cartoons
The LA-based artist is bringing "Deconstructive Pop Art" to the masses.
From a melting Homer Simpson to a skeletal Mickey Mouse, Los Angeles-based artist Matt Gondek's subjects, or what he calls "Deconstructed Pop Icons," are largely inspired by pop culture cartoons. He's especially enamored of the vivid colors, bold lines, and accessibility of comic books — translating their graphic elements into his action-packed creations across paintings, sculptures and designer toys.
Gondek knew he wanted to pursue a career as an artist at a young age, creating his first comic book when he was in elementary school. He's still painting comic book characters now, but they are often found in murals on sprawling facades of buildings or in paintings displayed in a contemporary art gallery. His first professional gig as an artist was as a digital illustrator, creating commissioned artworks and graphics for licensed clothing for the music industry. .
In recent years, the self-taught artist has received plenty of commissions for his original designs. He's secured large-scale mural projects in Pittsburgh, Atlanta and Las Vegas. Aside from commercial projects, his practice also extends to the fine art world with Gondek navigating successful gallery shows stateside, Paris, Singapore and the United Kingdom. One of his most recent solo exhibitions took place at Avenue des Arts LA where he displayed an eight-foot-tall sculpture inspired by Marvin the Martian called Aggression. His work is currently in the hands of collectors from all across the globe including those from Sweden, Germany, Paris, Canada and Brazil.
We caught up with Matt Gondek to learn more about his pop culture inspirations, his process, and how he's coping with the current coronavirus pandemic.
HYPEBEAST: Describe your artistic journey. When did it start and what motivated you to pursue an artist's career?
Matt Gondek: I got my start as a freelance digital illustrator — mainly in the music industry. When a band records a new album and prepares to tour it, they need album artwork, tee design, tour posters, etc. I did that for years but always hated sitting on the computer. I started painting about six years ago while trying to figure out what I could do artistically and still support myself financially.
Your work is largely inspired by characters from popular cartoon franchises like The Simpsons and Disney series. What is your fascination with these characters?
If you look back at, say, renaissance paintings, a lot of the work from that time was a reflection of their day to day life and culture or religion. Historically, a majority of most artwork was a reflection of that time period, and I'm no different. I grew up with these characters and imagery pounded into my brain on a daily basis. How could I ignore them when finding my voice?
1 of 5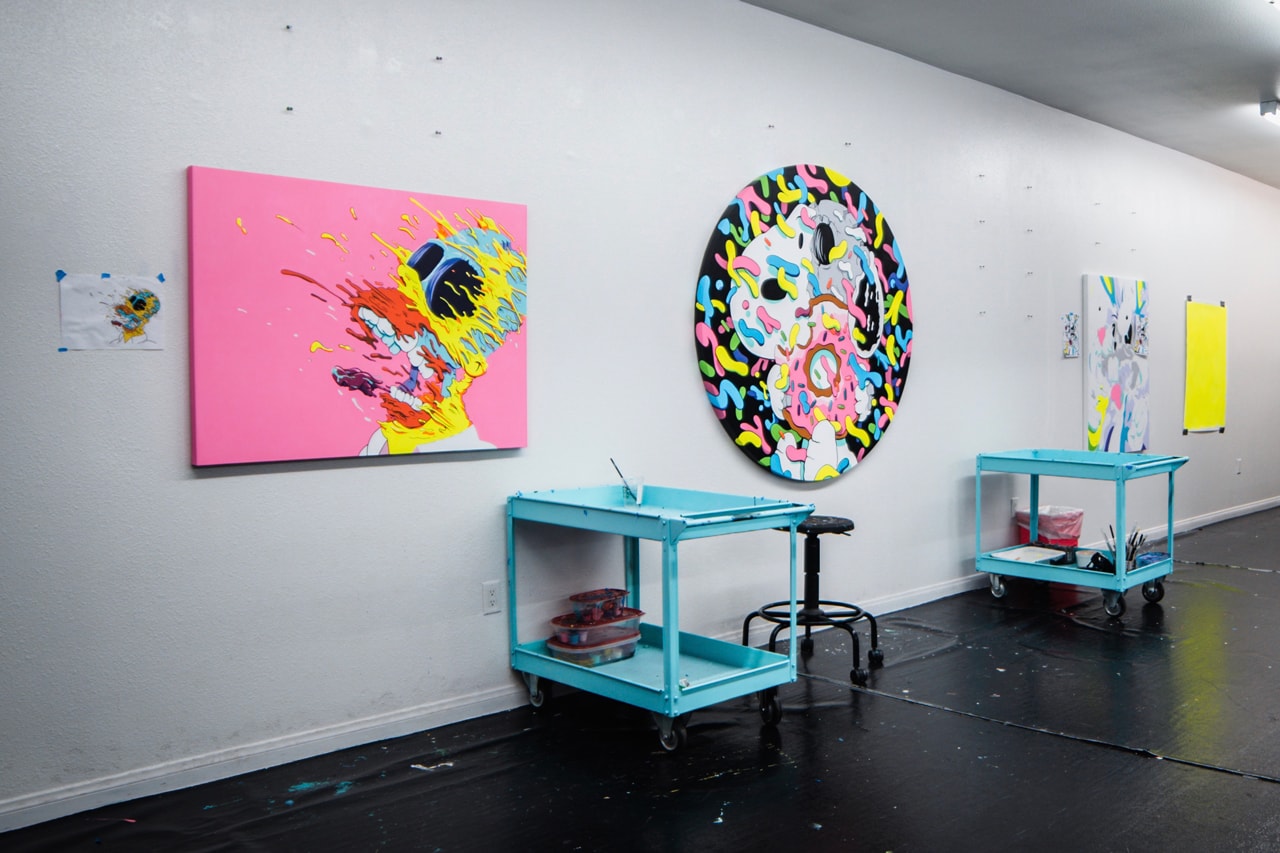 2 of 5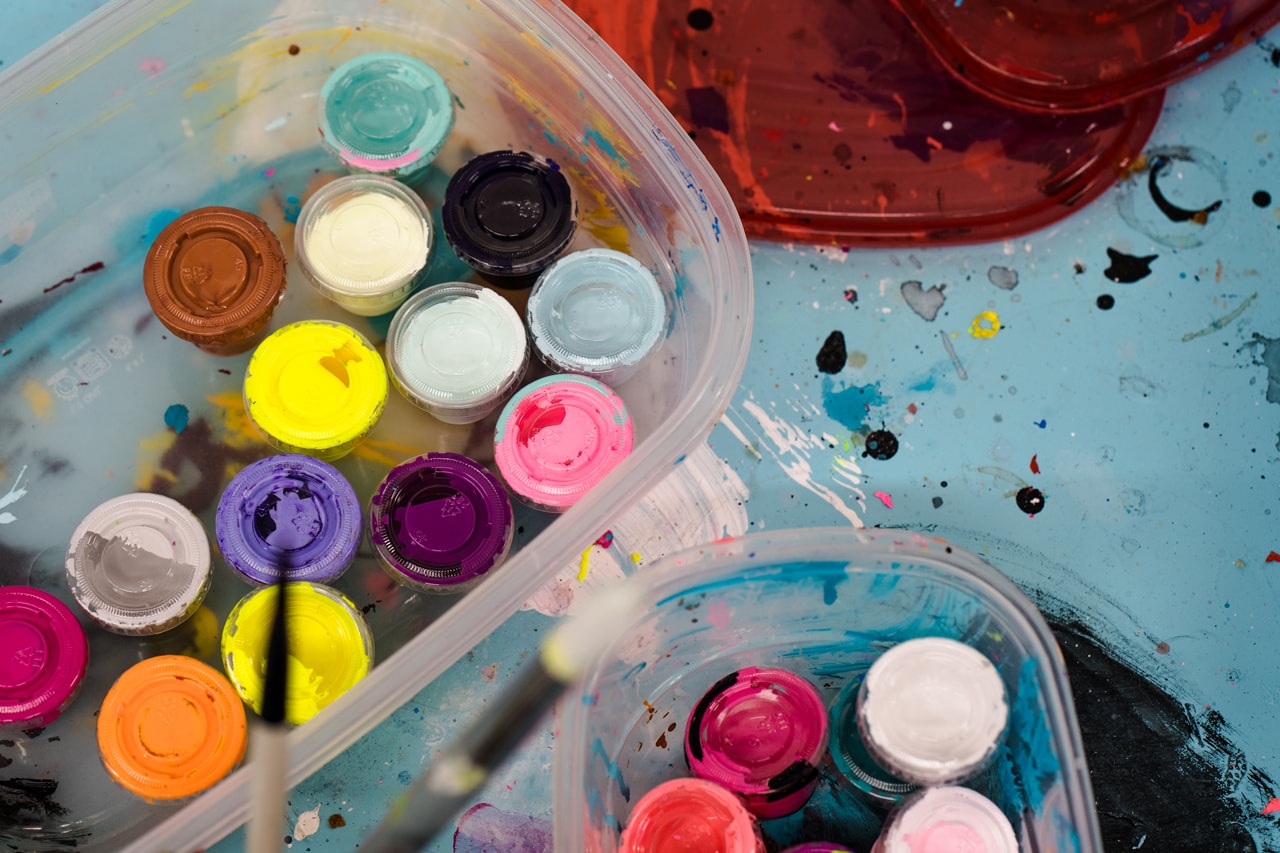 3 of 5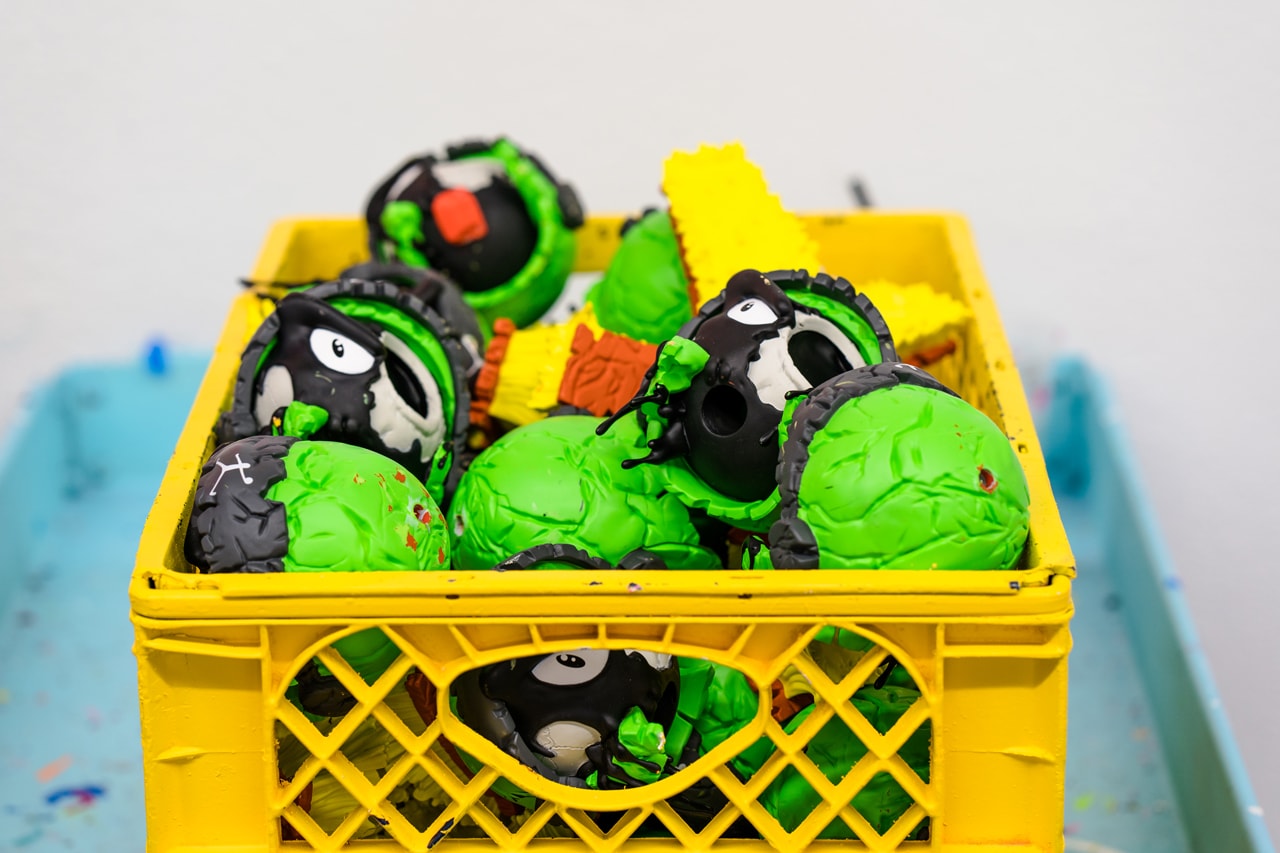 4 of 5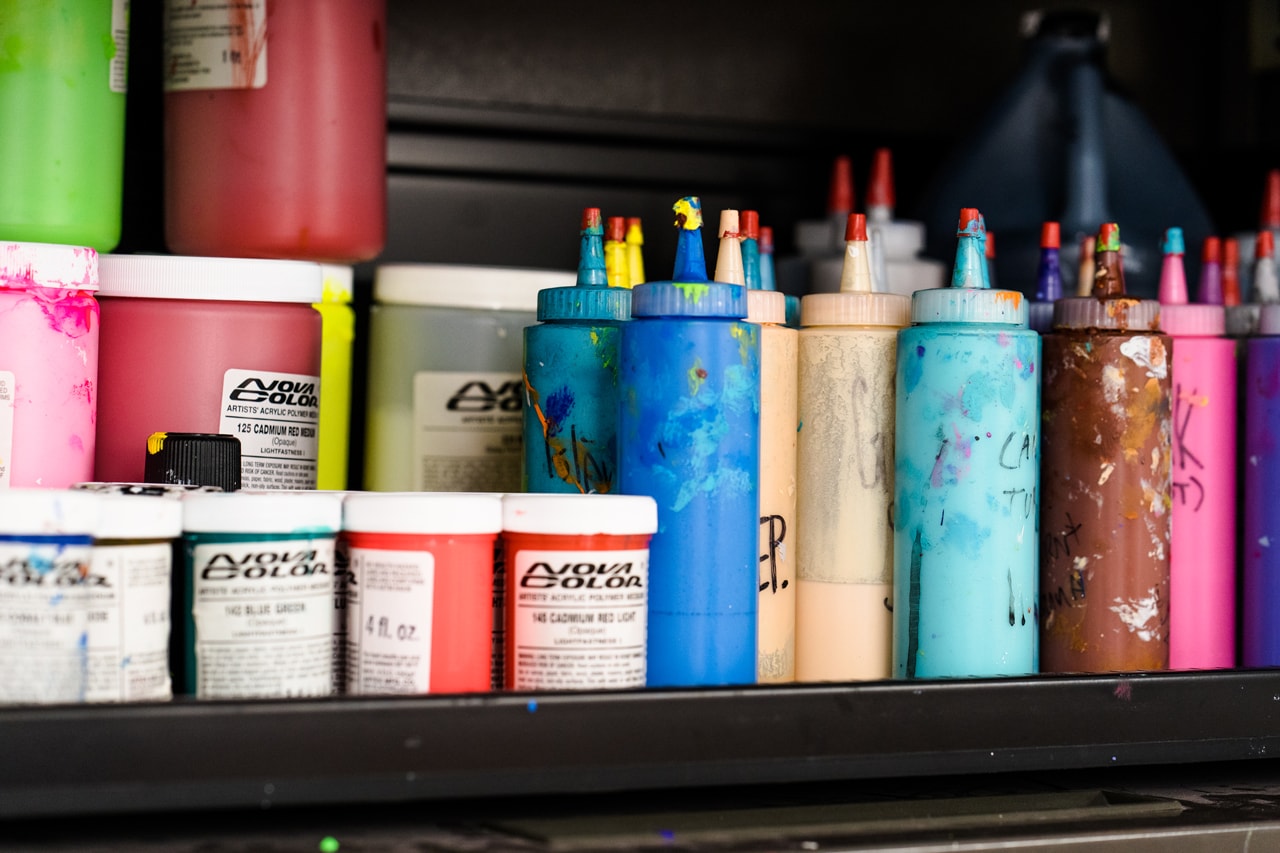 5 of 5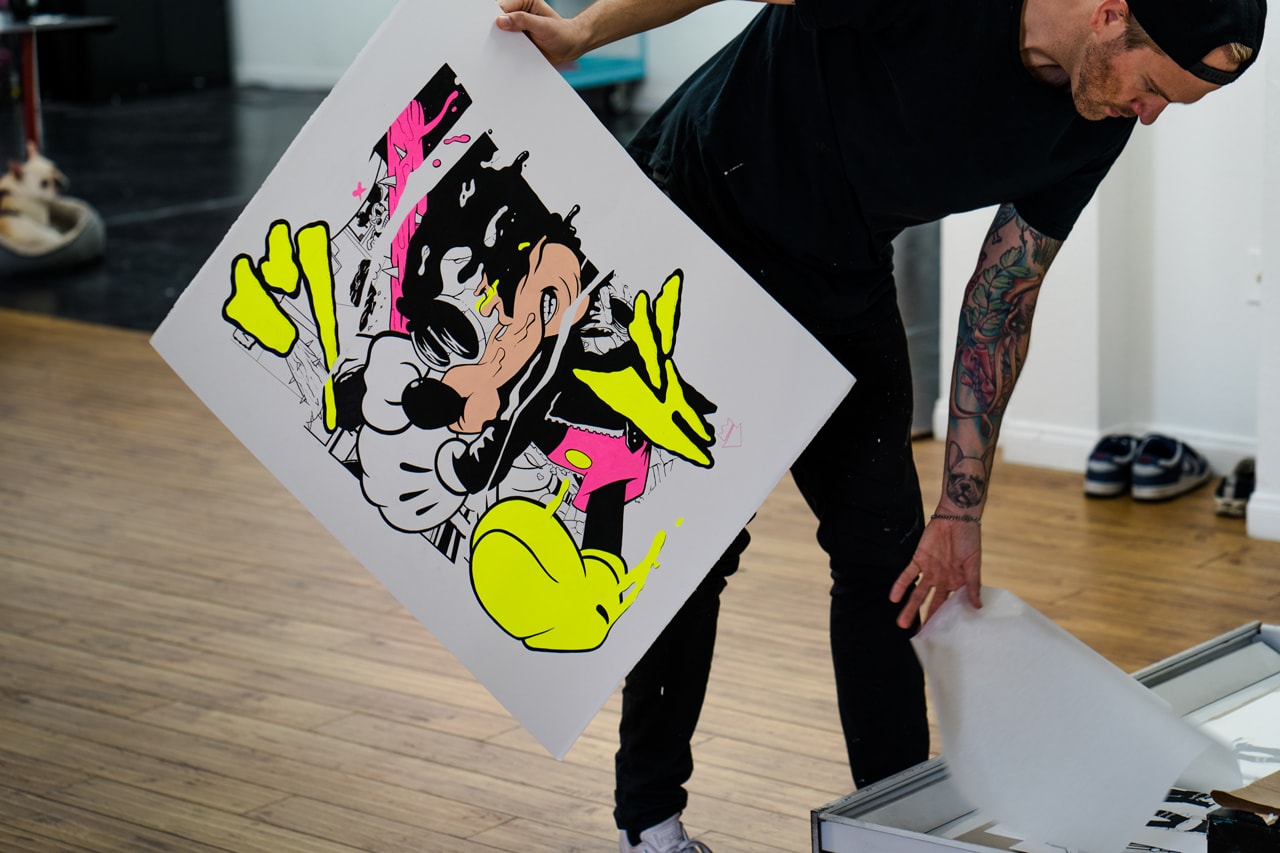 Define "deconstructive pop art." How did this term come about?
When I began my current style, I called it "head exploders." Three or four years ago, I was showing my work to a successful boutique owner in Santa Monica, California, and he said to me "What do you call this style? Deconstructed Pop Art?" The name was perfect and I've been running with it ever since.
Tell us about the artists that you're most inspired by.
Being from Pittsburgh, there was always the massive shadow that Andy Warhol cast over the city, and it definitely influenced how I think and navigate when it comes to my artist practice. My favorite artist has always been Lichtenstein, and it's interesting to read his thoughts and feelings about his work vs how his critics perceived him. Recently, I've been learning about Tom Sachs, who I find interesting along with some of the obvious staples like Jeff Koons and KAWS. People that started with an idea and grew it into so many different avenues. Amazing.
" I grew up with these characters and imagery pounded into my brain on a daily basis. How could I ignore them when finding my voice?"
What is the atmosphere of your studio like when you're painting?
I take great pride in how I run my studio. I focus on my craft like a business, and the day to day goings on at the studio reflect that. We have set hours and my team knows what's expected of them. On the other hand, I also worked a lot of boring or tedious jobs before I became an artist, so I'm always conscious to not take anything too seriously. I think if you asked my team, they'd agree it's a fun, light atmosphere. We're always joking about something and the constant influx of guests keeps things interesting.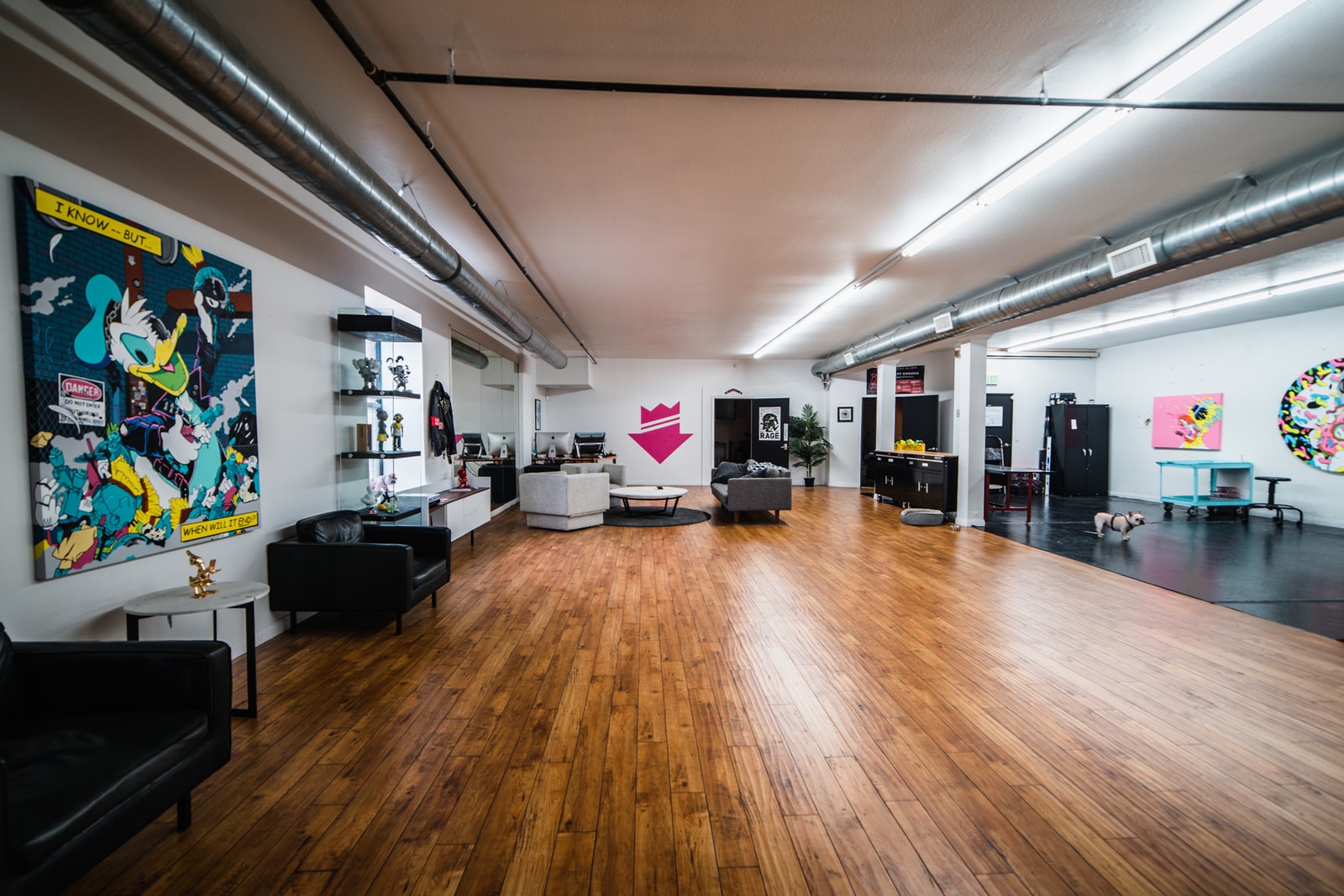 From start to finish, tell us about the creative process behind one of your paintings.
With the new body of work it's a 50/50 split of coming up with an interesting color combination and using the canvas as a "comic book page" to tell a small story. I've been going through a lot of my old comics from childhood for inspiration like the dynamic movement, word balloons, and panel structure. From there, there's a dark period of vodka and lots of sketching that goes nowhere. After a few hours, the idea finally starts to sprout and I begin hacking away to flesh out the final digital colored sketch. Once the sketch is finished, it's transferred onto a new gessoed canvas and painting begins.
Apart from paintings, you also create designer toys. Tell us about your early designs and how they evolved over the course of your career.
Looking back, there was so much I didn't know about taking drawings and converting them into objects that exist in the real world. I think a lot of toy companies (a lot but not all) rely on naive artists who don't understand the business and exploit them for money. These companies cut corners wherever possible which results in an overall low quality product. Admittedly, I fell into these traps as I went along with some not that long ago.
This year I created a bronze sculpture, working very closely with a company here in Los Angeles. It was the first time I personally oversaw all aspects of the production, and it resulted in the best sculpture I've made so far. There isn't a lot of help out there for artists, so a lot of it is trial and error, and learning by doing. I'm glad I know what I know now – and wouldn't have gotten here without the harsh lessons I encountered.
"There isn't a lot of help out there for artists, so a lot of it is trial and error, and learning by doing."
How are you coping with the coronavirus lockdown? Do you find yourself creating more or are you taking this time to reflect and have a break?
Honestly my studio practice has not changed too much. My team is not in the studio due to social distancing, but we're able to find ways to keep them working during all of this. I do miss the travel. Traveling and being with other creatives is the main reason I work so hard, so having that taken away momentarily has been frustrating. But overall I can't complain.
1 of 5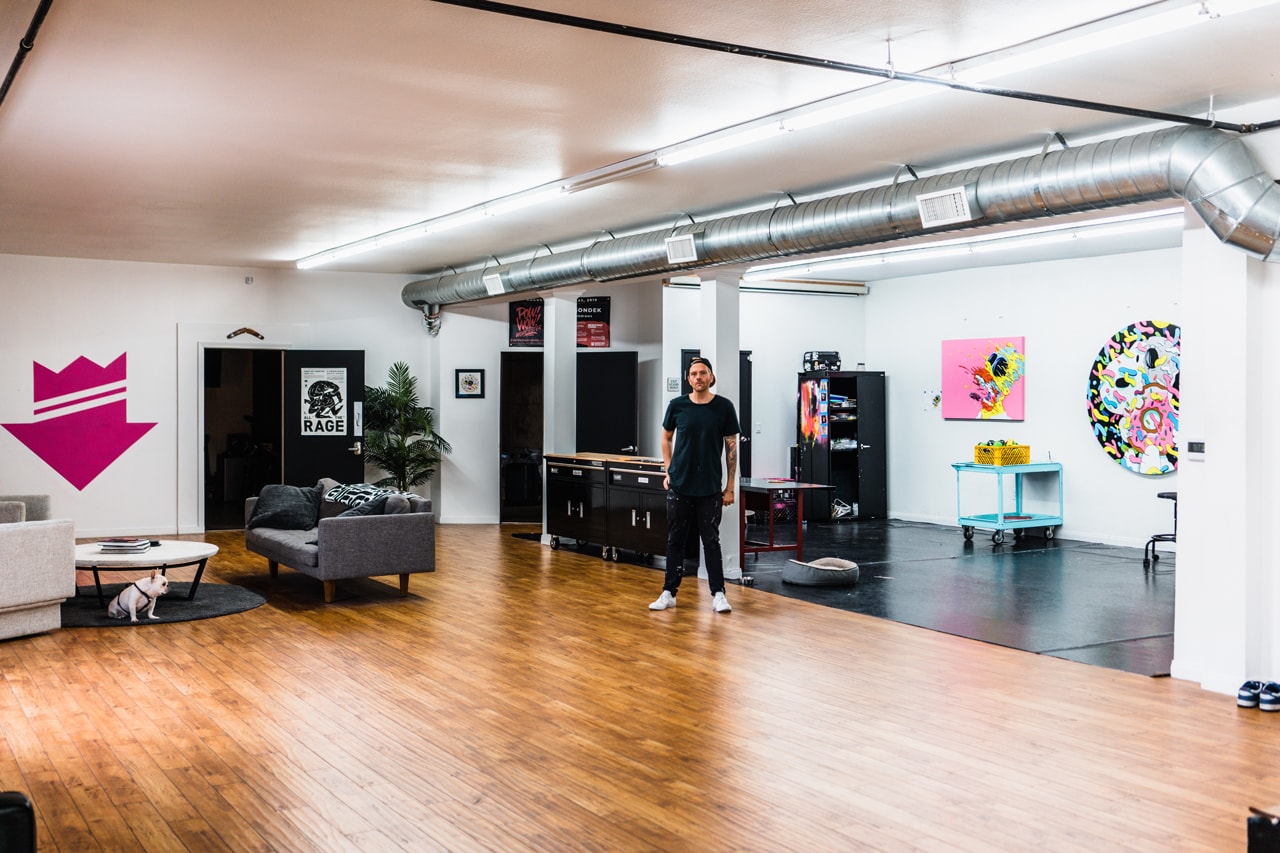 2 of 5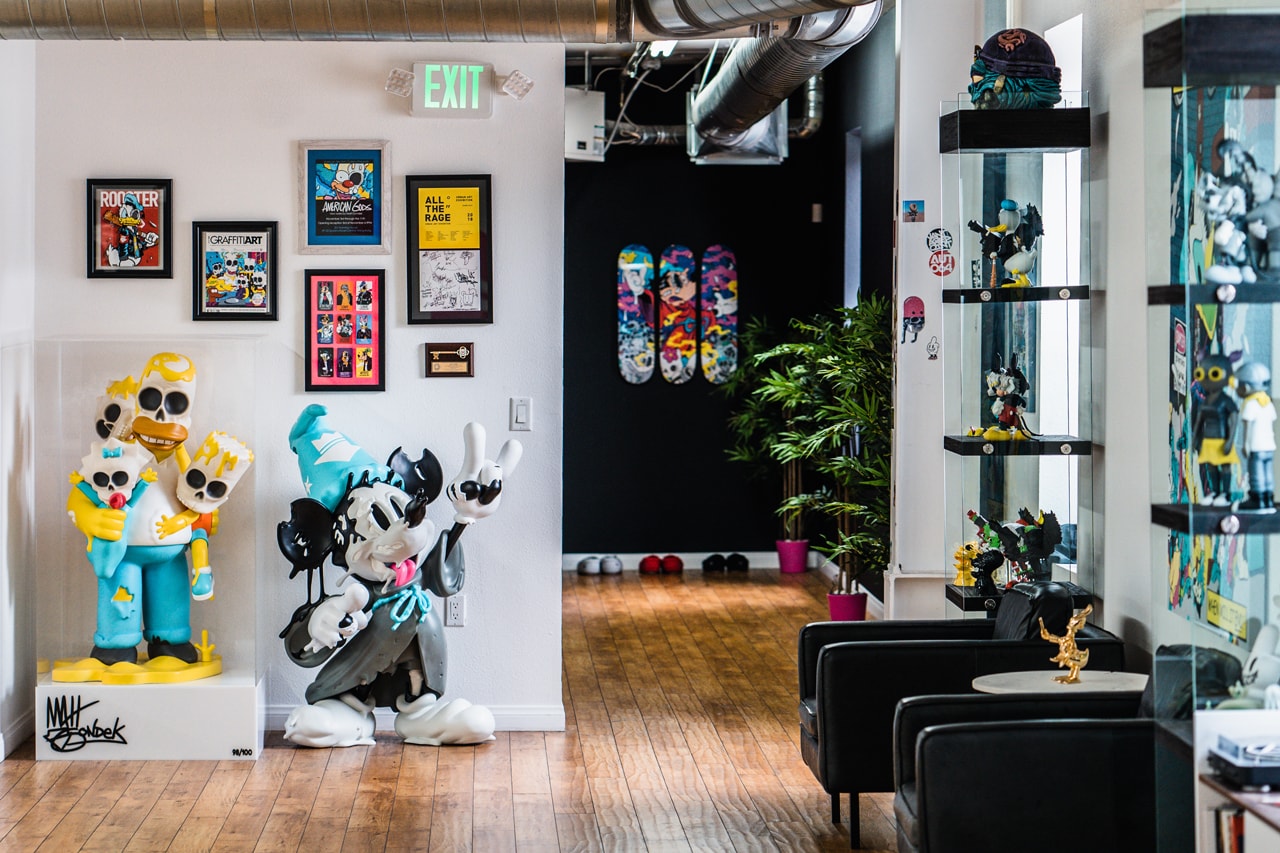 3 of 5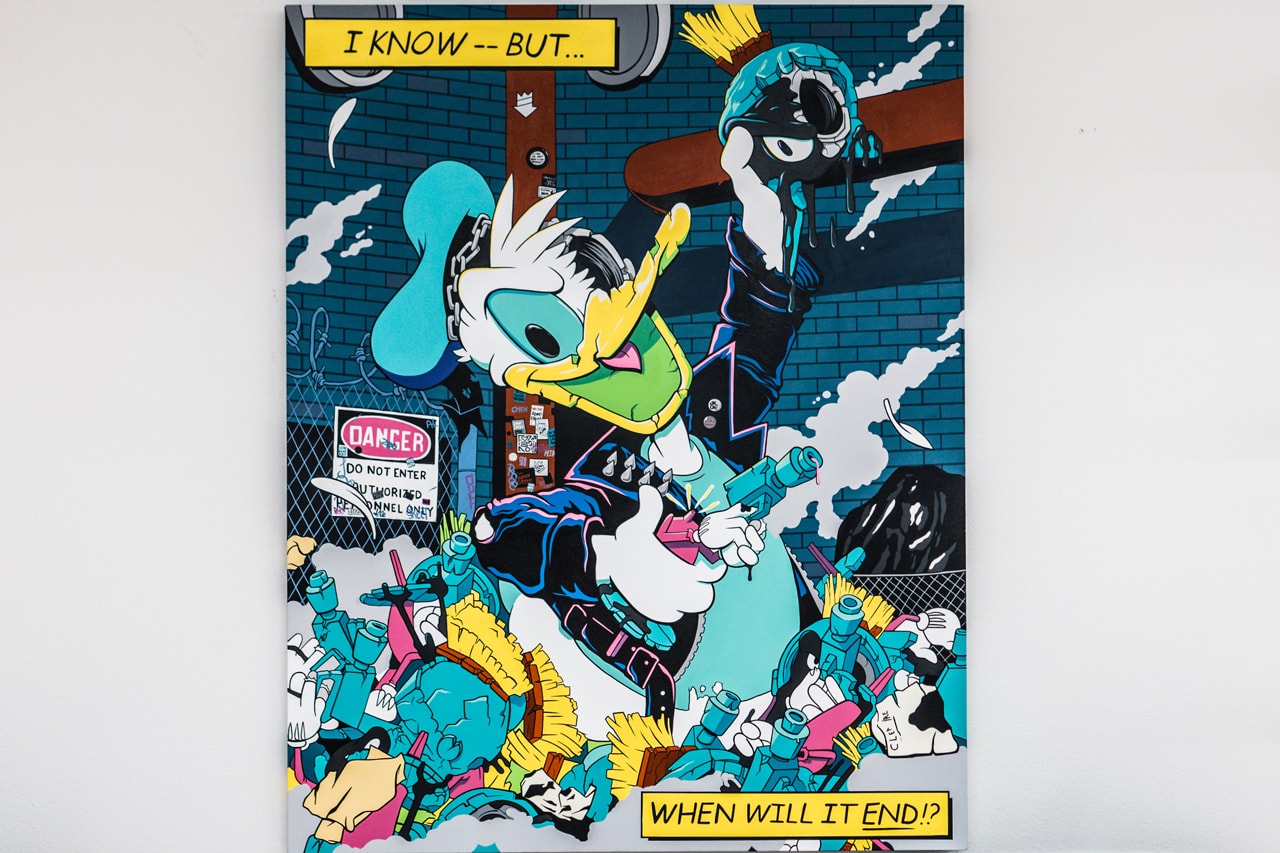 4 of 5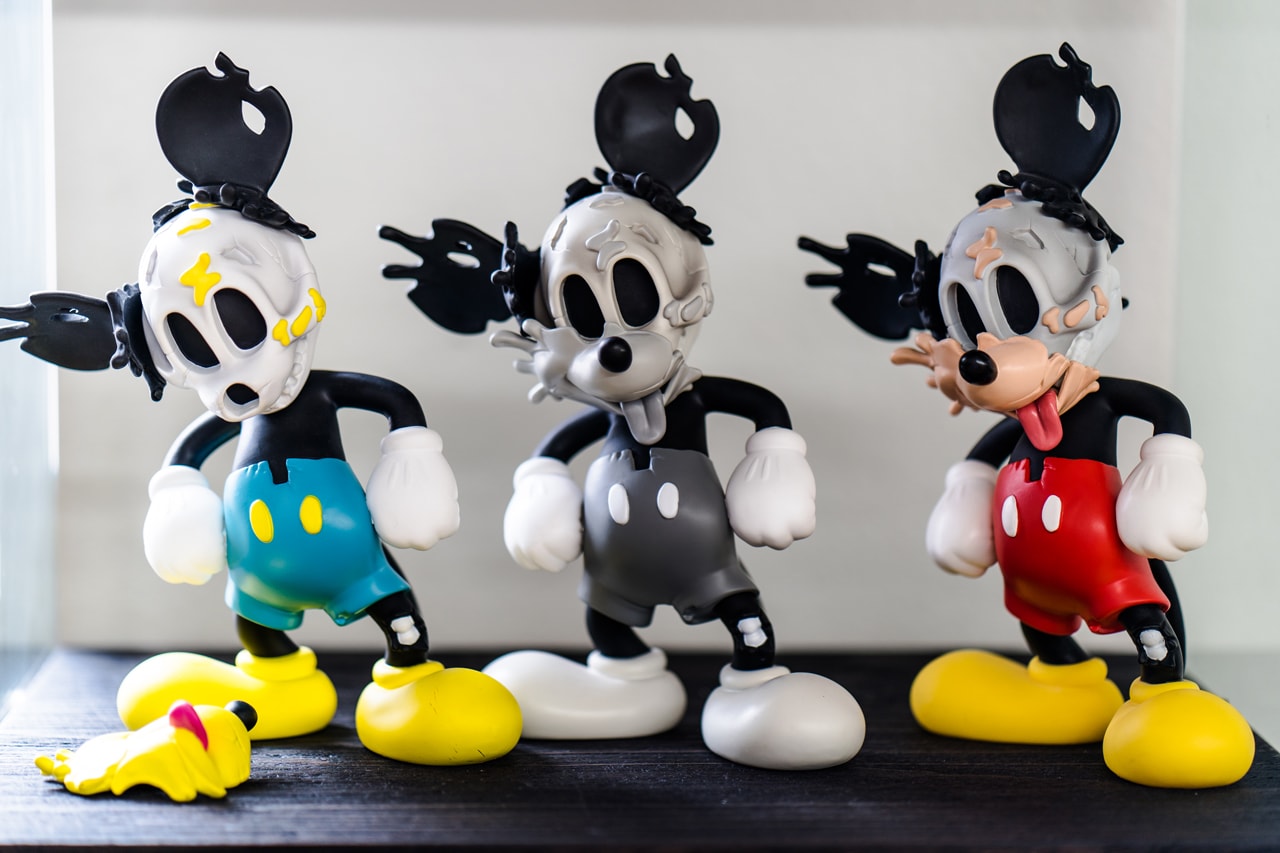 5 of 5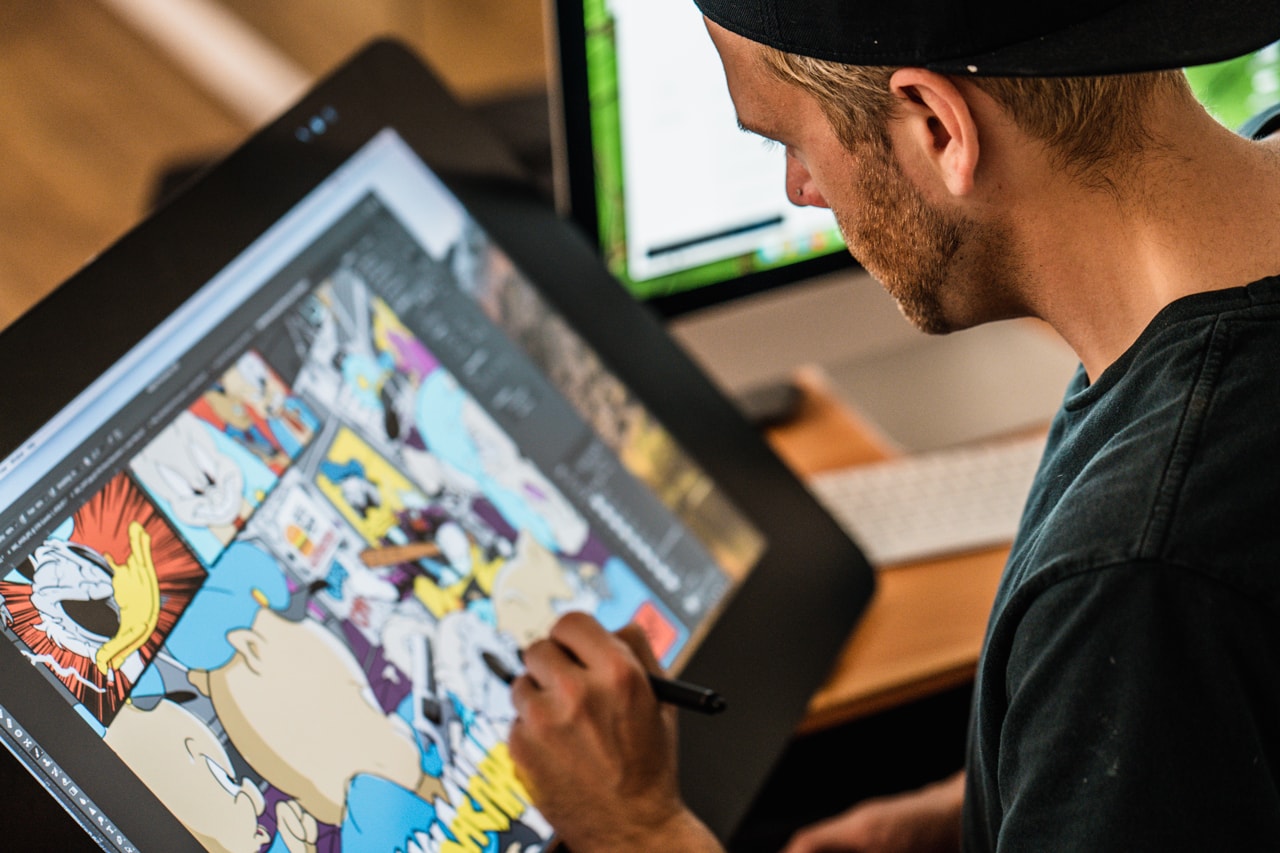 How are you navigating the fine art space? What are your thoughts on the current climate of the art world today?
Not to sound jaded or like a prick, but I honestly don't think about it much. I work closely with the gallery Avenue Des Arts that handles my sales and everything. Day to day I'm completely focused on my work and making it better. Any time left over I'm devoting to our podcast series Clean Break.
I am definitely interested to see what changes will occur after the corona situation. There's never been something that stopped productivity on so many levels before (at least in my lifetime). It'll be interesting to see what stays and goes.
What projects are you currently working on?
I'm currently working on a new body of work for a solo exhibition in the fall. I don't think I'm allowed to mention that it's in Paris, so I won't. Also, I have fully completed a capsule of work for a pop-up that was originally slated for summer. With the current state of things, it's hard to tell when and where this will take place. But it's completely ready to go. Time will tell.